Recipe for Duck Legs with Grilled Plums
Duck, It's What's For Dinner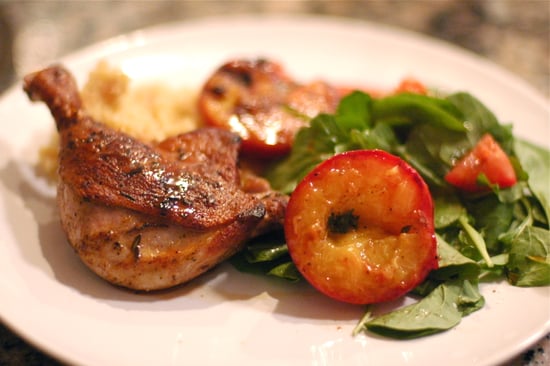 Last weekend, I met up with some friends at a nearby butcher shop. The place is known for quality meats, and on this particular morning the duck legs looked mighty tasty. So I picked up a pair of them and went home for a cooking adventure.
I came across a recipe for roasted duck breast, but I adapted it to suit the legs. However, as much as I love dark meat, I think breasts would actually have been a better choice. It's a nice pairing of fresh plums and duck, and actually comes together in a short amount of time. To see how to put it together for yourself,
.
Note: Bon Appétit called this recipe "roasted," but I think they actually meant to say "fried in its own fat." The duck skin actually lets out quite a bit of grease, and if you're not careful it'll pool up. For my execution, I halved the recipe and used two duck legs instead.