Recipe For Peach and Prosecco Cocktail For Easter
Come Party With Me: Easter — Drinks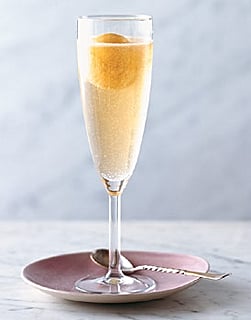 Like every holiday, your Easter dinner (or brunch) should start off with a signature cocktail. A drink that uses sparkling wine is especially celebratory.
I plan on serving this concoction entitled peach and Prosecco ice. The pretty cocktail is similar to the classic bellini, but since peaches aren't in season it calls for frozen sliced peaches. It's festive, fruity, and light. The subtly sweet peach flavor will complement the freshness of the pea and mint appetizer.
To look at the easy recipe, which can be made in advance,
.