Seis de Mayo Sandwich
Original Recipe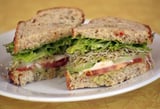 Ingredients
4 slices spicy artisan bread, such as chile bread
4 tablespoons guacamole
6 slices Roma tomato
4-5 slices mozzarella cheese
10 thin slices of cucumber
1 cup alfalfa or clover sprouts
2 leaves of romaine lettuce
Directions
Preheat oven to 350 degrees.
Place two of the bread slices on a work surface and cover with 1 tablespoon guacamole. Top each piece of bread with three tomato slices, followed by 2-3 slices of mozzarella.

Place all four slices of bread directly on the oven rack and heat for 5 to 7 minutes, until bread is toasted and cheese is melted.

Evenly lay the cucumber slices on top of the melted cheese. Cover each with sprouts and lettuce.
On the two remaining bread slides, spread the rest of the guacamole, then place bread guacamole side down on lettuce.

Cut in half and serve.
Makes 2 sandwiches.
Information
Category

Main Dishes, Sandwiches

Cuisine

Mexican