When Nestlé Crunch Girl Scout candy bars were released the first time around last year, it was love at first sight: no one in our office could lay off these chocolate candies, strategically positioned at the edge of my desk to lure taste testers.
The candies, made by The Girl Scouts of America in partnership with Nestlé Crunch, make a comeback in stores nationwide again this month — but get them while you can, because once again, it's a limited-edition offering, and they'll be gone come September. While there's no mention of the proceeds that Nestlé Crunch is giving the nonprofit to form the partnership, we think it must have been astronomical if the Girl Scouts were willing to reveal their secret recipes!
The confections ($1 each) are available in three flavors: Caramel & Coconut, Peanut Butter Crème, and Thin Mints. Take a look at our review, and find out if we deem the unexpected partnership a success.
Caramel & Coconut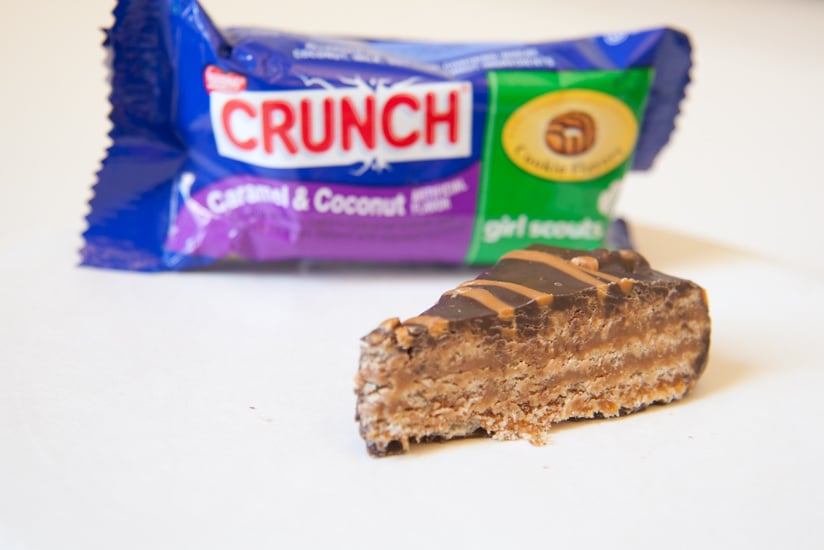 The promise: "Cookie wafers layered with coconut caramel crème and chewy caramel topped with toasted coconut and drizzled with caramel stripes!"
What our tasters thought: One taster said, "Those are dangerous, and I'm not even a coconut person." Another taster gushed, "I love this more than Snickers, and that's my favorite candy." However, a few didn't sing its praises, saying the flavors were too "artificial tasting" and the caramel and coconut flavors were "overwhelming."
What we thought: The coconut and caramel flavors of the wafer maintain the integrity of the original Samoa cookie, but it does taste a little artificial. If you don't like coconut, chances are you won't like this bar.
Tasters' rating average: 7/10
Peanut Butter Crème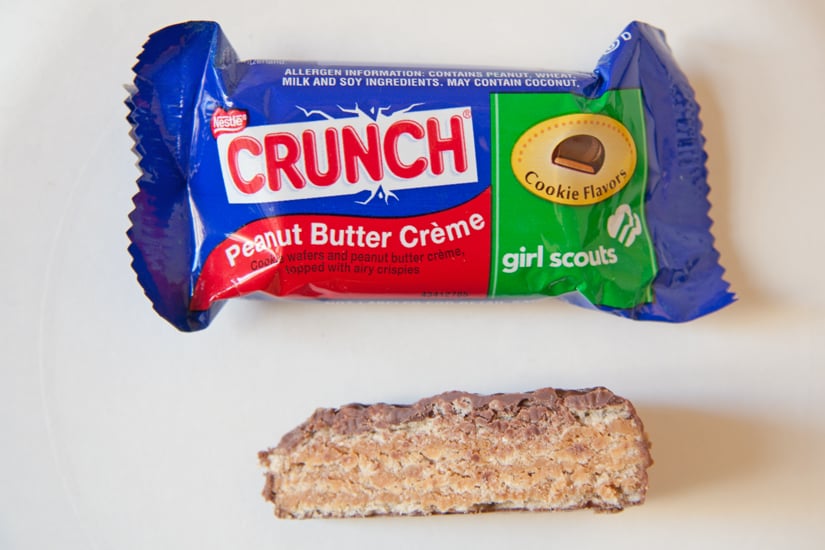 The promise: "Cookie wafers layered with smooth roasted peanut butter crème, topped with airy crisps and a creamy, chocolatey coating!"
What our tasters thought: Everyone loved the light, crispy texture and signature Tagalong flavor, noting the bar has a "good combination of peanut butter and crispy crunch." Several said they would "totally eat this again" and "loved the salty, sweet flavor." However, many didn't think it shone as bright as the peanut butter patties and thought the wafers "took away from the yummy peanut butter flavor."
What we thought: While the flavor of the Tagalongs was there, the texture was lighter and not as sweet as the cookie. We thought this was a plus.
Tasters' rating average: 8/10
Thin Mints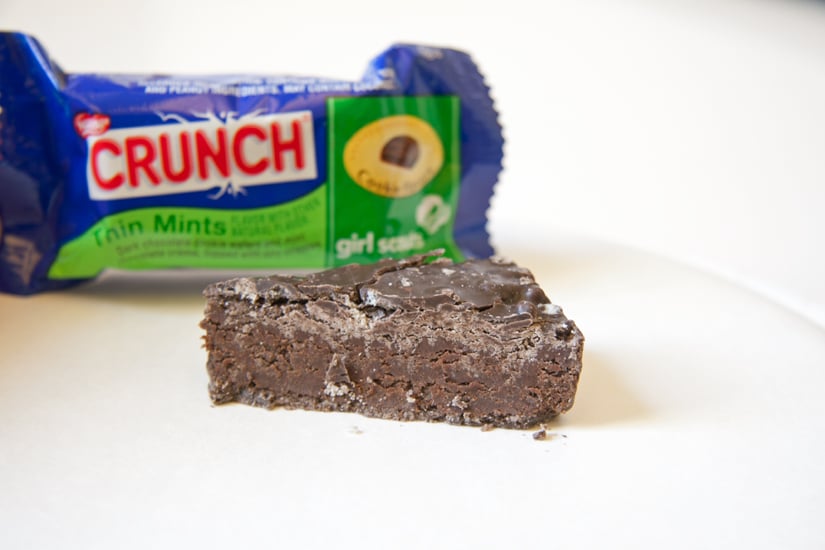 The promise: "Dark chocolate cookie wafers and mint chocolate crème, topped with airy crisps and a rich, dark chocolatey coating!"
What our tasters thought: This was a definite favorite and was described as "heaven in a bar." Several thought the "crispy, light layers" make it feel "less indulgent." One taster remarked that the chocolate-mint flavor lets you "get your fix outside of Girl Scout Cookie Season." Another raved about the crispy cookie layers, "It's unexpectedly airy and refreshing." Several thought that the Crunch bar was more chocolatey and less sweet than the original cookie.
What we thought: The signature Thin Mint flavor is definitely there, but the creaminess in between the light, crispy wafers is unexpected — in a good way.
Tasters' rating average: 8.5/10
Overall Thoughts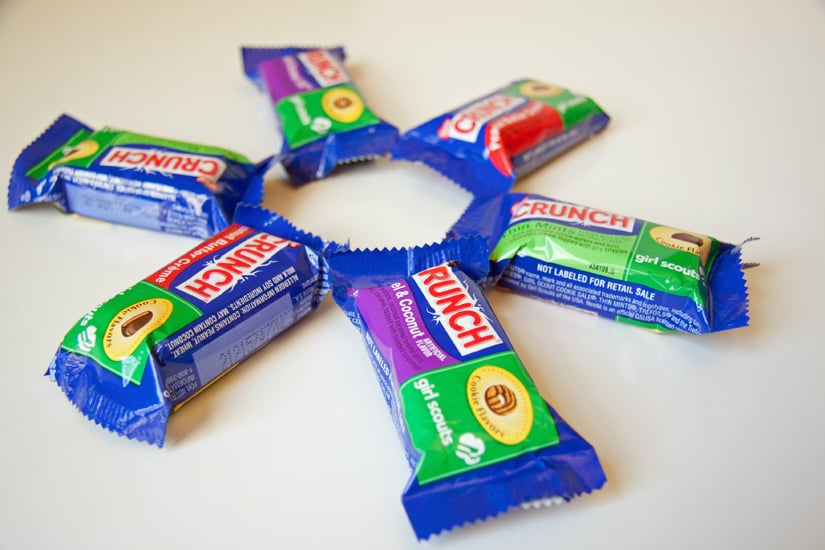 All three flavors ring true to the original Girl Scout cookies. We're a huge fan of the partnership between Nestlé and the Girl Scouts and look forward to gobbling these decadent, limited-edition flavors all Summer. The majority of our taste testers thought the candy bars "tasted better than the cookies." They even hopefully inquired, "Can we request more samples for the office?"
Which Flavor Are You Most Excited About?