San Francisco may have a notoriously cold Summer, but right now marks the moment in August when the city really heats up, thanks to its annual SF Chefs [1] festival, taking place right this minute. Earlier this week, we dropped by a contemporary Mexican showcase [2]; later, we ate local at the Center For Urban Education and Sustainable Agriculture's 49 Square Miles Food Tour [3]; last night, we went all out at the SF Chefs Grand Tasting Tent. For a behind-the-scenes peek at this year's SF Chefs, keep reading.
Grand Tasting Tents
The Saturday-night grand tasting tent was packed to the gills with attendees looking to get their fill. We managed to snap everything the tents had to offer — and ate our share to boot.
Betelnut Pejiu Wu's Octopus With Kimchi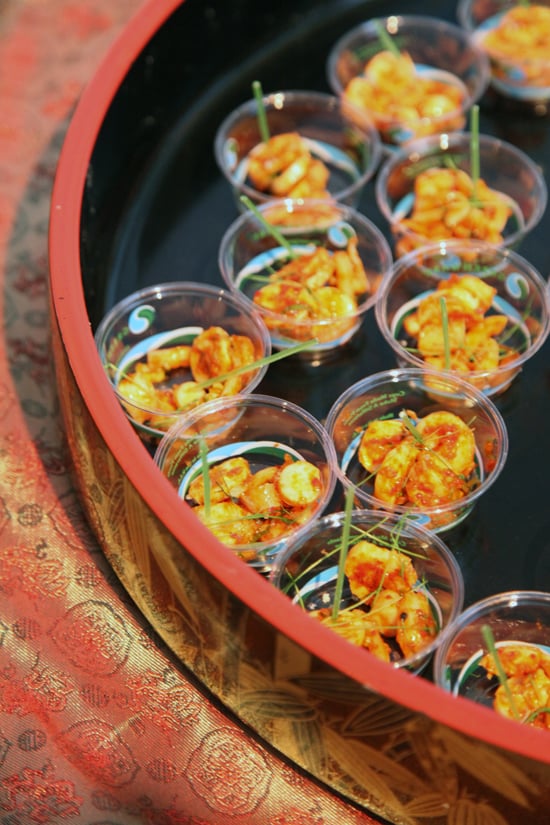 Alexander Ong stopped us to try our first bite: a combination of octopus and kimchi. We wouldn't have thought to put the two together, but the flavor combination was solid.
Photo: Nicole Perry
Asian Box's Curry Tofu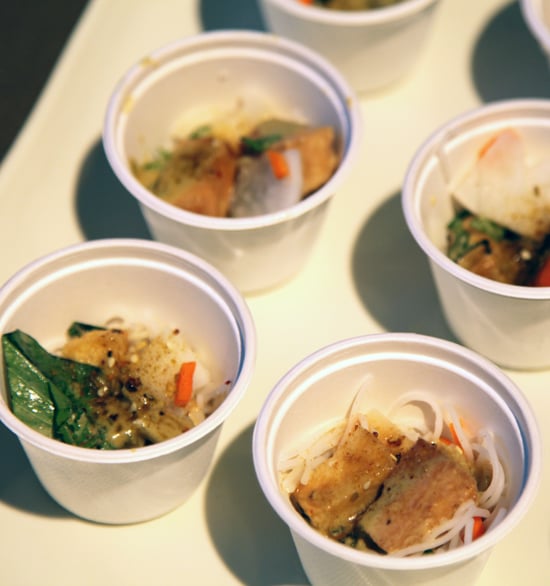 Coconut curry tofu on a bed of cold rice noodles from Chad Newton and Grace Nguyen of the burgeoning Southeast Asian-themed chain [4] Asian Box.
Photo: Nicole Perry
American Box's Green Bean Salad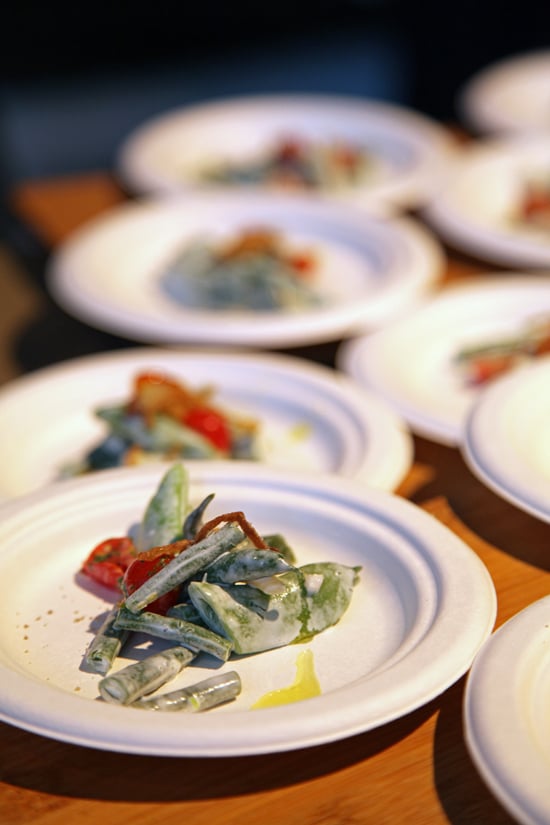 Chad Newton and Grace Nguyen of American Box served up a picnicky salad of pole beans and tomatoes in a dilly buttermilk dressing.
Photo: Nicole Perry
Columbus Salumeria Charcuterie Tasting
Local salumeria Columbus Salame Co. went highbrow, plating a sopressata tortilla espanola with parsley espelette, finocchino brittle with ancho-cherry dust, and a sopressata salame biscuit with pickled peppers.
Photo: Nicole Perry
Wo Hing's Chive Pancake and House-Made Sriracha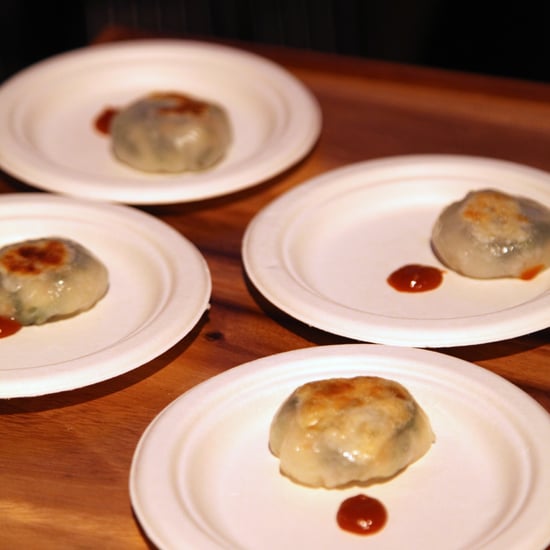 San Francisco restaurant magnate Charles Phan was in front of the table at Wo Hing General Store to greet guests and serve them a chive pancake with house-made sriracha. It was on the generous side of portions, despite being a tad oily.
Photo: Nicole Perry
Fifth Floor's Bay Shrimp Ceviche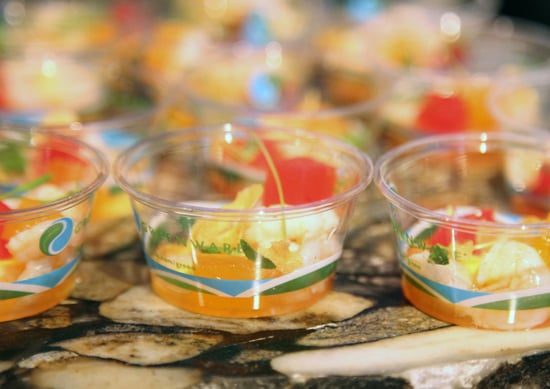 David Bazirgan of the Fifth Floor Restaurant served up a bay shrimp ceviche with corn, melon, and fried garlic. We loved how the sweetness in the shrimp was well complemented and enhanced by the pairing of corn and melon.
Photo: Nicole Perry
Wagyu Tartare and Truffled Tuna Tartare From Alexander's Steakhouse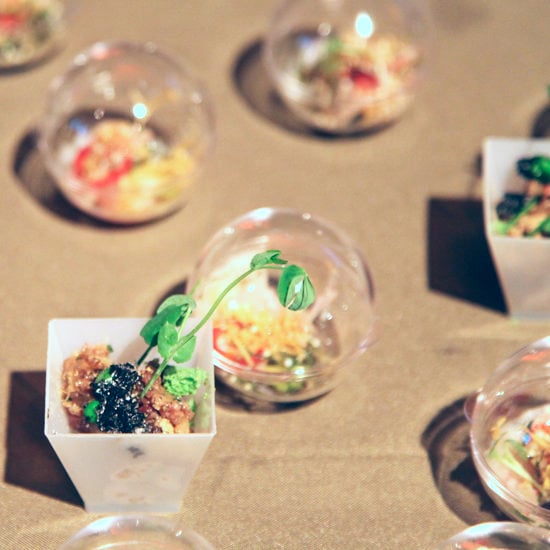 The fanciest packaging came from Alexander's Steakhouse, where chef de cuisine Marc Zimmerman served up a surf — and, of course, a turf — tartare in fancy square cups and spherical shot glasses.
Photo: Nicole Perry
Aziza's Artichoke Preserved Lemon and Caviar Bite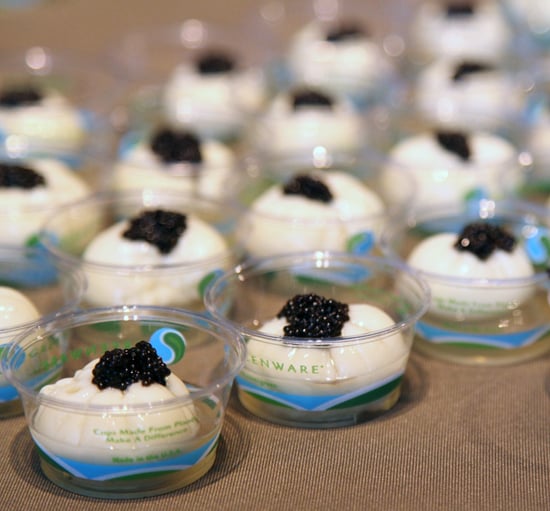 Aziza's Mourad Lahlou was on hand at the front of the tent, both promoting his book, New Moroccan, and serving up a composed custard of artichoke, preserved lemon, apple, and caviar. The well-balanced, bright preserved lemon was a highlight.
Photo: Nicole Perry
Locanda's Fig and Prosciutto Bite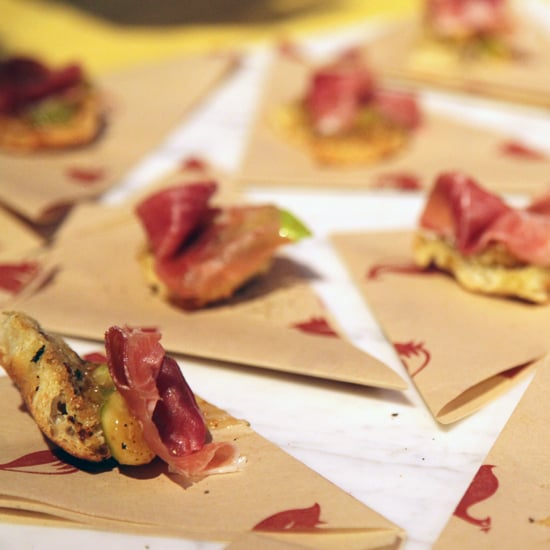 Anthony Strong of Locanda (the latest restaurant in the Delfina empire) served guests a pizza bianca topped with prosciutto and fig and brushed with a lardo butter. The almost crisp, bread-like pizza took very well to the application of buttery lardo.
Photo: Nicole Perry
Braised Lamb Shoulder Agnolotti From Kuleto's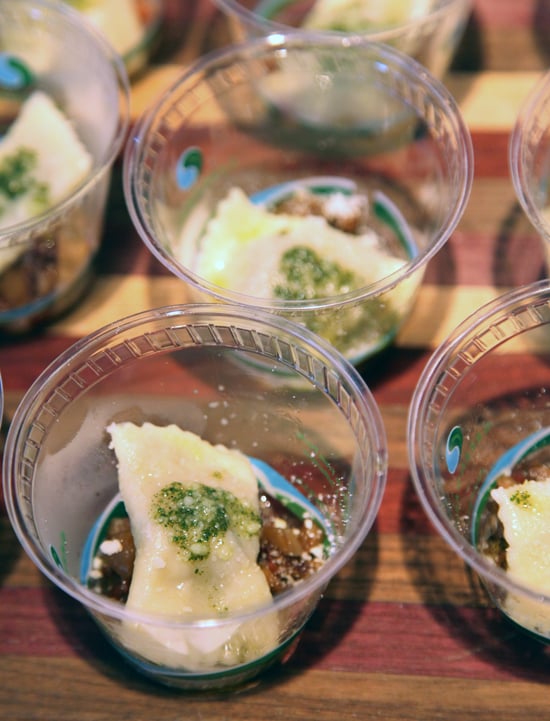 One of our favorite savory bites from the tent almost always comes from Kuleto's. This time, it was a braised lamb shoulder agnolotti on a bed of caponata agrodolce, topped with a dollop of mint pesto.
Photo: Nicole Perry
Cannelés de Bordeaux From La Boulange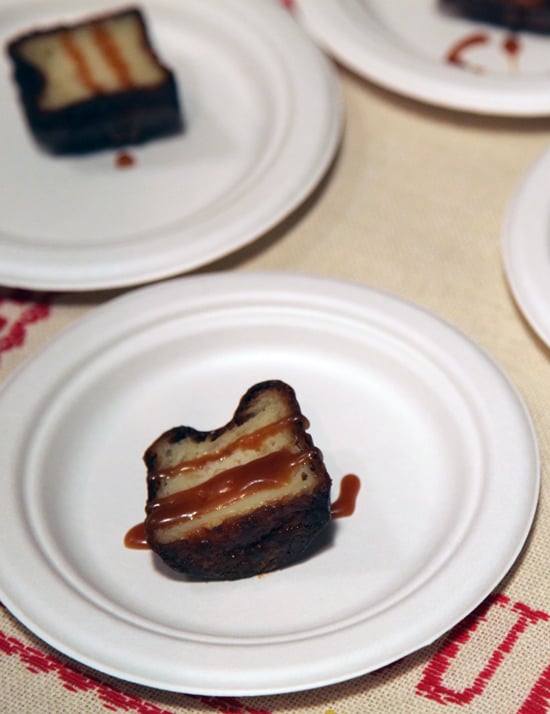 Newly Starbuck-owned pastry chain La Boulange [5] had a presence too. It showed off its pastry-making skills with perfectly caramelized cannelés de Bordeaux.
Photo: Nicole Perry
La Boulange's Mousse-Filled Cream Puffs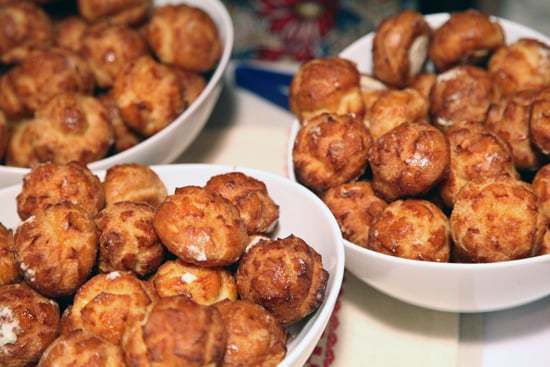 Chocolate-and-vanilla-mousse-filled cream puffs from La Boulange.
Photo: Nicole Perry
Crepes at the Fine Cooking Booth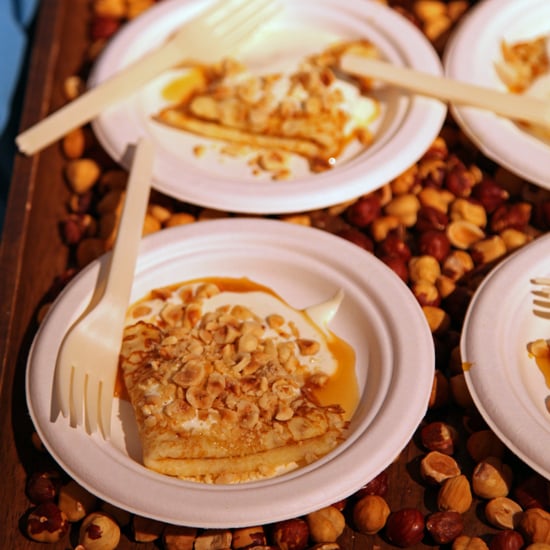 Magazine sponsor Fine Cooking had flown all the way out from Southern Connecticut to serve partygoers brown-butter crepes with honey-orange caramel sauce, crème fraiche, and hazelnuts. The crepes were tender and perfectly cooked.
Photo: Nicole Perry
La Victoria Bakery Coffee Truffles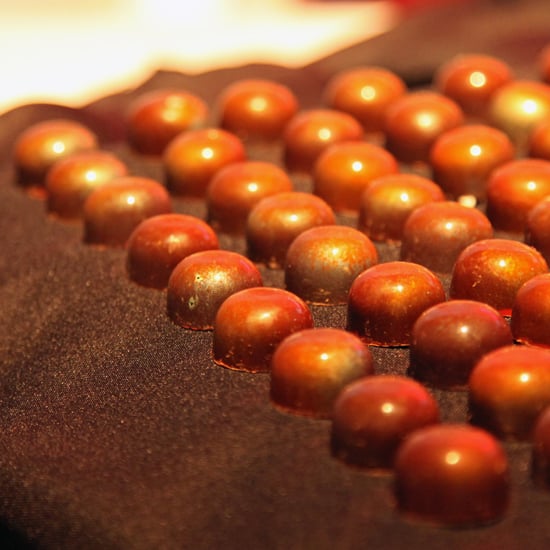 Luis Villavelazquez of La Victoria Bakery collaborated with Illy coffee to produce three different single-origin coffee truffles. My favorite came from Ethiopia.
Photo: Nicole Perry
Eggplant Caponatina With Burrata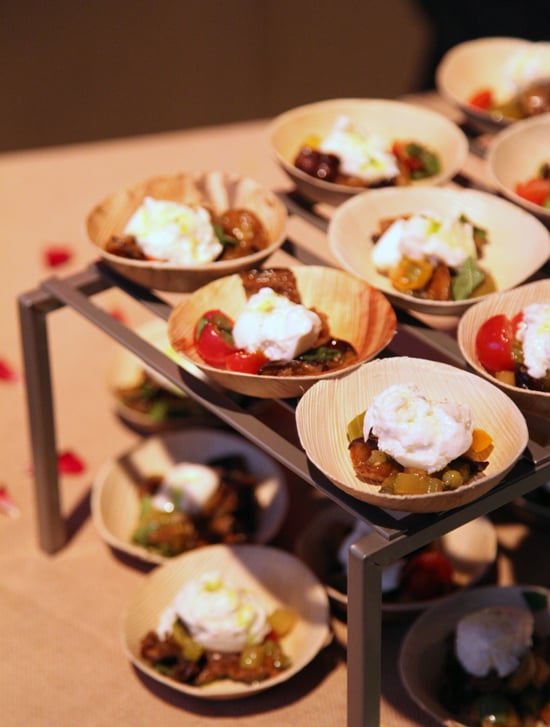 Delarosa chef Ruggero Gadaldi played it somewhat safe (albeit delicious) with his version of an eggplant caponata, paired with olives and burrata.
Photo: Nicole Perry
Lollipops From Morimoto Napa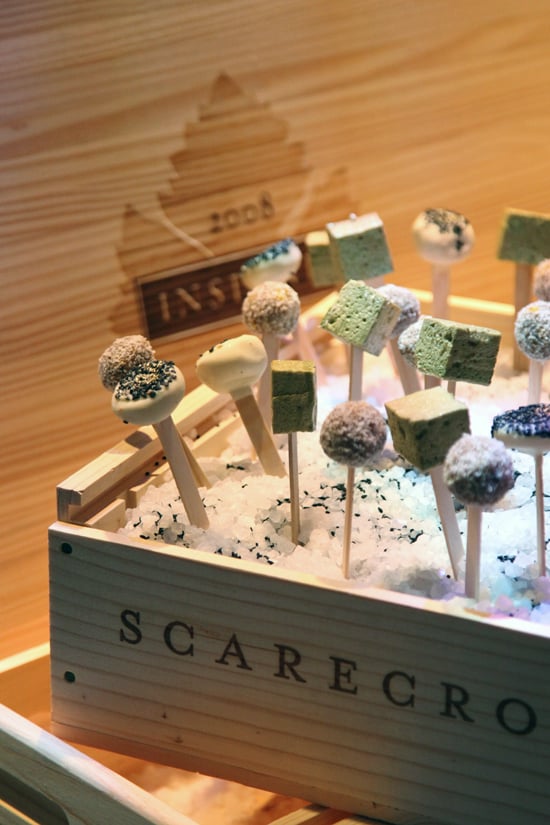 Morimoto Napa didn't disappoint with a playful assortment of lollipops in flavors like white miso and black sesame fudge; coconut, orange, and five spice; and luster-dusted green-tea marshmallow.
Photo: Nicole Perry
Pescatore's Crab Cakes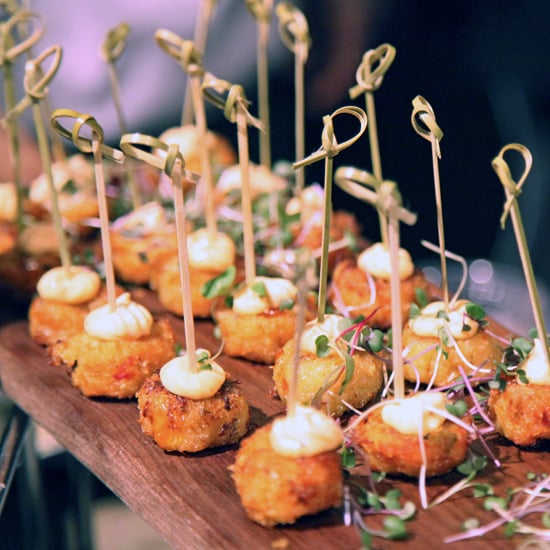 Crab cakes from Pescatore had a plump and juicy texture.
Photo: Nicole Perry
Picán's Hickory Smoked Pork Shoulder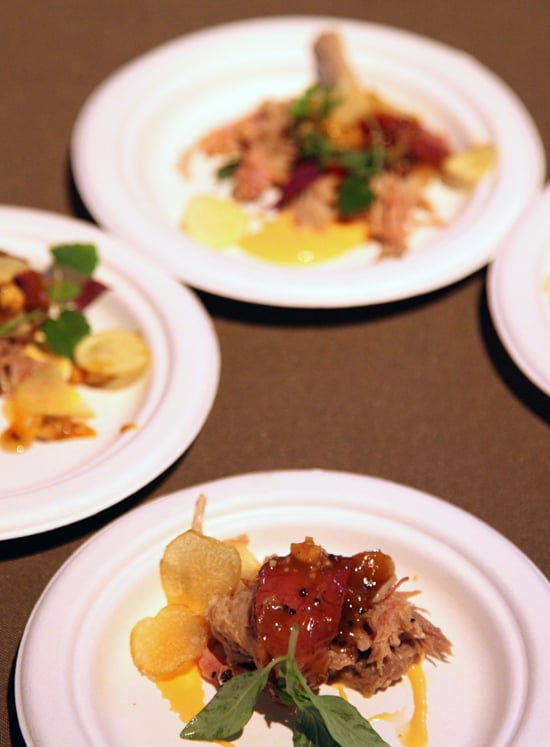 Picán's hickory-smoked pork shoulder with peach ham jam and peanut chile hash was the talk of the town last night.
Photo: Nicole Perry
Tuna Bites From Straits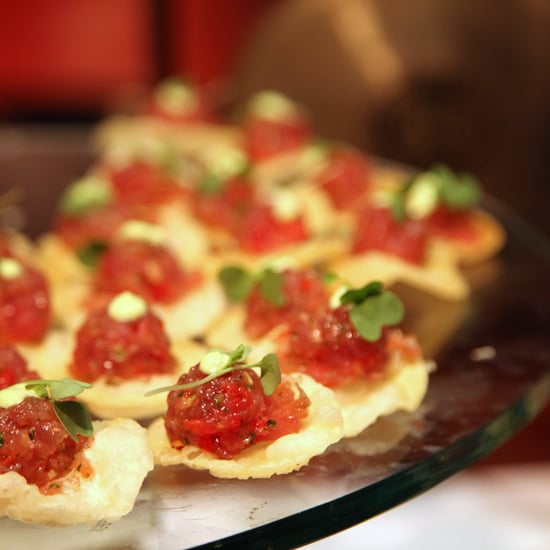 Chris Yeo's Singaporean minichain, Straits, served up "tuna bites" of gyoza crisps, raw ahi tuna, sesame-plum dressing, and a garnish of wasabi microgreens.
Photo: Nicole Perry
Contigo's Corn Montaditos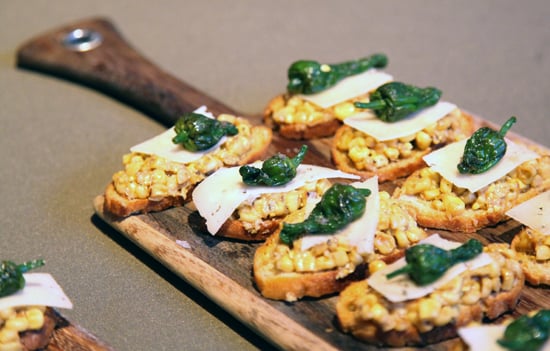 Spanish restaurant Contigo served up montaditos (Basque, bite-sized, open-faced sandwiches) of Summer corn, manchego, and padrón peppers.
Photo: Nicole Perry
Tout Sweet's Panna Cotta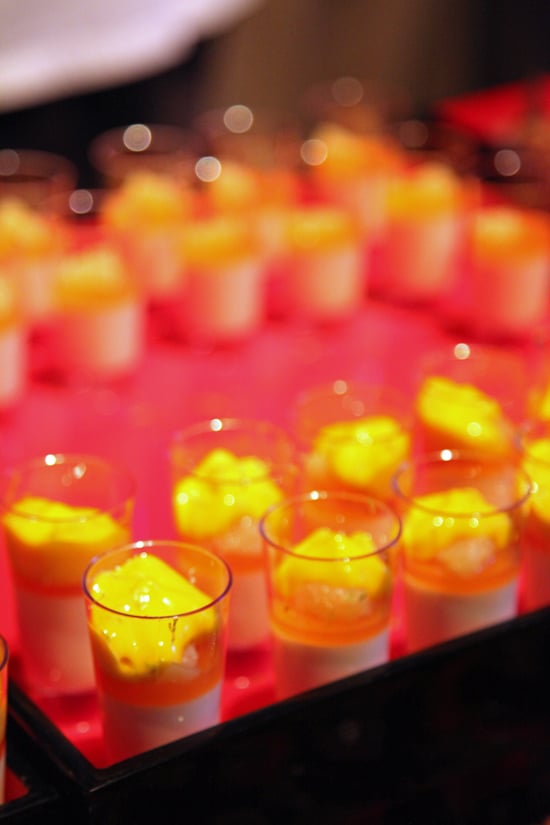 Top Chef Just Desserts season-one winner Yigit Pura was passing out desserts like the citrus-vanilla panna cotta with Campari citrus gelée and ruby red grapefruit, pictured here. We loved the balance between sweet, sour, bitter, and rich, and are eagerly awaiting the opening of Pura's new bakery in September [6].
Photo: Nicole Perry
The Phoenix Supper Club's Compressed Melon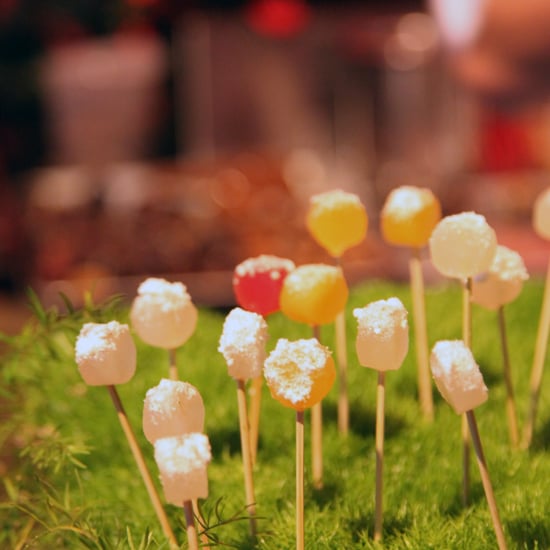 Compressed heirloom melon lollipops (topped with bacon powder, no less) from The Phoenix Supper Club. While the compressed fruit was definitely on trend, it didn't taste all that different from regular melon.
Photo: Nicole Perry
Sushi Ran's Vegetarian Bite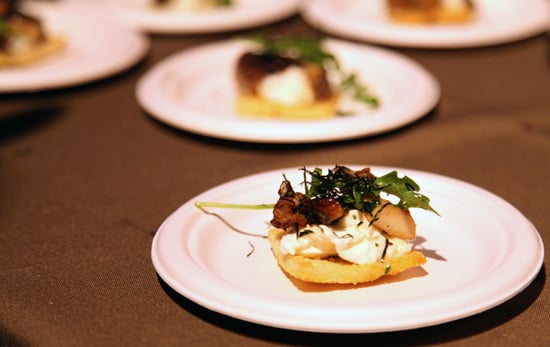 We were pretty disappointed that Scott Whitman of Sushi Ran didn't actually serve a fish dish, but this burrata, nori, and trumpet mushroom bite actually kind of made up for it. "It's Asian fusion actually done well," assistant editor Nicole Perry said.
Photo: Nicole Perry
Chupacabras From Tres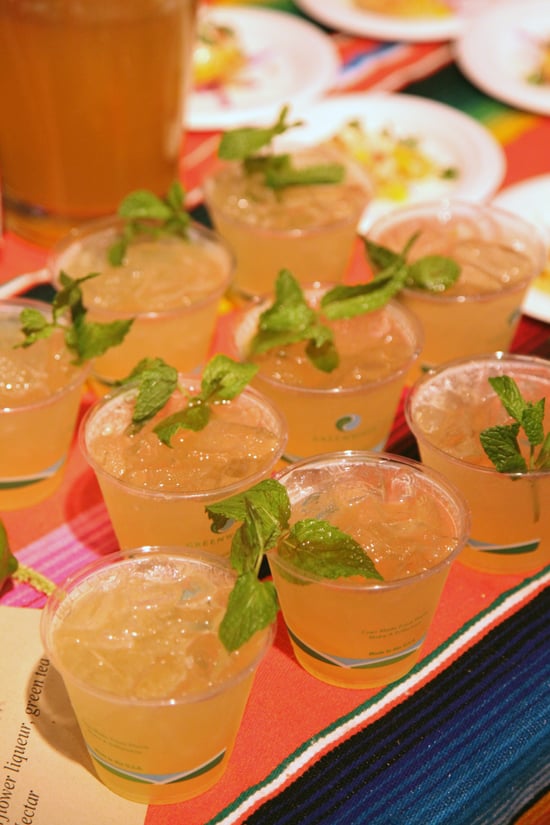 Tres served glass after glass of its chupacabras: reposado tequila with elderflower liqueur, green tea, and agave nectar.
Photo: Nicole Perry
One Market's Dungeness Crab Cakes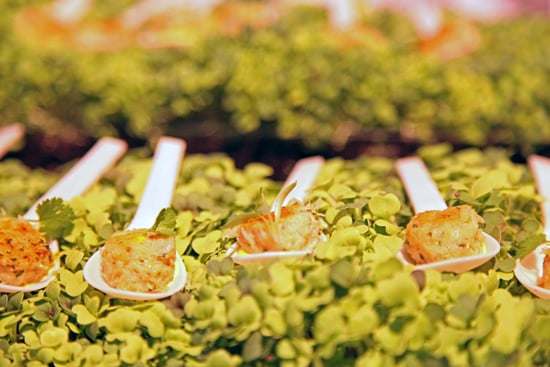 Mark Dommen of One Market restaurant offered gorgeously plated dungeness crab cakes, served on a spoon with saffron aioli on a bed of microgreens.
Photo: Nicole Perry
Farallon's Oyster Vichyssoise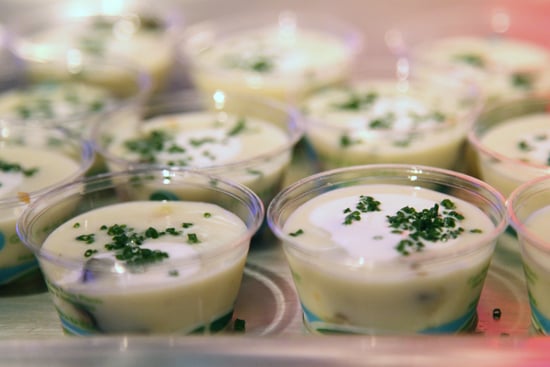 Oyster vichyssoise with smoked potatoes and crème fraiche from Farallon.
Photo: Nicole Perry
Escalivada Terrine From Thirsty Bear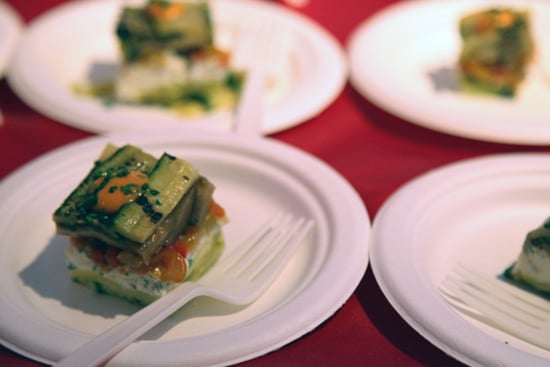 A gorgeously composed escalivada terrine with romesco and herbs from Thirsty Bear Brewing Co.
Photo: Nicole Perry
Chez TJ's Heirloom Tomato Tartare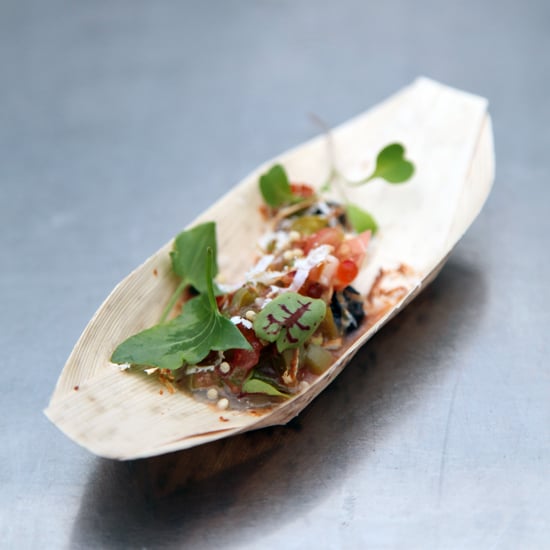 Heirloom tomato tartare with arugula microgreens, nopale, heirloom peppers, sorrel, and lavender tomato water from Joey Elenterio of Chez TJ.
Photo: Nicole Perry
Contemporary Mexican Restaurants Celebration
On Wednesday night, Traci Des Jardins and Dylan Montano of Mijita Cocina Mexicana hosted celebration of contemporary Mexican cuisine at the Ferry Building. The tequila was flowing, and the use of avocados was aplenty.
The Prime Location
The event was hosted by Mijita in the Ferry Building. Six chefs from all over the Bay Area showcased the best of their Mexican fare.
Carnitas Tacos
Juan Martinez of Tres Tequila Lounge & Mexican Kitchen [7] assembled slow-cooked carnitas served with fresh, house-made tortillas, pico de gallo, and guacamole. What made these carnitas oh-so moist and succulent? The meat was cooked in manteca, Spanish for pig lard.
Dorado Cocktail
Joel Baker, former bar manager of Bourbon & Branch and the Burritt Room, is now the bartender of Tres Tequila Lounge & Mexican Kitchen [8]. He shook up a "Dorado" cocktail with Espolón Blanco tequila, mango puree, lime, and agave. Instead of rimming the cups with sea salt, he included a pinch of sea-salt flakes and pepper in the cocktail shaker. We've seen a lot of cocktails with cayenne and szechuan peppercorns, but the pairing of black pepper and tequila was lovely and only mildly spicy.
Avocado and Corn Chilled Soup
Avocado and corn are the Mexican equivalent of peas and carrots. We're not the only ones to make a chilled avocado and corn soup [9]. Telmo Faria of Tacolicious [10] served a chilled avocado soup with a roasted corn and red onion relish and cumin-lime crema.
Tomalitos
Joanne Weir of Copita Tequileria y Comida [11] stuffed tamalitos (little tamales) with sweet corn, roasted poblano peppers, and tomatillo salsa. The creamy queso fresco balanced the acidity of the peppers and tomatillos.
Sope de al Pastor
Matthew Ridgeway of Tacubaya: La Taqueria de Doña Tomás [12] topped a sope (a deep-fried masa cake) with black turtle beans, roasted pork shoulder, fire-roasted pineapples, and avocado sauce. I thought the pork shoulder and pineapples was Jamaican-inspired, but the chef insisted that it's actually a traditional Mexican combination.
Huaraches Con Alhambre
Veronica Salazar of El Huarache Loco [13] made mini huaraches (Spanish for sandal), an oblong masa cake stuffed with black beans usually served on the streets of Mexico late at night. Topped with almost anything (meats, cheeses, and vegetables), this particular huarache alhambre included carne asada, bell pepper, onion, chorizo, and melted cheese.
Bitter Sun Cocktail
Bartender Yanni Kehagiaras created this Bitter Sun cocktail for Nopalito [14], which is every bit as bitter as the name entails. The lip-smacking cocktail was made with Espolón Tequila Resposado, Gran Classico Bitter, Combier Triple Sec, and lemon juice.
Coctel de Camarones y Calamares Estilo Acapulco
Laurence Jossel and Gonzalo Guzman of Nopalito [15] showcased the sea with shrimp and calamari in a chilled, spicy tomato-based stew, served with a large chip. One really surprising ingredient was the addition of capers, which added saltiness to the stew. Chef Guzman said the Spanish brought capers over to Southern Mexico and now they are often seen in Acapulco cuisine.
Charred Octopus Taco Chip
Traci Des Jardins and Dylan Montano of Mijita Cocina Mexicana [16] served what I thought was the absolute best dish. Charred octopus was served on a thick chip with cilantro, lime, guajillo (a common chili pepper found in Mexican cuisine), and a sprig of purslane (a wild succulent that has a creamy, spinach-like flavor).
Veinte Quatro
Greg Stone, beverage manager of Mijita Cocina Mexicana [17], concocted the best drink of the evening. The "Veinte Quatro" contained Espolón Tequila Blanco, pomegranate juice, citrus, cucumber, agave, and chili. All of the ingredients were apparent on the palate: the crisp tequila, the tart pomegranate, the cooling cucumber, and the spicy finish from the chili. Greg recommends shaking any cocktail that contains citrus and a spirit to help emulsify and aerate the beverage. He then served the shaken beverage over ice.
Espolón Tequila
Espolón Tequila was used in all of the cocktails at the event.
49 Square Miles Food Tour
On Thursday, we savored all things local at the SF Chefs 49 Square Miles food tour, which featured restaurants from every square mile of the 7-mile by 7-mile city.
CUESA's Chilled Corn Soup
CUESA [18] started the night off on the right foot with an exceptionally smooth and delicately flavored chilled corn soup garnished with pickled cherry tomato.
Photo: Nicole Perry
Ristobar's Cavatelli With Burrata
We're die-hard burrata [19] fans, so we were immediately drawn to Ristobar's [20] offering of toothsome homemade cavatelli pasta topped with zingy tomato sauce, creamy burrata, and basil, by chef de cuisine Michele Belotti.
Photo: Nicole Perry
Sutro's at The Cliff House's Grilled Sea Bass
We're longtime fans of Sutro's [21] in the historic Cliff House; luckily, it didn't disappoint with its offering of grilled sea bass garnished with apple kimchi, green onion crema, and chicharrones. We'd have been sold on the chicharrones [22] alone . . .
Photo: Nicole Perry
Camper English's "Golden Gate 75"
Our first sip of the night came from Camper English of the Alcademics blog [23] (a great cocktail resource). His cheekily titled Golden Gate 75 hit all the right notes from sweet to sour to bitter, thanks to its use of campari, sparkling wine, blood orange juice, and orange bitters. It's safe to say that we'll be trying our own spin on this vibrantly colored tipple at home!
Photo: Nicole Perry
Gialina's Little Meatballs
One of our favorite bites of the night came from chef Sharon Ardiana. Her tender meatballs, generously napped with tomato sauce, are on our "must-order" list when grabbing a bite at Gialina [24]. Side note: we also adore the Nutella pizza [25] at Gialina's sister restaurant Ragazza [26].
Photo: Nicole Perry
Beautiful Flowers at the Gialina Table
Photo: Susannah Chen
Arizmendi Bakery's Cookie Spread
Arizmendi bakery [27] provided an ample spread of treats, including oatmeal raisin cookies, snicker doodles, double chocolate "dark sunshine" cookies, molasses crinkles, peanut butter cookies, chocolate chip walnut cookies, and a novel "kookie brittle."
Photo: Nicole Perry
Arizmendi Bakery's Auntie Mabel's Kookie Brittle
We were completely smitten with Arizmendi's [28] signature "kookie brittle," a crisp and crumbly shortbread studded with a variety of delectable mix-ins, including a chewy mass of peanuts and chunks of dark chocolate that melt in your mouth.
Photo: Susannah Chen
Arizmendi Bakery's Foccacia
We also enjoyed nibbling on Arizmendi's [29] savory offerings, including a classic tomato, mozzarella and basil focaccia, as well as another iteration topped with caramelized onions, goat cheese, and mushrooms.
Photo: Nicole Perry
Seafood Sausage With Caper Butter Sauce From Alioto's
Alioto's [30] shrimp and scallop sausage reminded us of dim sum in the best way possible, though its white wine butter sauce and capers were certainly a different (and delicious) spin on the briny shellfish.
Photo: Nicole Perry
Dosa's "Desperado" Cocktail
We nearly went back for seconds of the spicy Desperado cocktail from Lenny Gumm of Dosa [31] (easily our favorite Indian restaurant in SF). We were impressed by its creative blend of ingredients, including tequila, chai tea, maraschino liqueur, ginger, lemon, and golden ale.
Photo: Nicole Perry
Coco500's Duck Liver Pate Crostini
We're suckers for charcuterie in any form, particularly anything duck, so we made a beeline to Coco500 [32] to snap up a bite of the crostini topped with duck liver pate and a well-balanced fig and caramelized onion compote.
Photo: Nicole Perry
Pier 23 Cafe's Scallop Ceviche
Chef Matt Garcia from Pier 23 Cafe [33] managed to successfully pack a whole host of flavors into his scallop ceviche offering. Garnished with grilled corn, avocado, and red onion and drizzled with a complex roasted poblano mole, we see why this is a perennial menu favorite.
Photo: Nicole Perry
Bar Crudo's Marinated Mussels
Bar Crudo [34] killed it with its briny mussels marinated in a Banyuls vinaigrette peppered with minced herbs and jalapeno. We're more familiar with mussels' traditional steamed preparation but were delighted to discover how delicate the shellfish can be when served raw.
Photo: Nicole Perry
Bar Crudo's Butterfish Crudo
Bar Crudo's [35] butterfish crudo was almost too beautiful to eat. Garnished with salmorejo [36], jamon serrano (holy yum!), egg, and bull's blood microgreens, we'll be heading back to the raw-fish haven for a repeat tasting.
Photo: Nicole Perry
King of Falafel's Falafel
By the time we made it to the King of Falafel [37] table, its falafel-and-pita offering sadly had gotten cold, but we can speak from past experience that the chickpea fritter is top notch.
Photo: Nicole Perry
Baker and Banker's Cake
Guests were enlisted to help judge a cake decoration competition. We appreciated Baker and Banker's [38] beautifully painted layer cake but wished it had also brought a savory bite to taste, as it's consistently one of our favorite local restaurants.
Photo: Nicole Perry
Ristobar's Cake
We were thoroughly impressed by the intricate sugar-work on Ristobar's [39] offering, not to mention its delectable raspberry, panna cotta, Campari, and chocolate filling.
Photo: Nicole Perry
Foreign Cinema's Cake
Foreign Cinema's [40] layer cake charmed us with its tres French color palate. Side note: Foreign Cinema is one of our all-time favorite brunch spots [41].
Photo: Susannah Chen
Perbacco's Cake
Perbacco's [42] layer cake decorated with a host of iconic SF landmarks was our runner-up.
Photo: Nicole Perry
5th Floor's Cake
Ultimately our vote went to 5th Floor's [43] cake for its creative gum-paste sculptures and sugared flower decorations meant to represent SF's different neighborhoods. Pictured: a suckling pig on a spit for Daly City, dia de los muertos mask for the Mission, a dragon for Chinatown, pasta shapes for North Beach, cherry blossoms for Japantown, edible flowers for the Botanical Gardens and the Conservatory of Flowers in Golden Gate Park, greenery for the Presidio, and a gum-paste Golden Gate Bridge.
—Additional reporting by Susannah Chen, Nicole Perry, and Anna Monette Roberts
Photo: Nicole Perry