While it's true that most restaurants have been hit hard by the economy, at least one eatery is flourishing. Meet Mission Street Food [1], an unusual dining concept that's taken flight in San Francisco's Mission district. Two nights a week, Anthony Myint, a former line cook at a well-known restaurant in town [2], sublets space from a hole-in-the-wall Chinese restaurant [3], invites a guest chef to cook, and serves up creative, experimental dishes sourced from well-known farms in the area. Without the overhead costs of a fine dining establishment, Mission Street Food is able to donate a portion of profits to food charities like Meals on Wheels [4] or C.H.E.F.S [5]. The concept also gives Myint and his fellow colleagues a chance to experiment with new dishes. Keep reading to scope out the Mission Street Food scene.
Queuing Up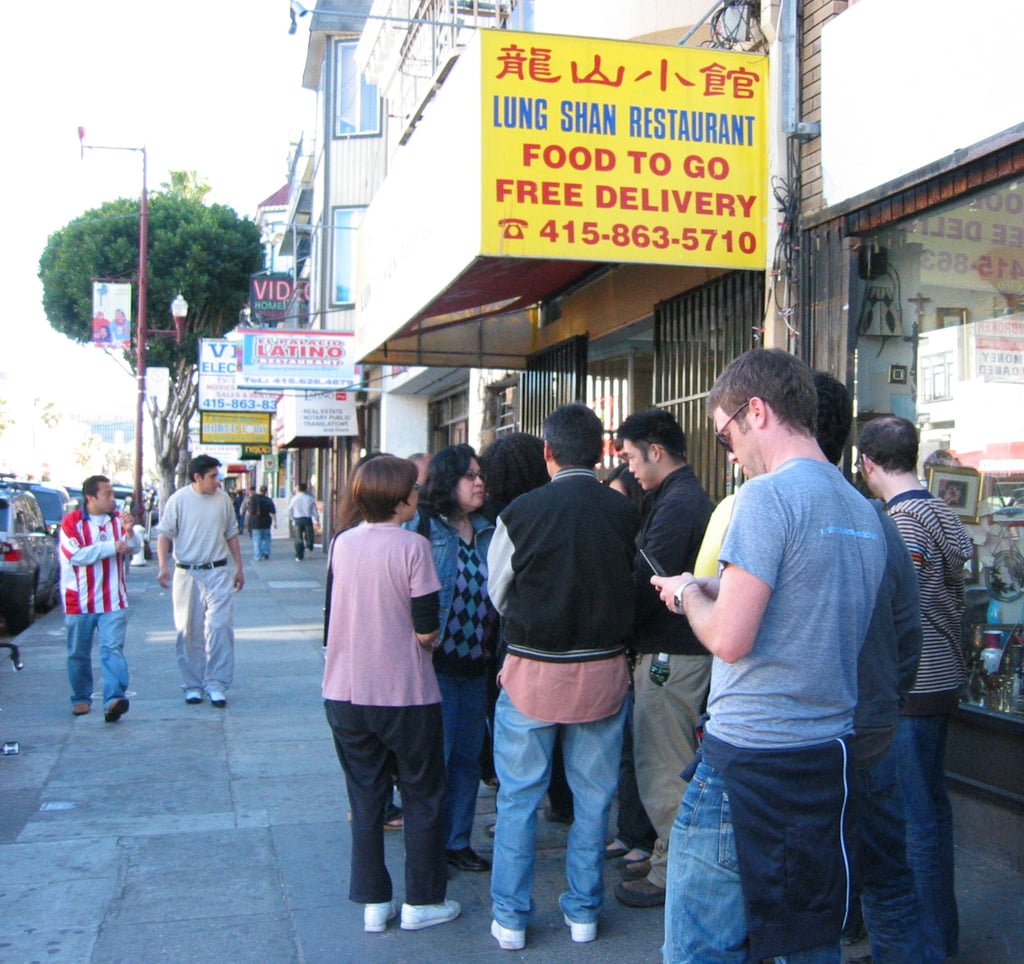 There are no reservations taken at Mission Street Food. Doors open promptly at 6 p.m., which means a steady line begins forming as early as 5:30. After Mission Street Food officially opens for the night, those eager to try out the night's food can put their names down to be telephoned once a seat opens up.
The Menu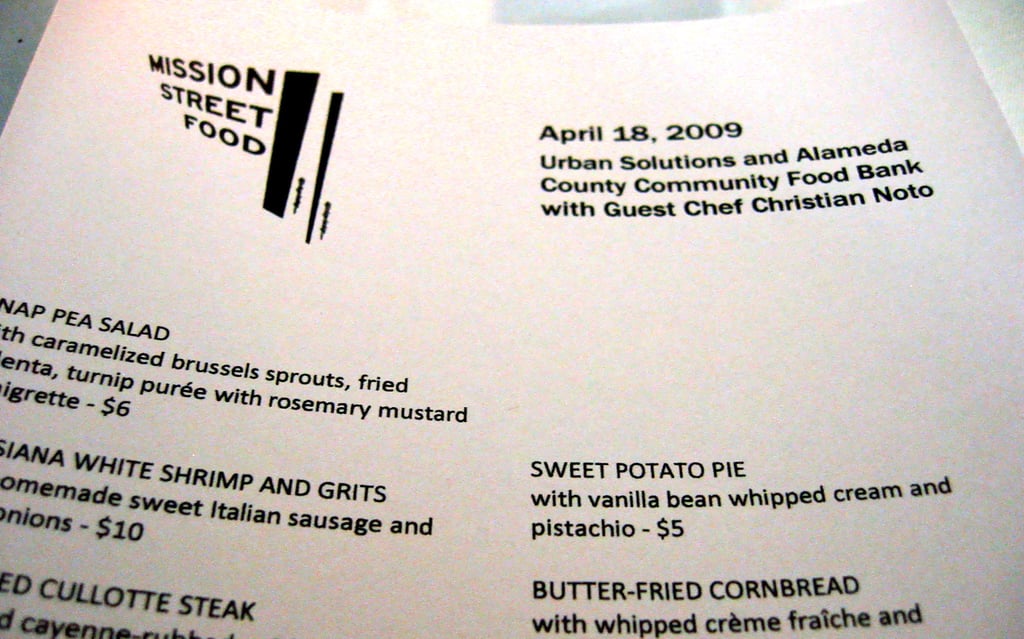 The menu is ever-changing, but usually consists of the guest chef's creations, as well as a few Mission Street Food standbys and several steamed dishes by Lung Shan. Although the food can be paid for by cash only, it's incredibly affordable: It's possible to order at least one of every item on the menu and wind up paying less than $40.
The Ambiance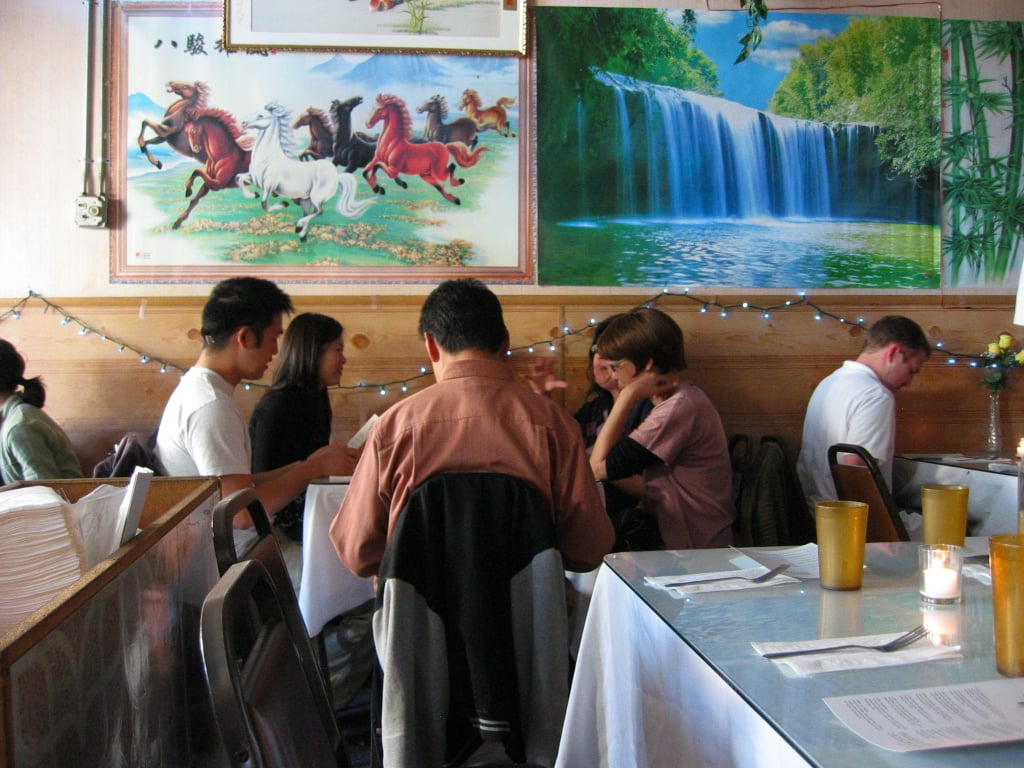 Mission Street Food diners who enter Lung Shan are greeted with fake floral arrangements, Christmas lights, and 1970s tiling. I've come to embrace the mismatched silverware, chipped dinner plates, and Chinese tea cups subbing as wine tumblers as part of the Mission Street Food experience.
King Trumpet Mushroom Flatbread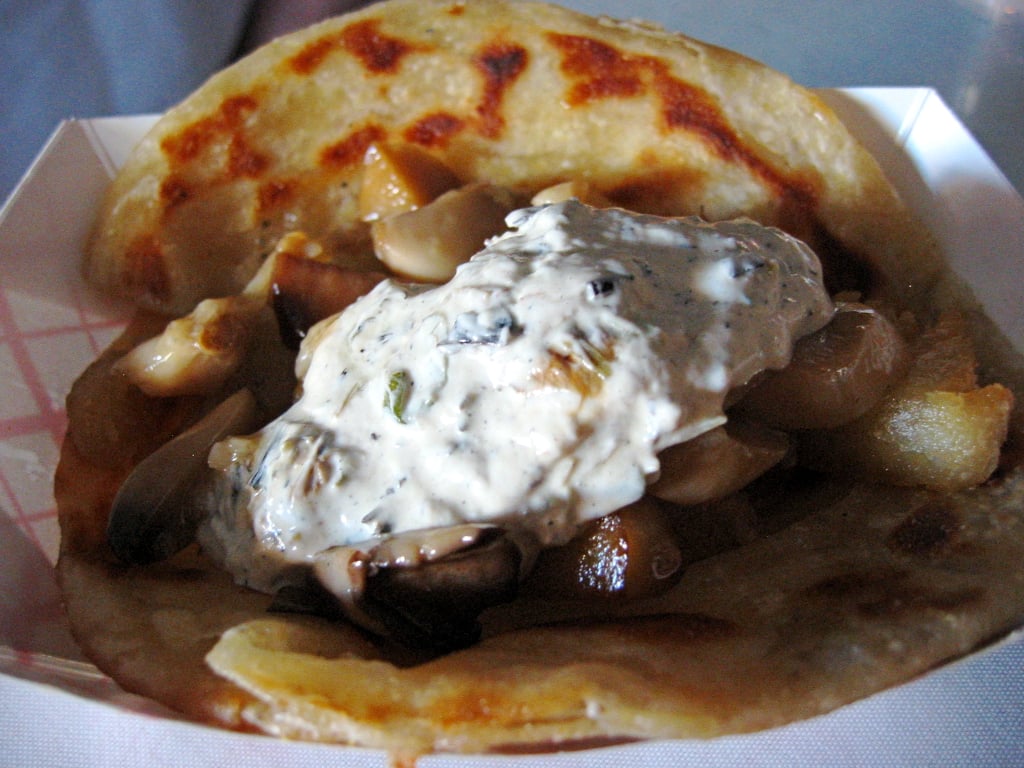 Mission Street Food's signature homemade flatbread is topped with king trumpet mushrooms, triple fried potatoes, charred scallion sour cream, and lots of garlic.
Ham and Cheese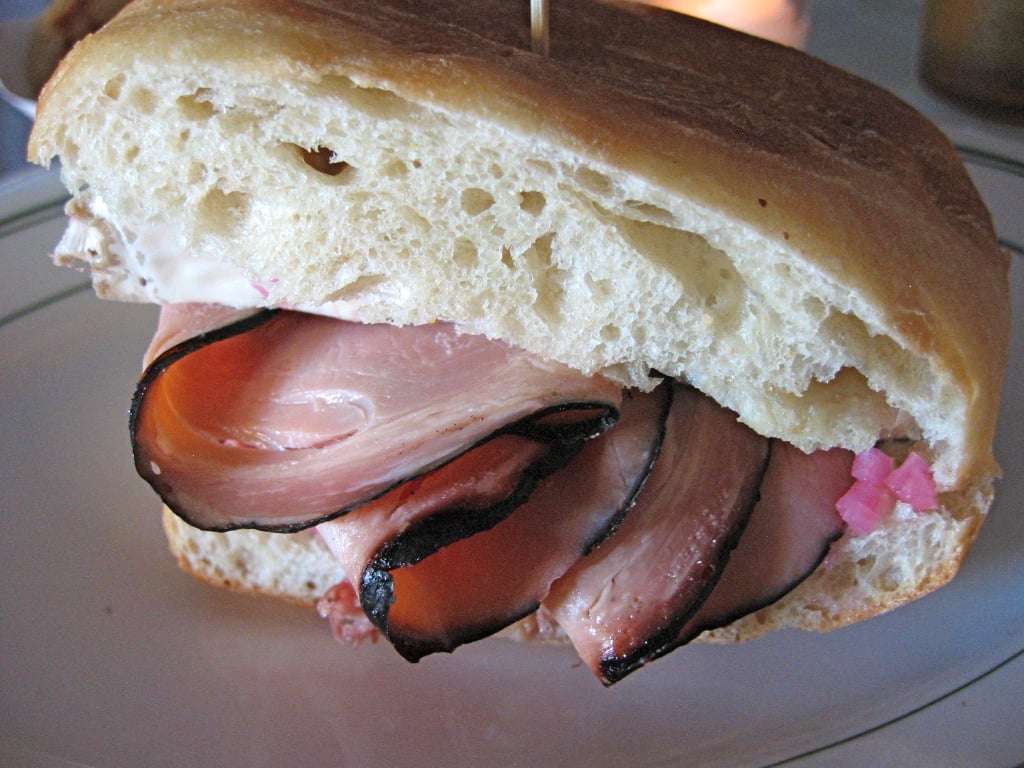 Tonight, the guest chef was Christian Noto of Split Pea Seduction [6]. Noto elevated the ham and cheese sandwich with a crusty slab of Acme bread, ham hock rillette, black forest ham, French triple creme cheese, and pickled red onion.
Vegetable Po' Boy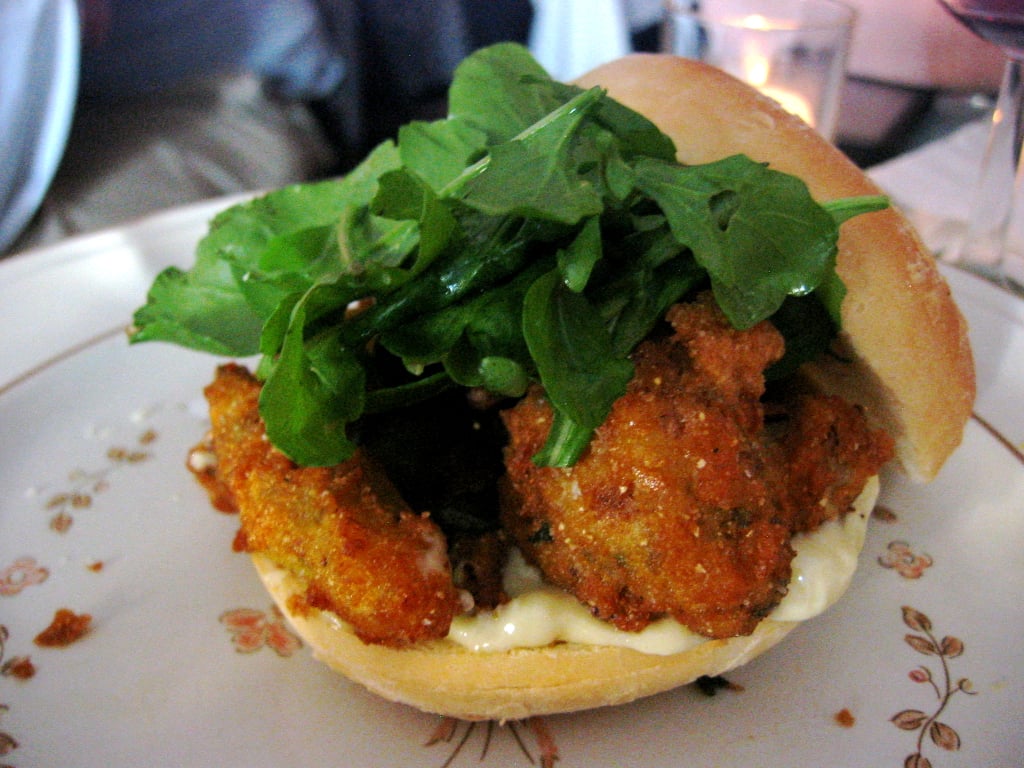 Spring market vegetable po' boy topped with a serrano chile aioli and sweet pickles on a homemade bun.
Shrimp & Grits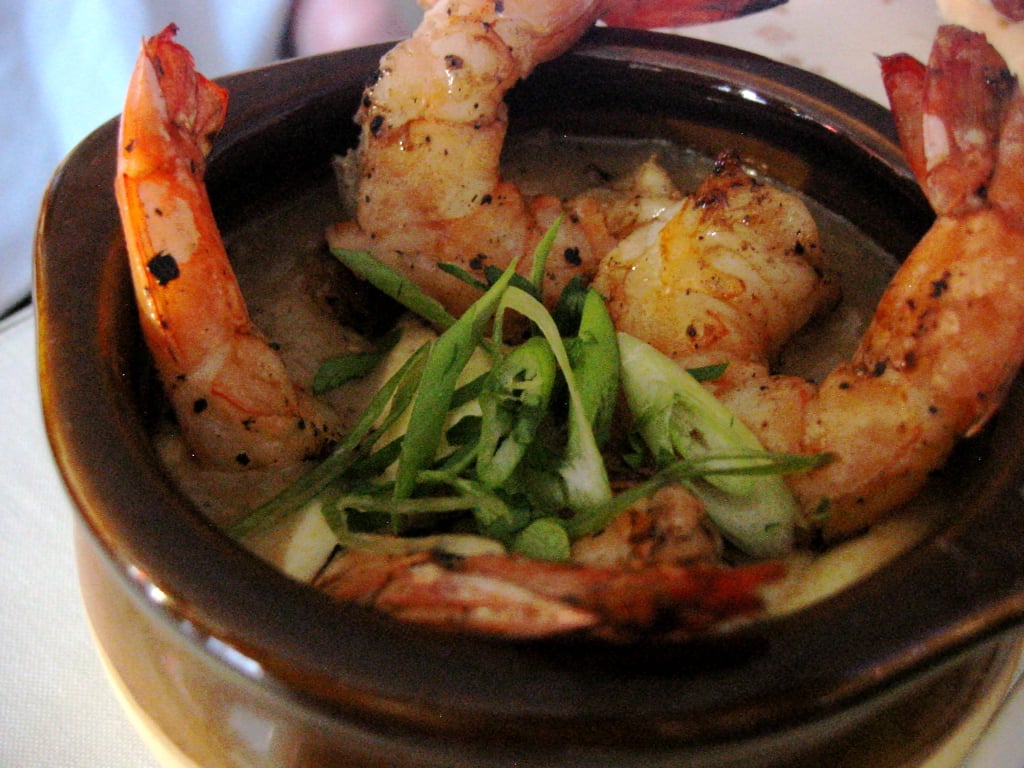 Louisiana white shrimp served with grits, homemade sweet Italian sausage and green onions.
Bacon Soup Dumplings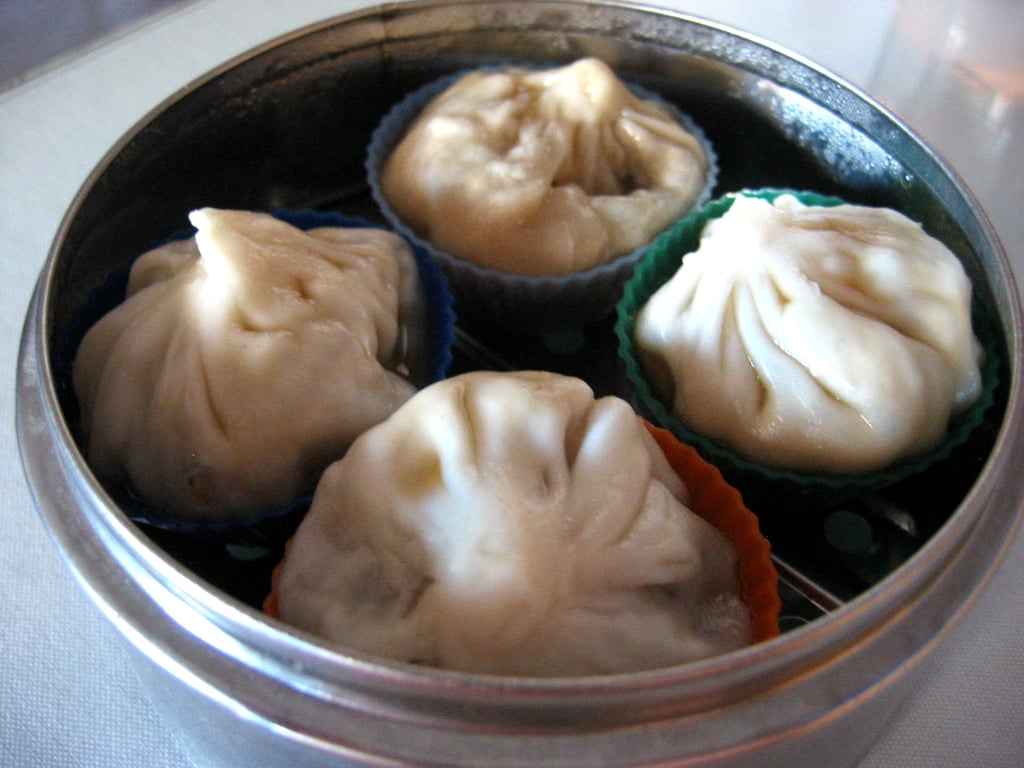 Lung Shan's Shanghai soup dumplings always make an appearance on the menu. They're filled with ground pork, chives, smoky pork broth, and — yes — Benton's bacon.