Simple Sautéed Mushrooms With Poached Egg
Adapted from The New Greenmarket Cookbook: Recipes and Tips from Today's Finest Chefs and the Stories Behind the Farms That Inspire Them [2] by Gabrielle Langholtz
Notes
Before you start, check out these tips and tricks for poaching eggs [3].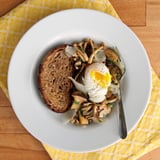 Ingredients
1/4 cup white vinegar
1/4 cup salt
2 large eggs
2 tablespoons extra-virgin olive oil, plus more for drizzling
12 ounces mixed mushrooms, cut into 1-inch pieces
1 tablespoon sherry vinegar
Kosher salt
2 tablespoons chopped fresh herbs, such as parsley, thyme, chives, basil, dill, or mint
Shaved parmesan
Freshly ground black pepper
Toast, for serving
Directions
Fill a medium stockpot with water, add the white wine vinegar and salt, and bring to a low simmer. Crack an egg in a shallow bowl. Swirl the water to create a vortex. Tip the egg into the center, and simmer until the white is completely set and the yolk is runny, 2-3 minutes. Remove with a slotted spoon, blot dry with a paper towel, and repeat the process with the second egg.
Heat the oil in a large sauté pan over medium-high heat until very hot. Add the mushrooms and a pinch of salt, and sauté until caramelized but juicy, 6-7 minutes. Add the vinegar to the pan, toss the mushrooms to coat, and cook until the pan is dry, about another minute. Toss with fresh herbs; season to taste with salt.
Plate the mushrooms in two wide, shallow bowls, and arrange the poached eggs on top. Garnish with shaved parmesan and black pepper. Serve with toast.
Information
Category

Eggs, Breakfast/Brunch

Yield

Serves 2