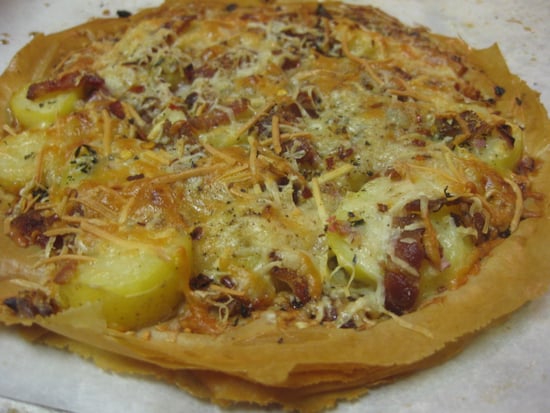 Asiago is a versatile Italian cheese. The texture and taste depends on its age and can range from smooth and mild to crumbly and sharp. In Europe, for a cheese to be considered asiago, it must be made in the alpine region of the Tento Province in Italy. However, outside the EU, asiago cheese is produced using similar techniques and cultures to those employed in Alpine Italy.
Asiago is made from cow's milk; since the cows graze on lush mountain pastures, they produce a thick, rich milk and, in turn, a distinctly flavored cheese. Its nutty, salty flavor makes fresh asiago an ideal table cheese. It's also nice in sandwiches. Semifirm aged asiago is perfect for grating and can be used like parmesan. To learn what I did with this type of asiago,
.
When I think of grated cheese, pizza immediately comes to mind. Instead of doing a classic pie dough, I used phyllo dough to create this appetizer pizza. The chewy bacon, buttery potatoes, and crispy crust are nice complements to the slightly sweet tangy cheese. This dish would be a delightful addition to a brunch menu. For a vegetarian version, simply omit the bacon.