School Lunch Tips
Tips For Packing the Perfect Lunch
Like us on Facebook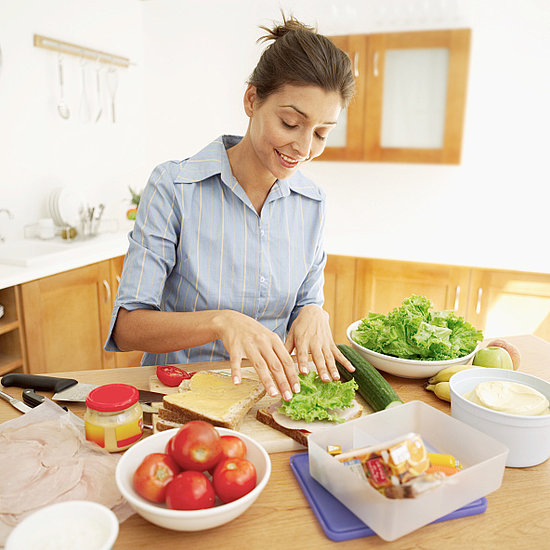 It's hard to believe that many schools are starting the new year this week. Although your schedule will be more hectic, don't skip lunch when you head back to school! Instead, take the time each evening or morning to put together a healthy and appetizing lunch. Here are some helpful hints for packing the best brown bag.
Be creative! Try not to make the same thing every day. If you have a sandwich on Monday, bring a salad on Tuesday. Variety is the key to not getting stuck in a peanut-butter-and-jelly rut.
Skip the processed foods (like single serving packs of chips) and opt for fresh ingredients, like sandwiches and salads that are made with in-season herbs, greens, fruit, vegetables, and cheese. Nuts, sliced carrots, and popcorn are great for snacking.
Avoid sogginess by packing food items in different containers. Place salad dressing in a small tupperware and greens in a large ziplock baggie. Dress and assemble the salad just before you plan on eating.
Keep reading for the rest of my tips.
Make sandwiches more exciting with interesting condiments. Rather than using a standard mustard and mayo, slather on pestos or tapenade.
Turn last night's leftovers into a whole new dish. If you had steak and potatoes for dinner, throw slices of steak and chopped potato into a pita with mint, tomatoes, and store-bought hummus. Have chicken and veggies? Toss leftover chicken and veggies with cooked pasta, herbs, and crumbly cheese to make a hearty pasta salad.
If packing lunch for a loved one, put it in a special box or container and add a note. A simple, "enjoy your lunch! xo" can go a long way if someone is having a rough time at work or school.
Don't forget dessert. It's nice to finish lunch with a little something sweet. A piece of dark chocolate or a small cookie or baked good from a local bakery are delightful ideas.
What's your secret to packing the perfect lunch?