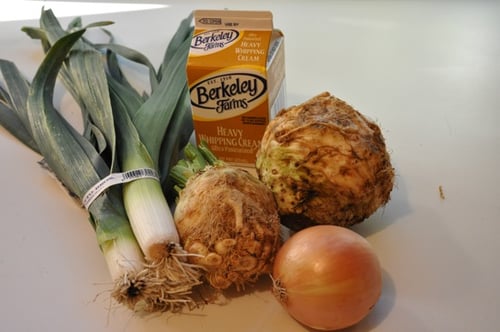 Celery Root and Leek Soup
Fine Cooking [3]
Ingredients
3 Tbs. unsalted butter
2 medium leeks (white and light green parts only), trimmed, halved lengthwise, cut crosswise into thin half-moon slices, rinsed thoroughly, and drained
1 medium yellow onion, thinly sliced
1 tsp. kosher salt; more to taste
1-1/2 lb. celery root (about 1 large)
3/4 cup crème fraîche
1/4 cup heavy cream; more as needed
Freshly ground black pepper
1/4 cup thinly sliced fresh chive
Directions
In a 4-quart or larger heavy-based pot, melt the butter over medium-low heat. Add the leeks, onion, and a generous pinch of salt and cook, stirring occasionally, until very soft and lightly golden but not brown, 15 to 20 minutes. Reduce the heat to low if you see signs of browning.
Meanwhile, peel the celery root with a sharp knife (expect to slice quite a bit off the exterior as you trim). Halve the peeled celery root lengthwise and cut each half into 1-inch-thick wedges. Cut each wedge crosswise into 1/4-inch slices. You should have about 5 cups.
Add the celery root, 1 teaspoon salt, and 1/2 cup water to the leeks. Cover and cook until the celery root is tender, 10 to 15 minutes. (Check occasionally; if all the water cooks off and the vegetables start to brown, add another 1/2 cup water.) Add 4-1/2 cups water, bring to a simmer, and continue to cook another 20 minutes. Let cool slightly.
Purée the soup (with a hand blender, or in small batches in a stand blender) to a very smooth, creamy consistency. Let cool completely and then store in the refrigerator at least overnight or for up to two days.
About an hour before serving, put the crème fraîche in a small bowl and stir in enough of the heavy cream so that the mixture reaches the consistency of yogurt. Leave the cream mixture at room temperature until you are ready to serve the soup. (If the cream is too cold, it will cool the soup.)
Reheat the soup. (If it's too thick, gradually thin it with as much as 1 cup water.) Taste and add more salt as needed. Ladle the soup into small espresso cups or bowls. Top each portion with a small spoonful of crème fraîche (it should float on top of the soup). Finish each cup with a pinch of black pepper and a sprinkle of chives.
Makes about 6 cups.
Information
Category

Soups/Stews, Bisque