Whole "Roast" Spice-Rubbed Chicken With Lemony Steamed Broccoli
From Slow Cooker Revolution Volume 2: The Easy-Prep Edition [2]
by Editors at America's Test Kitchen
Notes
Garam masala is a boldly flavored spice blend; its potency will vary from brand to brand. Check the temperature of the chicken after 4 hours of cooking and continue to monitor until breast registers 160 degrees and thighs register 175 degrees. You will need an oval slow cooker for this recipe.
Ingredients
For the chicken:
2 tablespoons vegetable oil
1 tablespoon chili powder
1 tablespoon garam masala
1 tablespoon minced garlic
Salt and pepper
1 (4 1/2- to 5-pound) whole chicken, giblets discarded
For the broccoli:
1 pound broccoli florets
2 tablespoons melted butter
1 tablespoon lemon juice
Salt and pepper
Directions
For the chicken: Microwave oil, chili powder, garam masala, garlic, 2 teaspoons salt, and 2 teaspoons pepper in bowl, stirring occasionally, until fragrant, about 1 minute; let cool slightly.
Use your fingers to gently loosen skin covering breast and thighs of chicken; place half of paste under skin, directly on meat of breast and thighs. Gently press on skin to distribute paste over meat. Spread entire exterior surface of chicken with remaining paste and place chicken, breast side down, in slow cooker. Cover and cook until breast registers 160 degrees and thighs register 175 degrees, 4 to 5 hours on low.
Transfer chicken to carving board, tent with aluminum foil, and let rest for 15 minutes. Carve chicken, discarding skin if desired. Serve with lemony steamed broccoli.
For the broccoli: Microwave the broccoli with 1/4 cup water in large covered bowl until broccoli is bright green and tender, about 4 minutes. Drain broccoli, toss with melted butter tablespoon lemon juice, and season with salt and pepper to taste.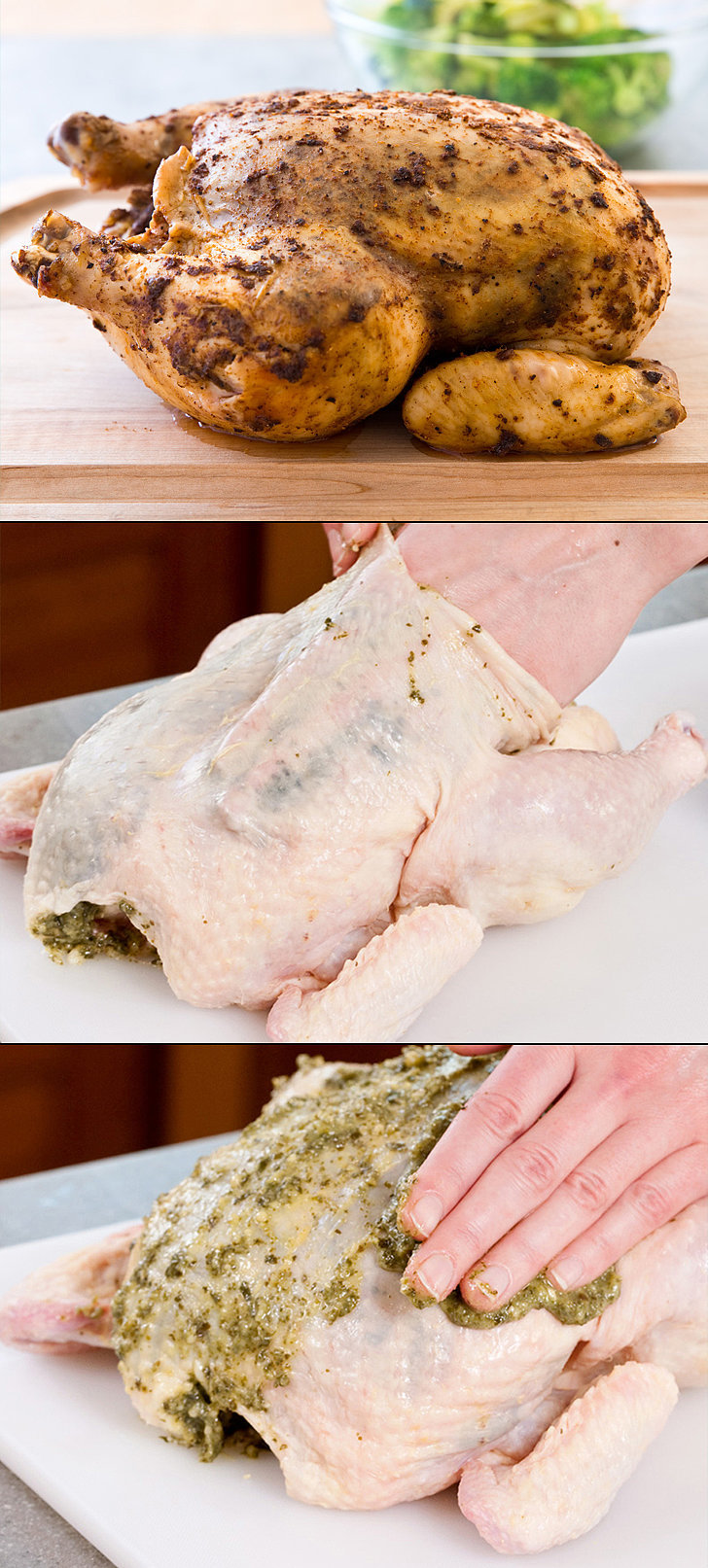 Information
Category

Poultry, Main Dishes

Yield

Serves 4