Soup's On: Roasted Onion Soup
Soup's On: Roasted Onion Soup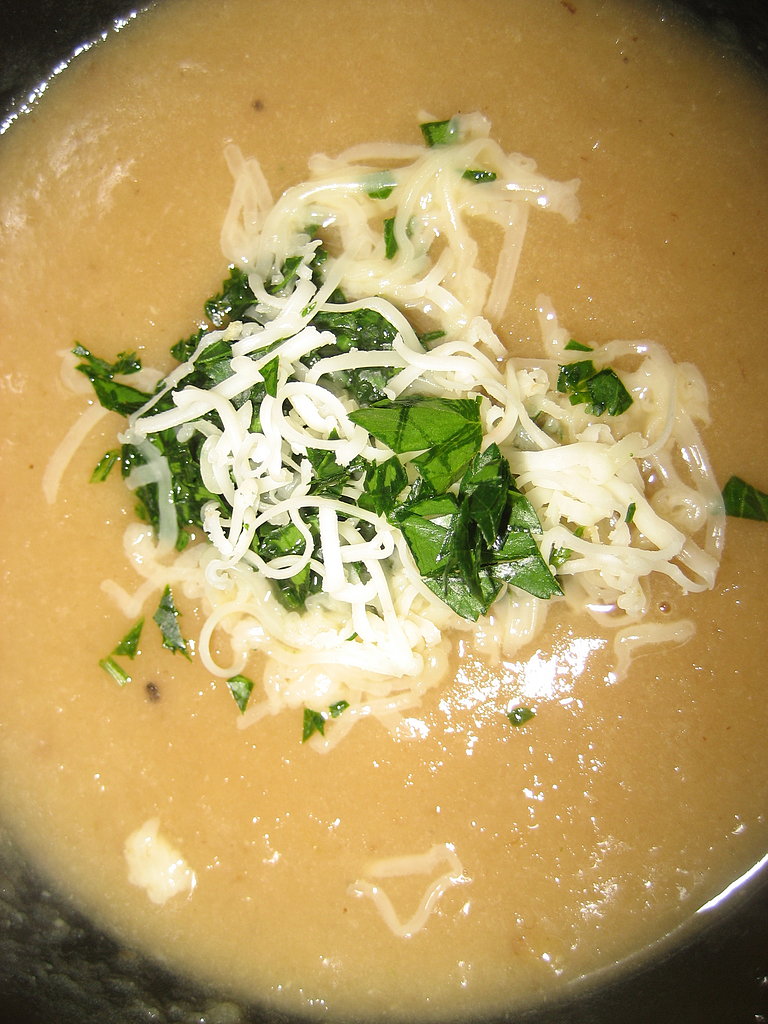 1
Soup's On: Roasted Onion Soup

The other day I was in the mood for onion soup. I didn't have time to caramelize the onions and simmer for several hours like the standard French onion soup recipe requires. Instead, I popped the onions in the oven for an hour. The whole house filled with a luscious fragrance creating a warm, comforting atmosphere. I pureed the onions with chicken broth and roasted garlic. The final result was a delicious, creamy soup with sweet onion flavor. I recommend passing the soup through the blender twice for a super smooth texture. To see how I did it, read more



Roasted Onion Soup
From Cooking Light magazine
1 1/4 lbs. Oso or other sweet onions, peeled and quartered
Cooking spray
1 whole garlic head, unpeeled
1 tbsp. olive oil
1/8 tsp. saffron threads (optional)
2 (14.5-oz.) cans fat-free, less-sodium chicken broth
1 bay leaf
1/4 cup dry sherry or Madeira wine, divided
1/4 tsp. freshly ground black pepper
1/8 teaspoon salt
1 tsp. fresh lemon juice
1/2 cup (2 oz.) shredded Swiss cheese
Chopped fresh parsley (optional)
Preheat oven to 375°F.
Place the onion quarters on a baking sheet coated with cooking spray; lightly coat onion quarters with cooking spray.
Remove white papery skin from garlic head (do not peel or separate cloves). Place garlic on a piece of aluminum foil. Drizzle with oil; wrap in foil. Place wrapped garlic on baking sheet with onion quarters.
Bake for 1 hour or until onion quarters are soft and lightly browned, turning after 30 minutes. Cool.




Place onion in a large saucepan. Unwrap garlic; separate cloves and squeeze to extract pulp into pan. Discard garlic skins. Add saffron (if desired), broth, and bay leaf to pan (I threw in a couple springs of thyme as well). Bring to a simmer over medium heat.
Stir in 3 tbsp. sherry, pepper, and salt. Reduce heat; simmer 15 minutes. Discard bay leaf.




Place half of the onion mixture in a blender or food processor; process until smooth.




Pour pureed mixture into a large bowl; repeat procedure with remaining onion mixture.
Return onion mixture to pan; cook over low heat until thoroughly heated. Stir in 1 tbsp. sherry and juice.




Ladle 1 cup soup into each of 4 bowls; top each serving with 2 tbsp. cheese. Sprinkle with parsley, if desired.
Serves 4.
Latest Food