If you find yourself feeling a little bit left out because you didn't get to party in Miami with your favorite chefs and culinary personalities, don't worry. YumSugar has got your back. We have put together the ultimate 2012 SOBEWFF experience, complete with all the events we attended and the awesome people we had a chance to meet and learn from. After clicking through these photos, you'll be able to chat with your friends about how hilarious Bobby Flay [1] was after he chugged his second mojito and how buttery and amazing stone crab really is. It'll be like you were there with us! And don't worry. We'll obviously keep your secret . . .
— Additional reporting by Susannah Chen
Welcome to Miami
Miami welcomed us with warm tropical weather and stunning views.
Stone Crab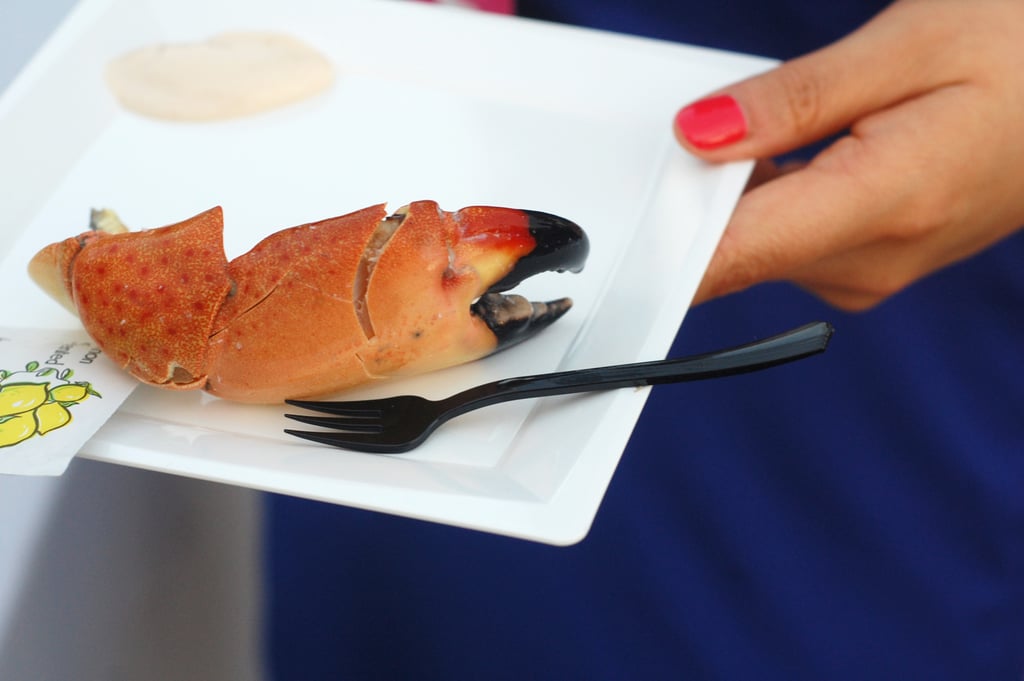 At the opening media happy hour, we feasted on stone crab.
And More Stone Crab
Then we went back for seconds.
The Q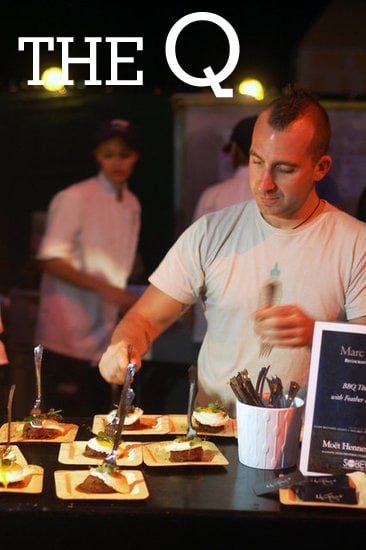 We started off the 2012 South Beach Wine and Food Festival in a big way: at Moët Hennessy's The Q [2], a barbecue and bubbly bash that took place under a tent right under the stars of South Beach. The grillout, which was hosted by Food Network pals Emeril Lagasse [3] and Guy Fieri, was filled with plenty of other star chefs, from Anne Burrell to Stephanie Izard.
The Q Entrance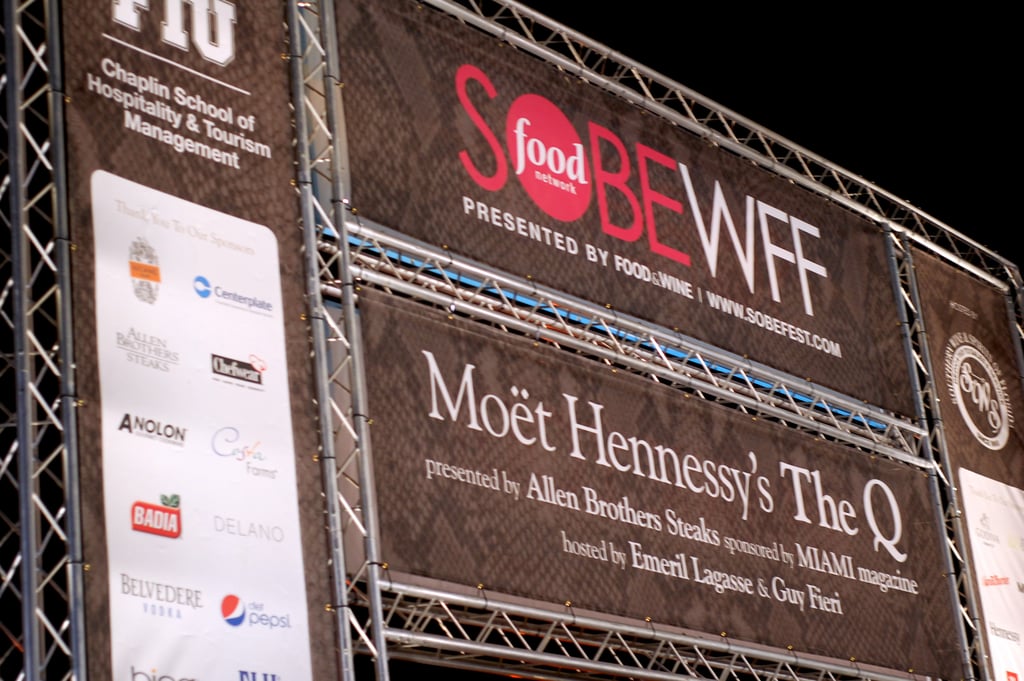 The grand entrance to Moët Hennessy's The Q was right on the beach — you could hear the waves crashing against the sand.
Champagne and Cocktails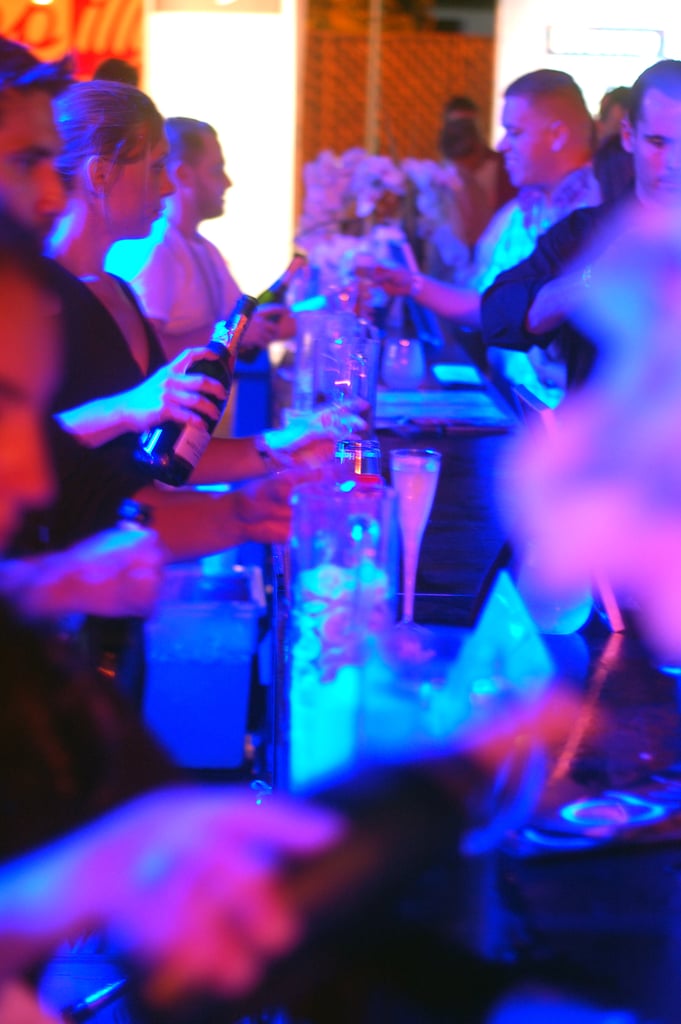 There were several areas (that always seemed to be packed) to fill up on Moët Champagne and the specialty cocktails of the night.
Boozy Watermelon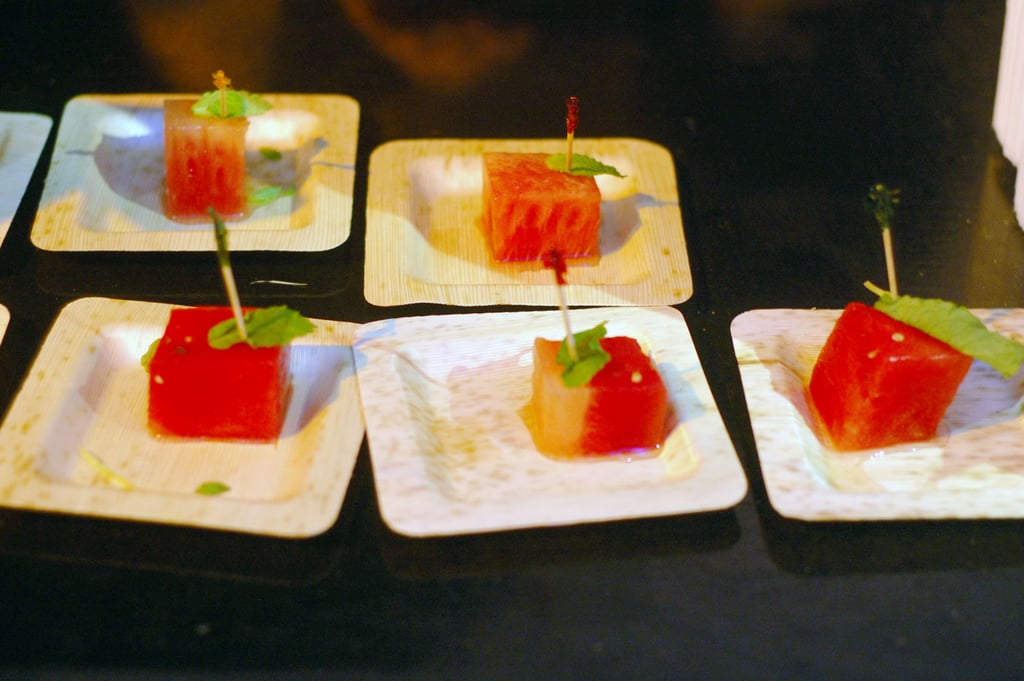 Watermelon soaked in shochu from Yoshi's Cafe, based in Chicago, was refreshing next to all of the rich, meaty bites.
Al Roker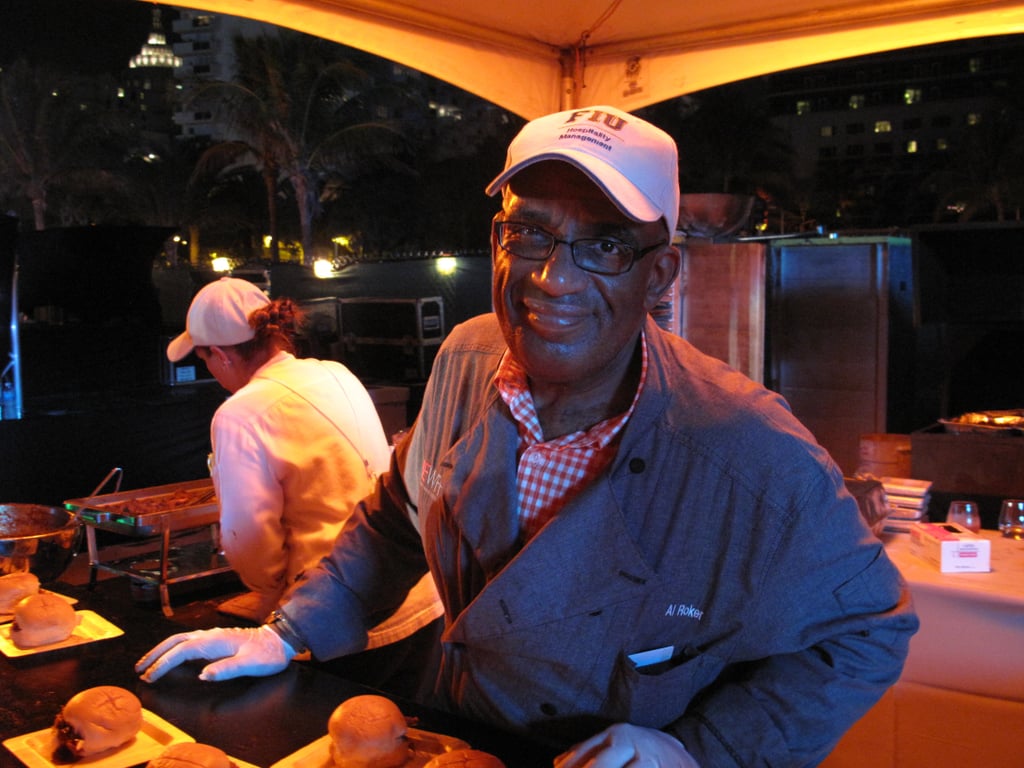 Today show host Al Roker served up his vinegary pulled-pork sandwiches.
Beef Tenderloin Tacos
Dean Fearing's food was some of the best we ate all night: tender pieces of beef tenderloin accentuated by a cabbage and onion slaw that made the corners of our mouth salivate.
Stephanie Izard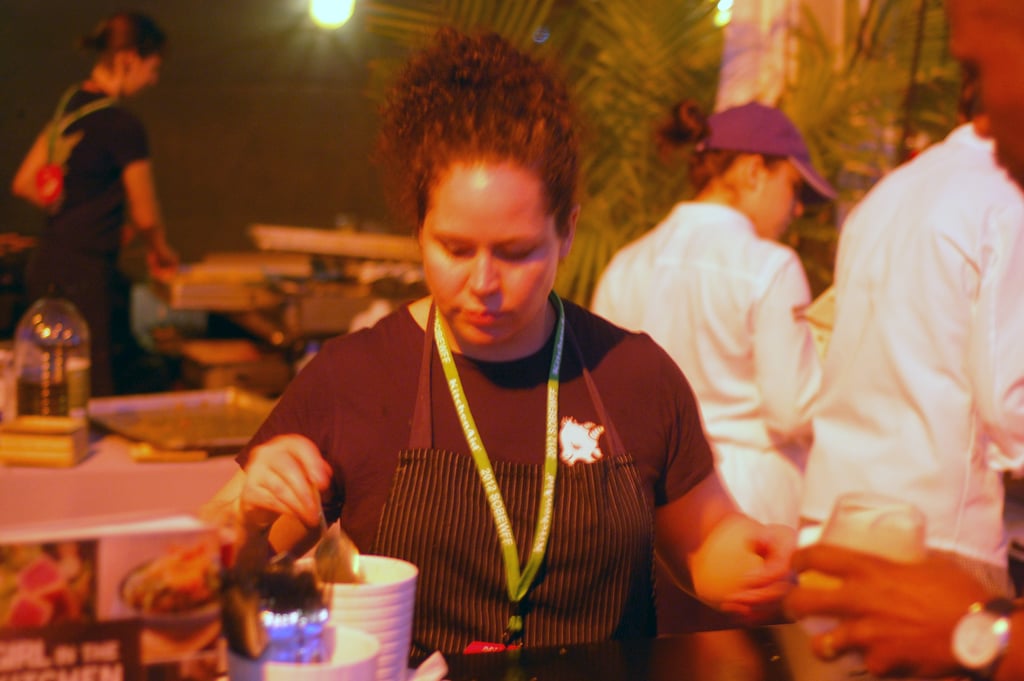 In between stages of food prep, Top Chef alum Stephanie Izard was getting her groove on to the live band.
Tom Douglas's Salmon With Potato Salad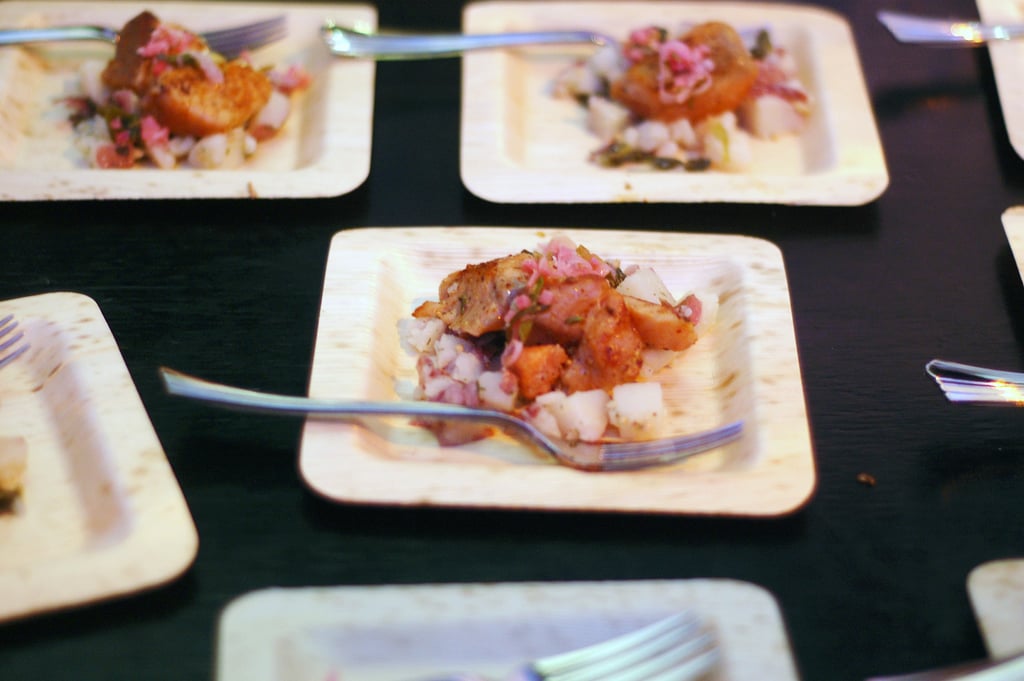 Seattle restaurateur Tom Douglas was on hand chatting with guests. His dish: cured salmon with rhubarb pickles (!) and a warm potato salad.
Grilled Boudin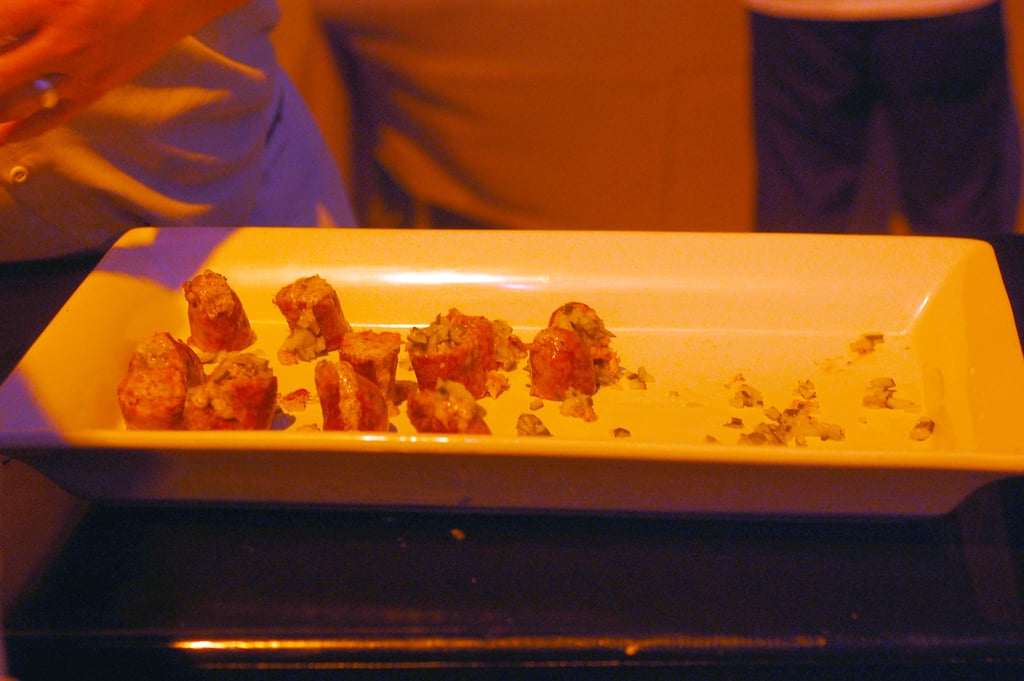 Stephen Stryjewski kept it simple with a platter of freshly made (and piping hot!) boudin sausage. It was soft and almost creamy on the inside.
Party People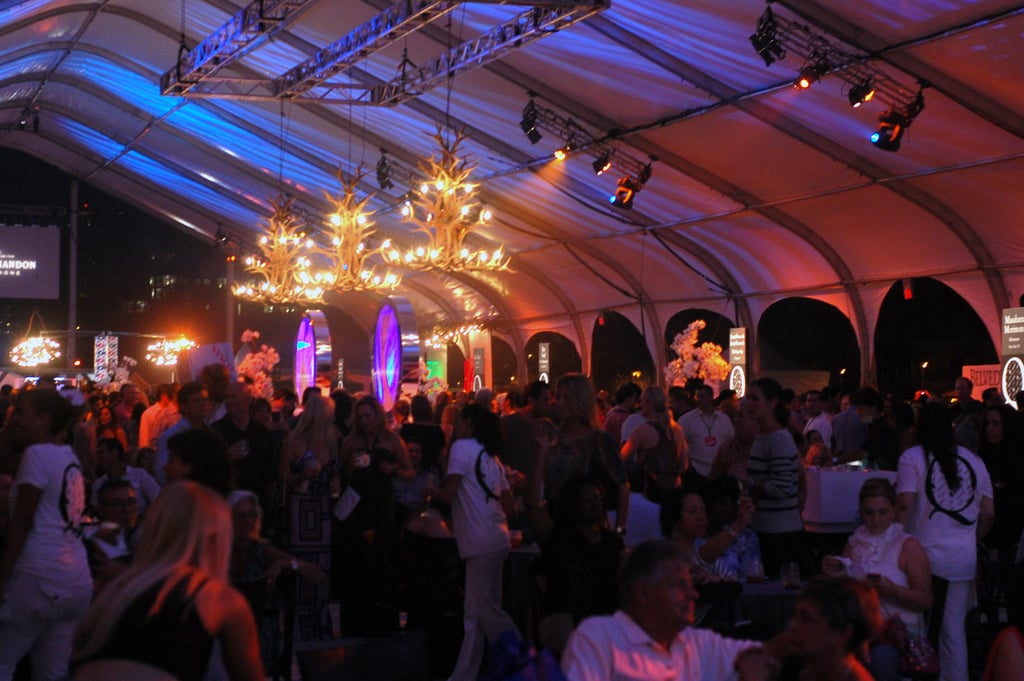 The tent was packed with food lovers and filled with delicious smells of barbecued meat.
Masaharu Morimoto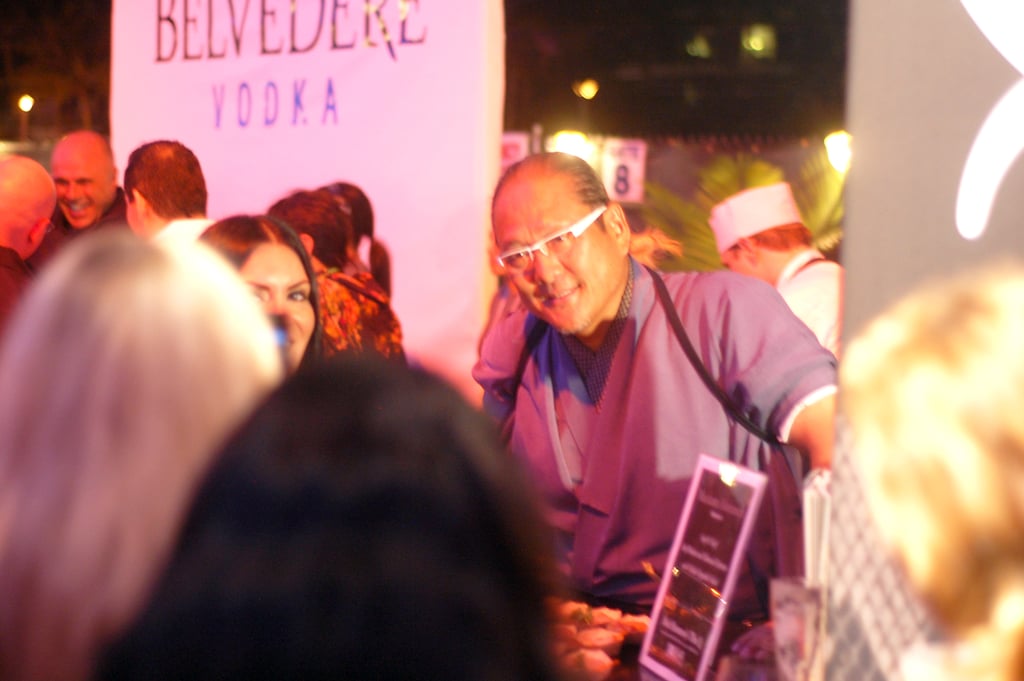 Masaharu Morimoto [4] was bombarded by fans waiting to get a picture with the Iron Chef.
Marc Forgione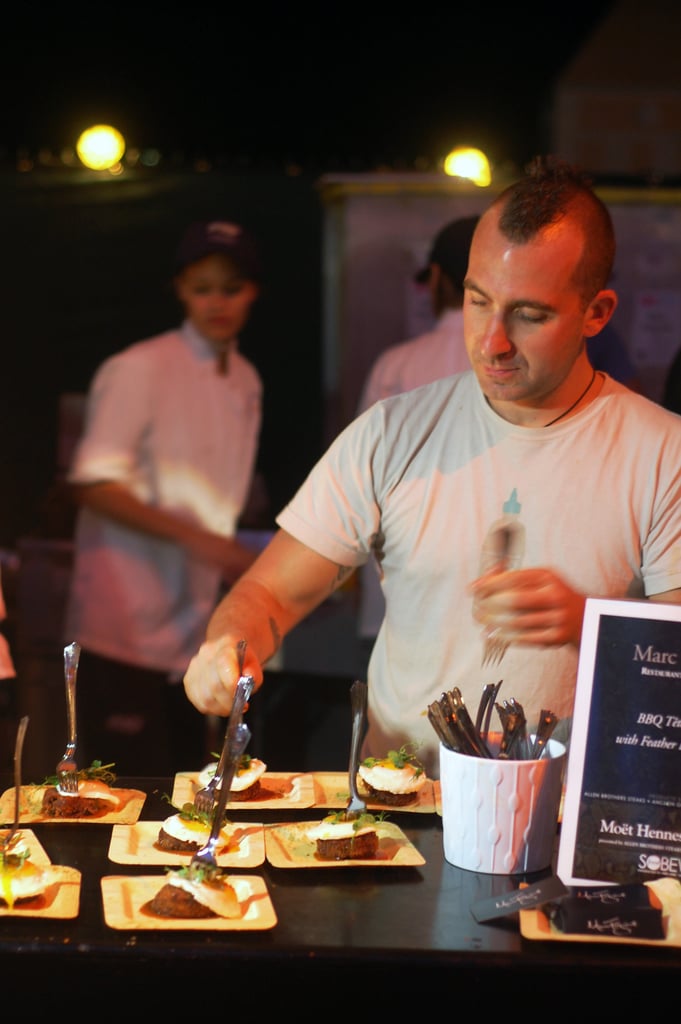 Iron Chef Marc Forgione dressed his plates right before serving.
Rustic Elegance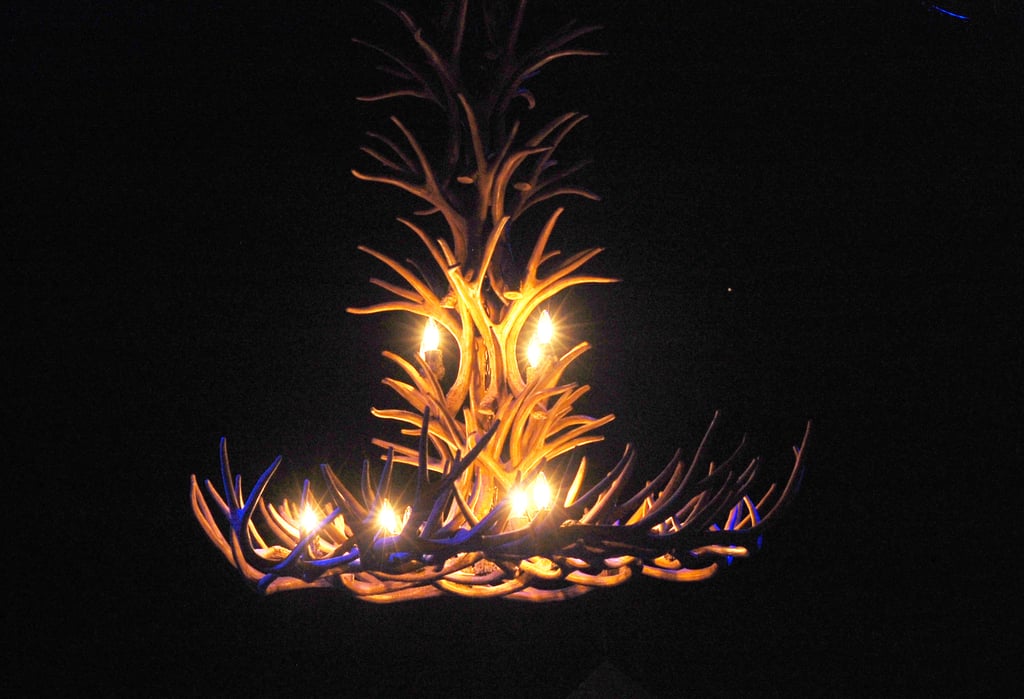 The event was enhanced by elegant yet rustic decor, like this antler lamp. We also spotted a cow made from silver and gold glitter that people were excited about.
Emeril Smiles For Us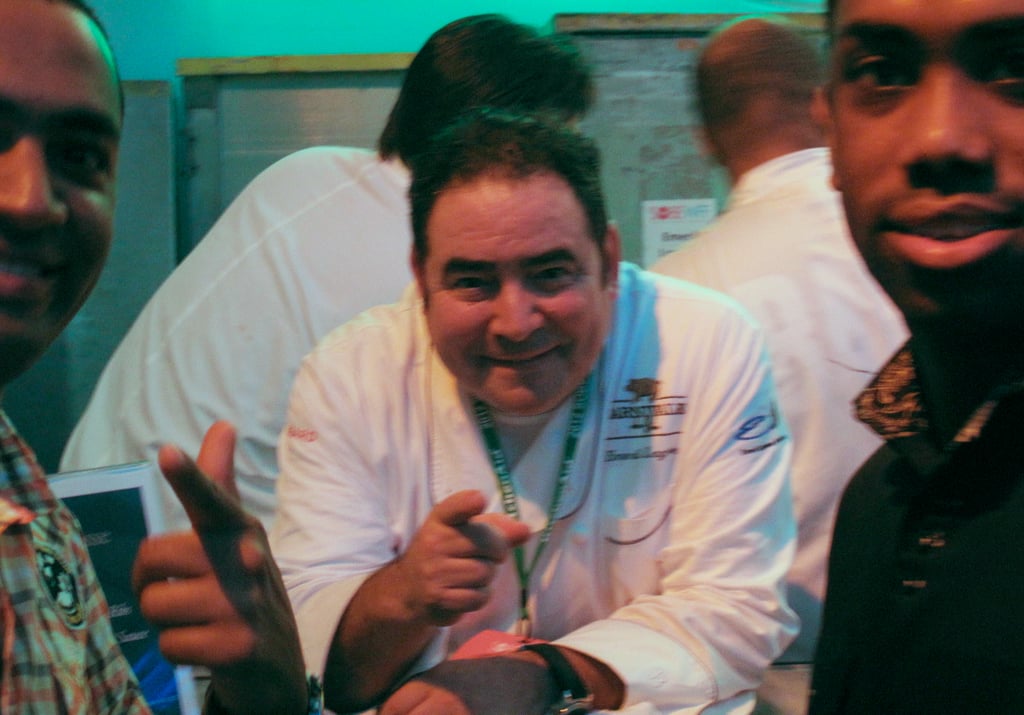 Emeril flashed a big grin at the camera.
Champagne Dreams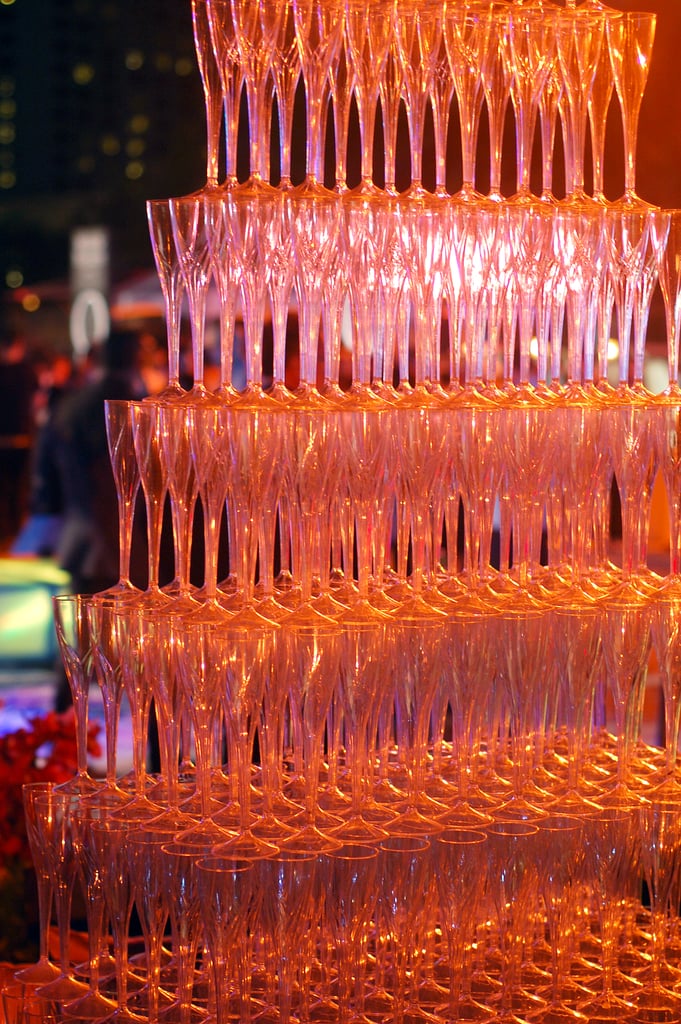 Moët Champagne flowed freely throughout The Q, setting the bar high for all of the upcoming events.
Big Gay Ice Cream Truck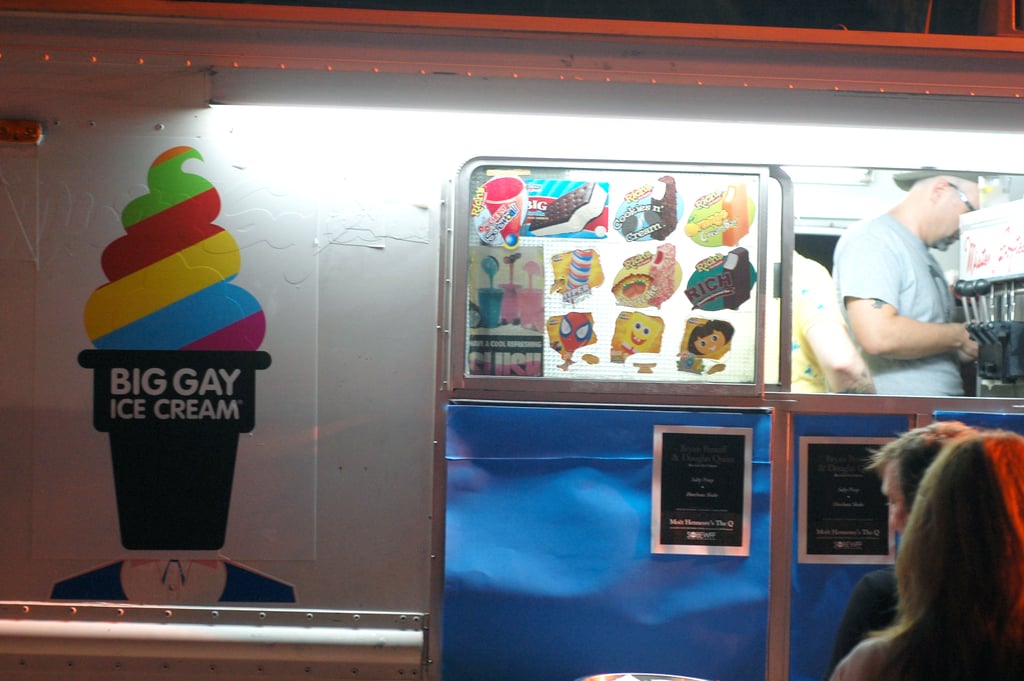 One of us may or may not have squealed with excitement when we spotted the Big Gay Ice Cream truck. We'll let you guess who.
The Salty Pimp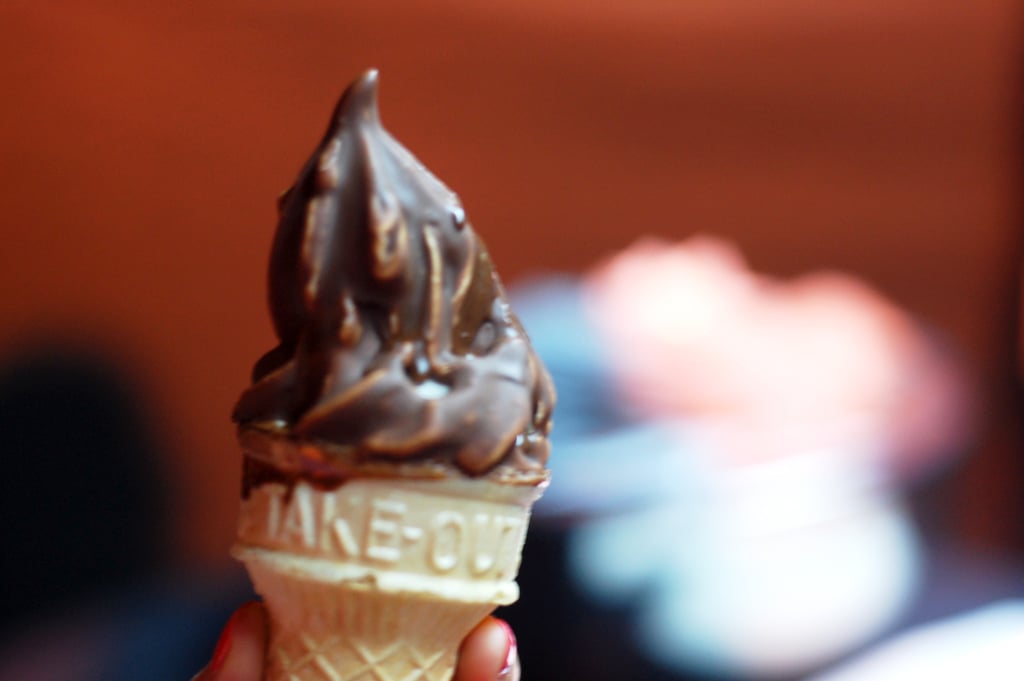 We introduce you to the Salty Pimp. Yes, you read correctly. Vanilla soft serve and salted caramel dipped in chocolate make this an indulgent treat. It was by far one of our favorite foods of the evening.
YumSugar Editors Are Cheesy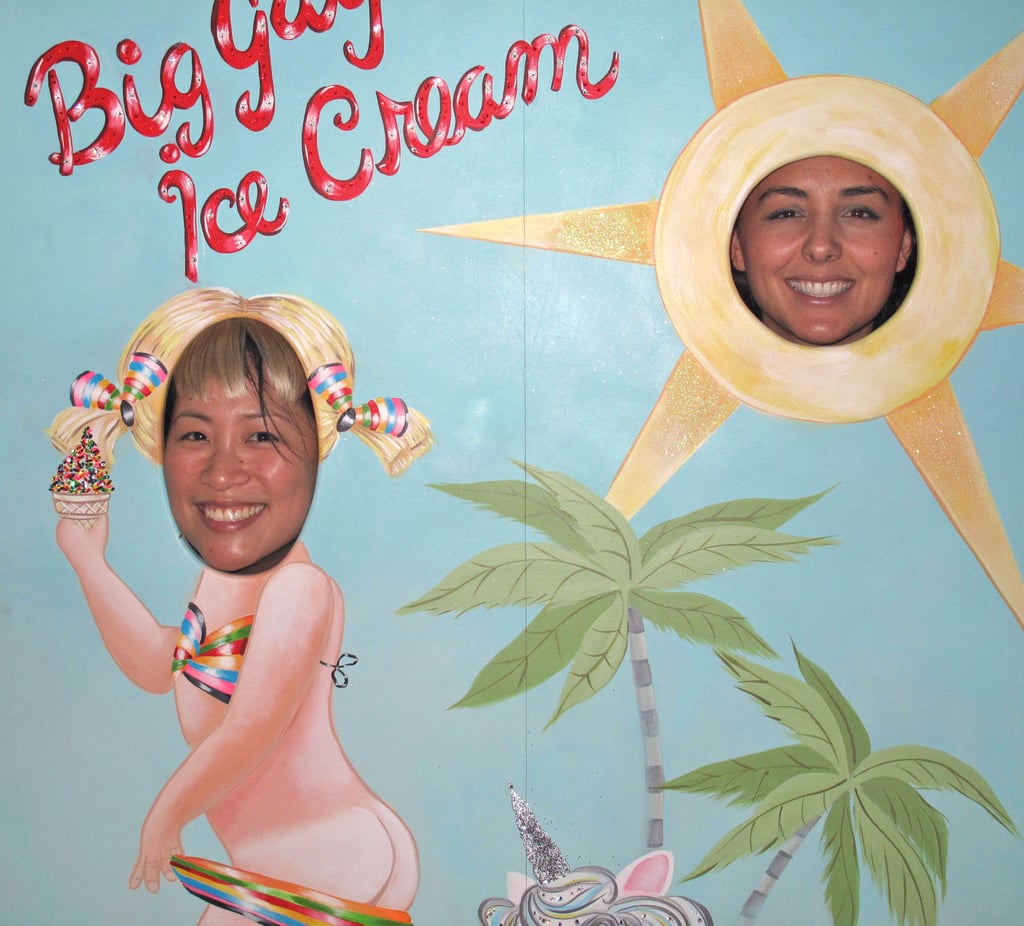 We couldn't pass up the opportunity to have a little fun outside of the Big Gay Ice Cream Truck.
Brancott Estate Wine Tasting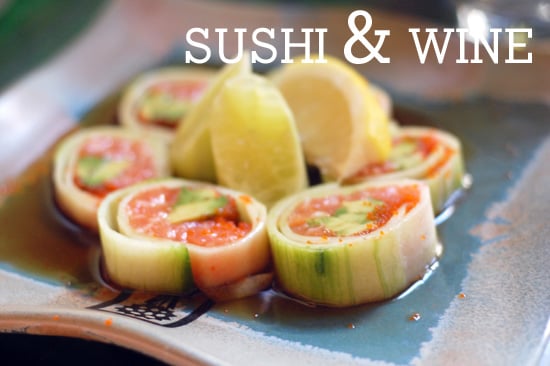 We had a chance to sit down for a long, slow boozy lunch filled with great wines from the Marlborough region of New Zealand and lots of sushi.
Brancott Estate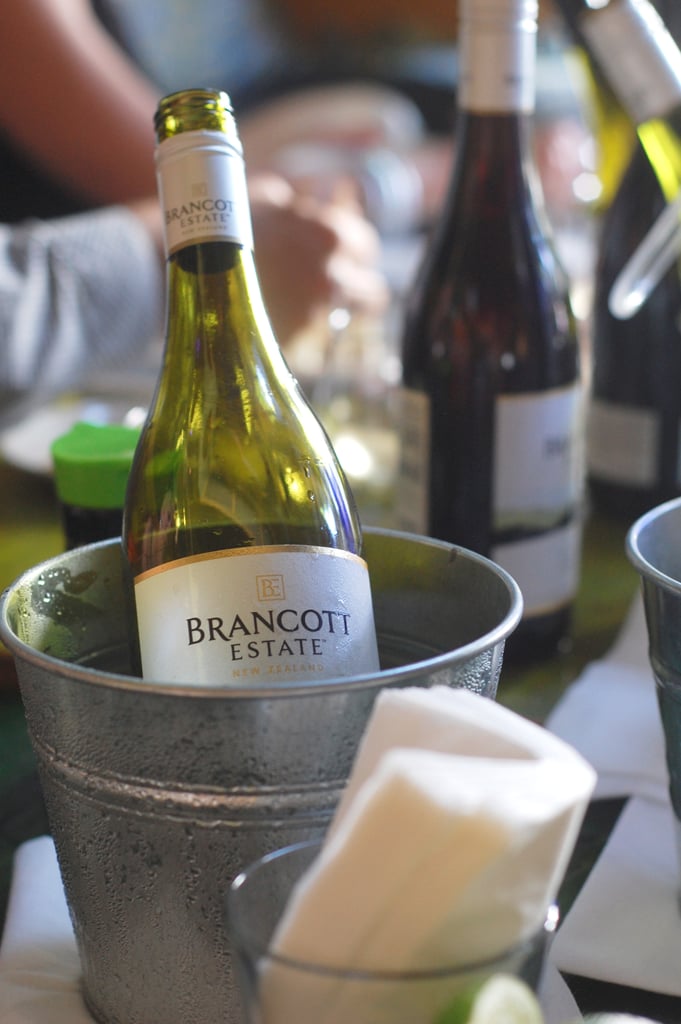 At the Brancott Estate luncheon, we learned firsthand that Brancott was the first-ever Sauvignon Blanc to be planted in Marlborough.
Rolls of Sushi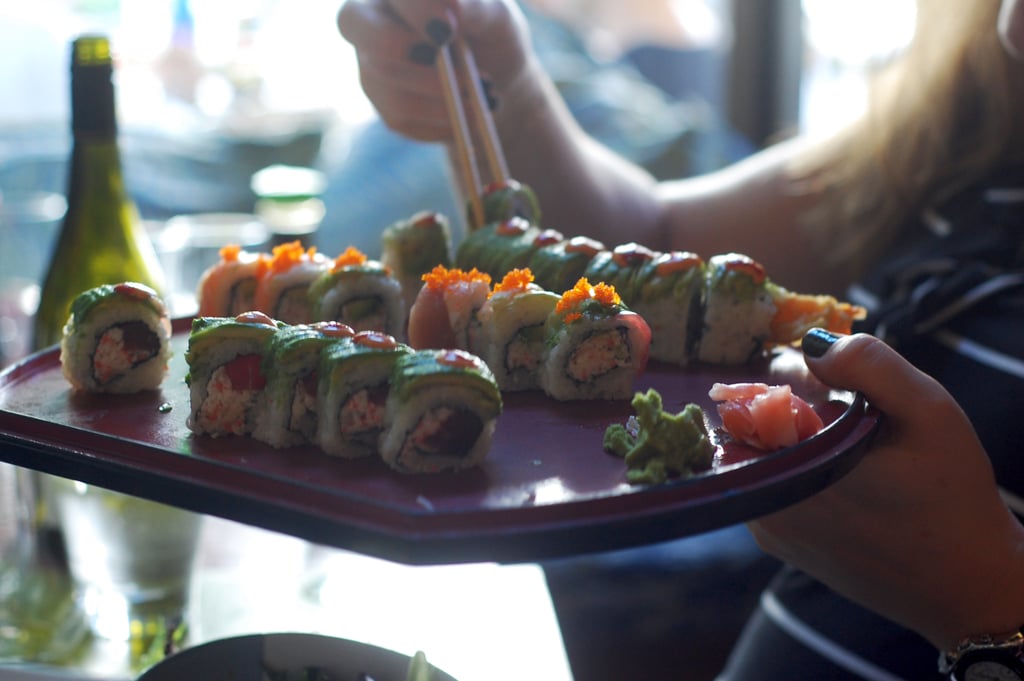 Platters of sushi were passed around among an intimate gathering of food writers.
Cucumber Rolls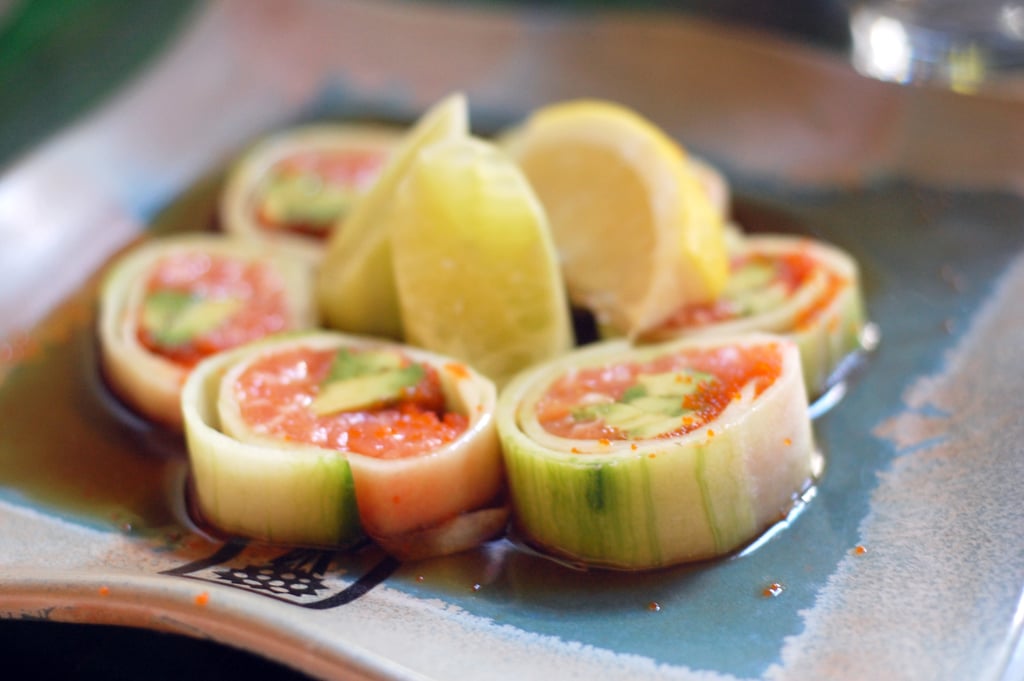 Thinly shaved cucumber took the place of nori in these tuna rolls.
Hamachi Crudo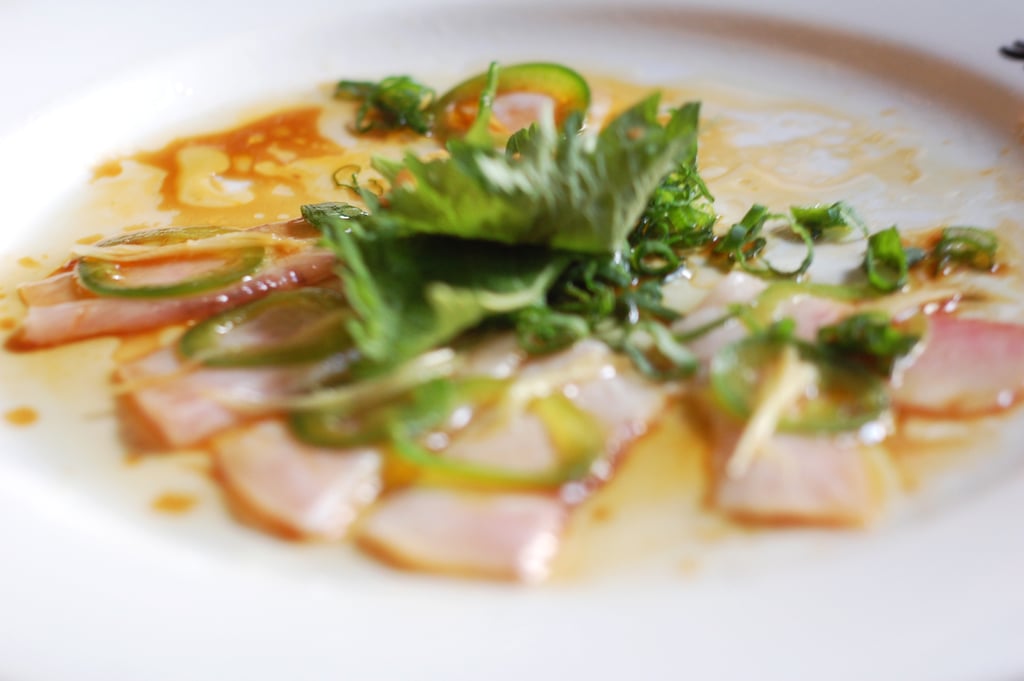 We love crudo — the Mediterranean-style preparation of raw fish, drizzled with oils and herbs — as much as we love Japanese sashimi.
More Rolls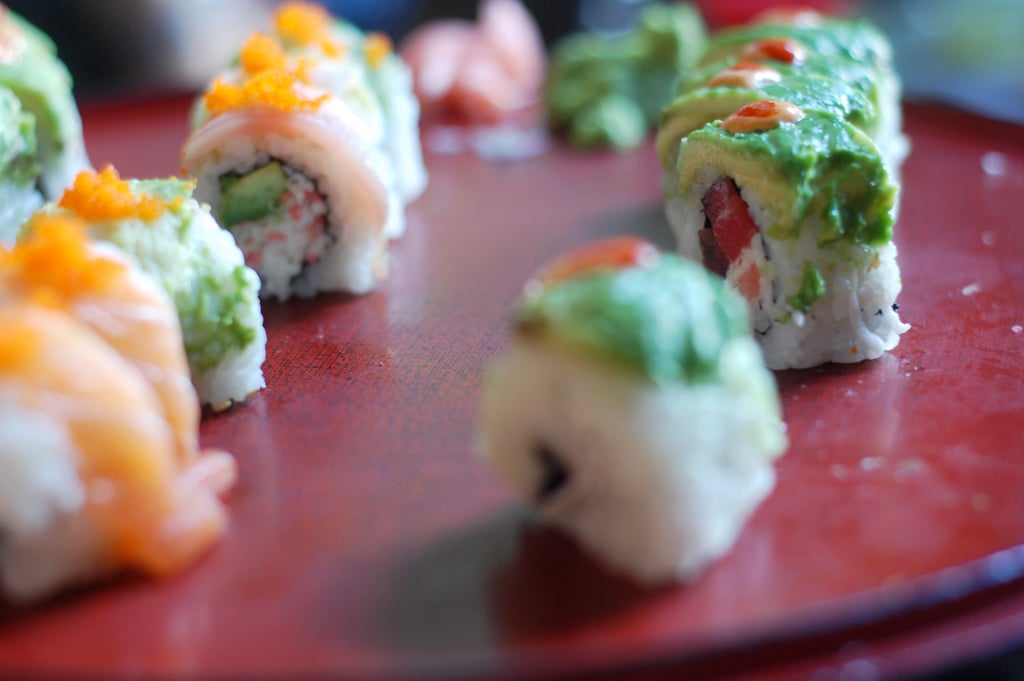 They were all devoured in minutes.
Glazed Chilean Sea Bass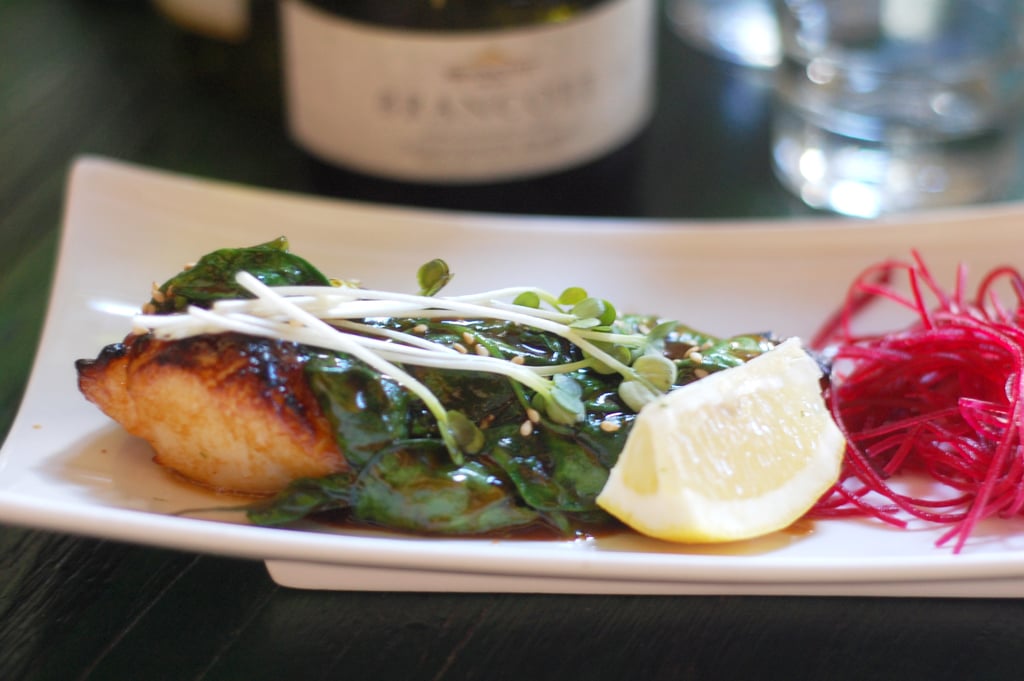 This was one of the standout dishes of the meal.
Sashimi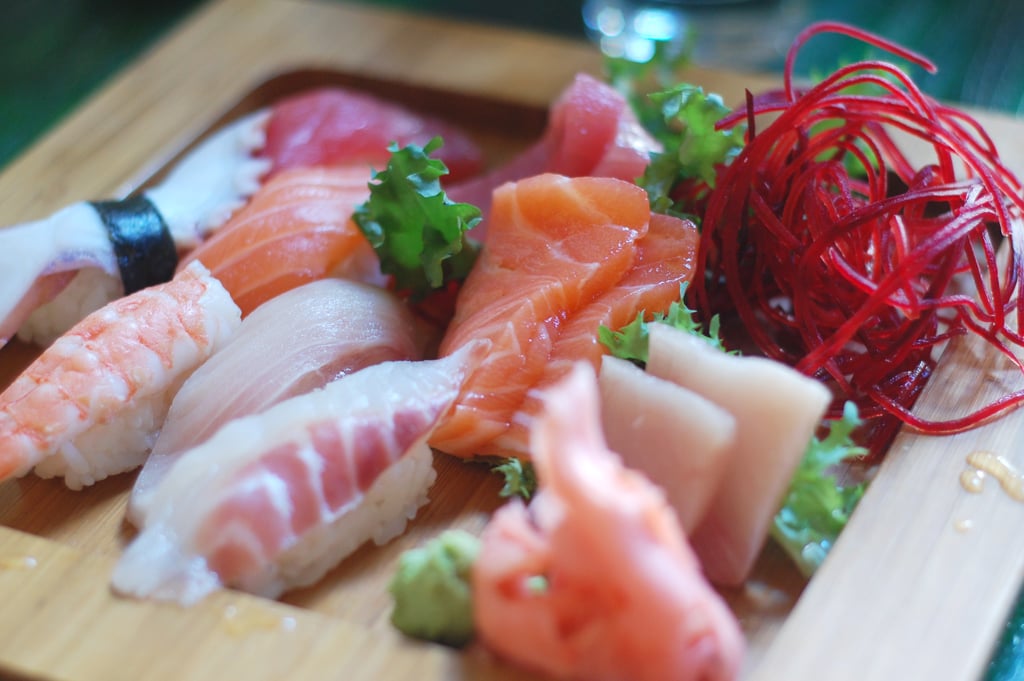 We shared platters of sashimi that went perfectly with the wine.
Brancott Estate's Letter Series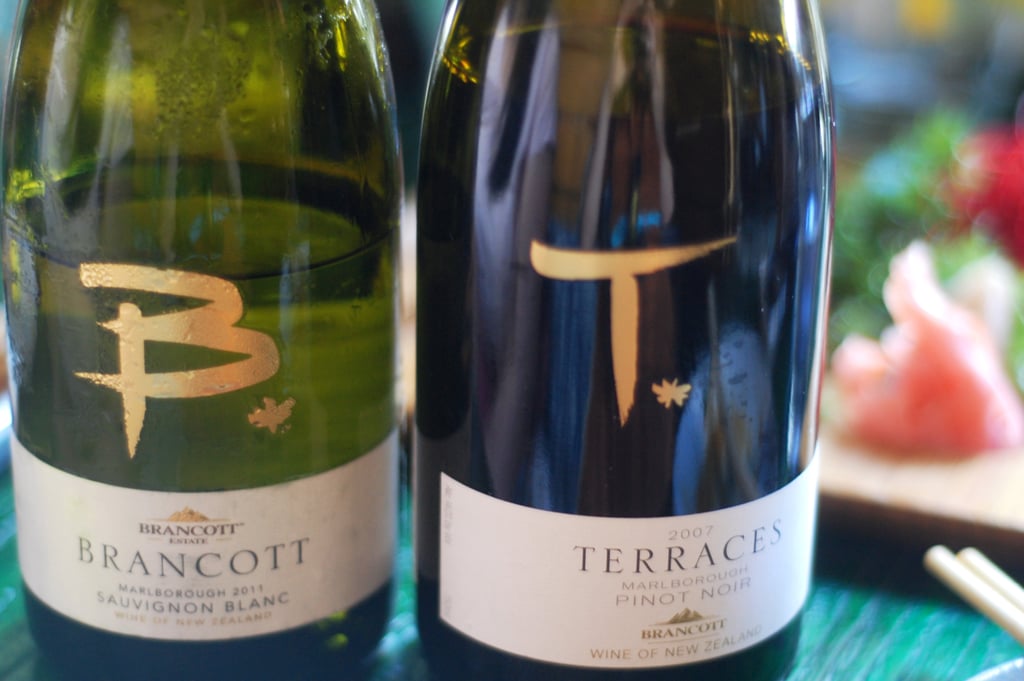 We were afforded the opportunity to compare the higher-end versions of Pinot Noir and Sauvignon Blanc to the regular bottles.
Brancott Estates Terraces Pinot Noir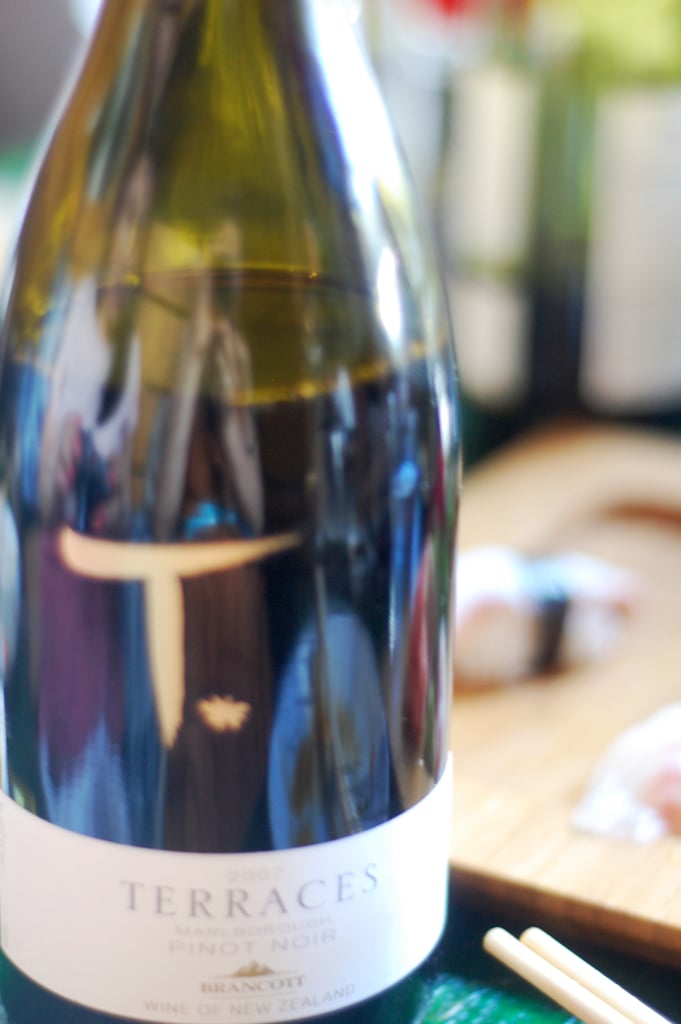 We couldn't help but go back for a second taste of this delicious Pinot Noir.
Tempura Shrimp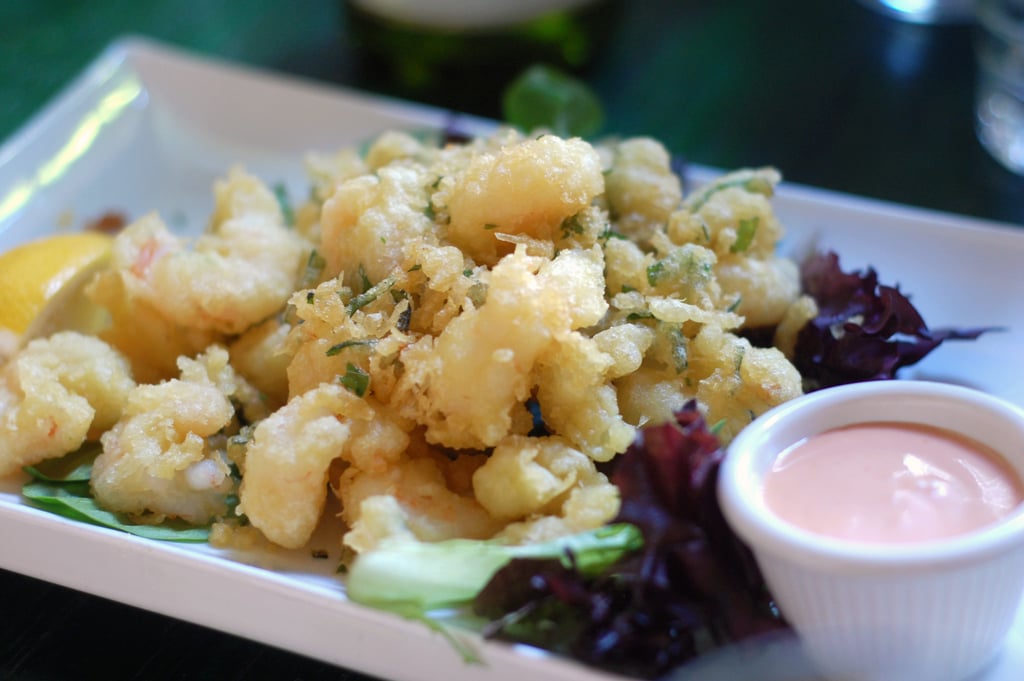 These savory bites of fried shrimp went quickly as they were passed around the table.
Best of the Best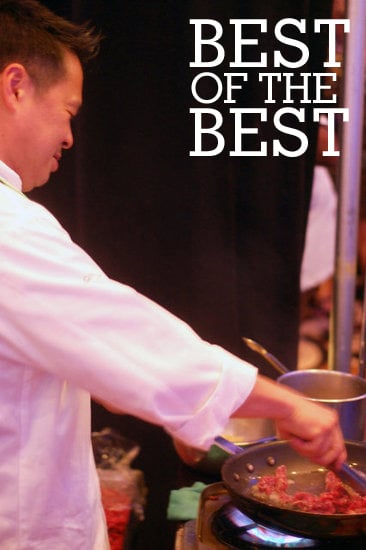 By far the most glamorous event that we attended, Best of the Best was a great opportunity to sip on fantastic wine and bubbly and try elegant dishes by some of the best chefs in the country.
Fontainebleau Hotel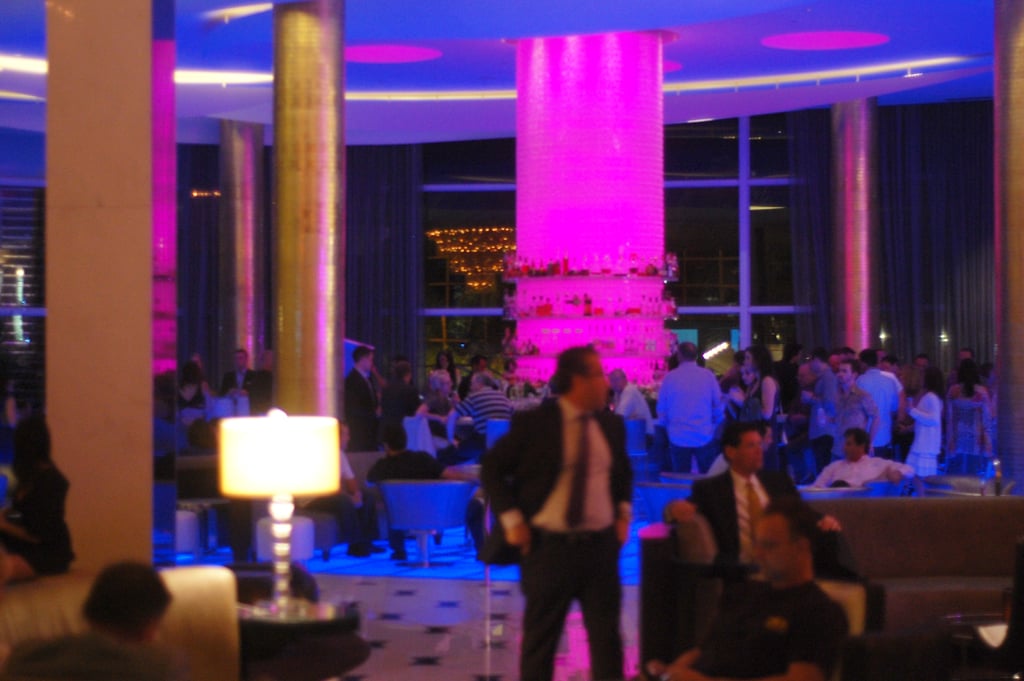 The event took place at the Fontainebleau hotel [5] in Miami Beach.
Setting the Tone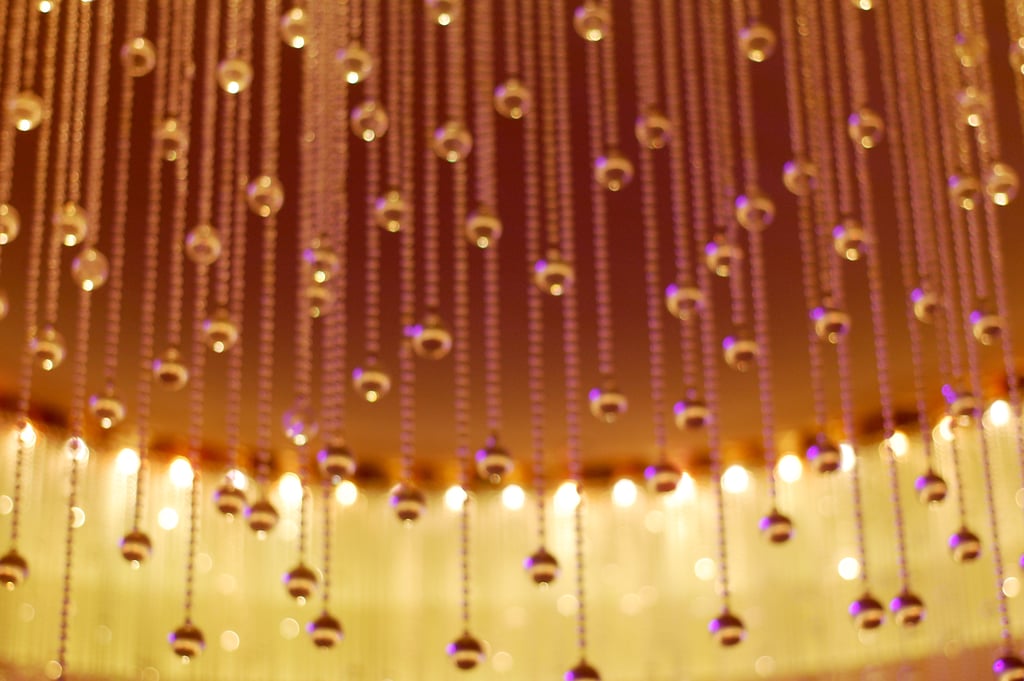 As we waited to be let into the event, we couldn't help but notice the elegant details of the hotel.
All Dressed Up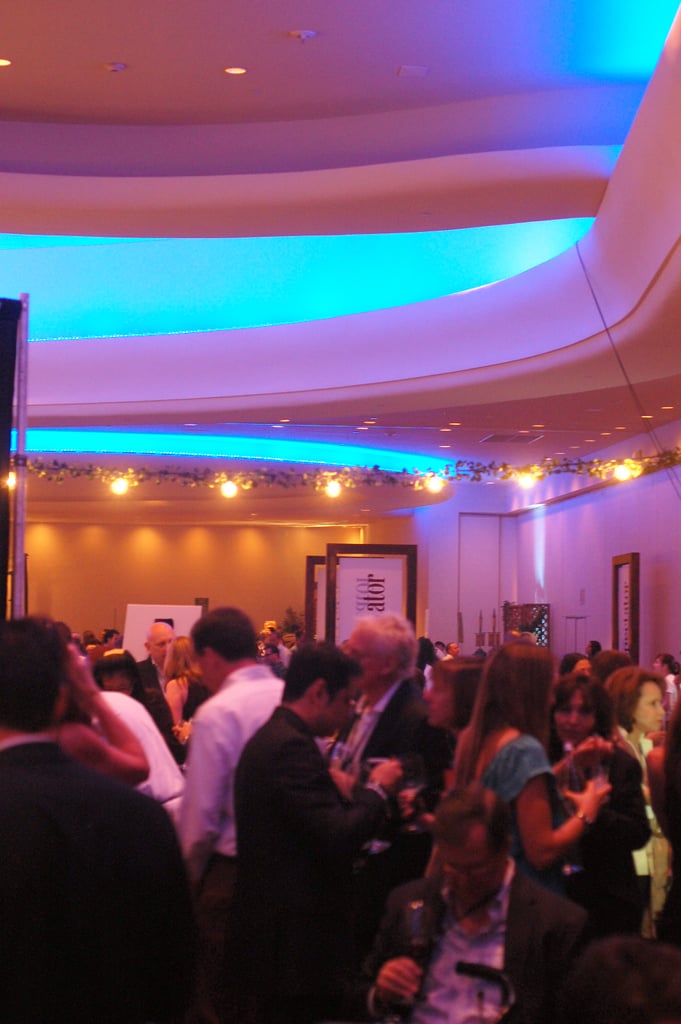 This event had a more elegant vibe, and the nicely dressed crowd schmoozed amongst one another.
O Ya's Plate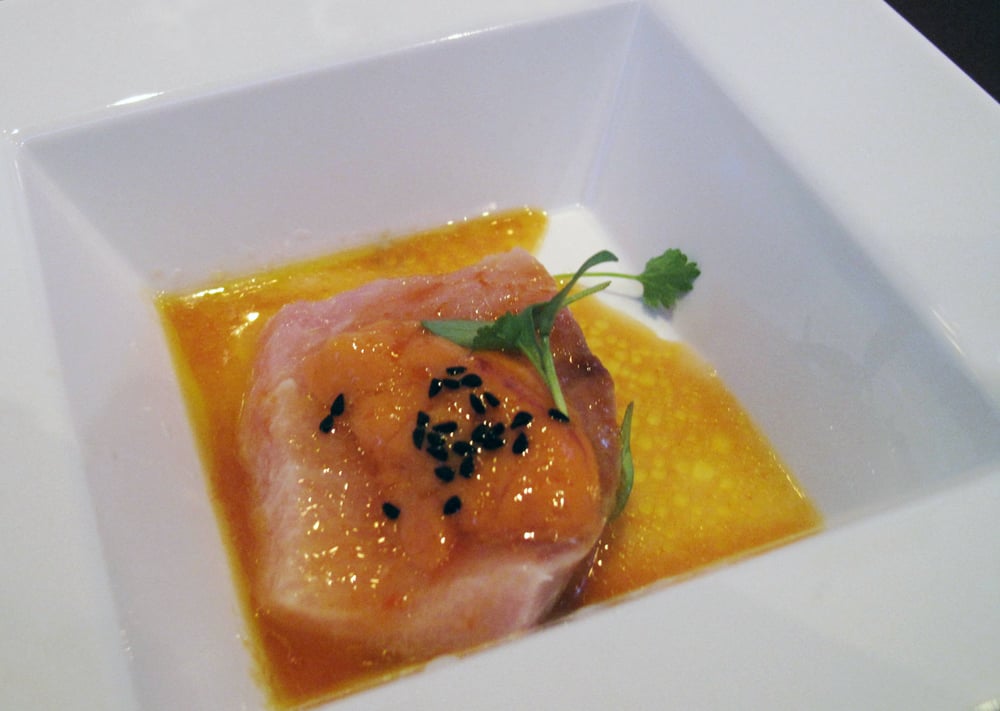 Tim Cushman of Boston's renowned O Ya restaurant served up the most talked-about plate of the night: white fish sashimi topped with uni and a soy-based sauce.
Lemongrass Beef Roll With Thai Basil and Roasted Peanuts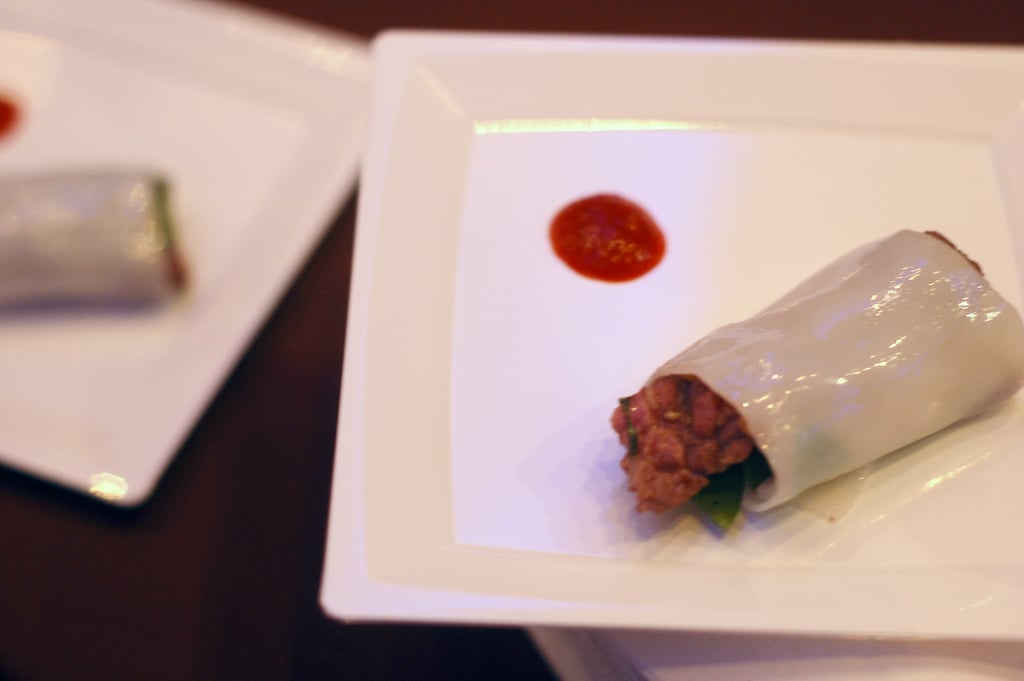 The Slanted Door presented this simple and straightforward beef roll that wound up being one of our favorite bites from the whole event.
Mo-Chica's Ricardo Zarate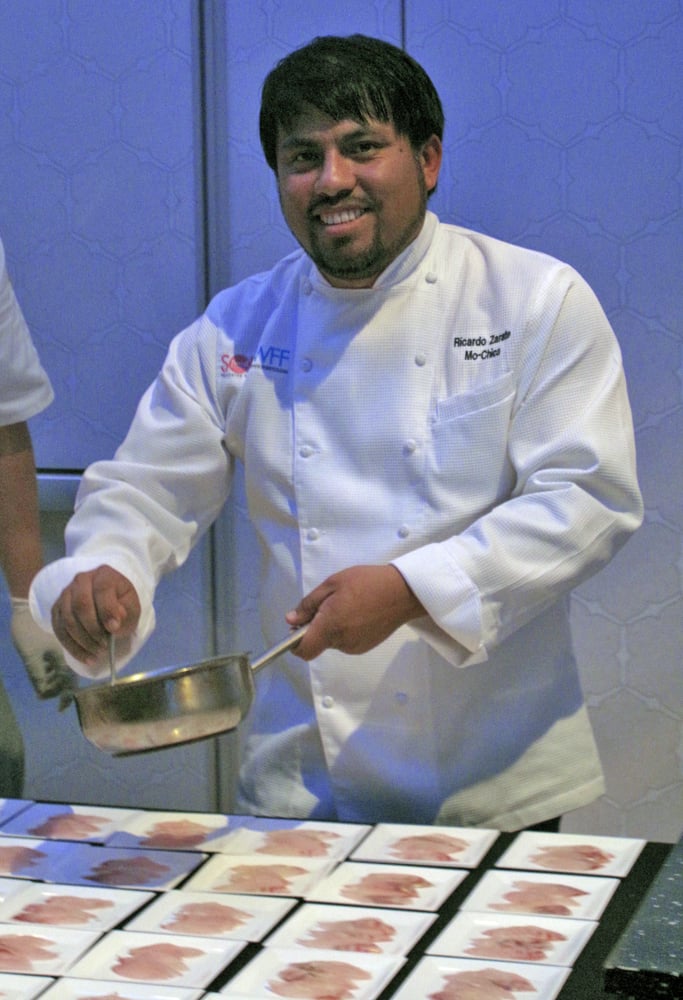 Food & Wine Best New Chef Ricardo Zarate [6] of LA's Mo-Chica was all smiles as he plated his food.
We Heart Scott Conant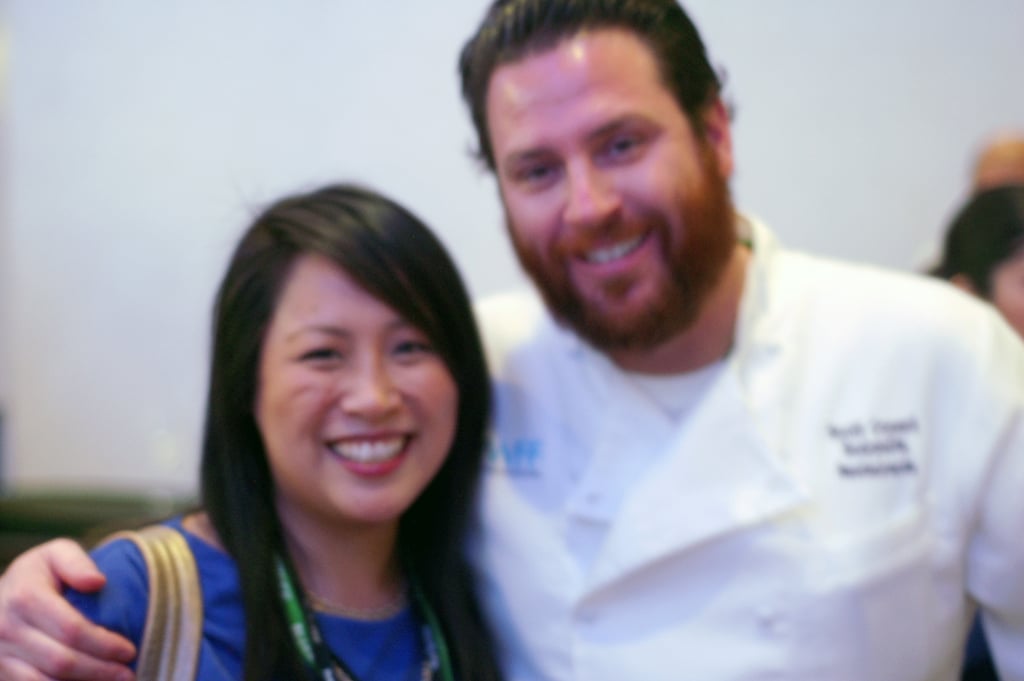 It's no secret that we're big fans of Scott Conant [7] here at YumSugar. Naturally, Susannah happily posed for a picture with him.
High Energy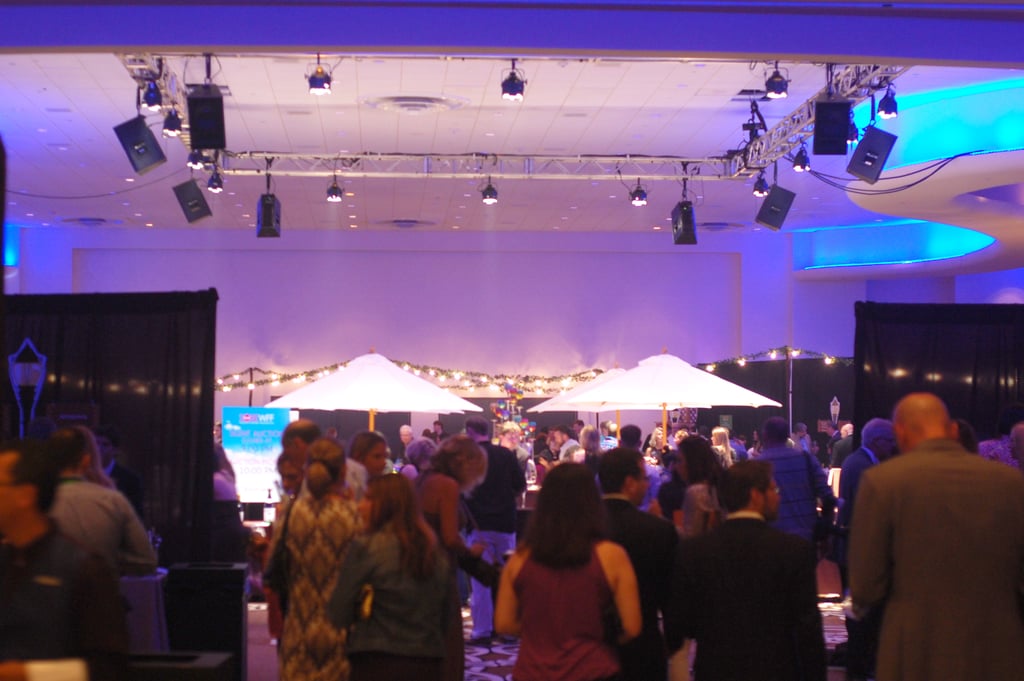 The event had a high energy from the moment we stepped into the venue. This was definitely one that people were excited about.
Foie Gras and Ricotta Ravioli With Veal Cheek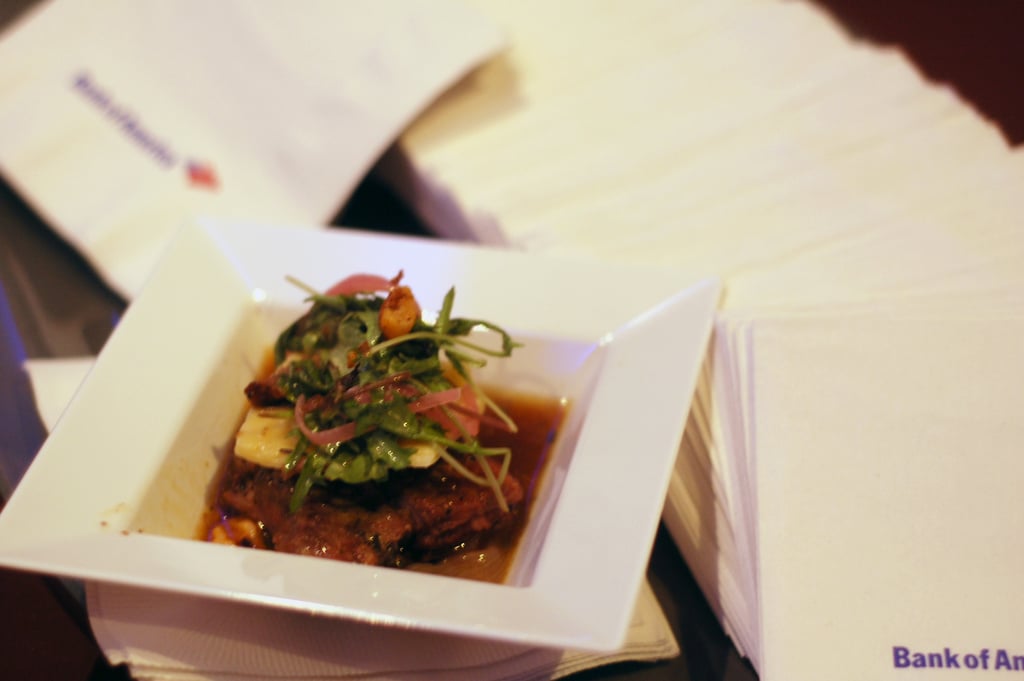 Sean Brasel of Meat Market in Miami Beach prepared an awesome dish of sous-vide veal cheek topped off with a single foie raviolo and dressed salad.
Perrier-Jouet's Belle Epoque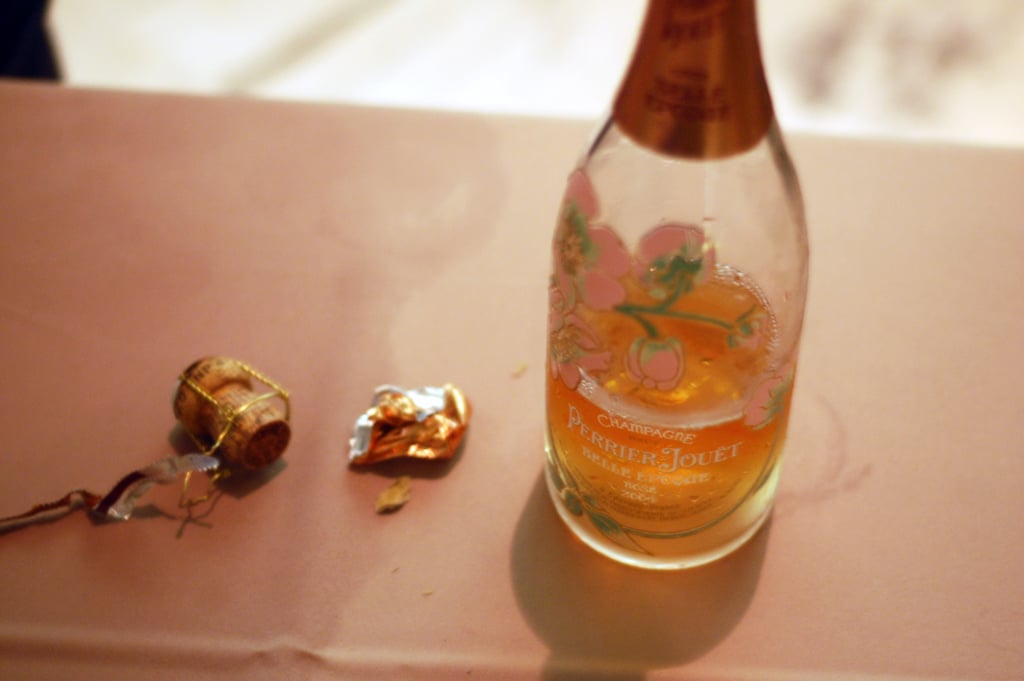 Perrier-Jouet was serving its prestige vintage Champagne label, Belle Epoque.
Momofuku Milk Bar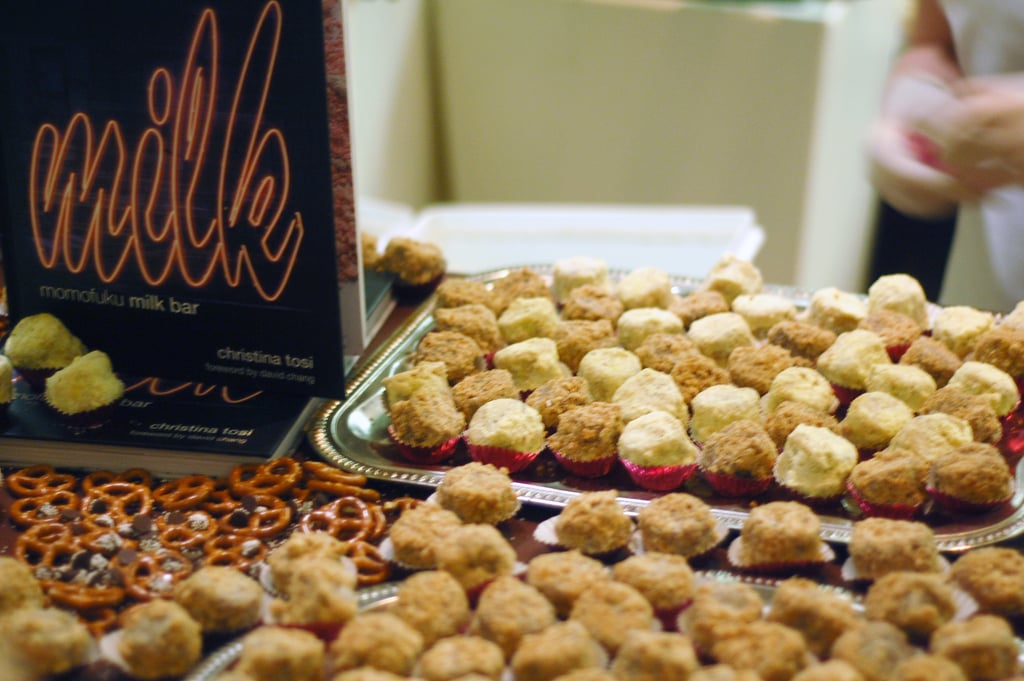 Our last bite of the event did not disappoint in any way. Momofuku Milk Bar presented pretzel and chocolate chip truffles that were out of this world.
Antonio Banderas Makes Us Swoon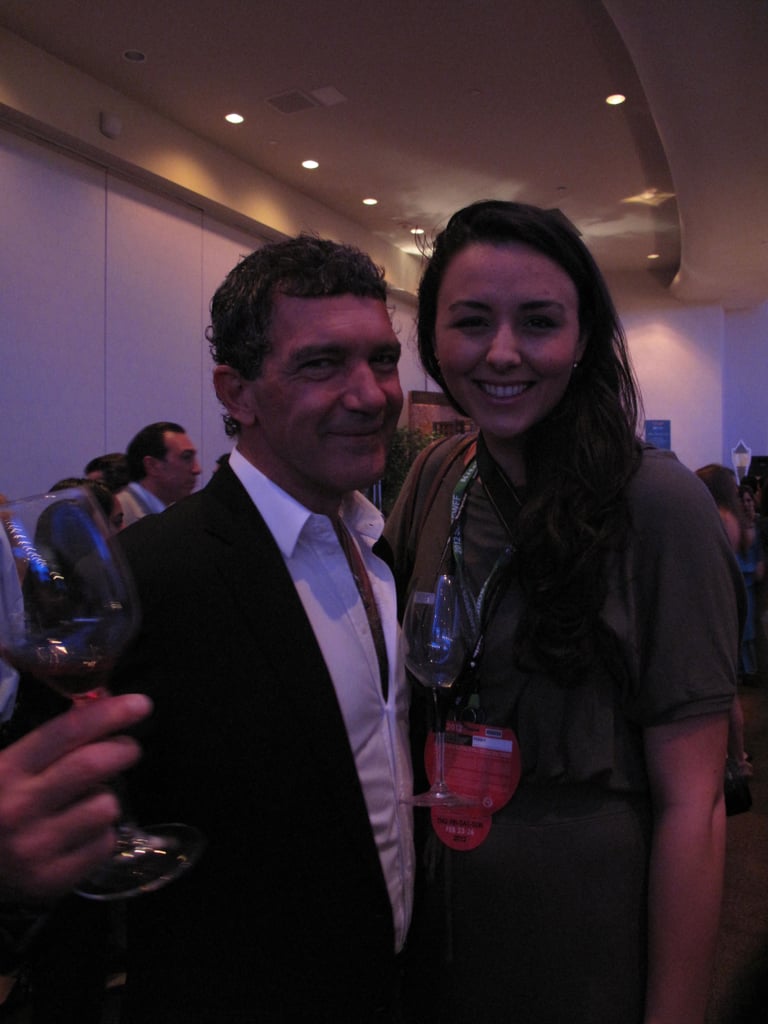 Camilla nearly fainted with excitement at the chance to meet her lifelong crush, Antonio Banderas [8], who showed up for Best of the Best to help promote his new wine label, Anta Banderas.
Maialino's Nick Anderer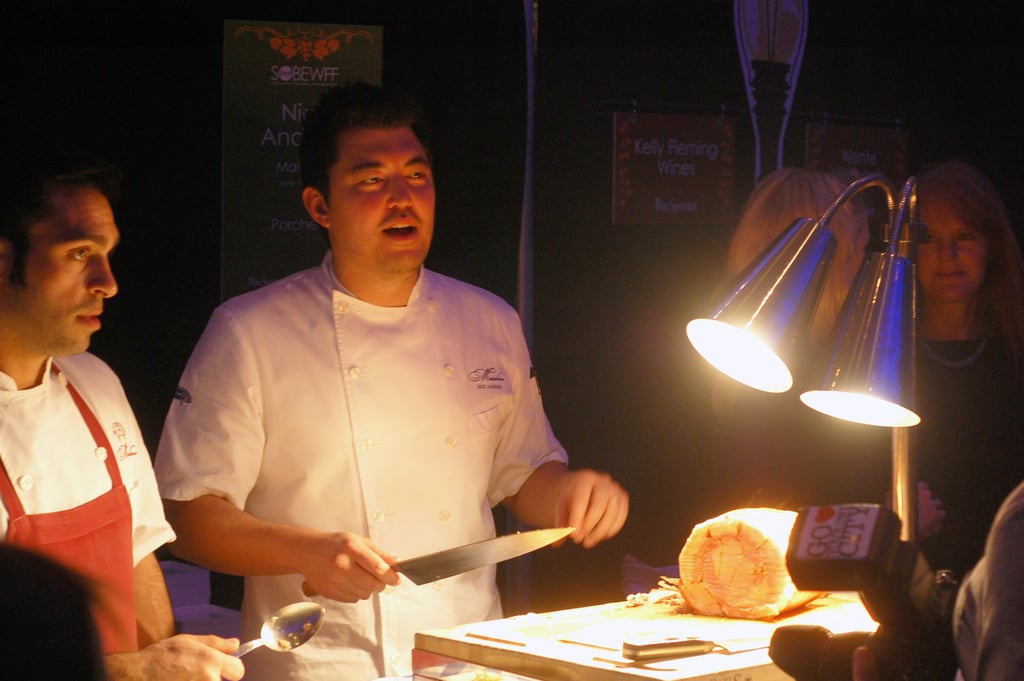 Chef Nick Anderer of New York's Maialino sliced guests generous pieces of porchetta.
Charles Phan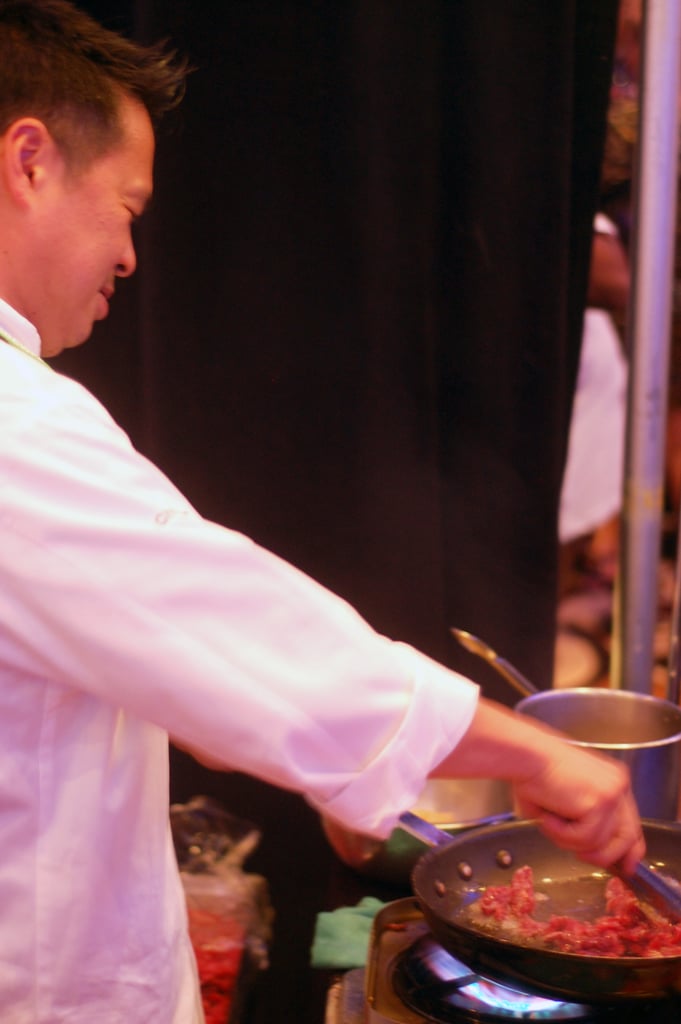 The Slanted Door Group's Charles Phan prepared his beef rolls.
Florida Rock Shrimp With Buttered Rice, Duck Cracklings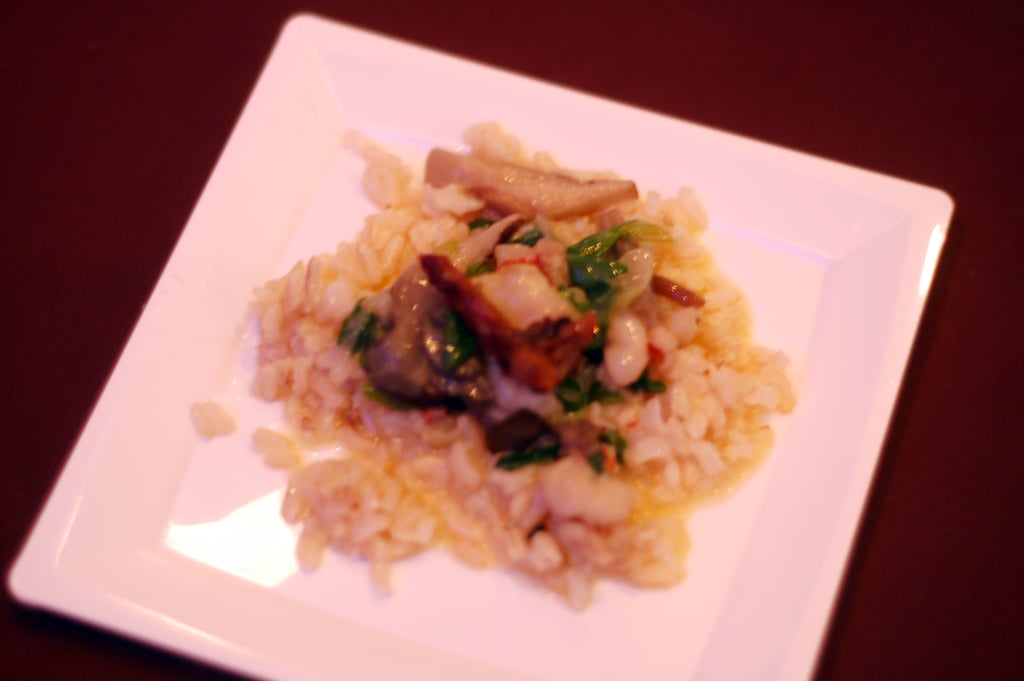 Gabrielle Hamilton — of Prune Restaurant and Blood, Bones, and Butter fame — served up a comforting rice dish with local rock shrimp, buttered brown rice, and duck cracklings.
Smoked Trout Blinis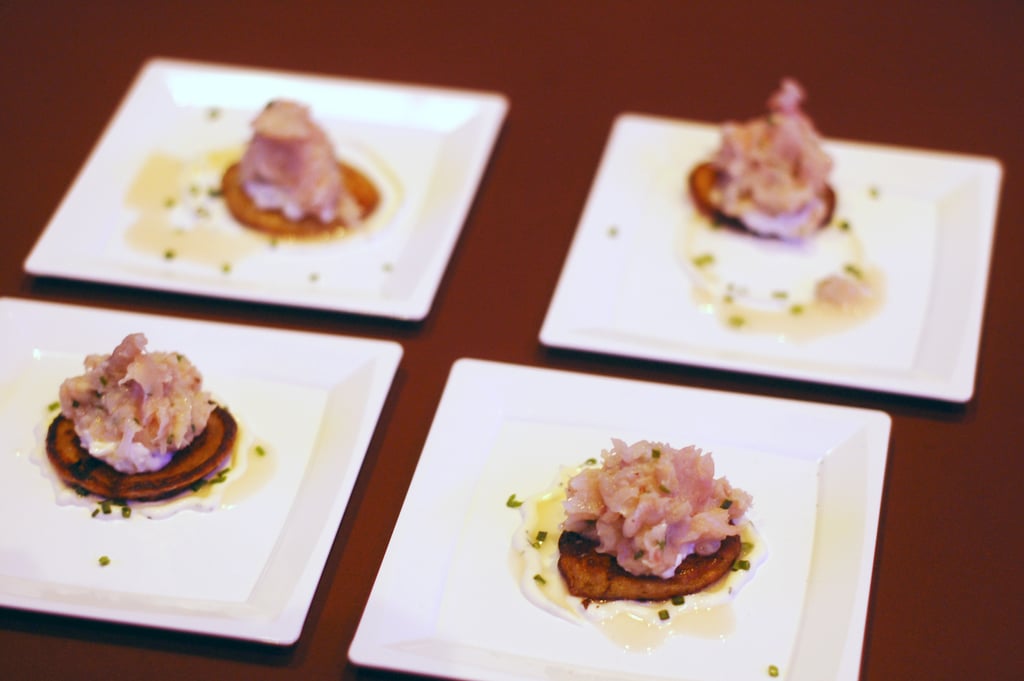 Manhattan's Bill Telepan served smoked trout with sweet onion sour cream on a potato-chive blini.
Marco Canora's Beef Consommé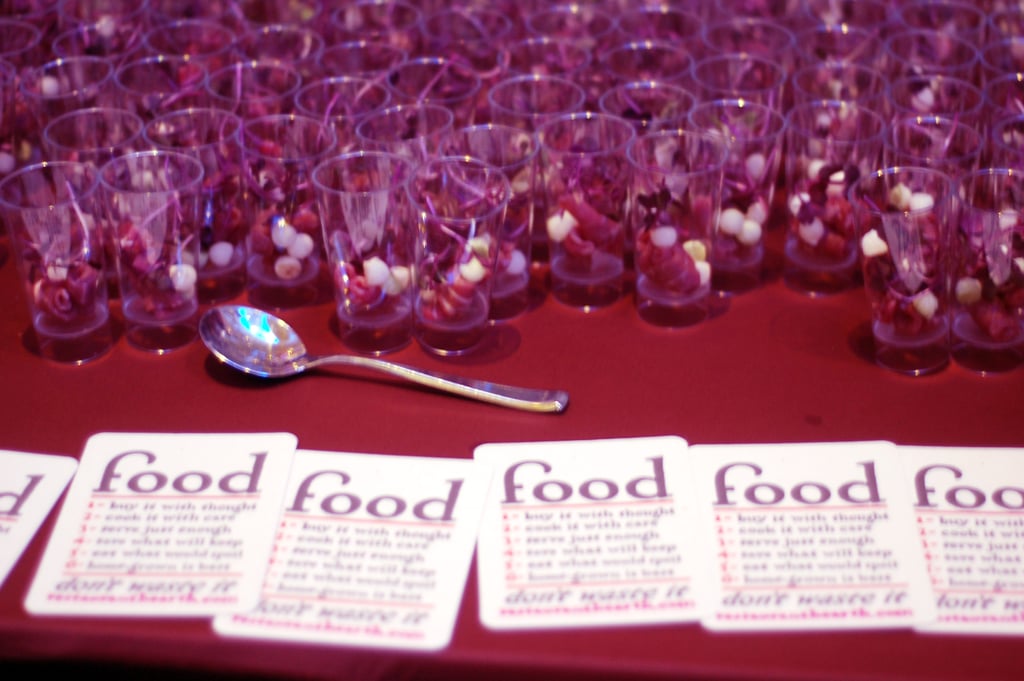 Marco Canora of Hearth was serving a beef brodo.
Rachael Ray's Burger Bash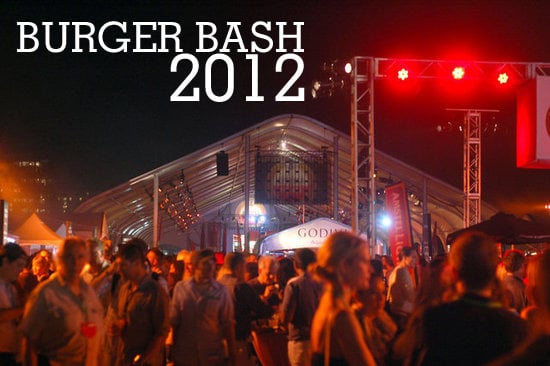 Without a doubt, the biggest event at the South Beach Wine and Food Festival is Rachael Ray [9]'s annual Burger Bash. The event was bigger and badder than ever, with 32 burgers from top restaurants and chefs across the country. It was also incredibly loud, hot, sweaty, sandy, and chaotic; frankly, we're not sure how we survived it.
Michael Symon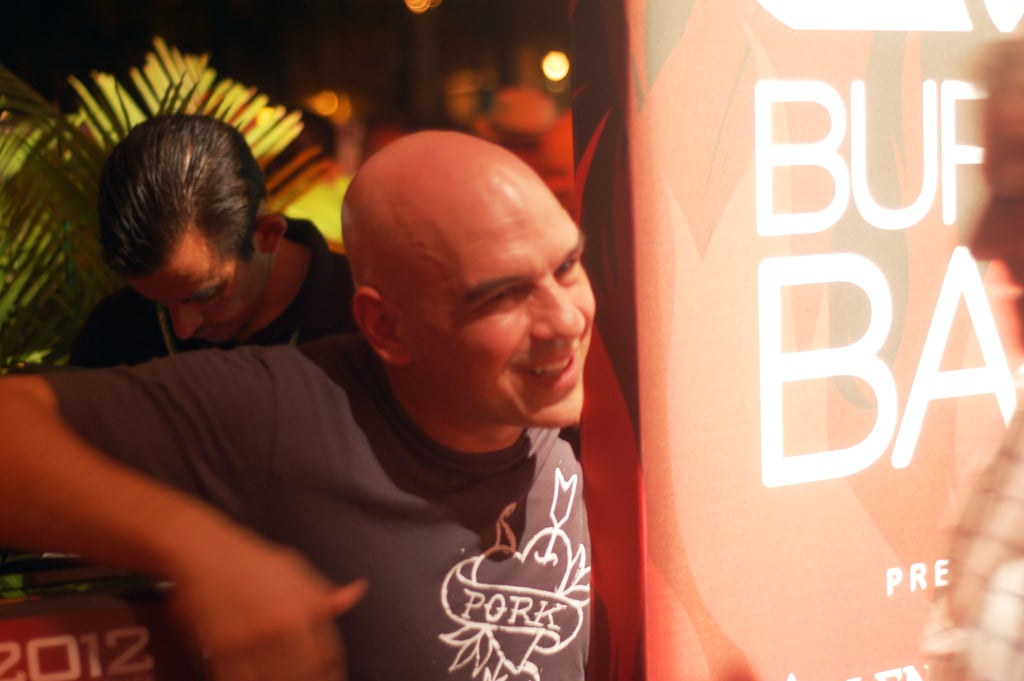 Iron Chef Symon chatted it up at the B Spot booth during Burger Bash.
B Spot Burger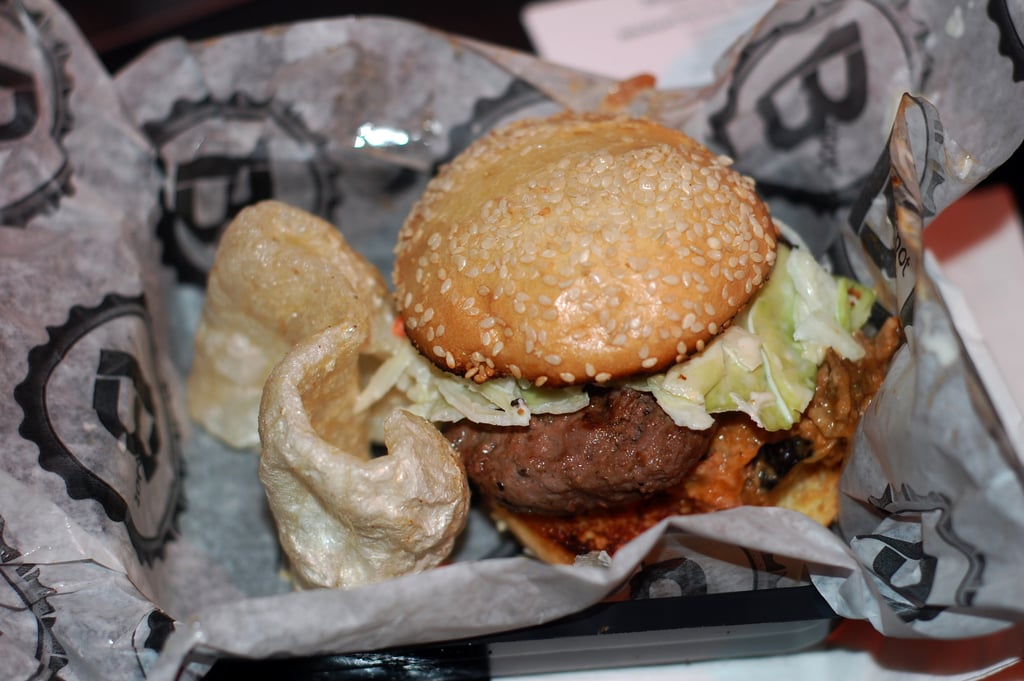 B Spot — aka the People's Choice Award winner! — was a pork and bacon burger topped off with pulled pork and slaw, served alongside a giant chicharrón.
NoMI Kitchen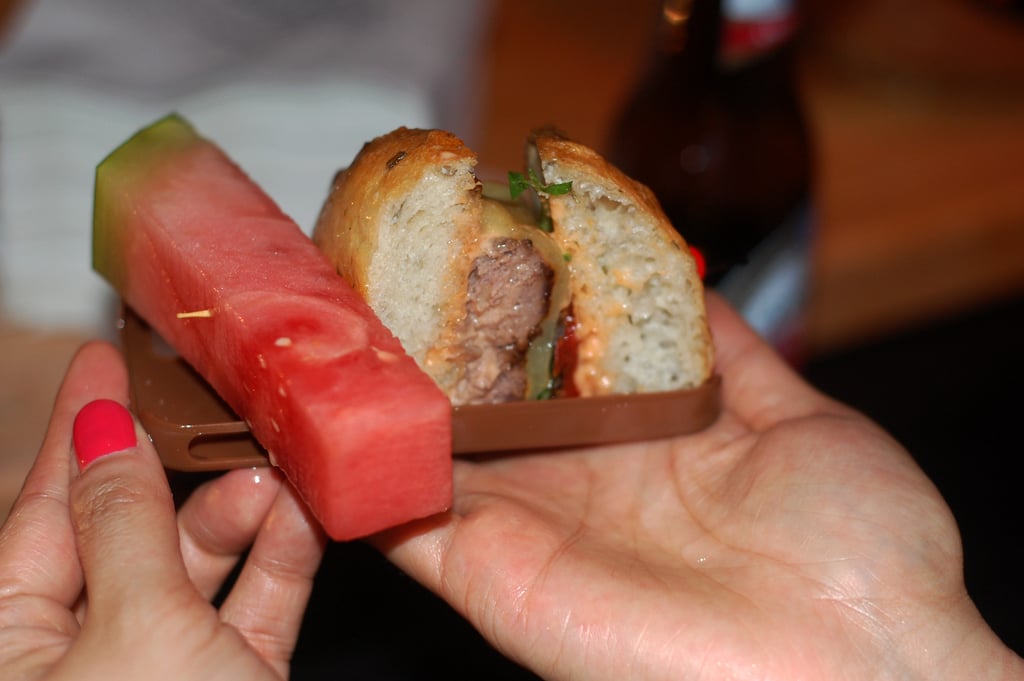 The "800" Burger at NoMI in Chicago was just what we needed: the ground wagyu and bacon burger came with a side of vodka-infused watermelon.
Husk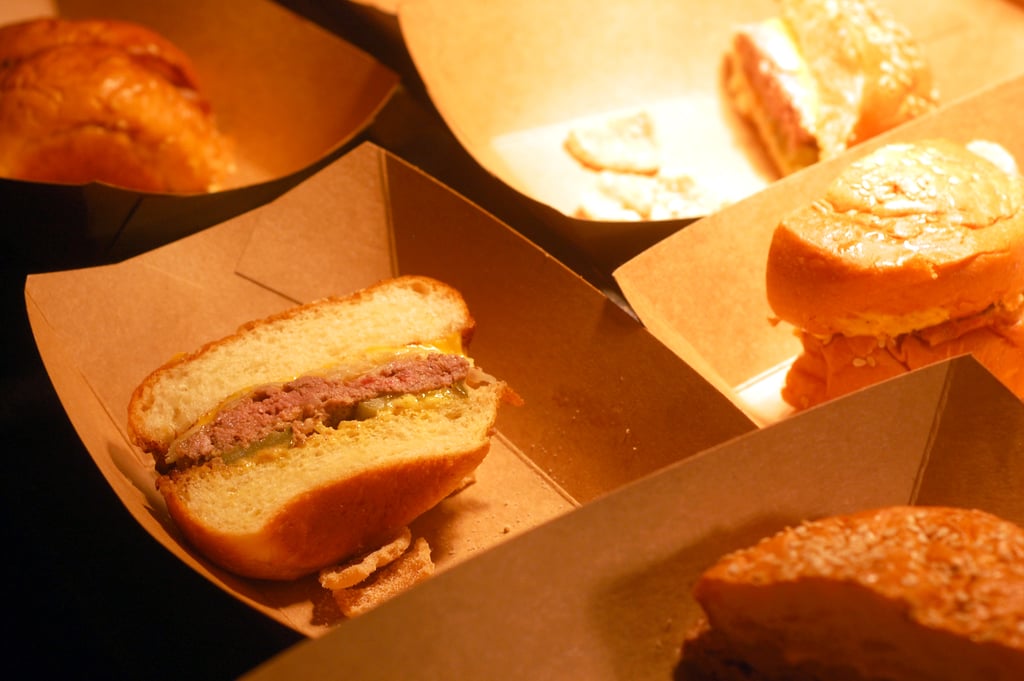 Southern chef Sean Brock [10] of Charleston's Husk Restaurant went with a double patty in between a buttermilk roll, topped with American cheese, bread and butter pickles, and special sauce.
Chef Love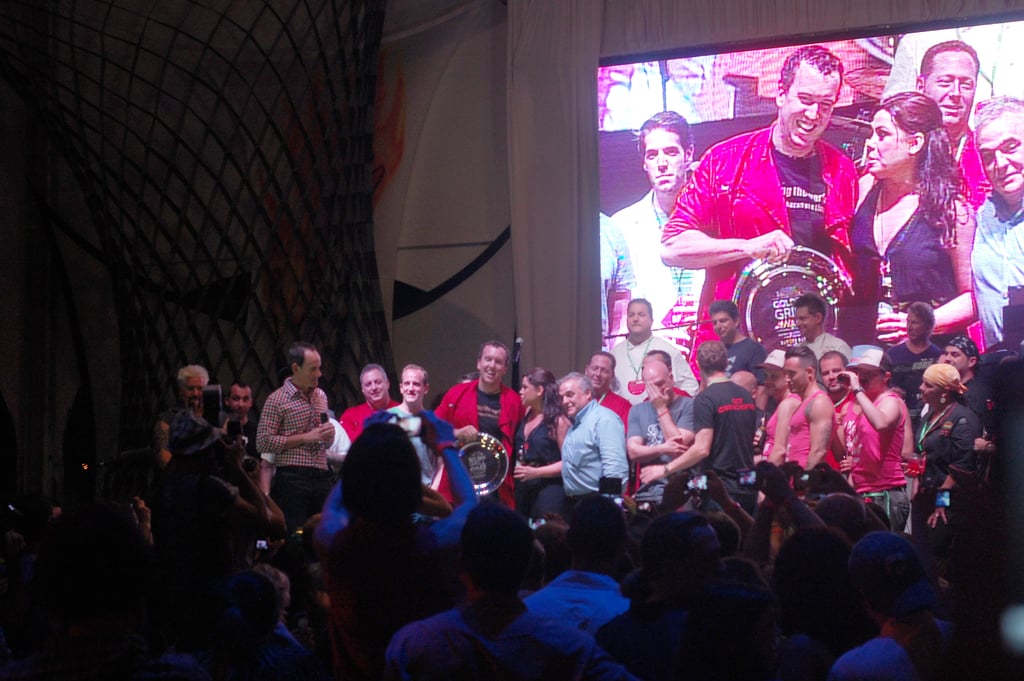 All the Burger Bash chefs gathered together to celebrate before the winners were announced.
Winner Michael Symon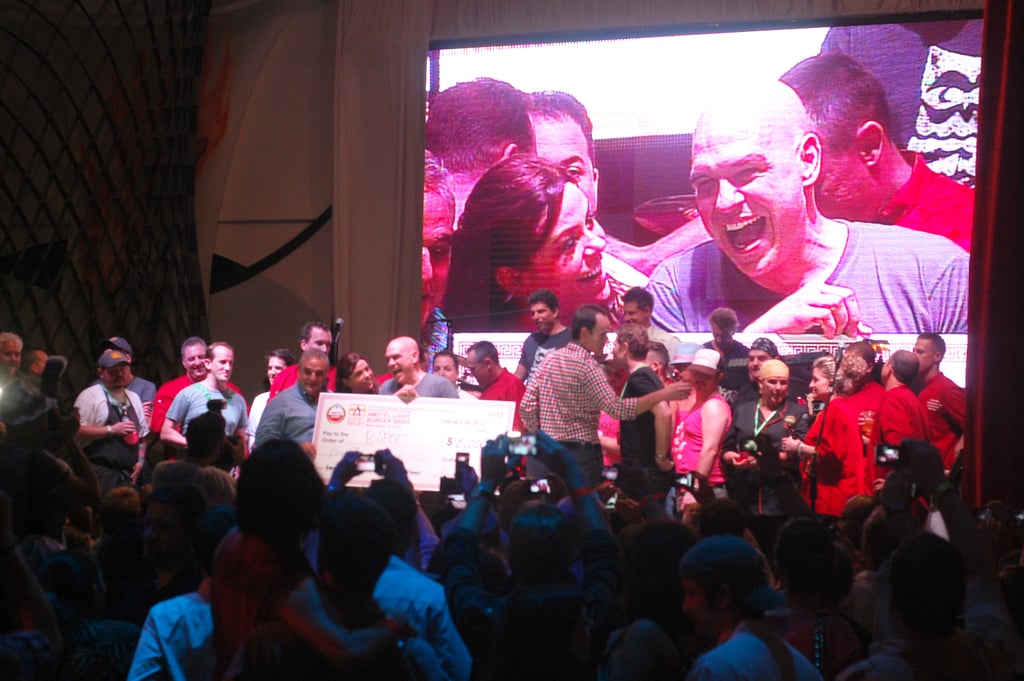 People's Choice Award winner Michael Symon was having a rollicking good time! We wonder where he continued the party afterwards . . .
People's Choice Award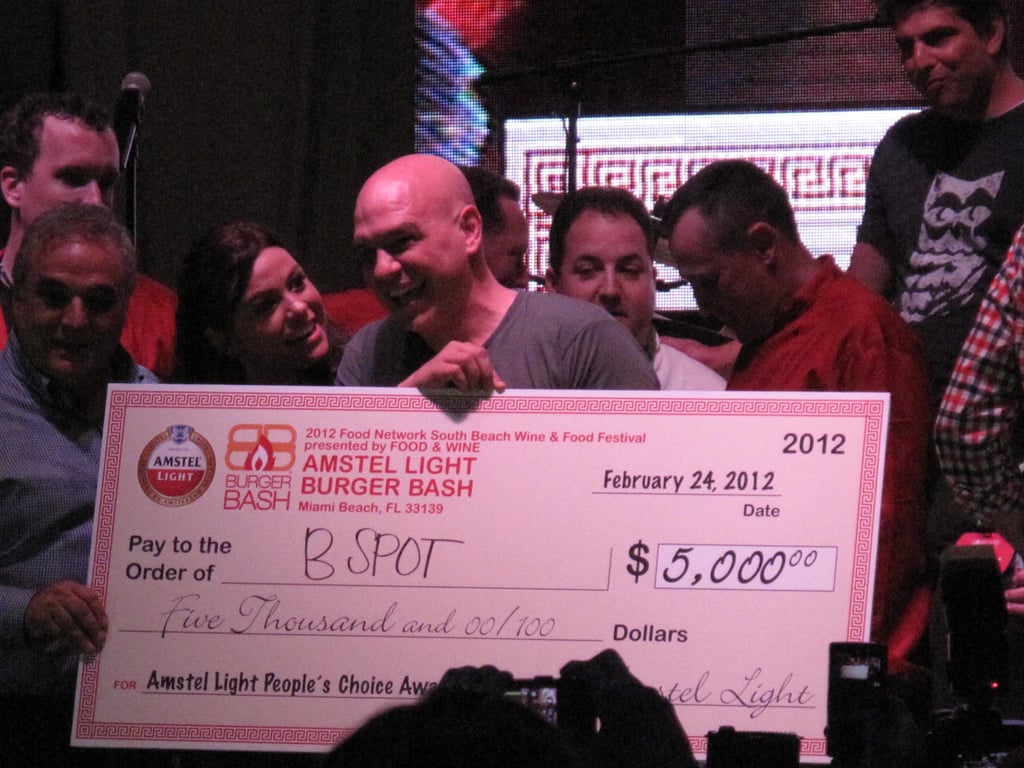 Three-peat! For the third year in a row, the most coveted prize, the People's Choice Award, went to Michael Symon's B Spot for his porkalicious burger.
Flip Burger Boutique
We've been wanting to try Richard Blais's Flip Burger Boutique for some time now, and our first experience with the Atlanta joint didn't disappoint. Richard's rBQ burger was made creamy with fried pork belly, pimento cheese, bread and butter pickles, and smoked mayonnaise.
Richard Blais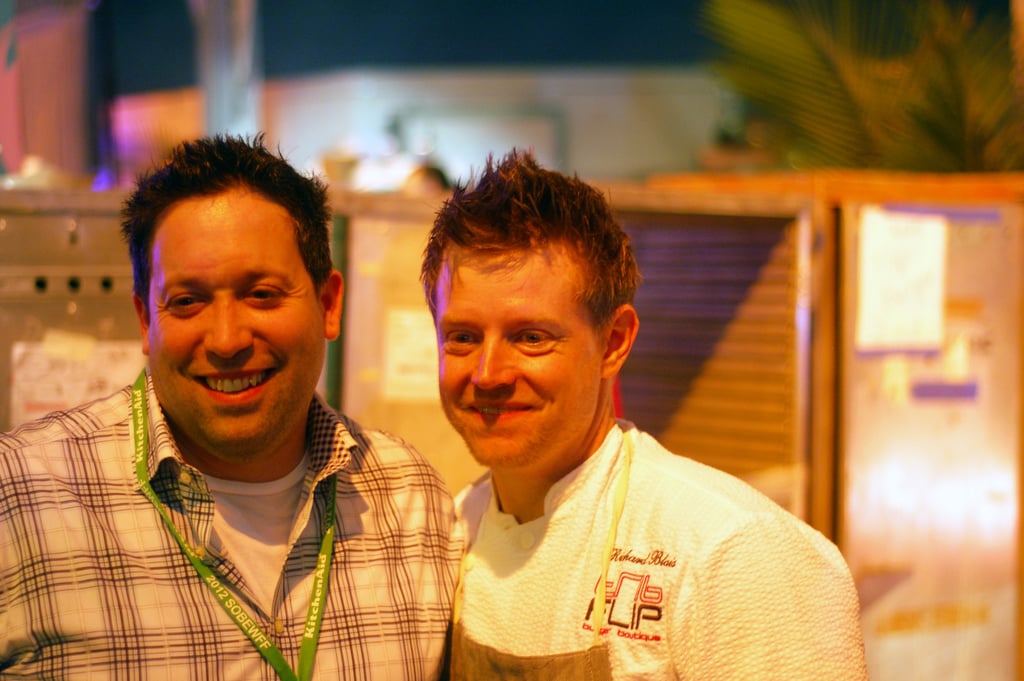 Richard Blais smiled sweetly for cameras with Mike Isabella.
Rachael Ray's Line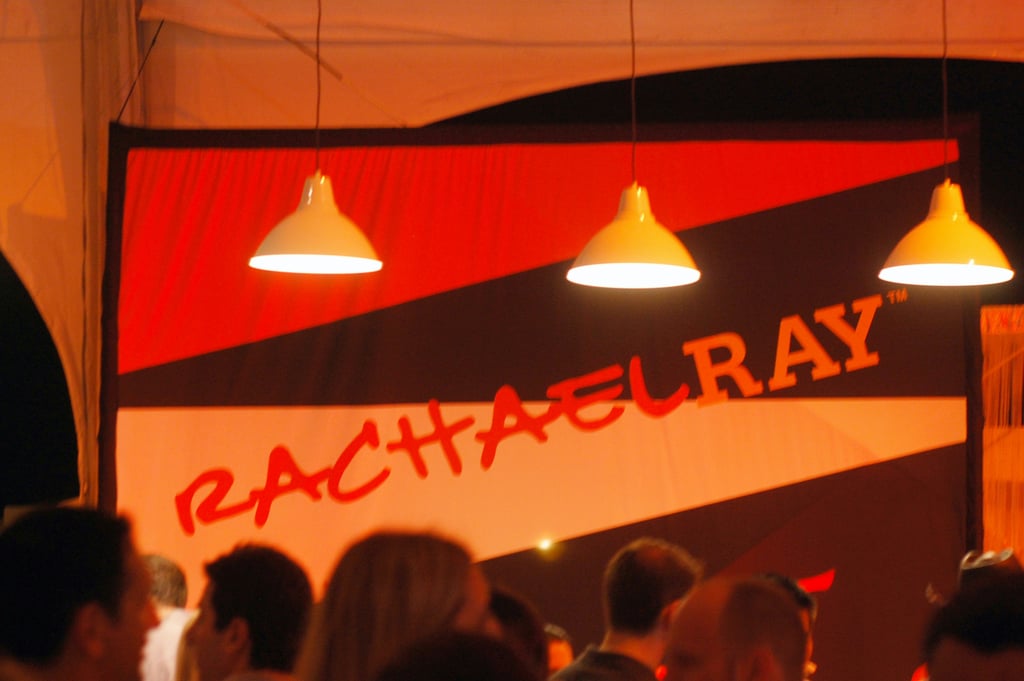 You can't see it, but the crowd here was a complete mob scene!
Rachael Ray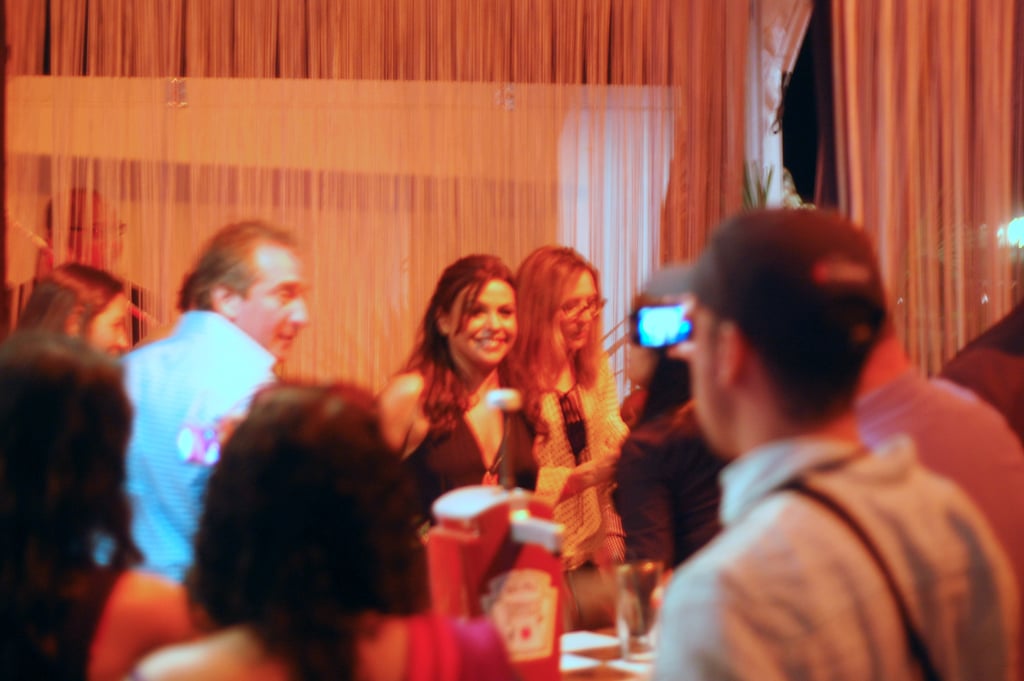 Rachael dropped by her busy booth to chat it up with a few friends who were hanging out in her VIP section, and she took a few moments to smile and wave to cameras.
Andrew Kaplan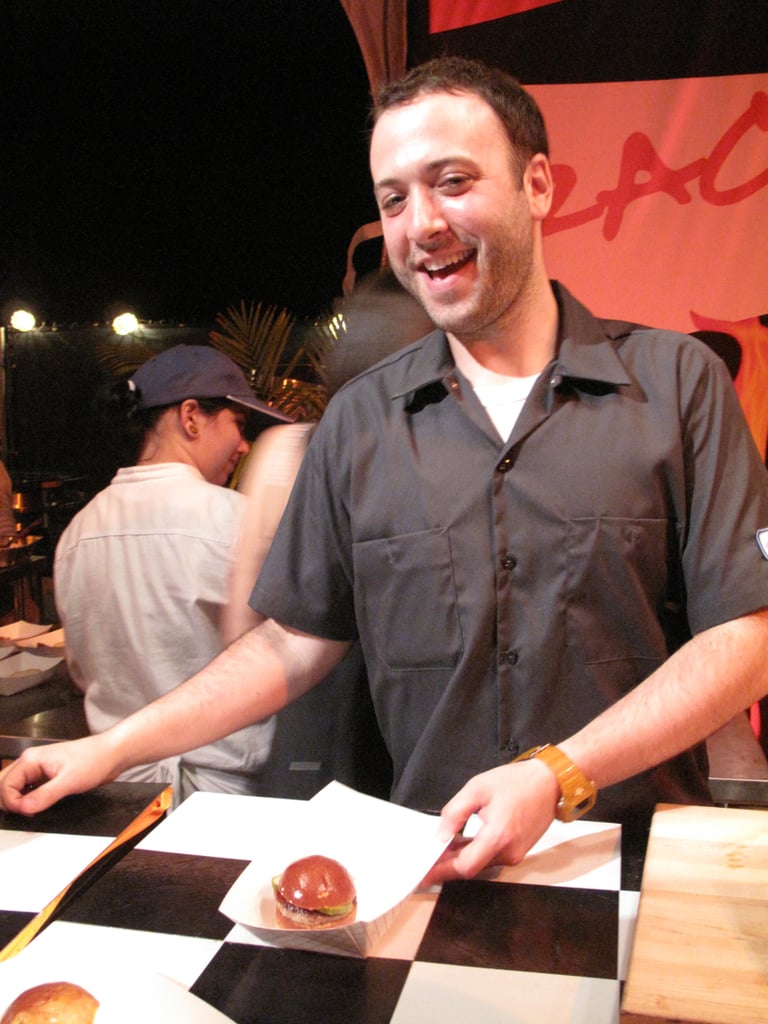 Andrew Kaplan, aka Rach's buddy "Kappy," was serving up Rachael's own take on a burger.
Rachael's Burger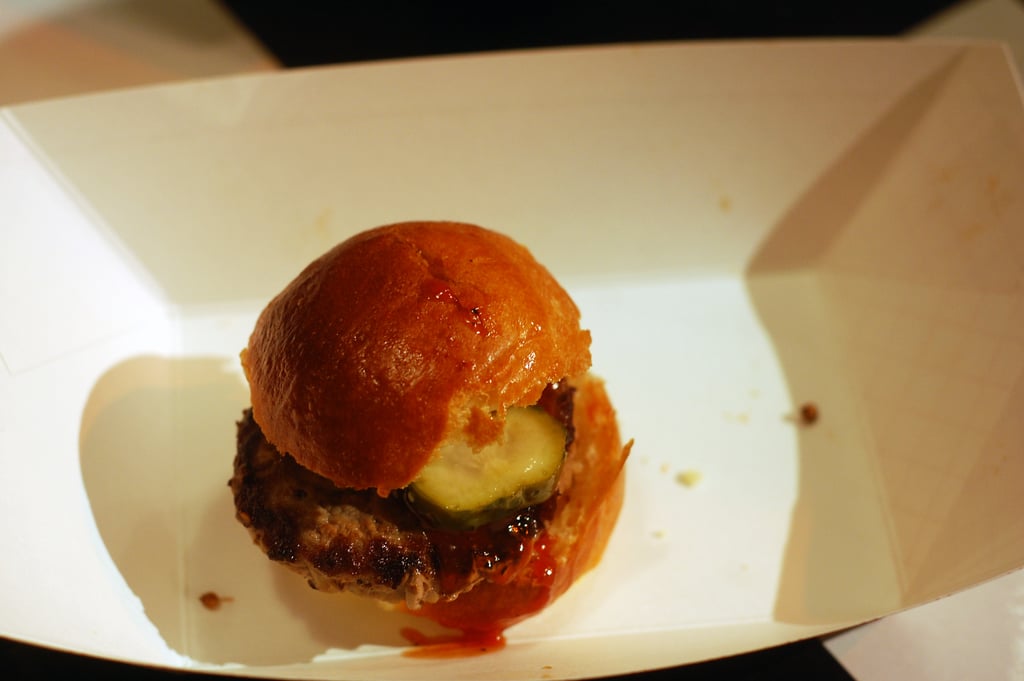 Frankly, we were incredibly disappointed by Rachael's burger of smoky barbecue sauce and spicy pickles, which wasn't nearly moist enough.
Morimoto's Burger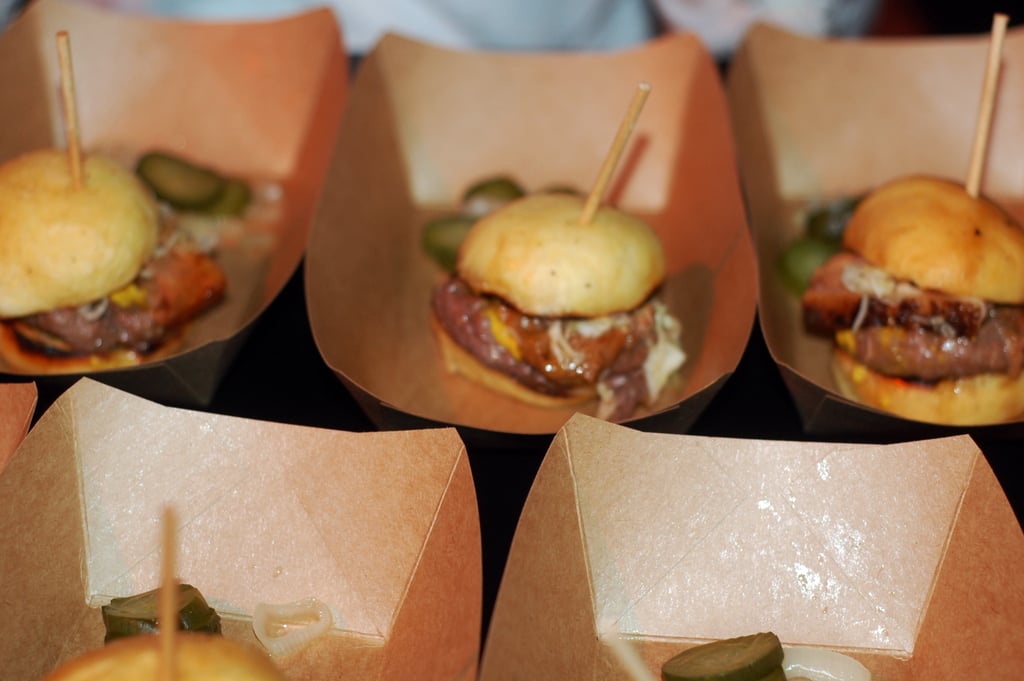 Chef Masaharu's burger was made with waygu beef and pork kakuni, or braised pork. It wasn't our definition of a burger, but it was delicious.
Guy Loves Heinz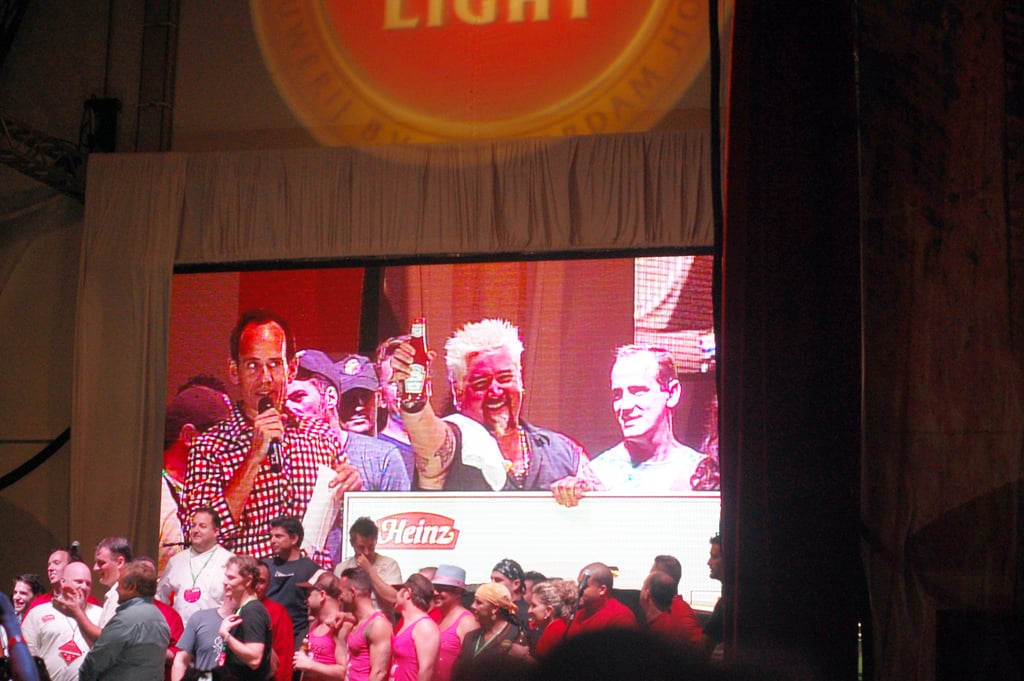 Guy Fieri glorified the Heinz bottle for the cameras.
Guy's Burger Joint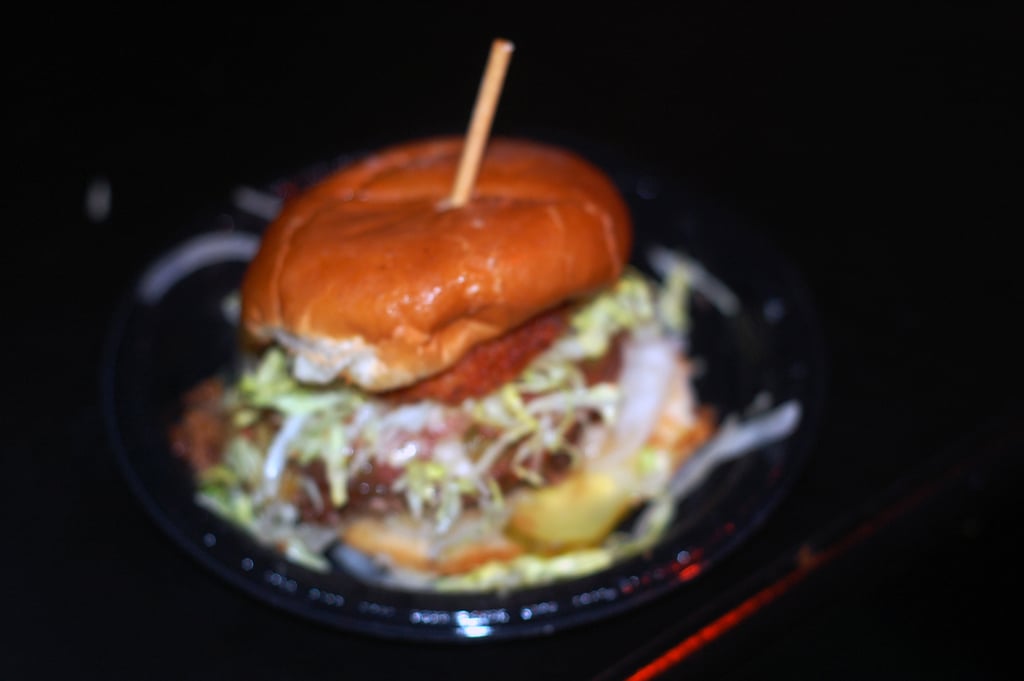 Guy's "straight-up with a pig patty" was described as being "80/20 ground chuck, SMC and LTOP, a liberal slathering of donkey sauce, all topped off with a bacon patty." What that means, we're not exactly sure, but there was no doubt the sandwich was all dressed up with somewhere to go.
Salted Caramel Whiskey Shake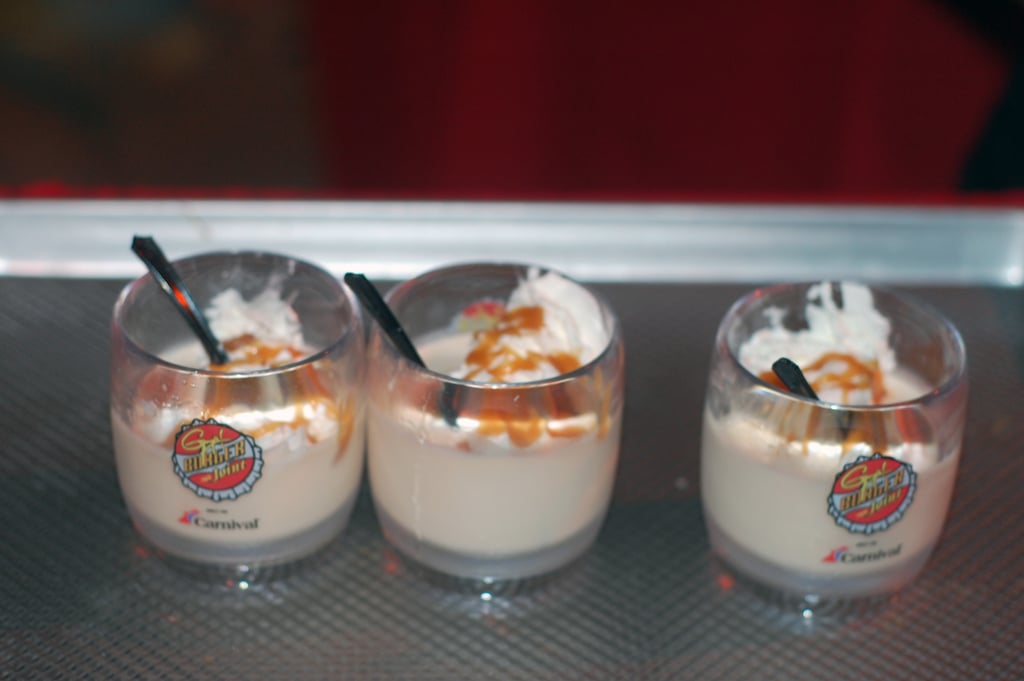 Guy Fieri's salted caramel whiskey shake definitely satisfied our sweet tooth.
Guy Fieri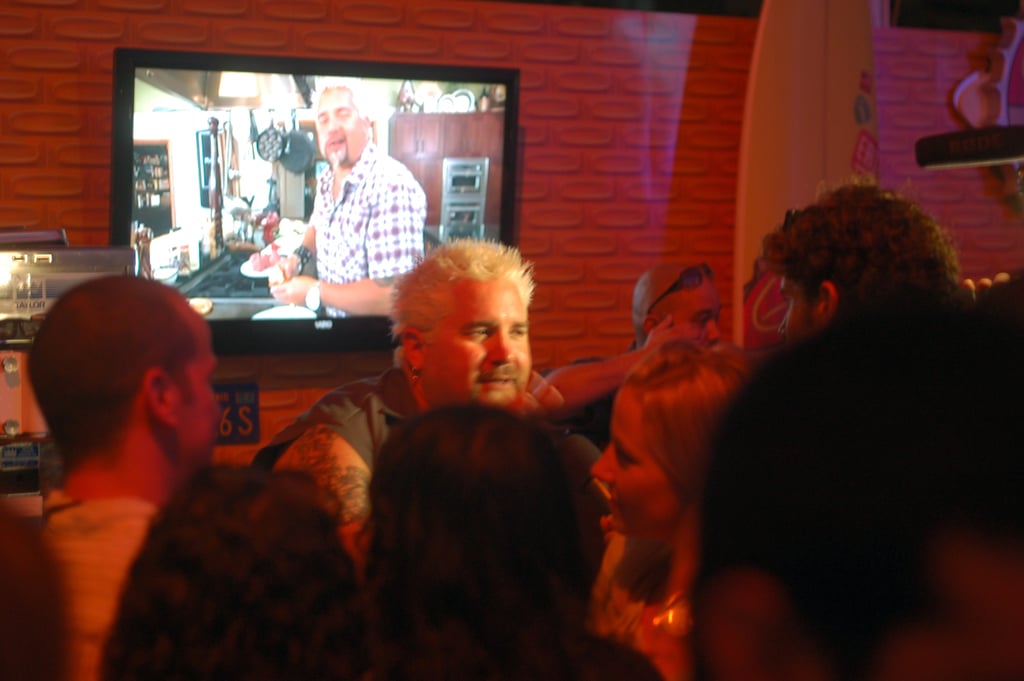 Guy Fieri's booth was quite a spectacle, and in his world, apparently, it's best to eat dessert first.
Bobby's Burger Palace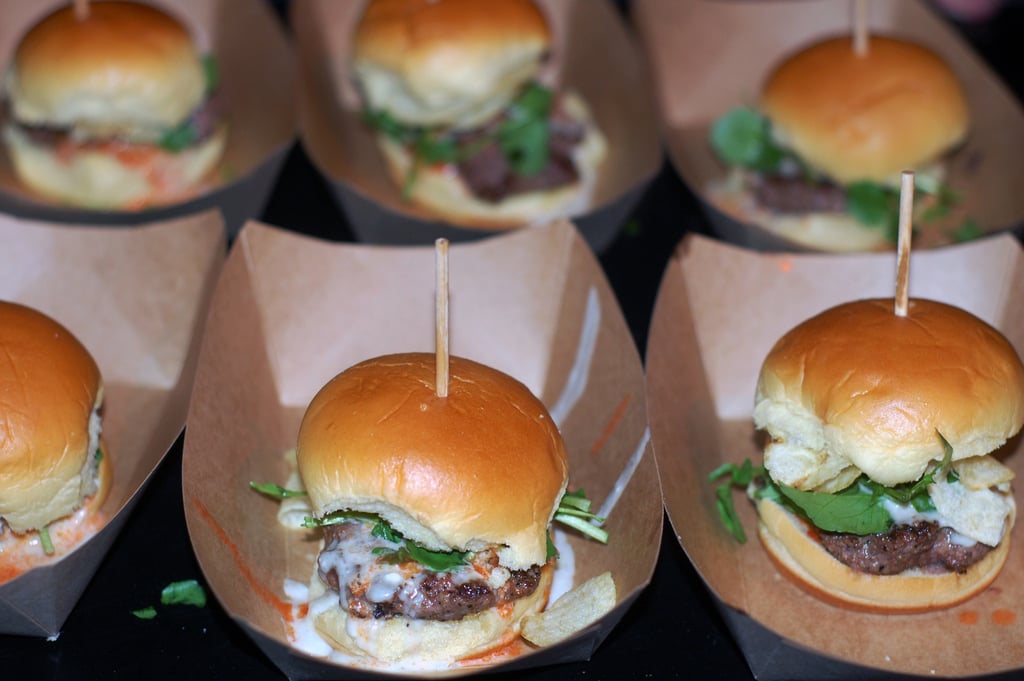 Bobby Flay [11]'s burger, on the other hand, was full of fury: the buffalo-style burger was made with punchy red hot sauce, blue cheese dressing, and classic potato chips. It was one of our favorites. Bring it on, Bobby!
Spike Mendelsohn's Blackberry Liqueur Float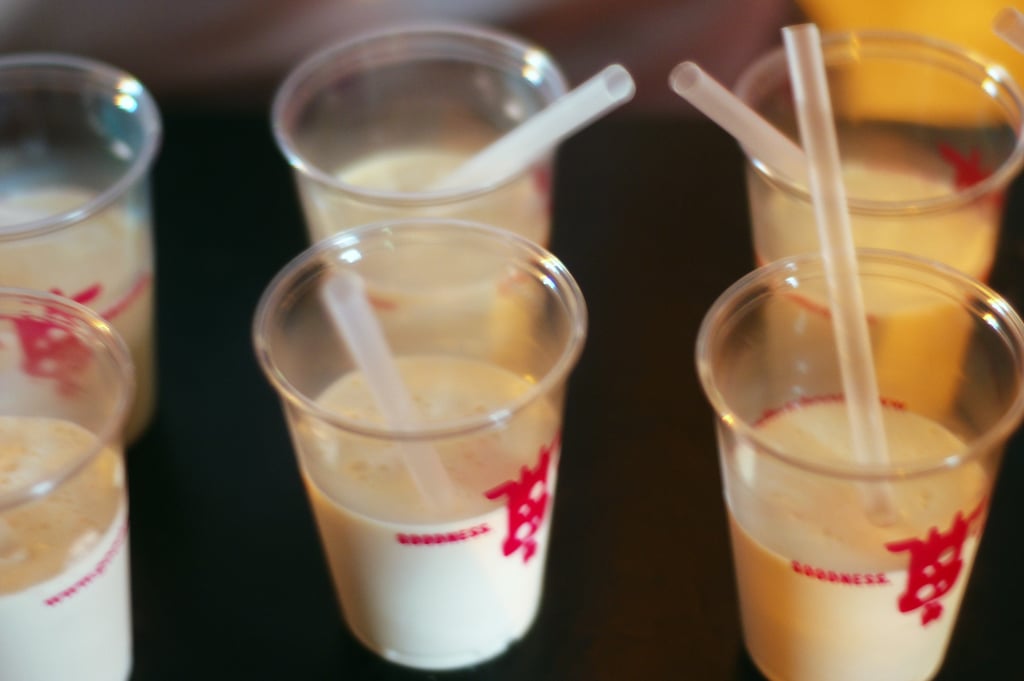 Former Top Cheffer Spike Mendelsohn of Good Stuff Eatery offered a blackberry-flavored shake to go with his burger, which he'd run out of.
The Dutch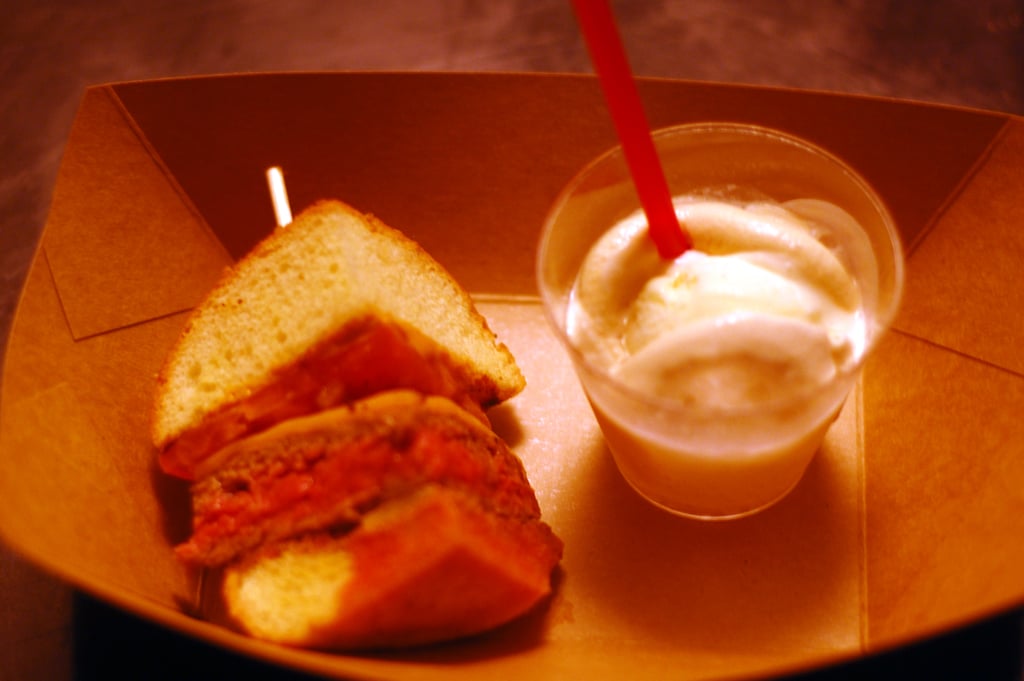 Andrew Carmellini's Dutch burger with cheddar, secret sauce, and a brioche bun was one of our favorites of the evening; you could really taste the flavor of the beef. Carmellini served it alongside a refreshing ginger float.
Burger and Barrel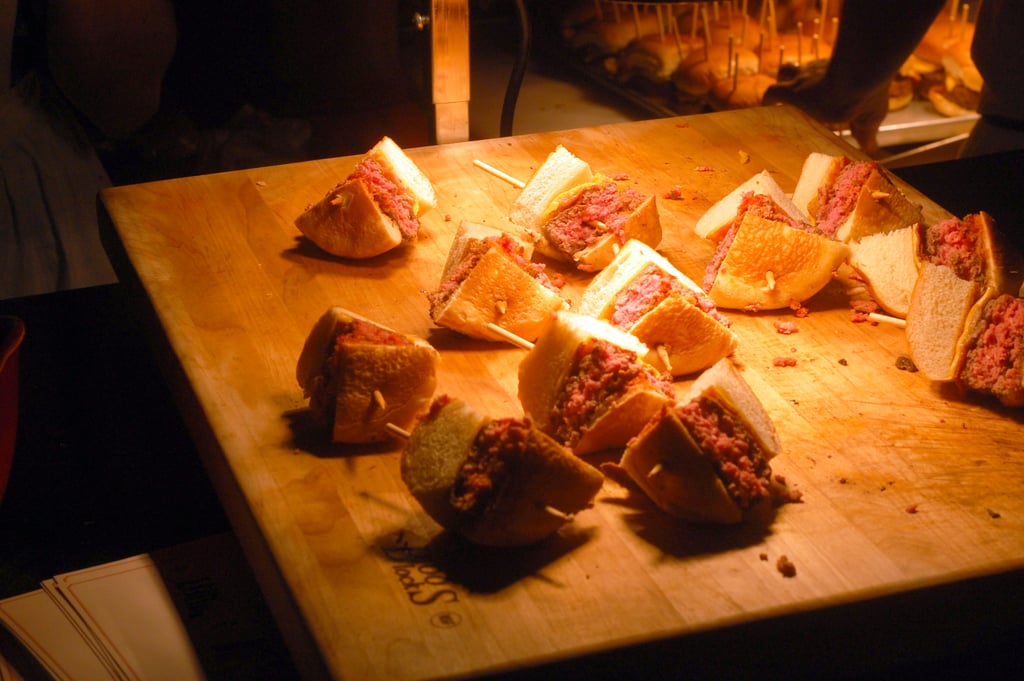 Former New York Burger Bash winner Burger and Barrel was all about the Bash Burger, made with caramelized onion and bacon jam, shaved pickles, and secret sauce.
Bobby Flay, the Nice Guy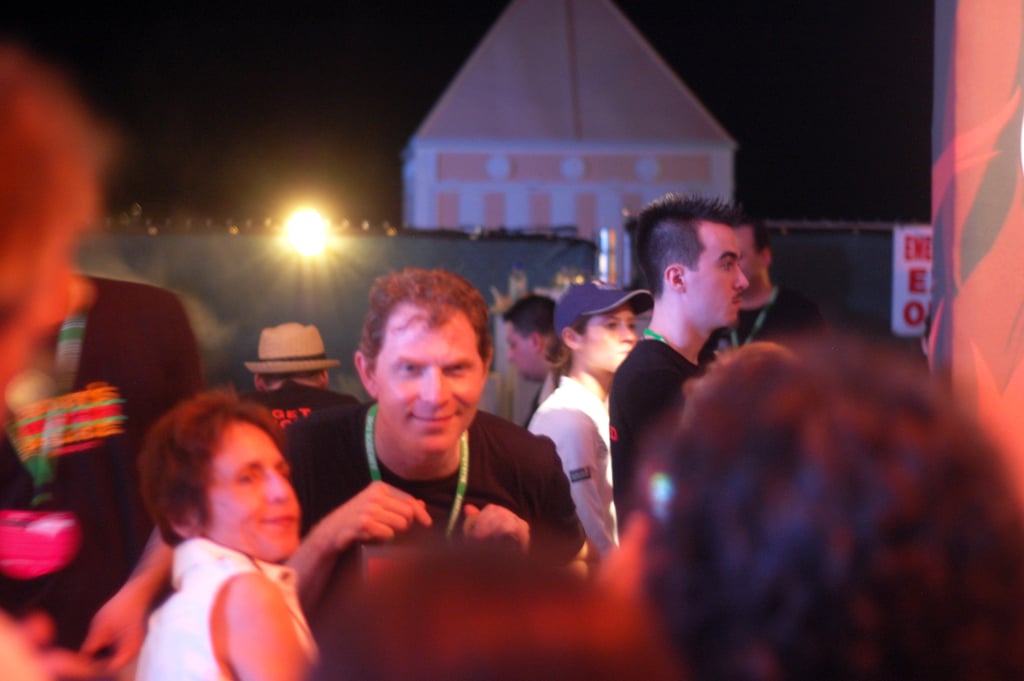 Turns out Bobby Flay [12] isn't so angry after all (as this Twitter account [13] might suggest). He smiled and chatted with all of the fans who waited patiently in the massive line for his booth.
Abe & Arthur's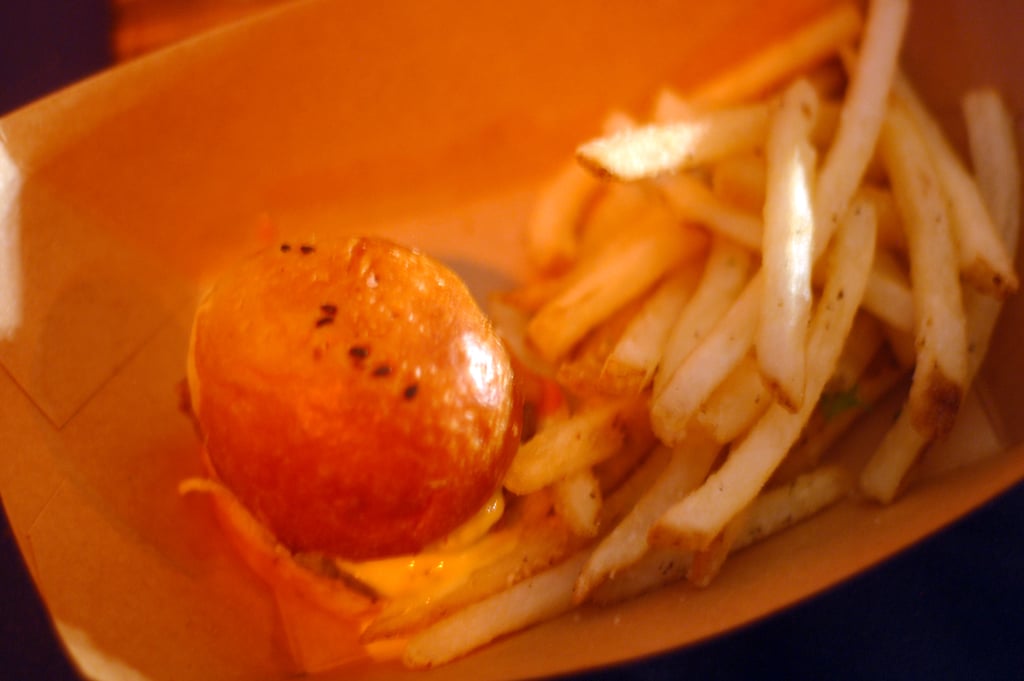 Once again, former winner Abe & Arthur's [14] was serving up a "Wisconsin" cheese burger, made with a half-sour pickle, crispy shallots, Widmer's cheddar and brick cheese spread, and a brioche bun. Even better were the truffle fries, which we couldn't help but break our one-bite rule for.
Packed House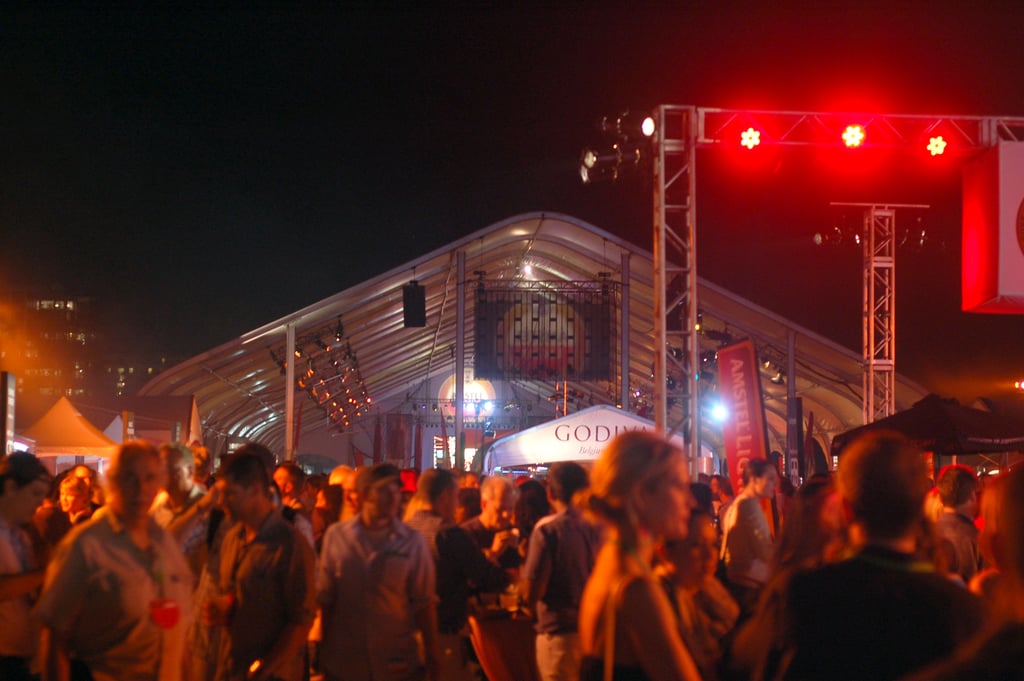 This year's burger bash was completely packed. Long lines of people waiting to fill their stomachs stemmed off of each booth, and maneuvering through the crowds proved to be quite a challenge.
5 Napkin Burger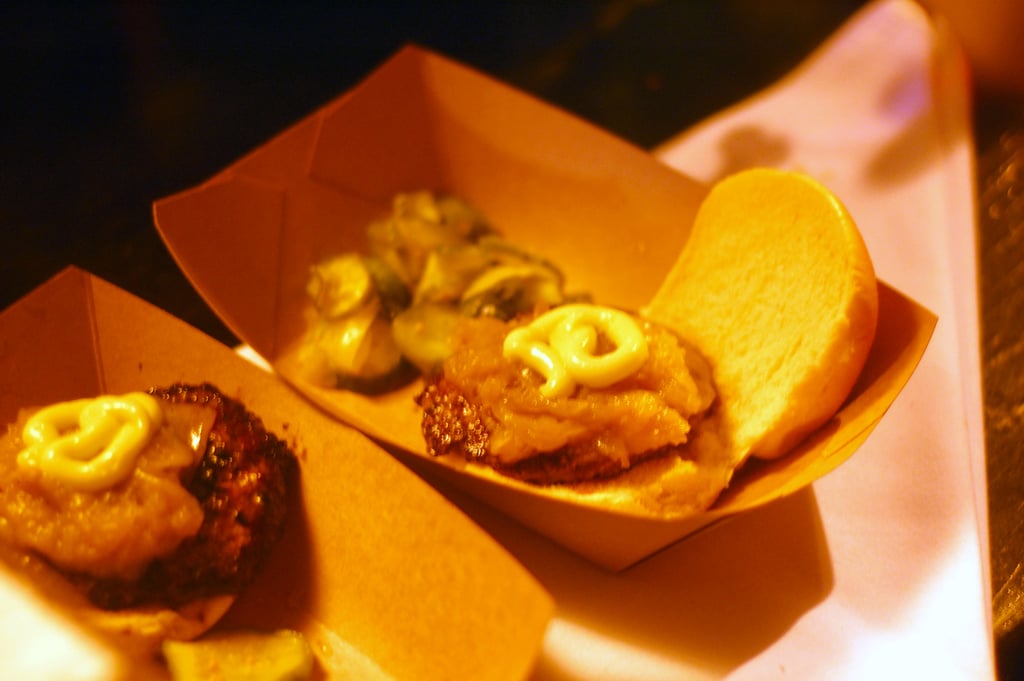 Our first stop was New York standby 5 Napkin Burger, serving up its beef slider with caramelized onions and rosemary aioli.
Fabio's Bertolli Demo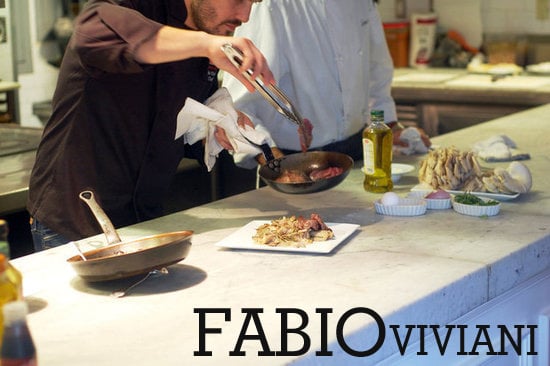 Four hours after we went to bed, we were up bright and early for Fabio Viviani's Bertolli cooking demonstration.
Flowers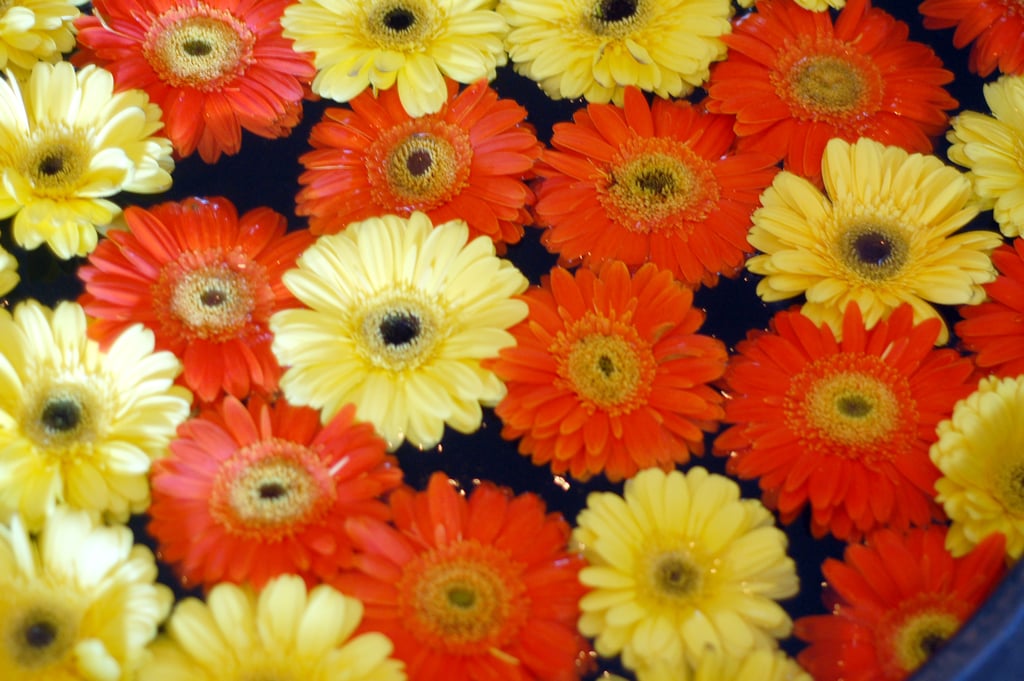 We were greeted by a gorgeous assortment of sunflowers.
Ever the Italian Stallion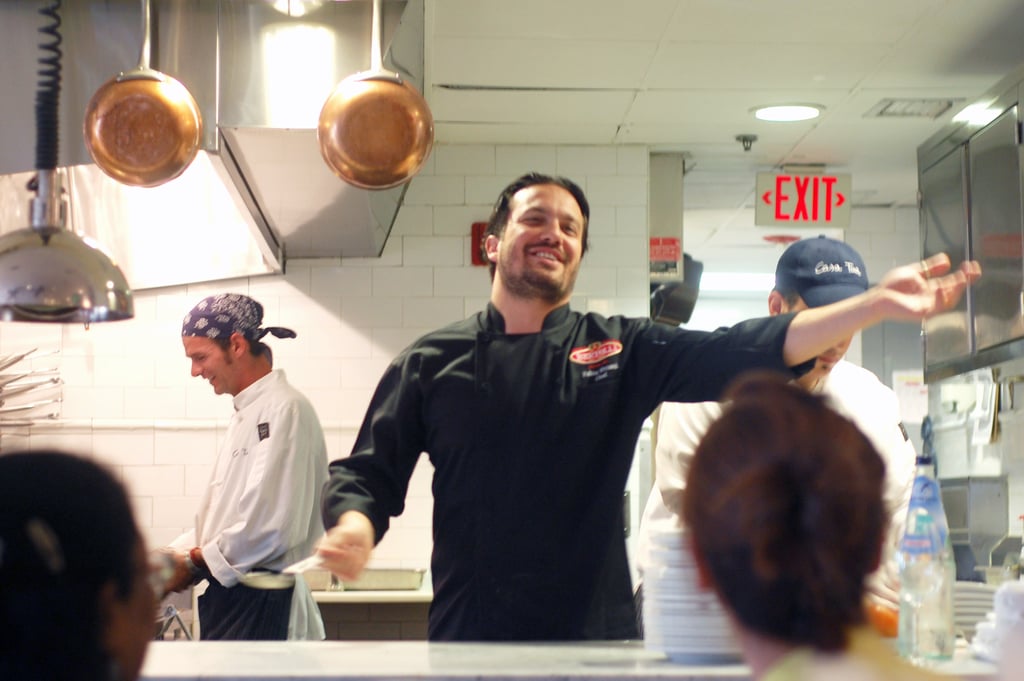 The former Top Cheffer, ever the Italian, was ebullient and energetic as he introduced himself to the crowd.
Bertolli's Olive Oils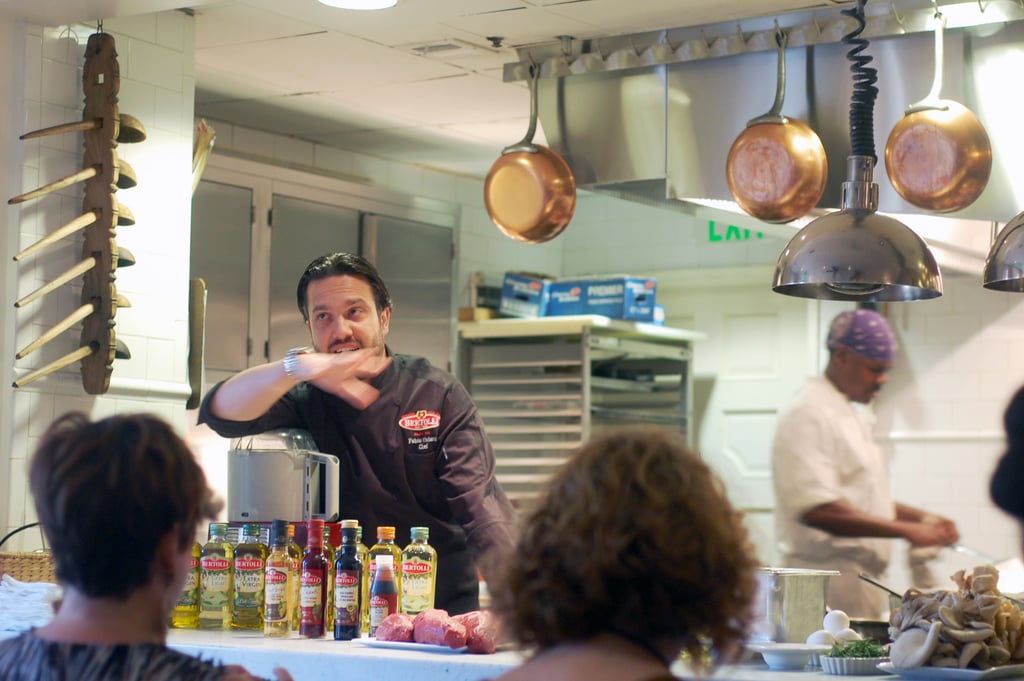 Fabio explained Bertolli's olive oil assortment.
Fabio Makes Pasta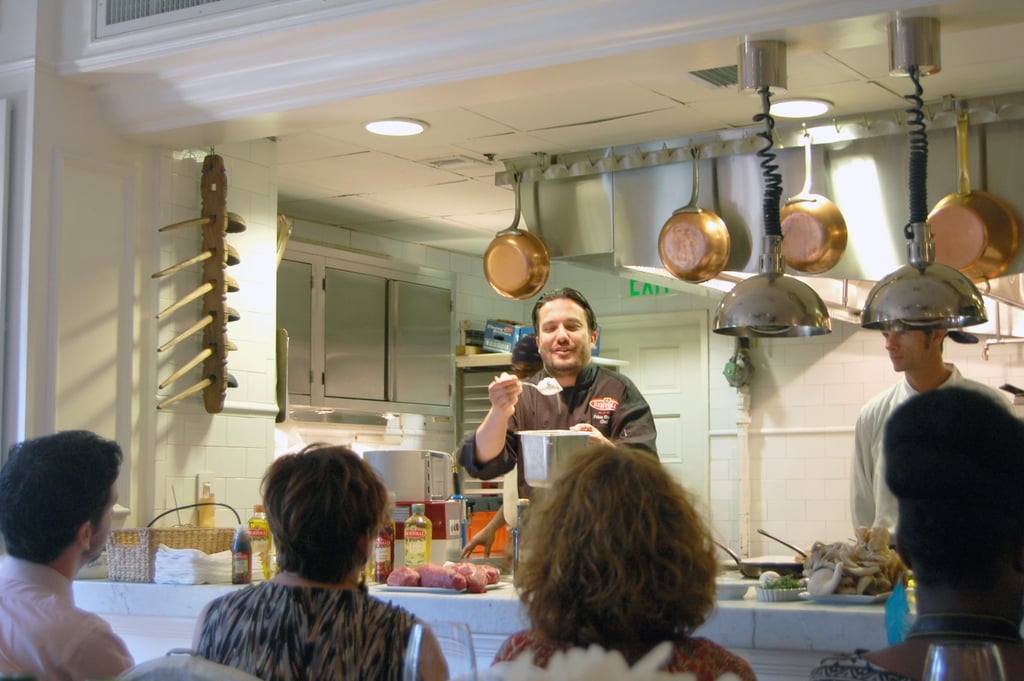 Fabio explained what his definition of "a tablespoon" is.
Fabio Rolls Pasta
He rolled out the dough with a pasta machine.
That's Molecular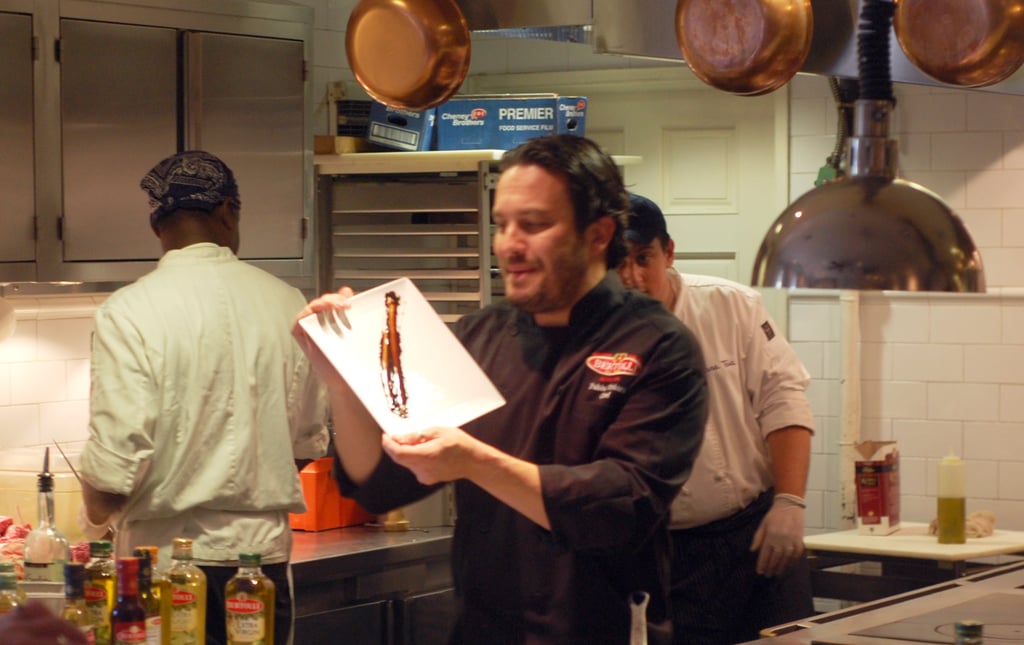 Fabio made fun of molecular gastronomy.
Plating
Fabio plated his meal.
Plating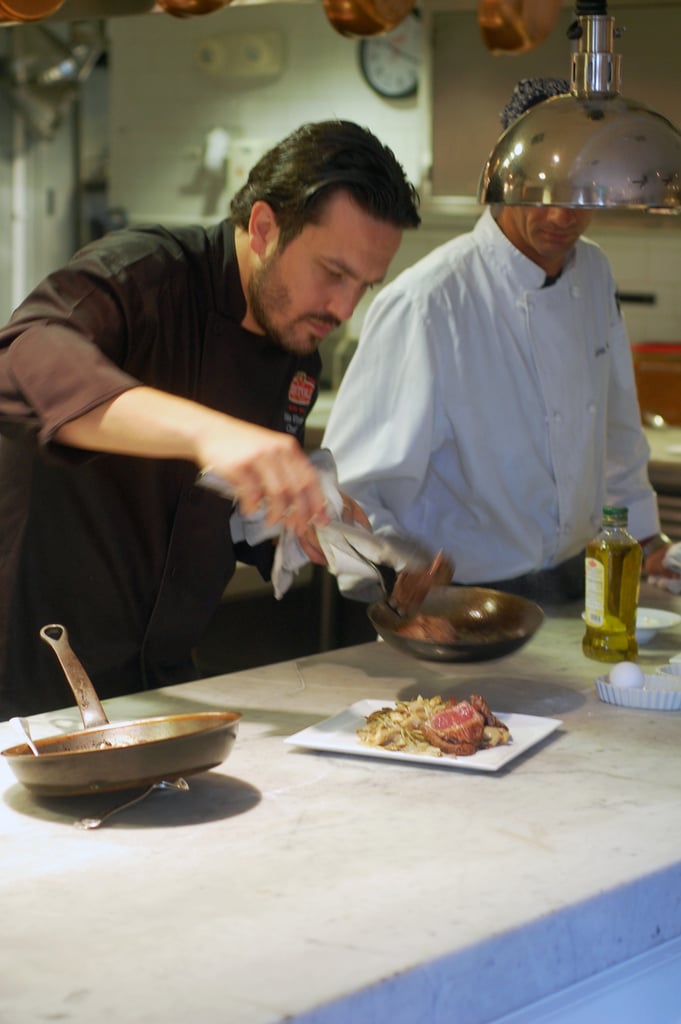 Fabio plated his meal.
Fabio's Meal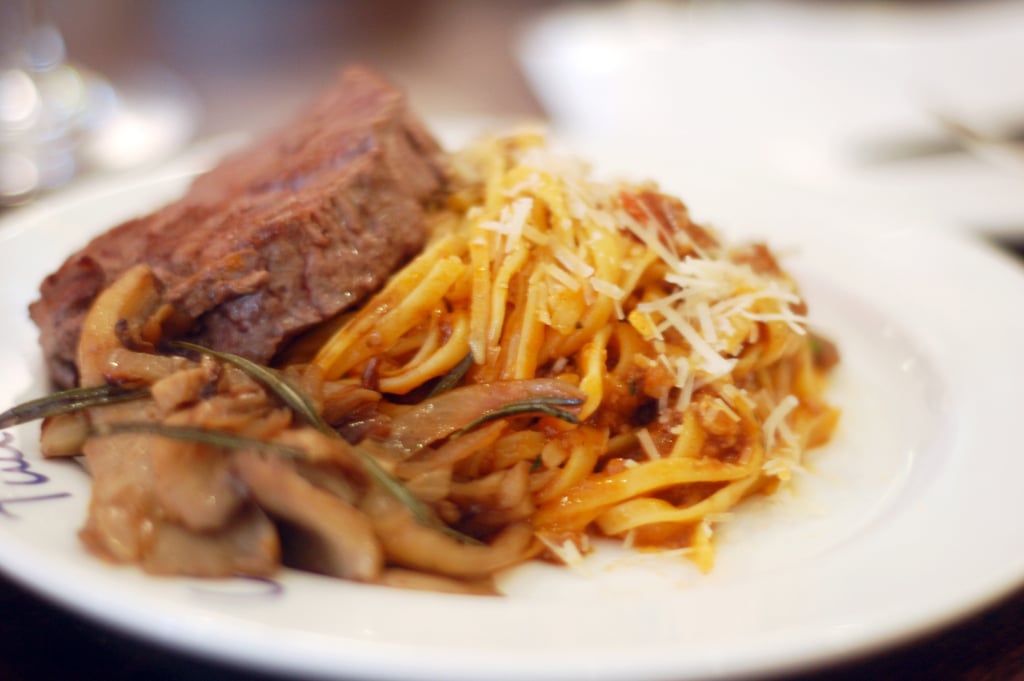 Check out this handmade pasta!
Grand Tasting Village
We got our eat, drink, and celebrity chef on at the grand tasting.
Produce Display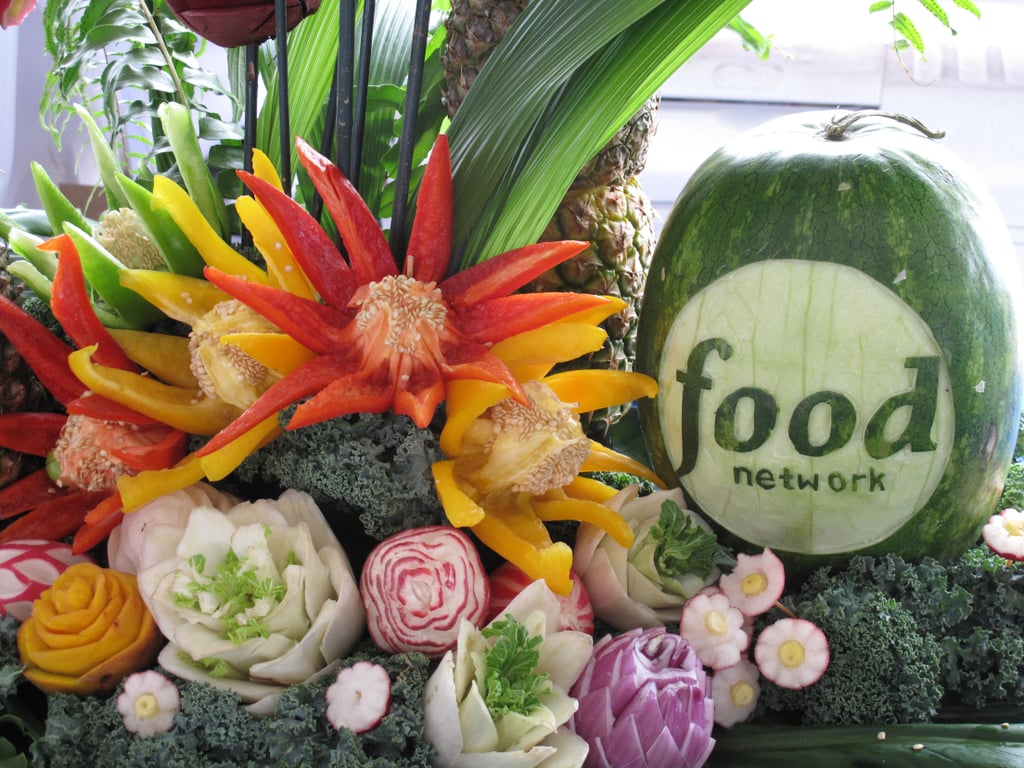 A dazzling display of produce at one of the tents.
Ominous Clouds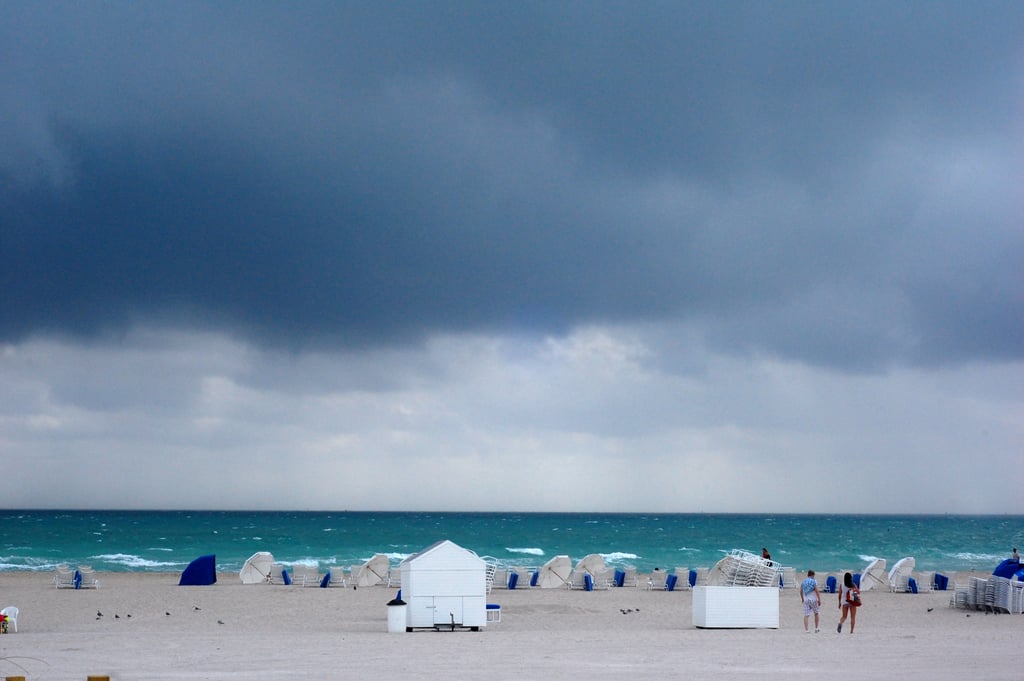 We knew the weather was suddenly up to no good.
Stormy Weather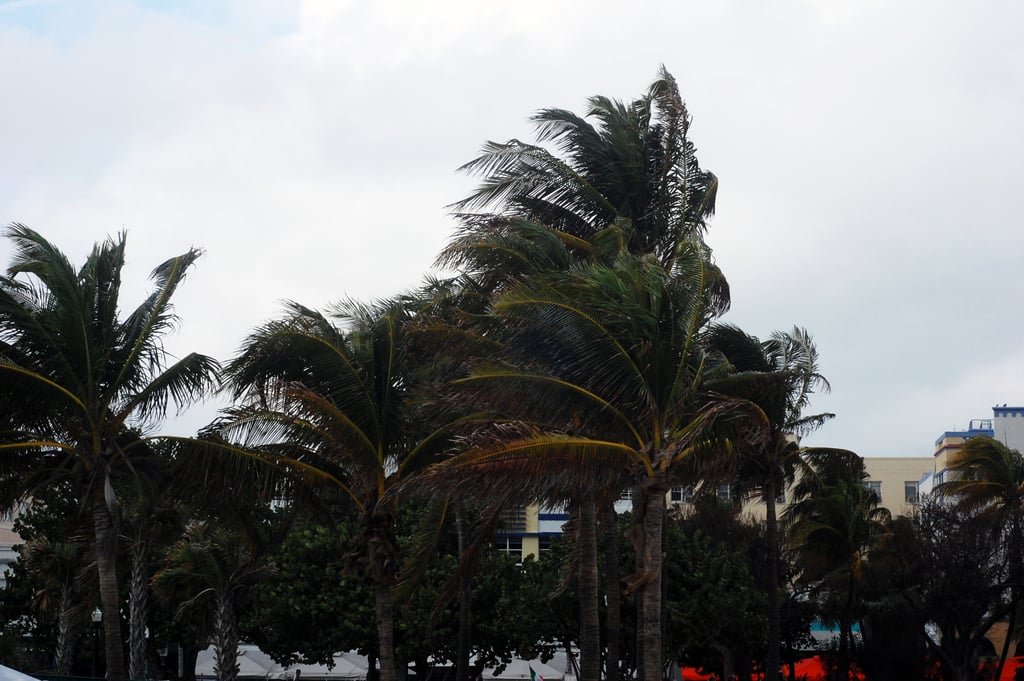 Can you tell how fast the wind gusts are?
Ridiculous Lines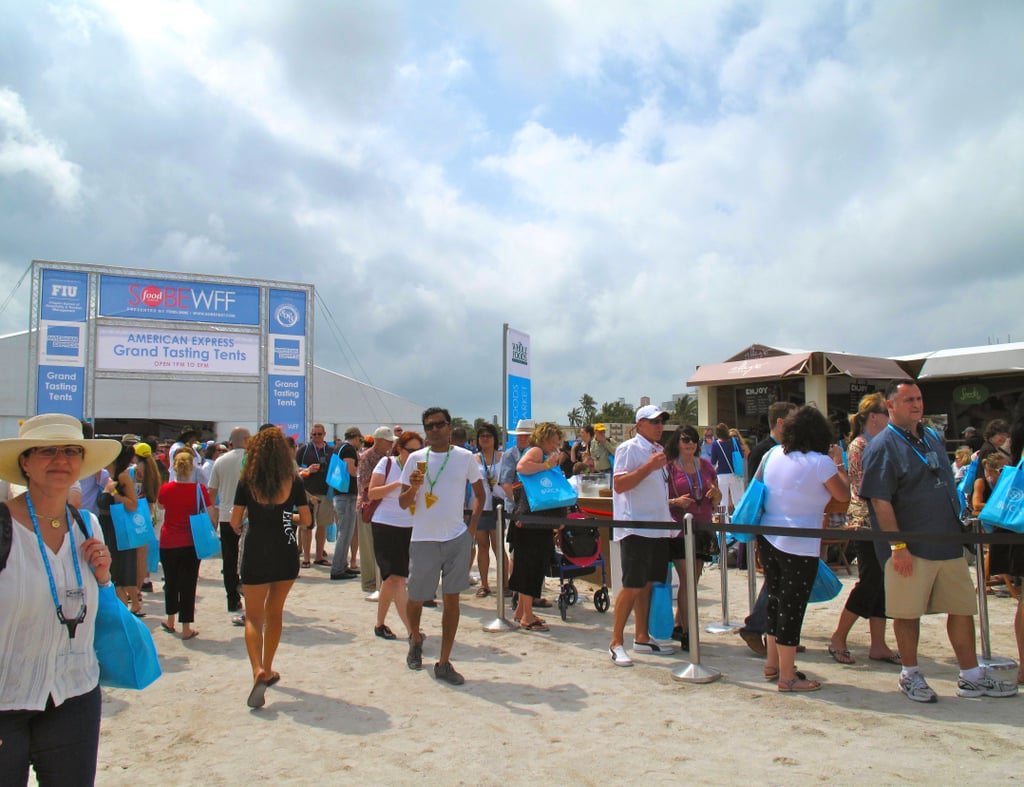 Go to the grand tasting early, or go home — the lines get out of control. This was the queue for the Whole Foods tent.
Pomegranate Prosecco Cocktail
This refreshing drink combined pomegranate juice, prosecco, and basil. The combination was bright and bubbly, perfect for Miami Beach weather.
Mayfair Punch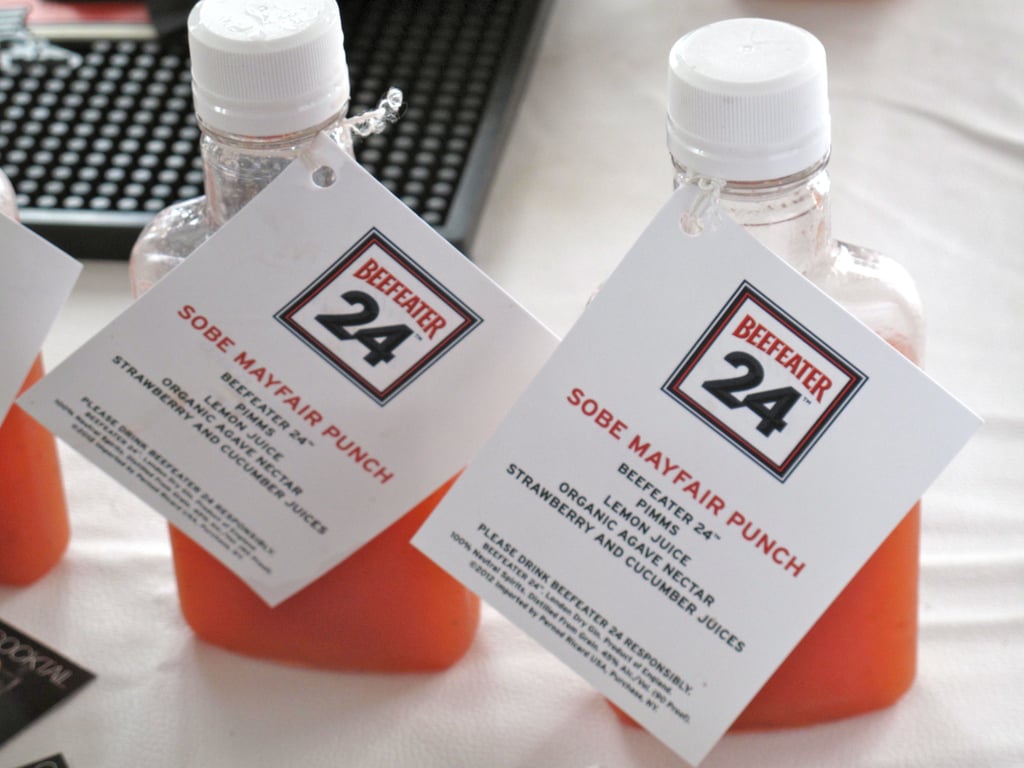 Beefeater 24 did something genius for the crowds this year: it handed out generous bottles of its Mayfair Punch, a take on the Pimm's Cup with Pimm's, Beefeater 24 Gin, agave, and fresh-pressed strawberry, cucumber, and lemon juices. Unfortunately, those untouched were confiscated on the way out!
Bites of Sushi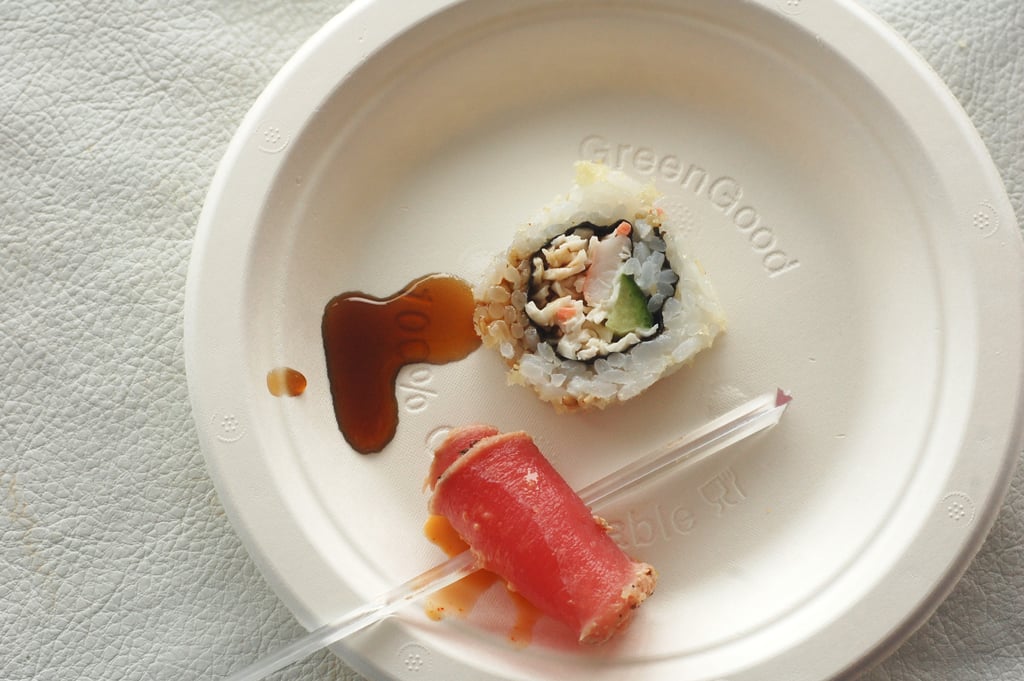 We got excited when we came upon sushi bites like these. The hot and humid weather of South Beach had us craving cold bites of seafood.
Stone Crab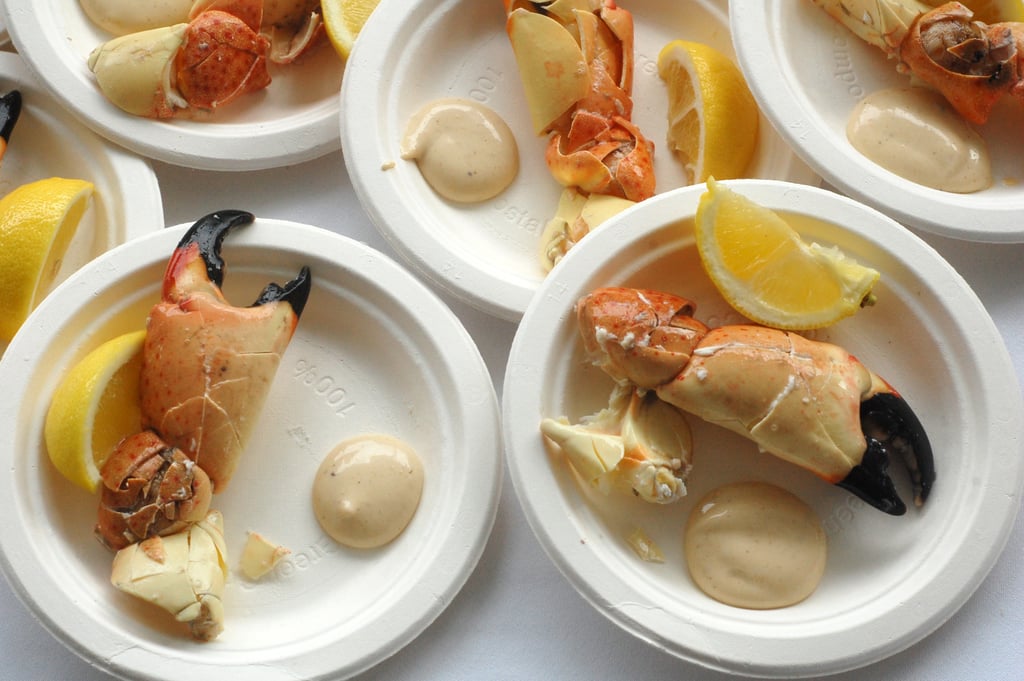 Buttery and almost lobster-like in flavor, we went back more than once to get our hands on the delicious stone crab.
More Prosecco Cocktails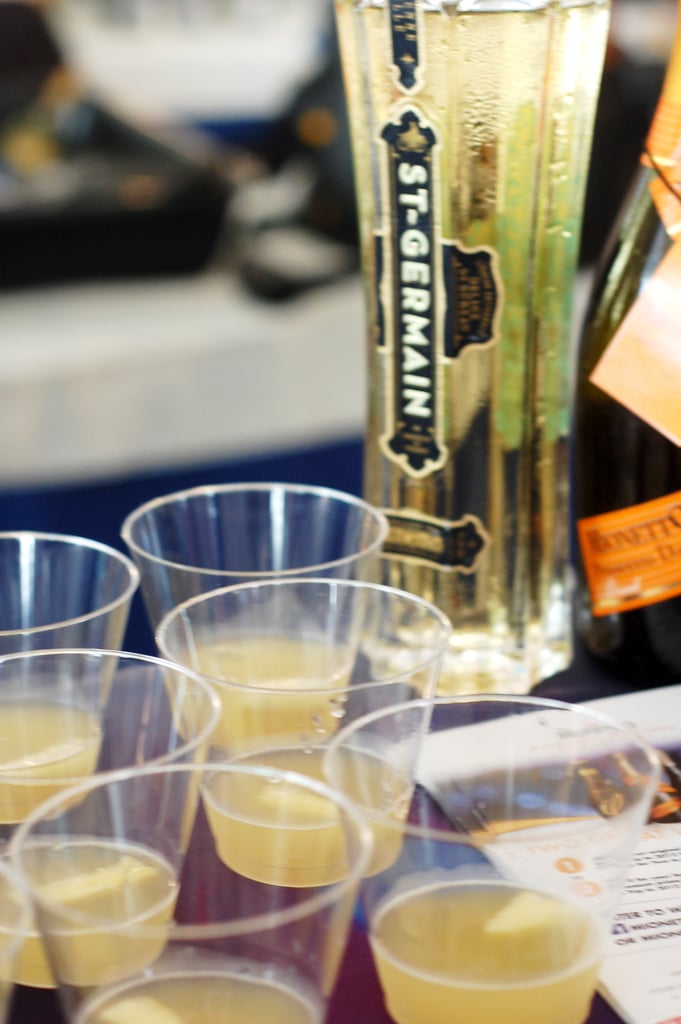 We loved the combination of Il Prosecco, pineapple juice, and St-Germain.
St-Germain Cocktail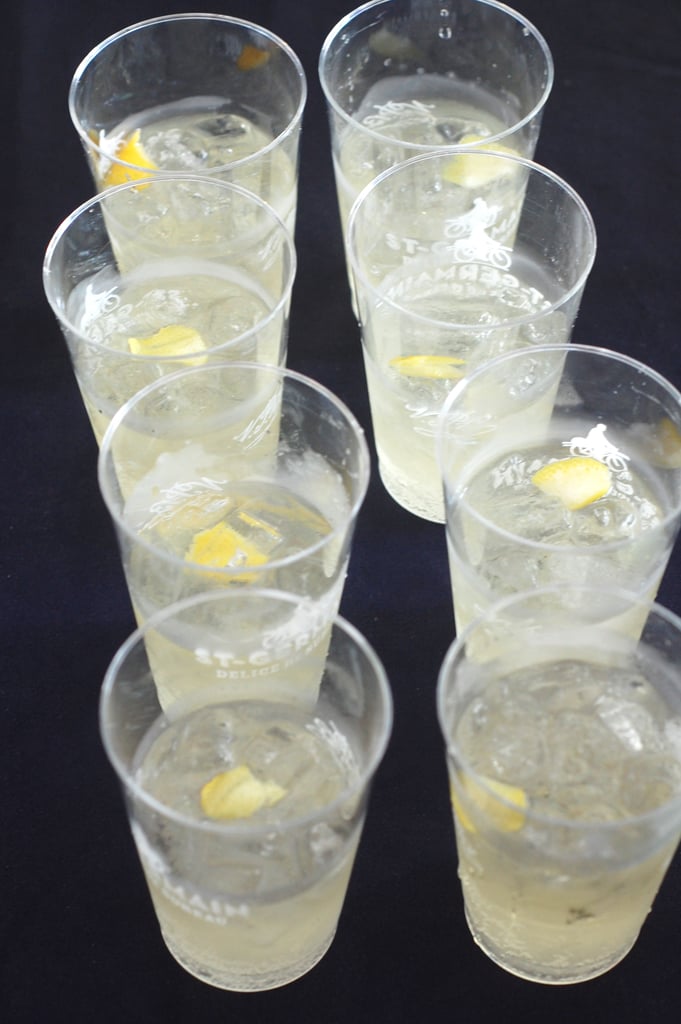 Being that we enjoy the St-Germain Cocktail [15] regularly at home, we were seriously excited to come upon it in the tents.
Skinnygirl Wines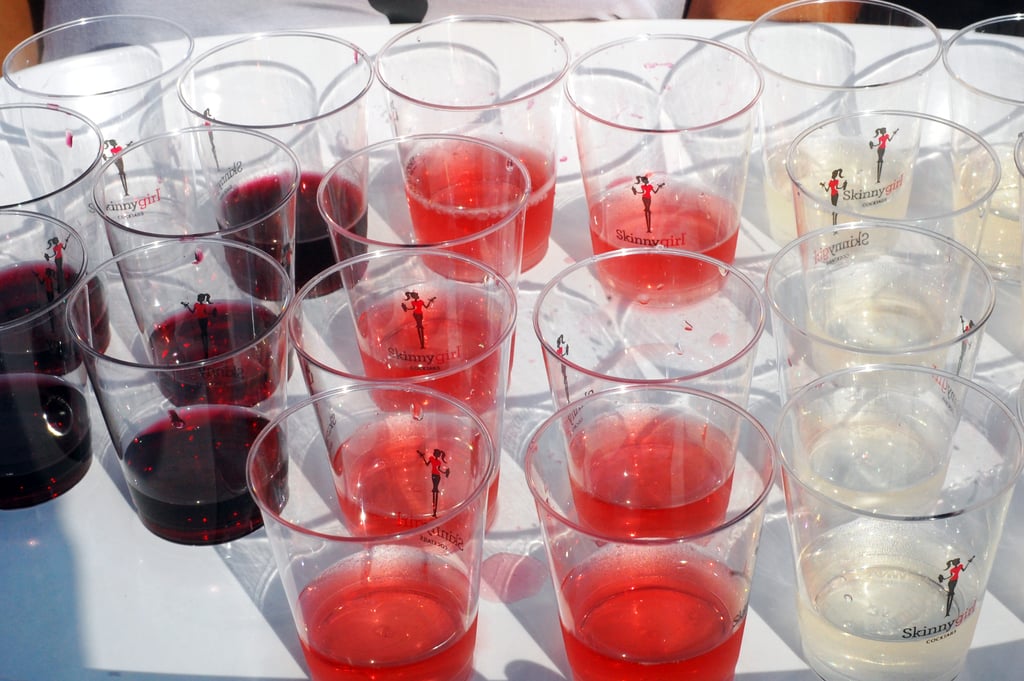 Bethenny Frankel debuted her newest collection, a line of white, rosé, and red wines.
More Tuna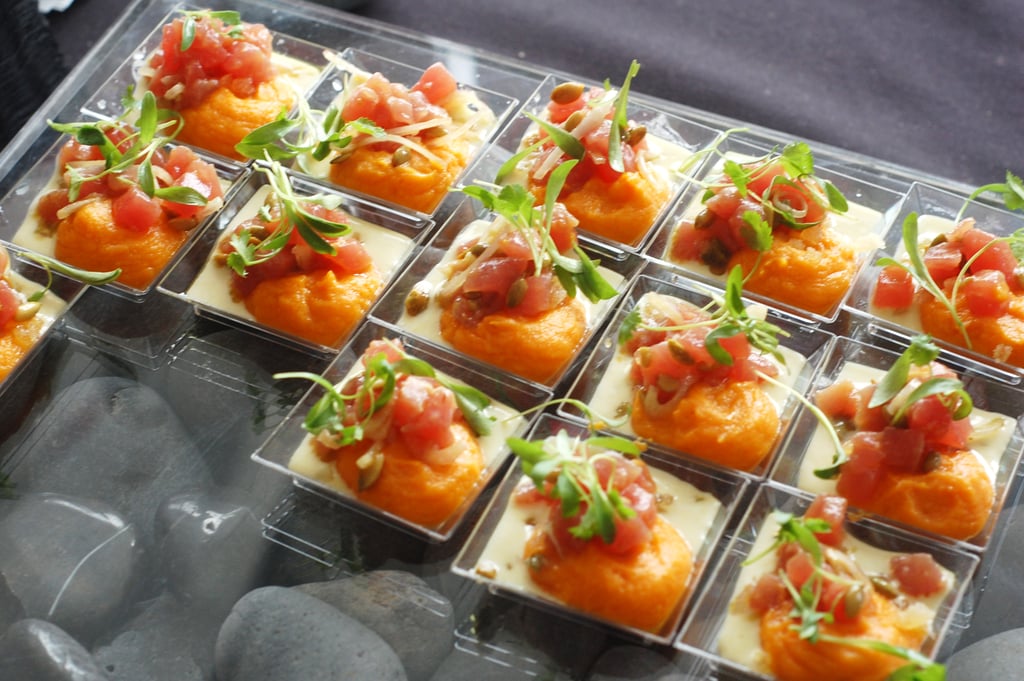 Jewellike cubes of raw tuna atop sweet potato purée.
Jalapeños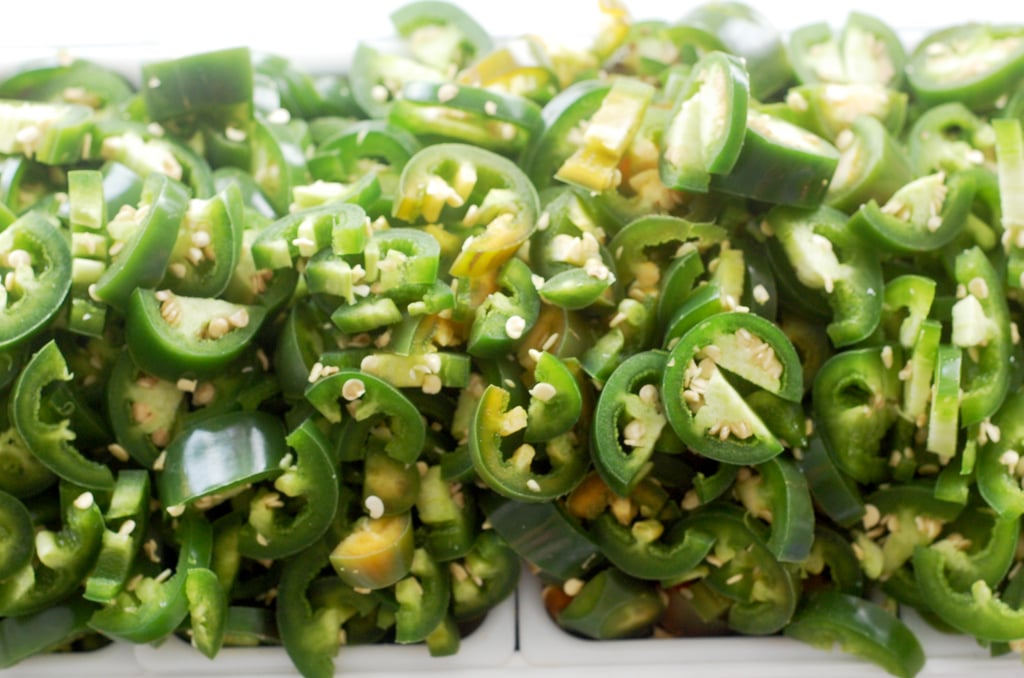 Jalapeños in cocktails: so hot right now.
Passion Fruit-Jalapeño Rum Cocktail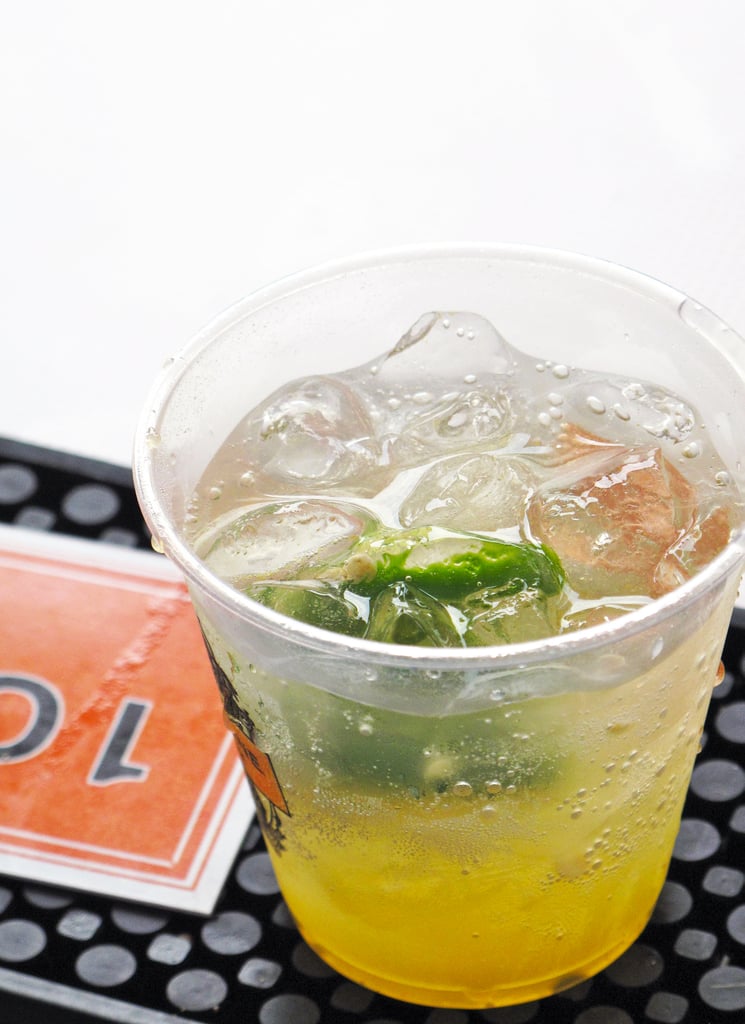 These spicy, fruity cocktails from 10 Cane rum were so good, we could've had 10 more of them!
Côtes de Provence Wines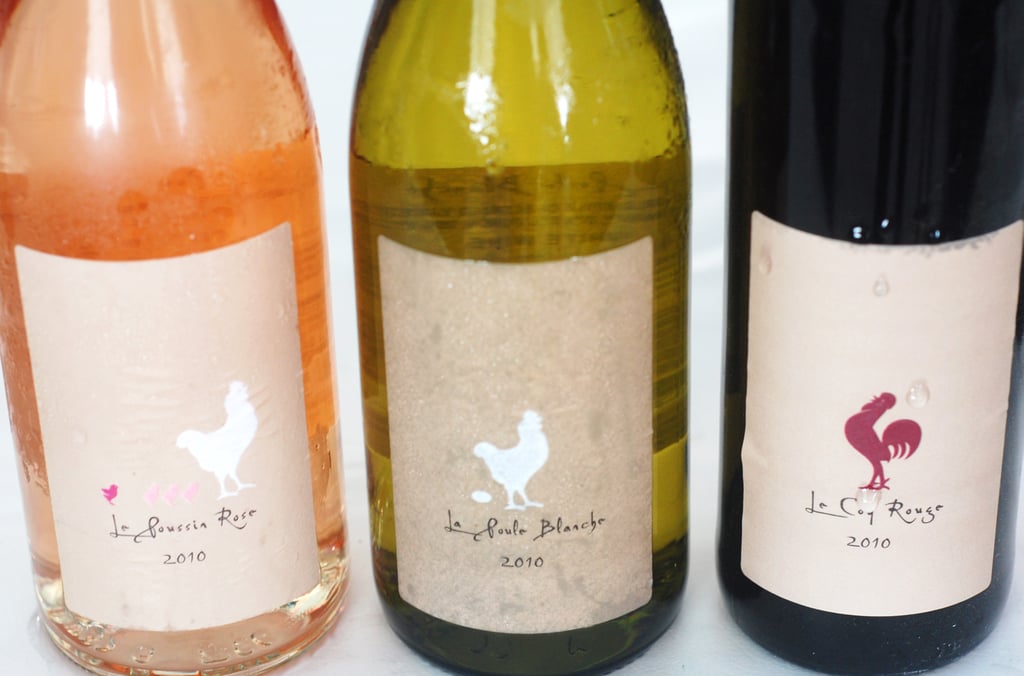 We loved the pretty packaging of these wines from the Côtes de Provence AOC.
Whispering Angel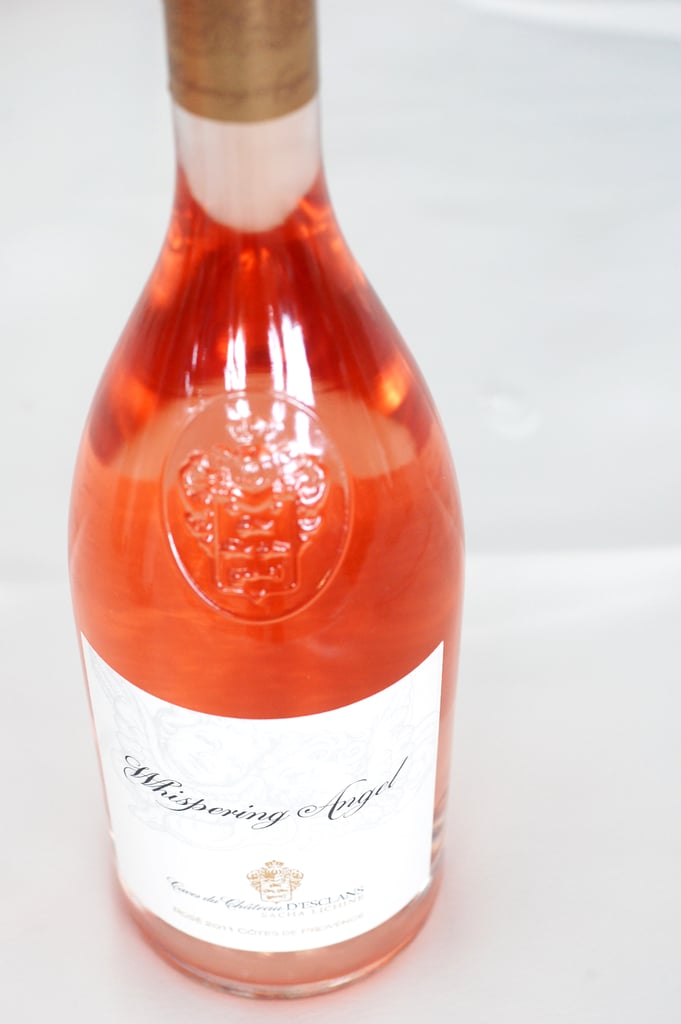 We were skeptical of a cheeseball name like Whispering Angel yet drawn to the rosé's delicate packaging at the same time. One sip and we had no regrets: this Côtes de Provence from Château d'Esclans was not too sweet, not too acidic, and so easy to drink we could sip it all day.
Warming Tortillas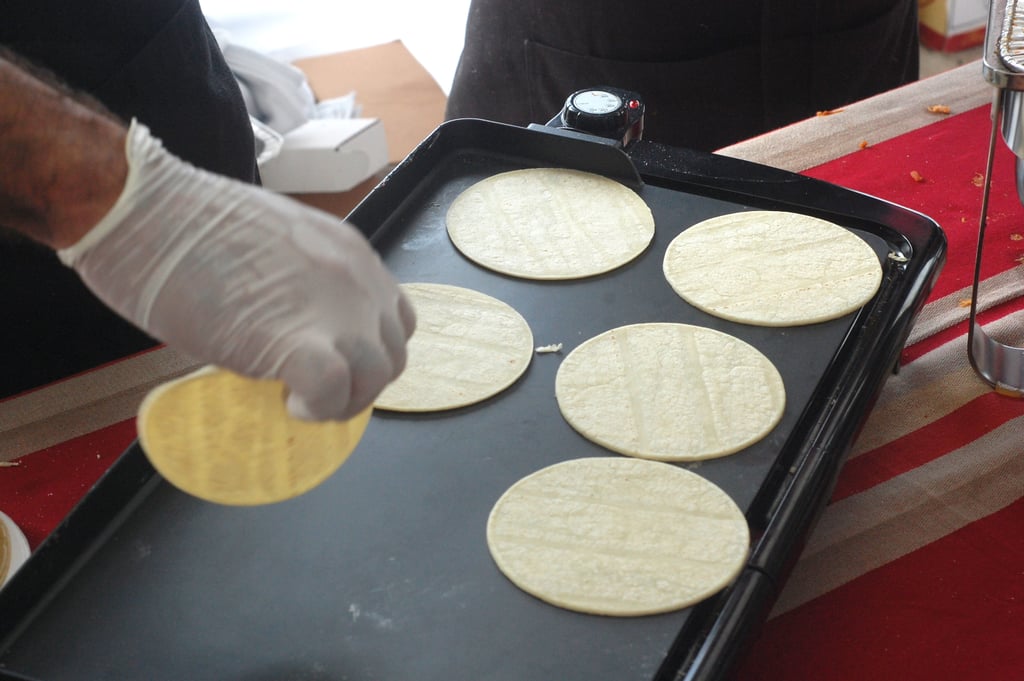 Gotta keep those taco shells warm!
Thyme in Cocktails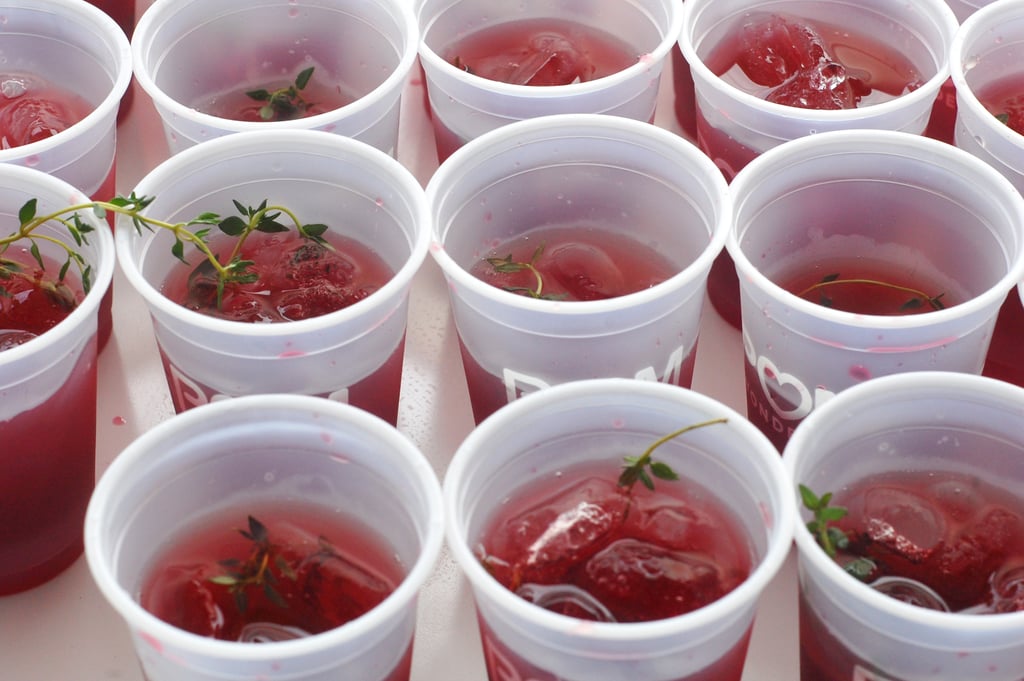 Also so hot right now.
Barbados Food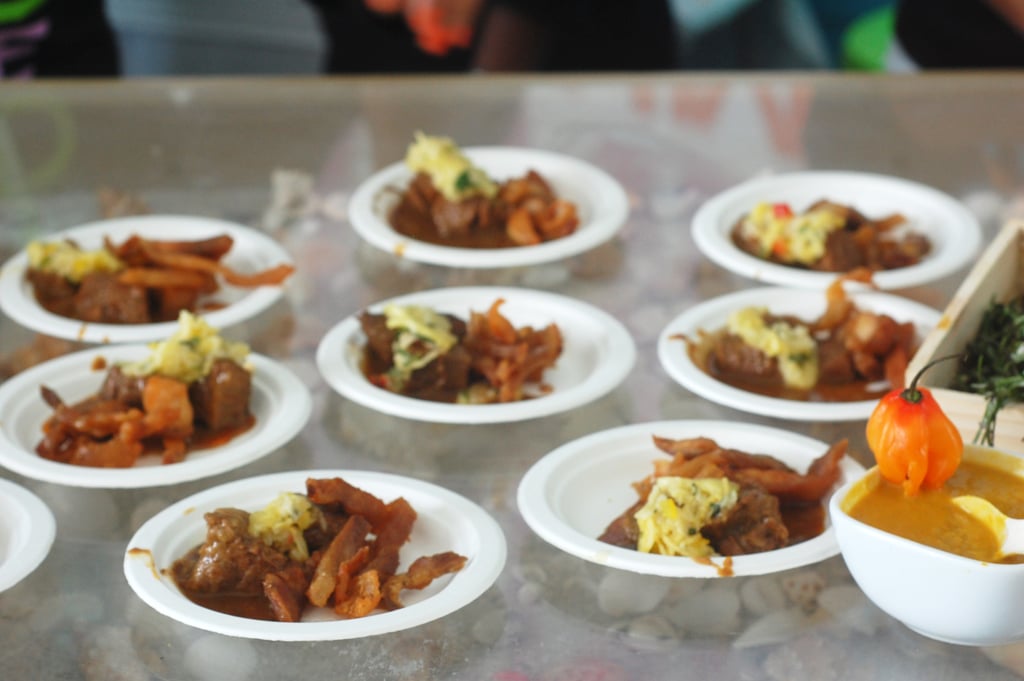 Food from the Barbados Food & Wine & Rum Festival booth.
Tuna Tartare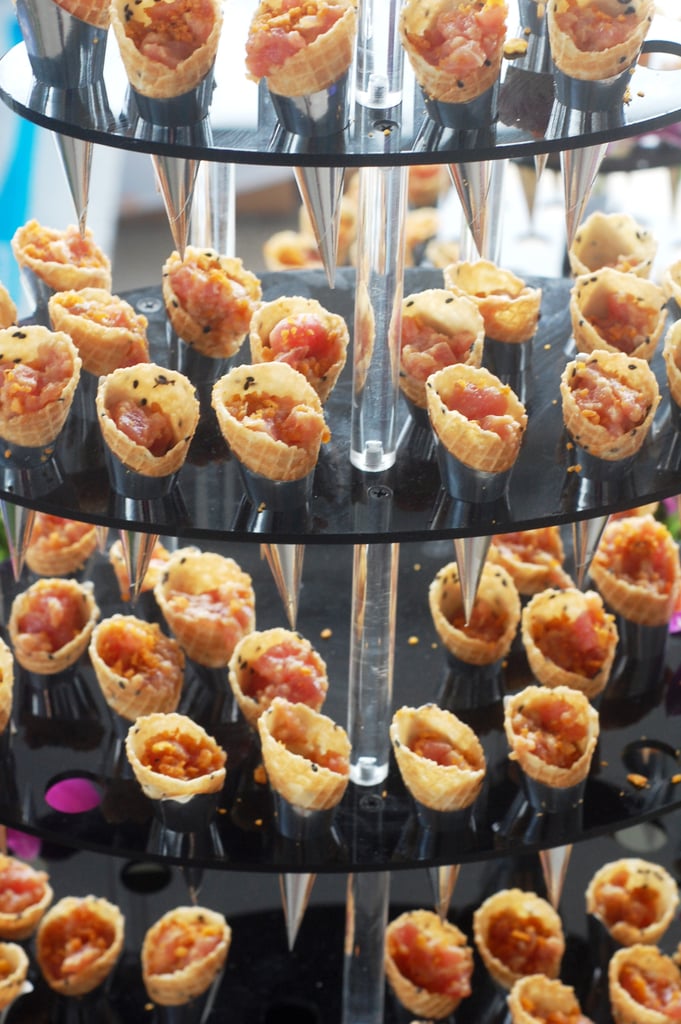 Served in cones in a stacked tower formation. How pretty is that?
Go FIU!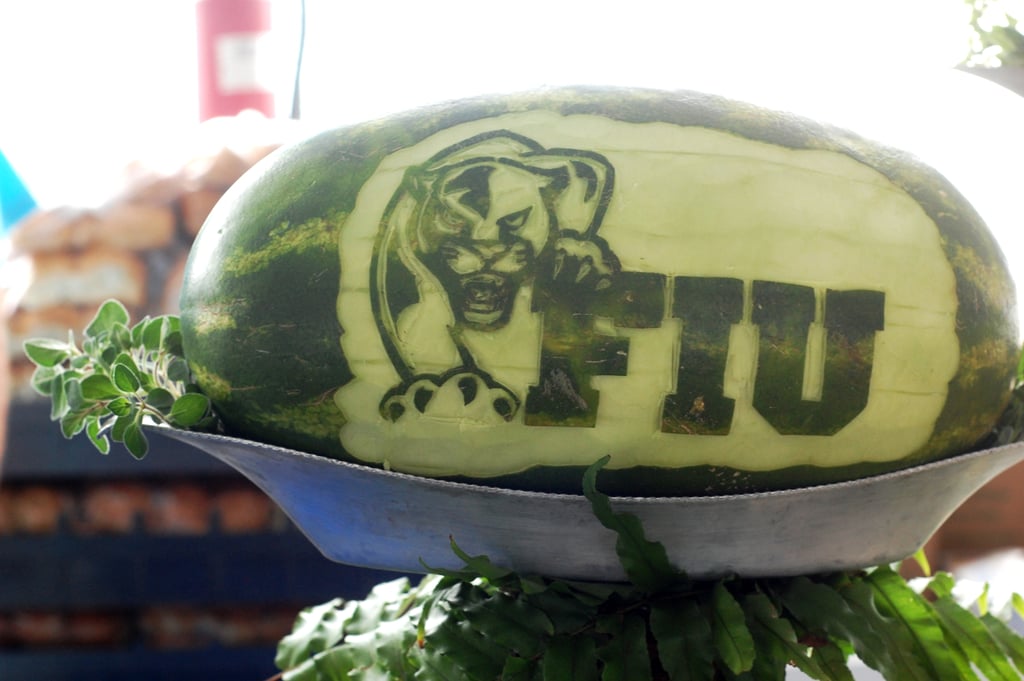 Another carved watermelon.
Paella, Florida-style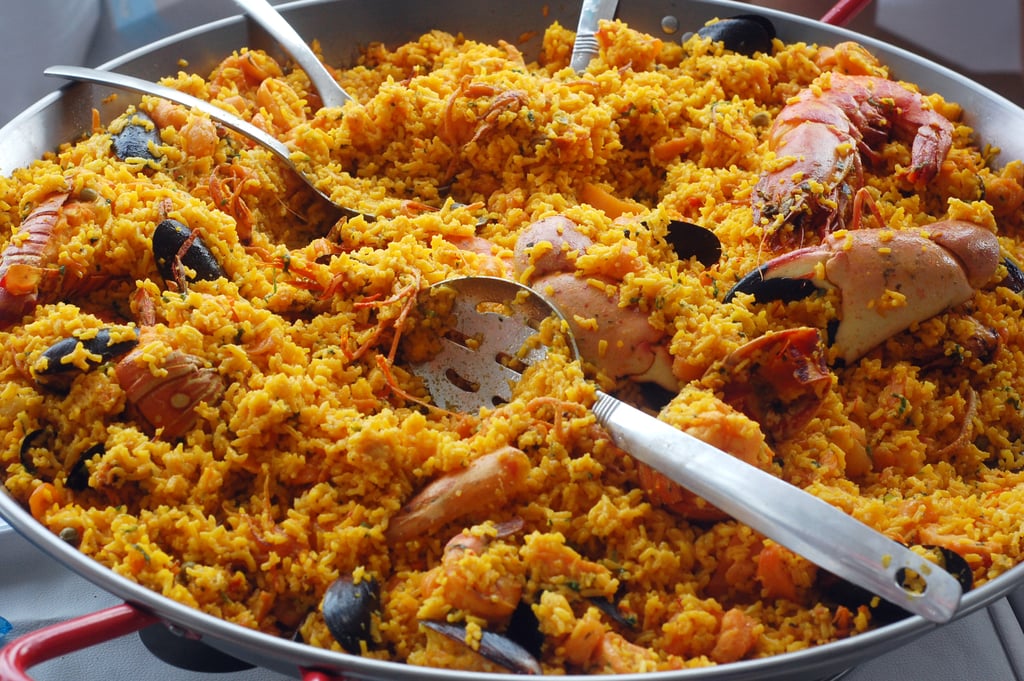 . . . with lots of stone crab claws, of course.
Indonesian Fried Eggs
Unlike Scotch eggs, which are battered on the outside, these Indonesian-style fried eggs weren't coated with anything. Despite their hard-boiled yolks, these eggs were crispy on the exterior — the perfect match for tangy chili sauce.
St-Germain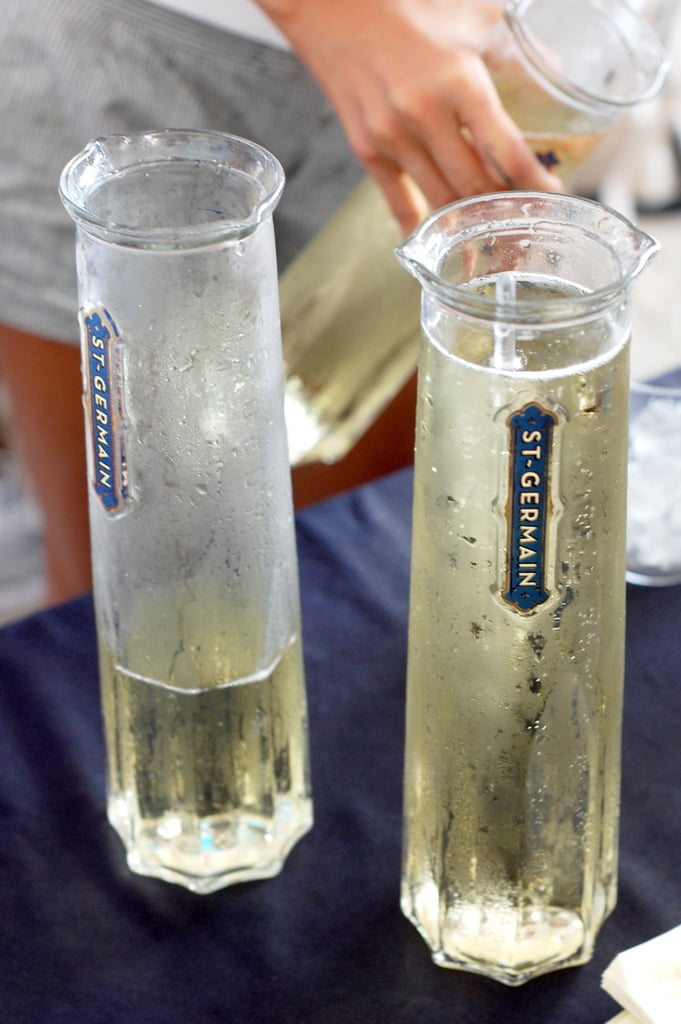 We loved the beakers at the St-Germain booth.
Celebrity Cruises DIY Spice Booth
At the Celebrity Cruises booth, you could make your own spice rub to take home with you.
Spices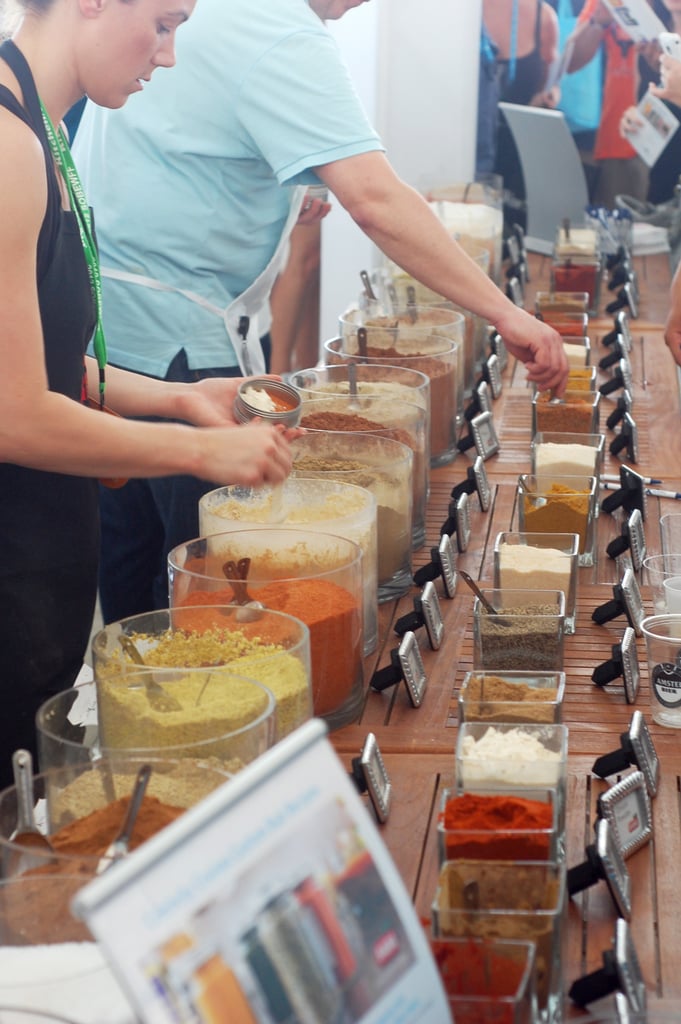 Check out the insane assortment!
Crowds
Crowds + bad weather = not good.
Vegetable Arrangement
A pretty vegetable arrangement with radishes.
Canton Booth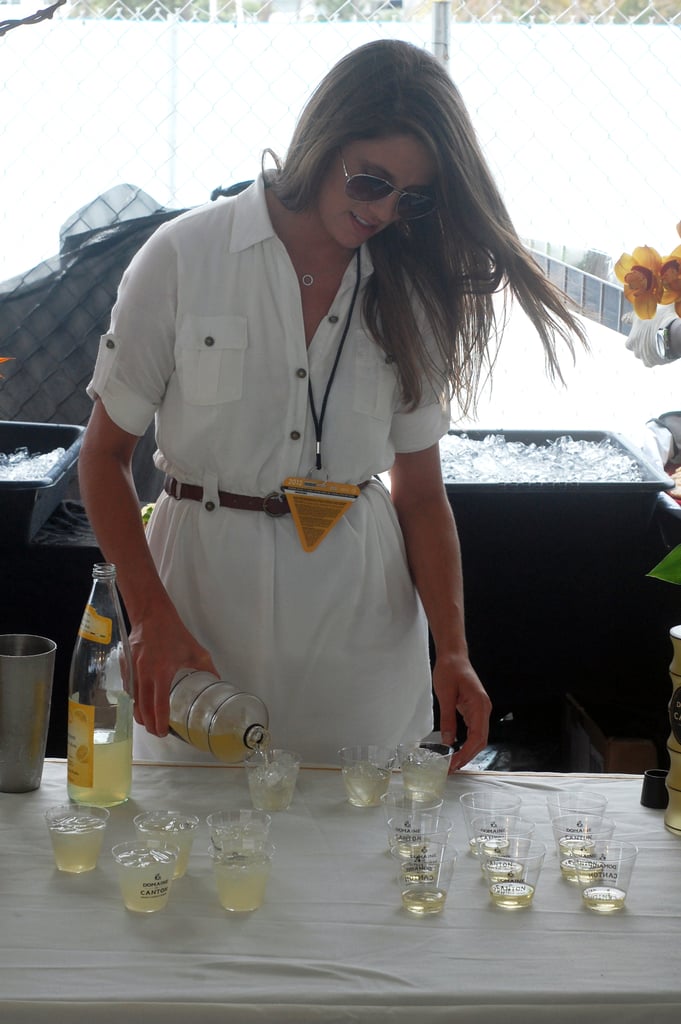 Pouring cocktails at the Canton booth.
Bethenny at Skinnygirl Booth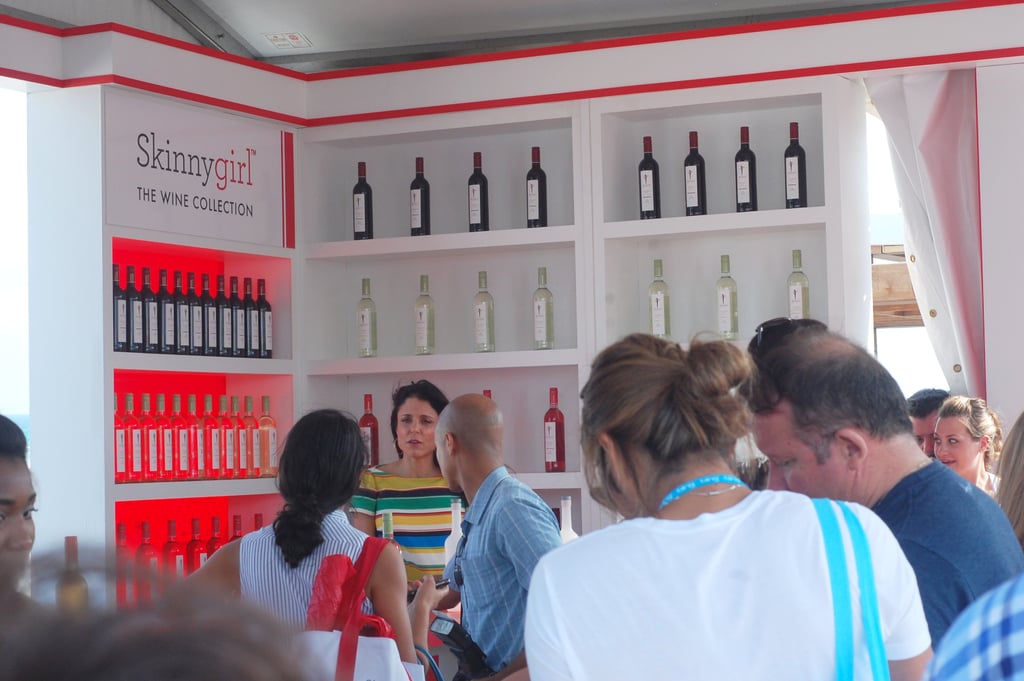 Bethenny took pictures at her Skinnygirl booth. "Do I look shiny?" she asked her publicist.
Burnett's Flavored Vodkas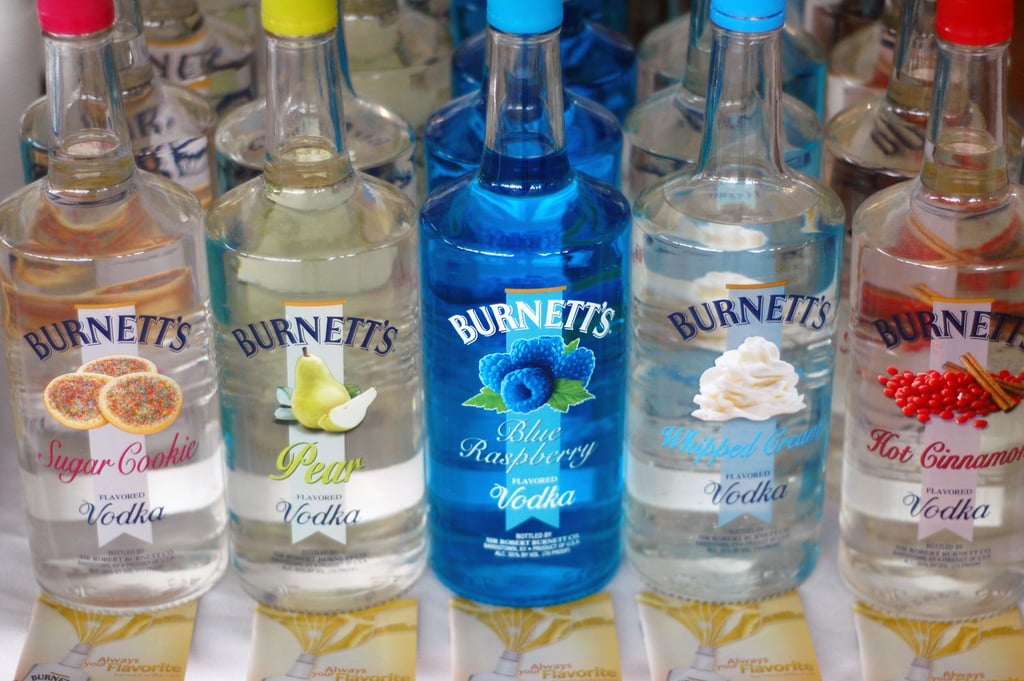 We tried the Sugar Cookie flavor. It was way too sweet!
Tasting Spoons That Look Like Rain Drops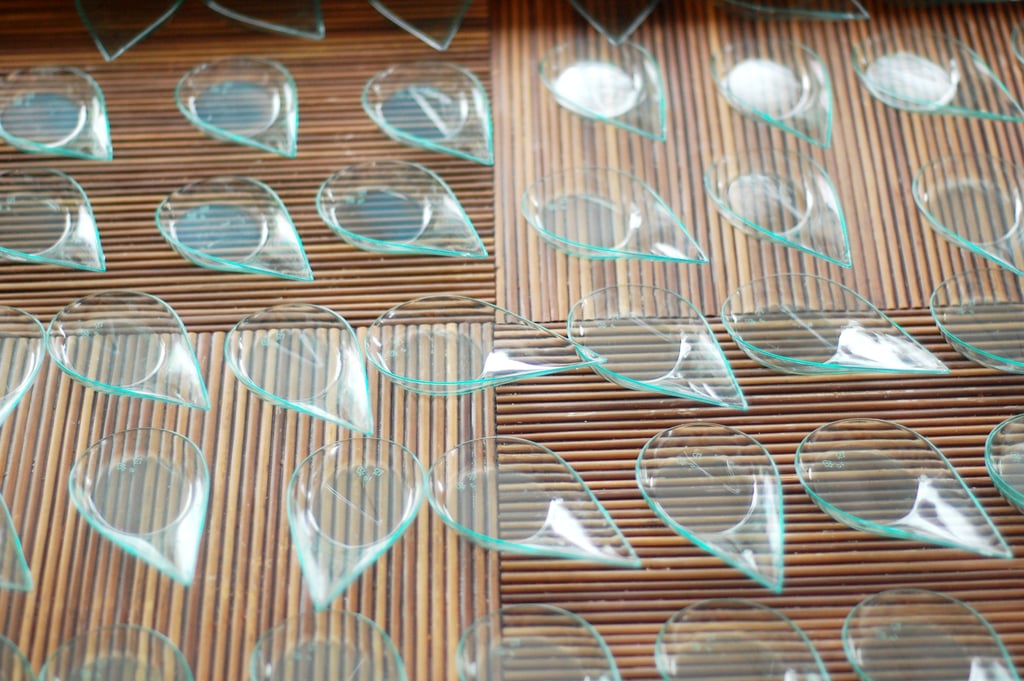 Aren't they beautiful?
White Sangria Celebrity Cruises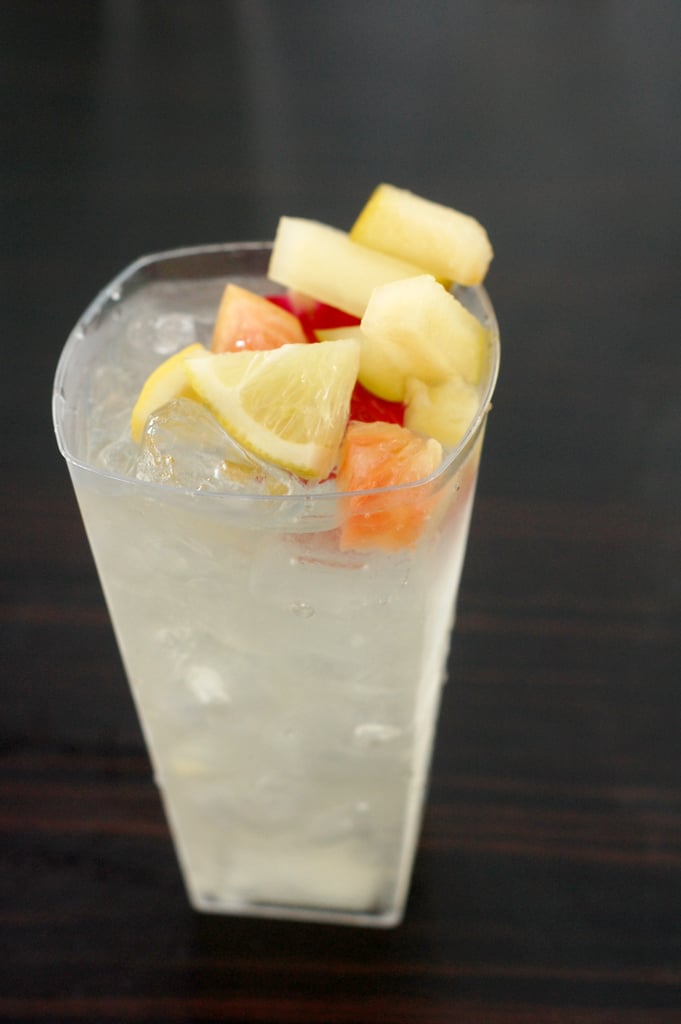 We wished this white sangria had been stronger. It's pretty, though, isn't it?
Qream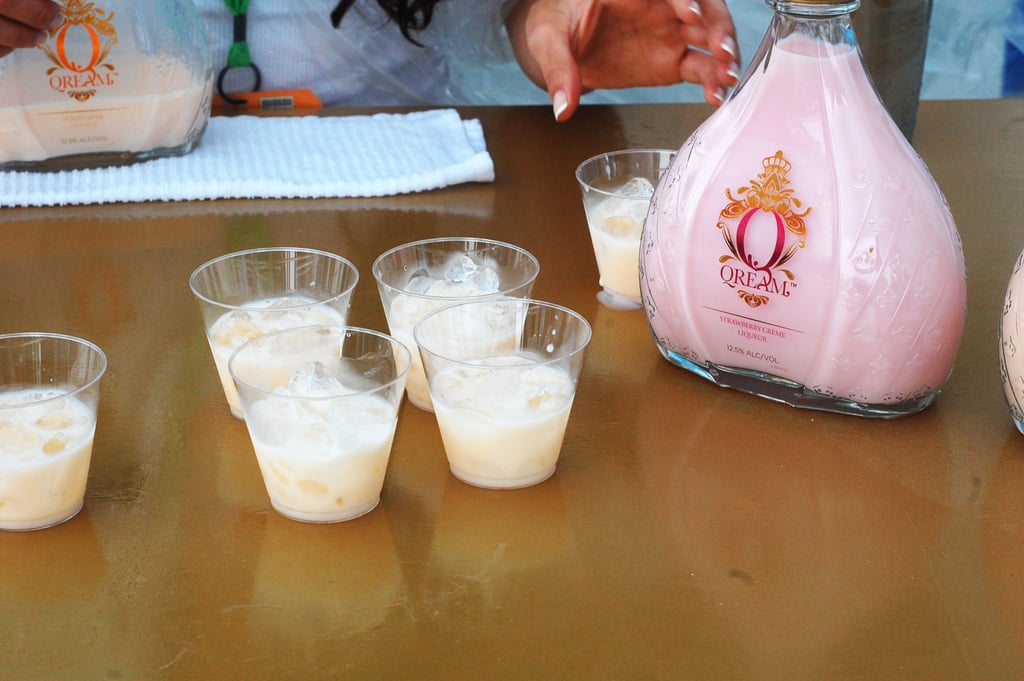 Pharrell's new cream vodka line, Qream, had a booth at the festival. Pictured: the strawberry and peach flavors.
OR-G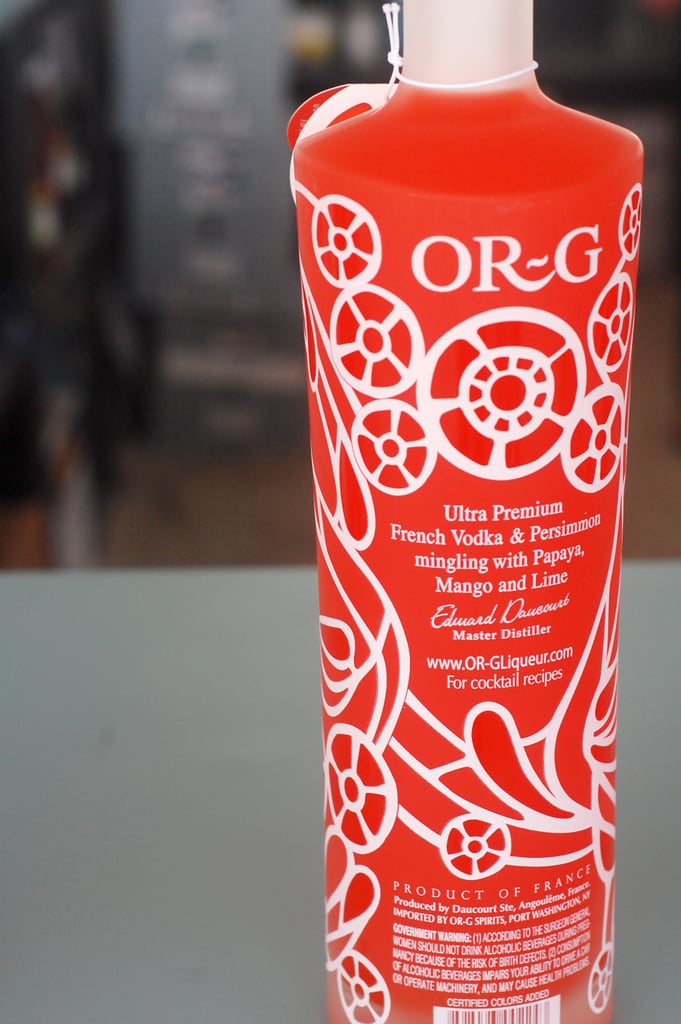 OR-G's a new "ultra premium French vodka" with persimmon, papaya, mango, and lime.
OR-G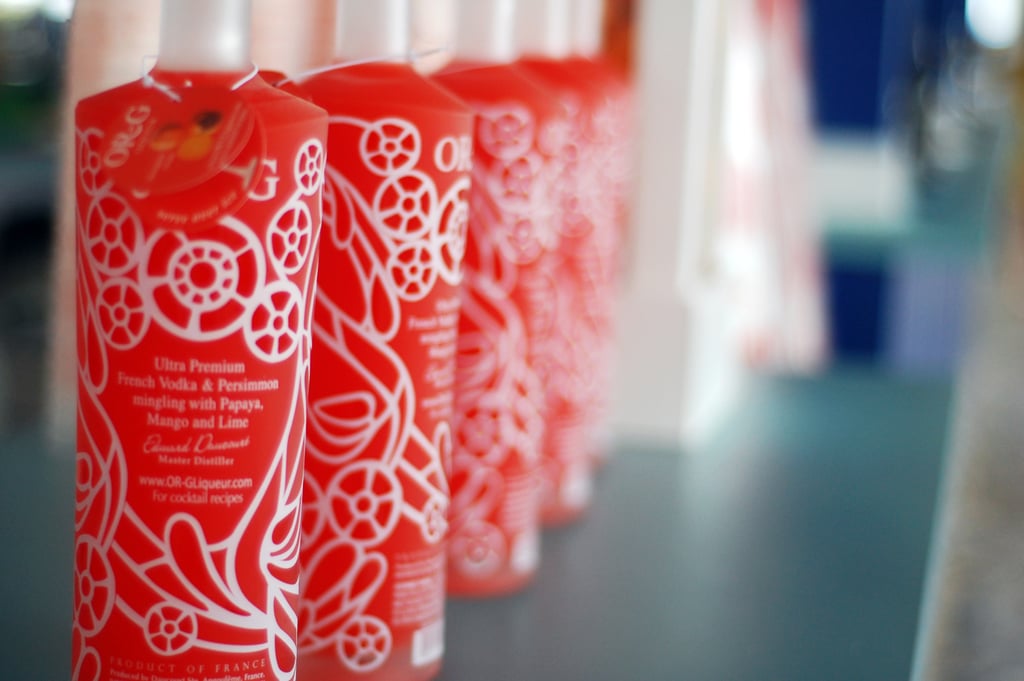 What do you think of the name?
Limbo Contest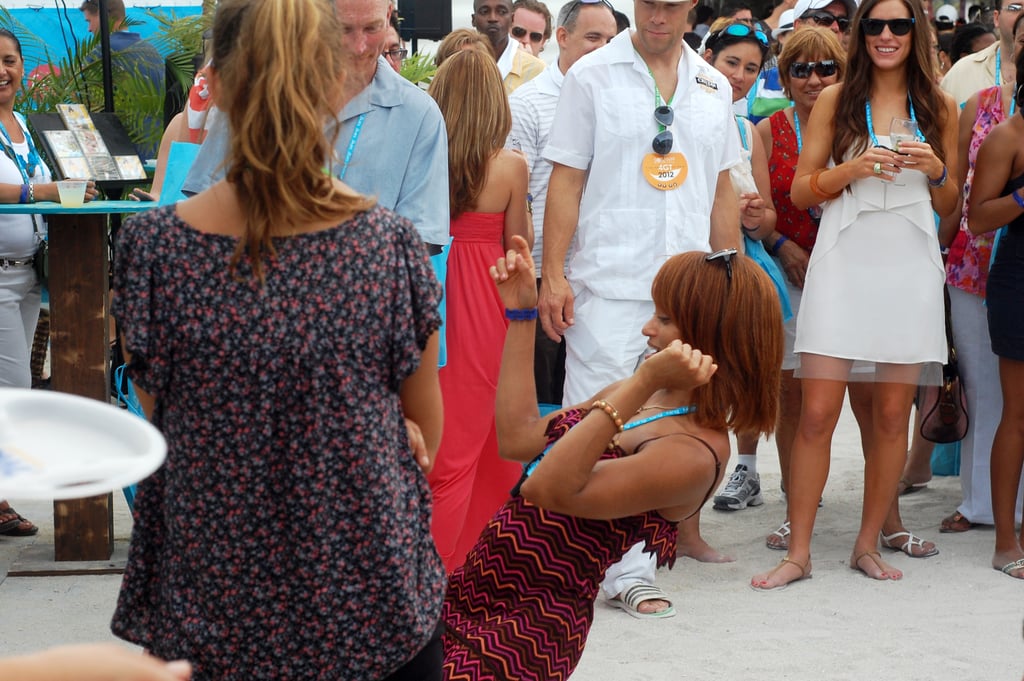 A limbo contest took place outside the Cruzan rum booth.
Domaine de Canton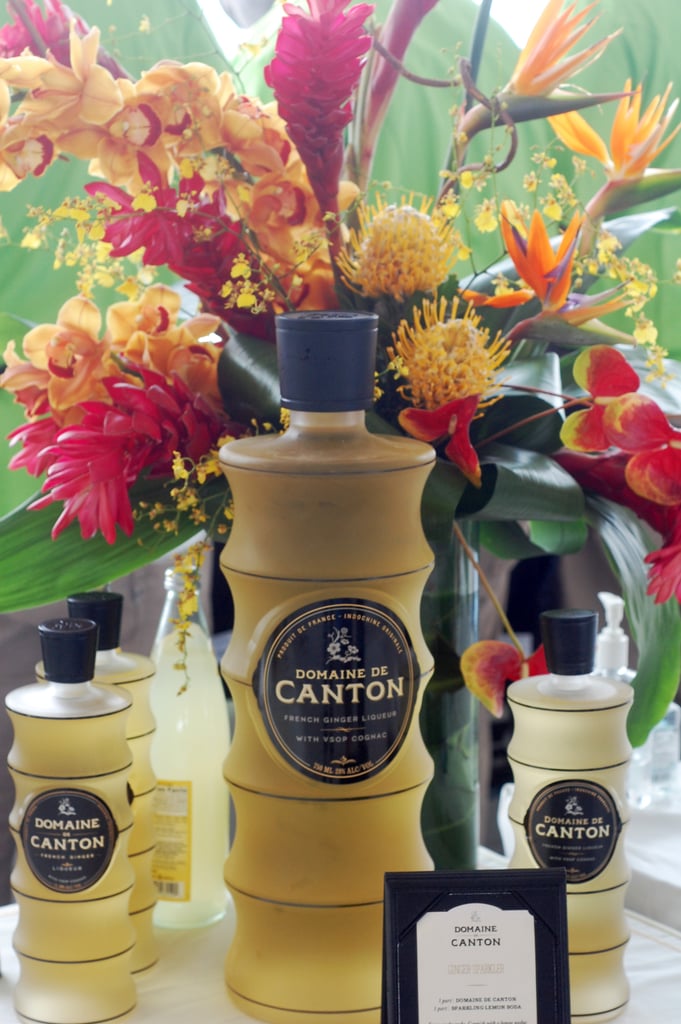 Domaine de Canton, our favorite ginger liqueur.
Bottega Sparkling Wine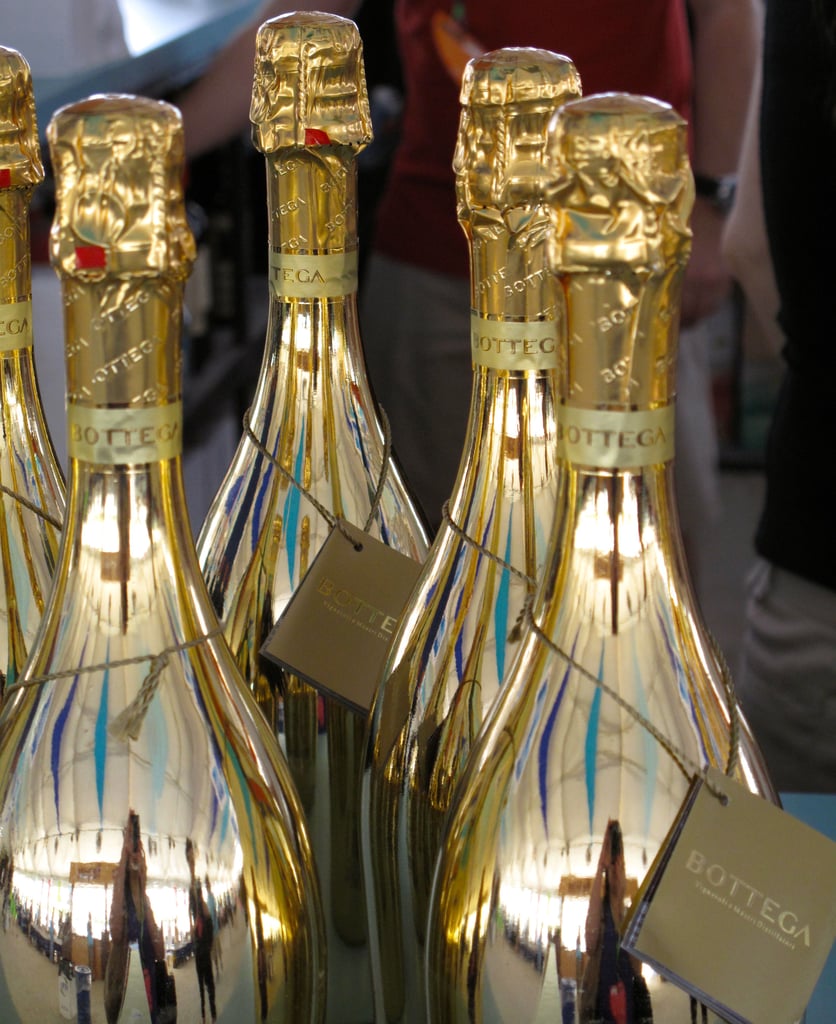 Aren't the gold bottles catchy?
Argentine Steak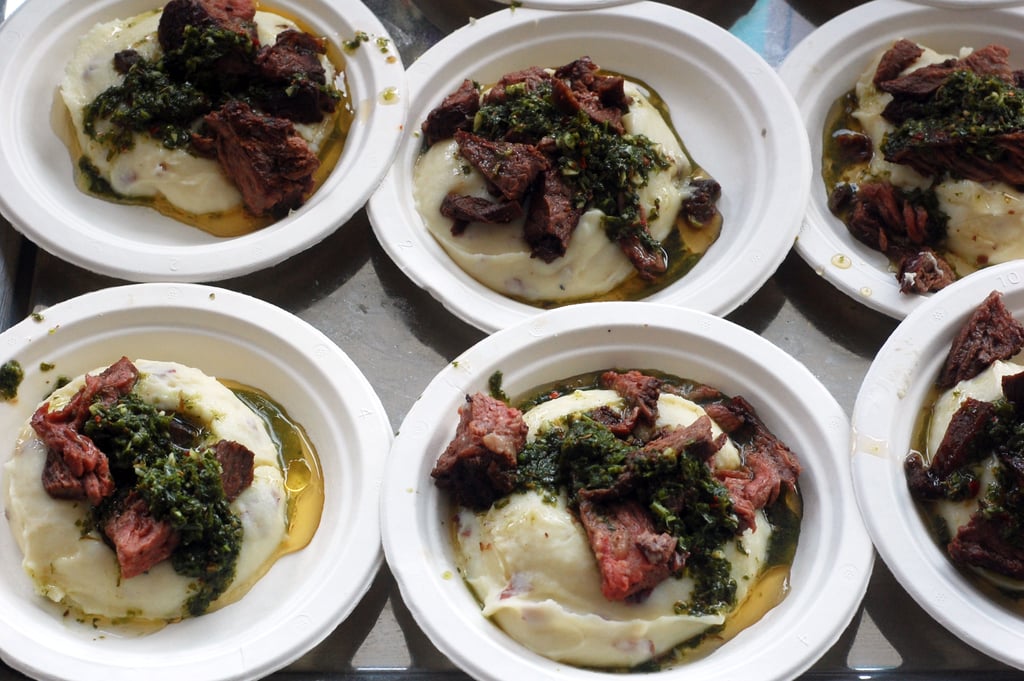 Grilled steak with chimichurri sauce.
Bernie's Kitchen Hot Sauce
We liked the Caribbean Lime flavor on tacos.
Lobstah
Lobsters graced another platter of paella.
The Slice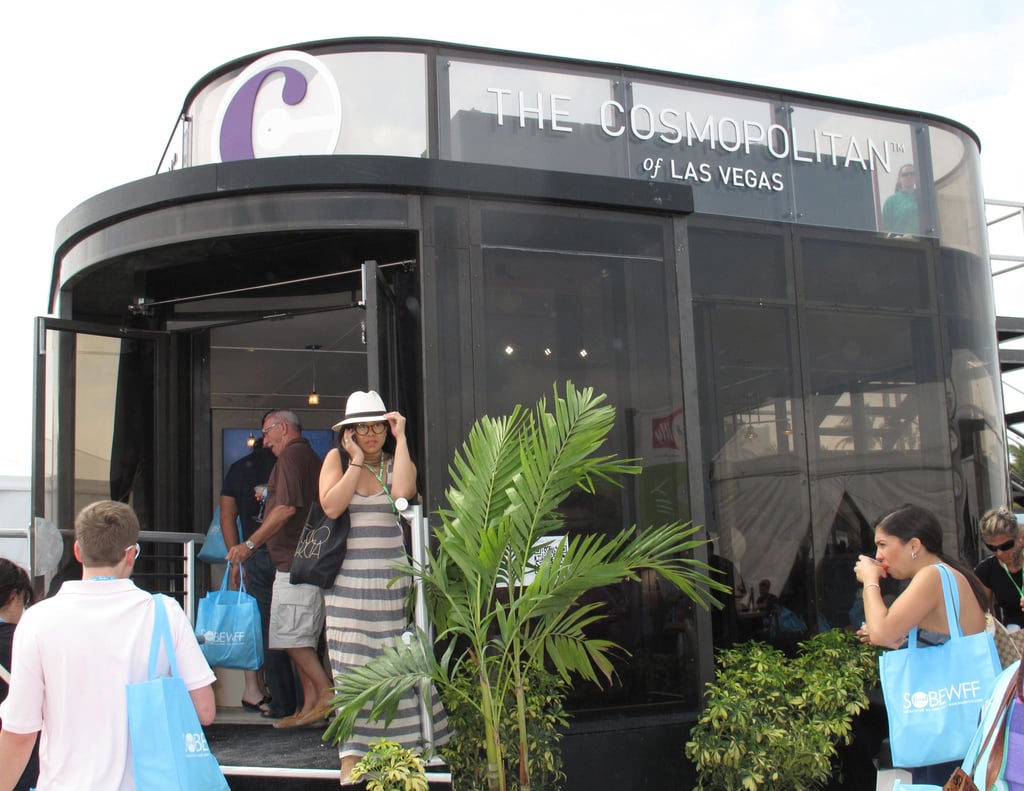 The Slice, The Cosmopolitan of Las Vegas's traveling tent, was making the rounds.
Bloody Marys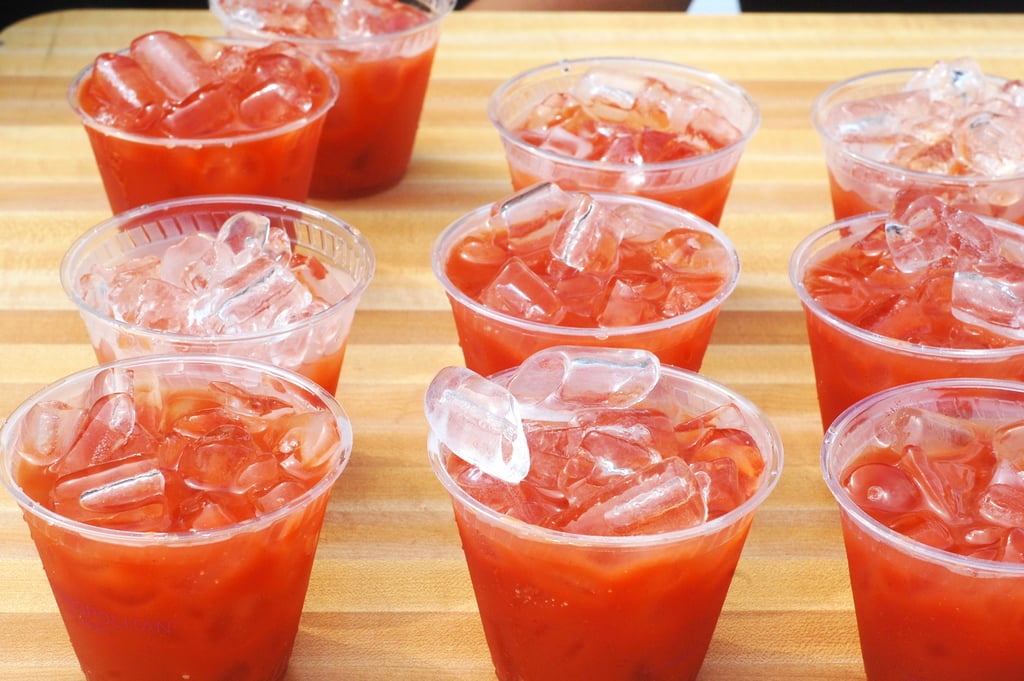 One of us may or may not have shouted, "Oh hell yes!" when we tried The Cosmopolitan of Las Vegas's Bloody Mary.
Chipotle's Special Menu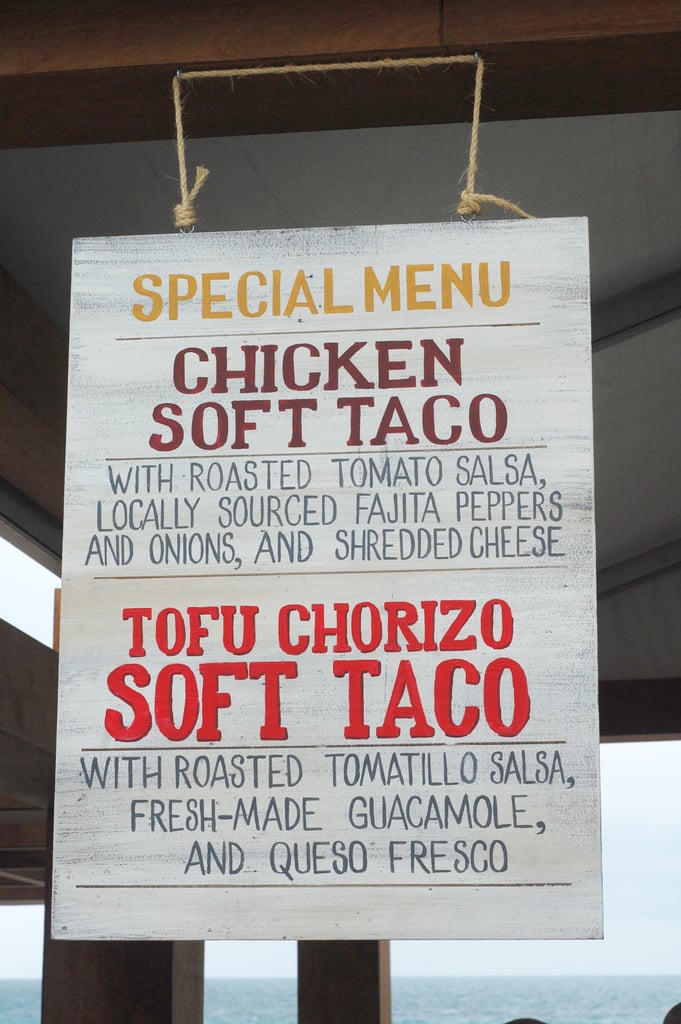 The entire crew from Chipotle was at the Grand Tasting Village, but what wasn't there were the chain's usual barbacoa, carnitas, and grilled chicken tacos.
Chipotle Chicken Tacos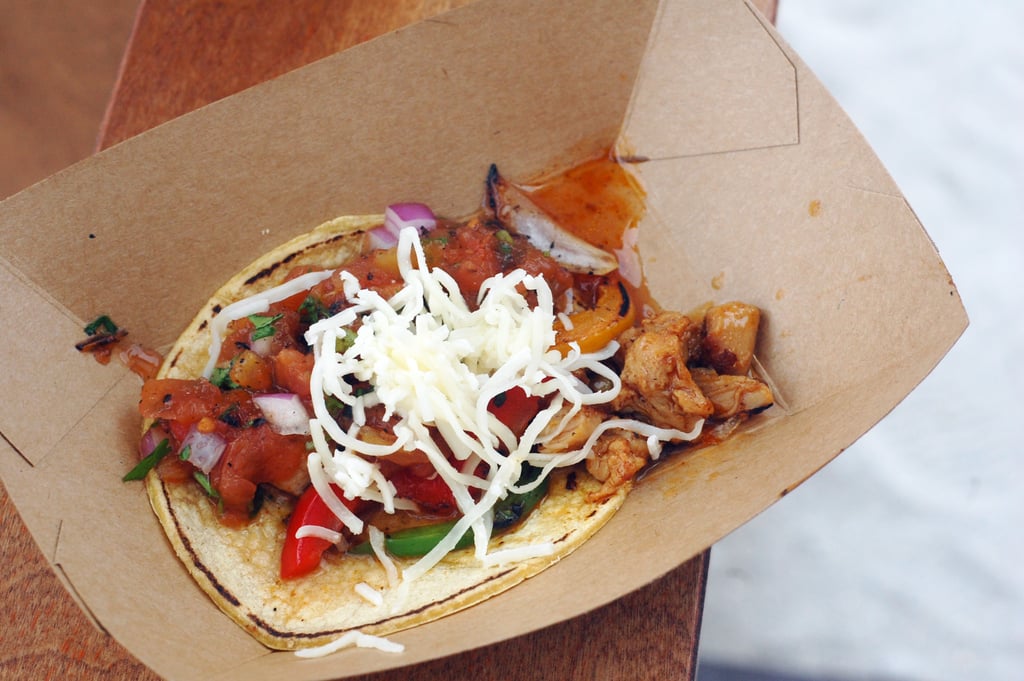 One of the special menu tacos from Chipotle featured chicken, roasted tomato salsa, locally sourced fajita peppers and onions, and shredded cheese. It definitely hit the spot.
Chipotle Tofu Chorizo Taco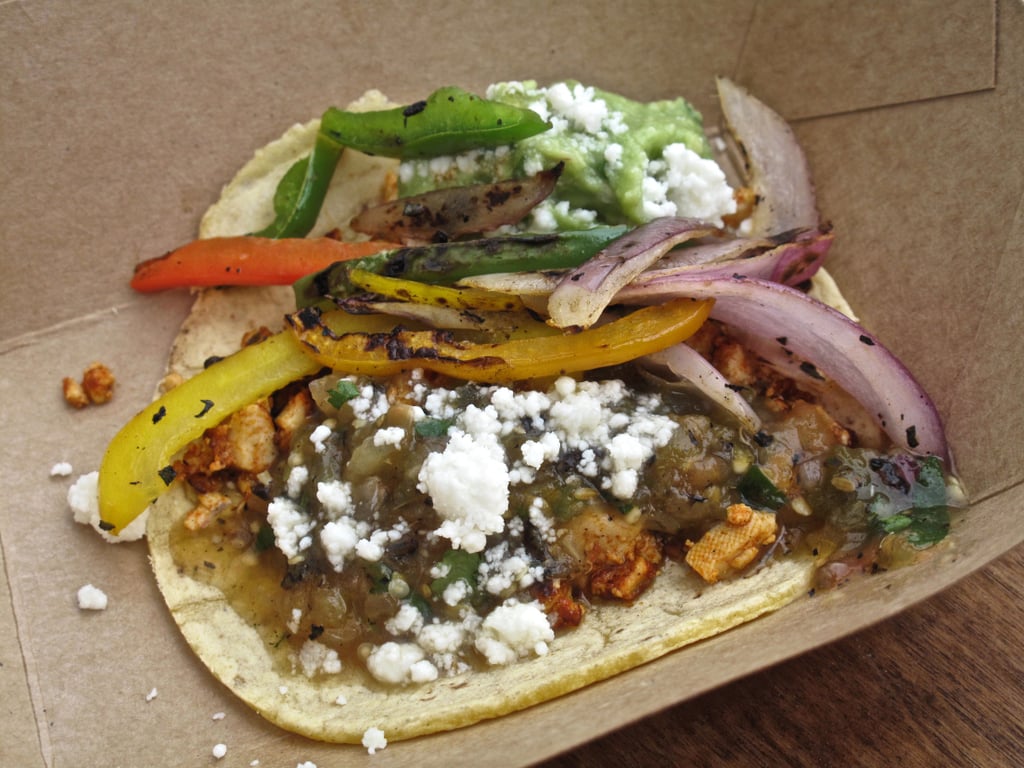 We also tried this "tofu chorizo" soft taco, made with crumbled soy protein, then topped off with a rainbow of grilled peppers, a different tomatillo salsa, guacamole, and crumbled queso fresco in place of the shredded cheese.
Aperol Cocktails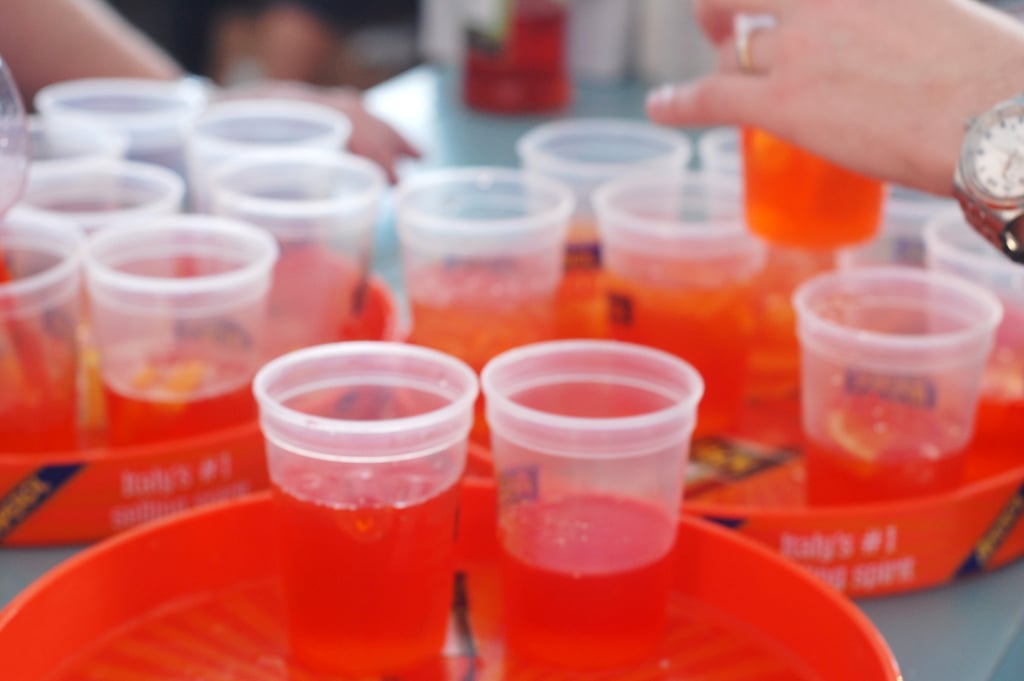 We're fans of Aperol, which is similar to Campari in flavor but much less bitter.
Aperol Bottles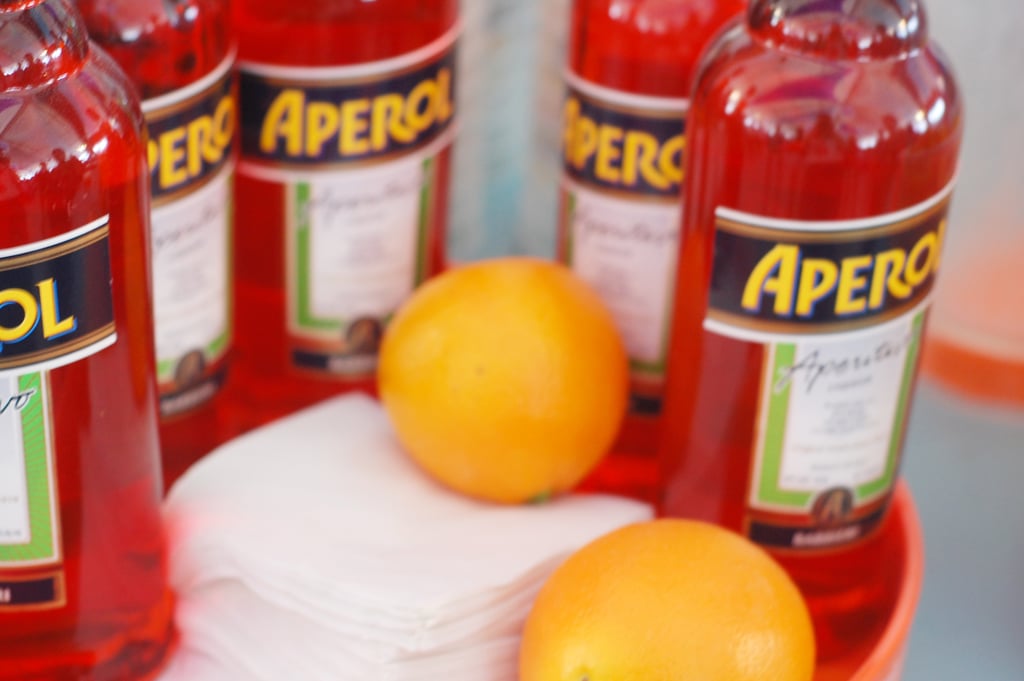 Bottles of Aperol, ready to be mixed.
Fake Guy Fieri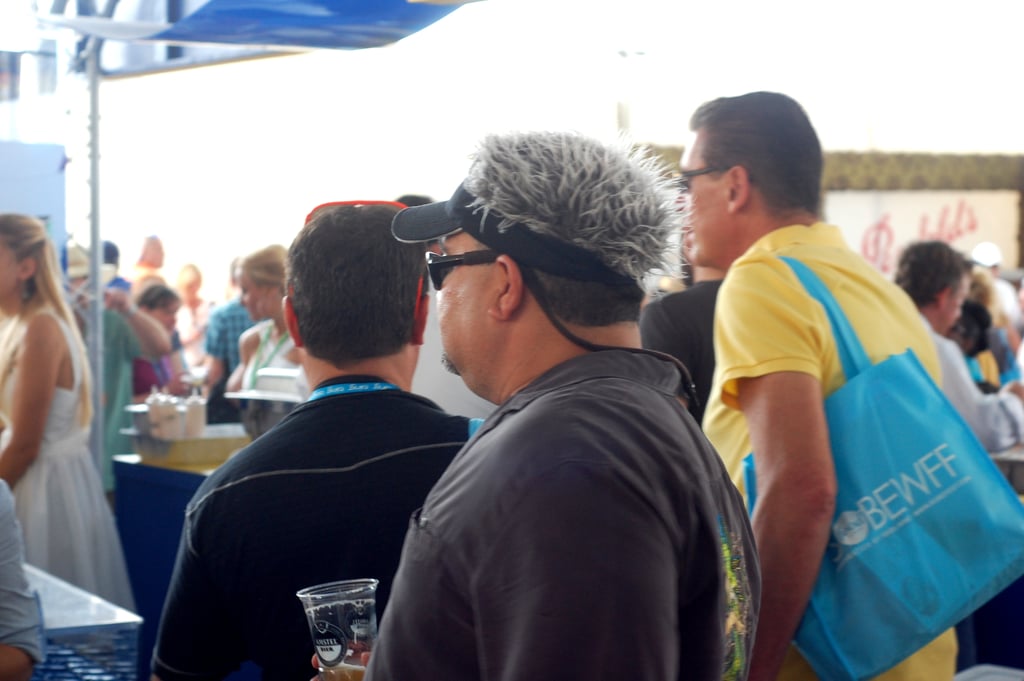 There was a Guy Fieri imposter [16] roaming around the village.
Rachael Ray and Hubby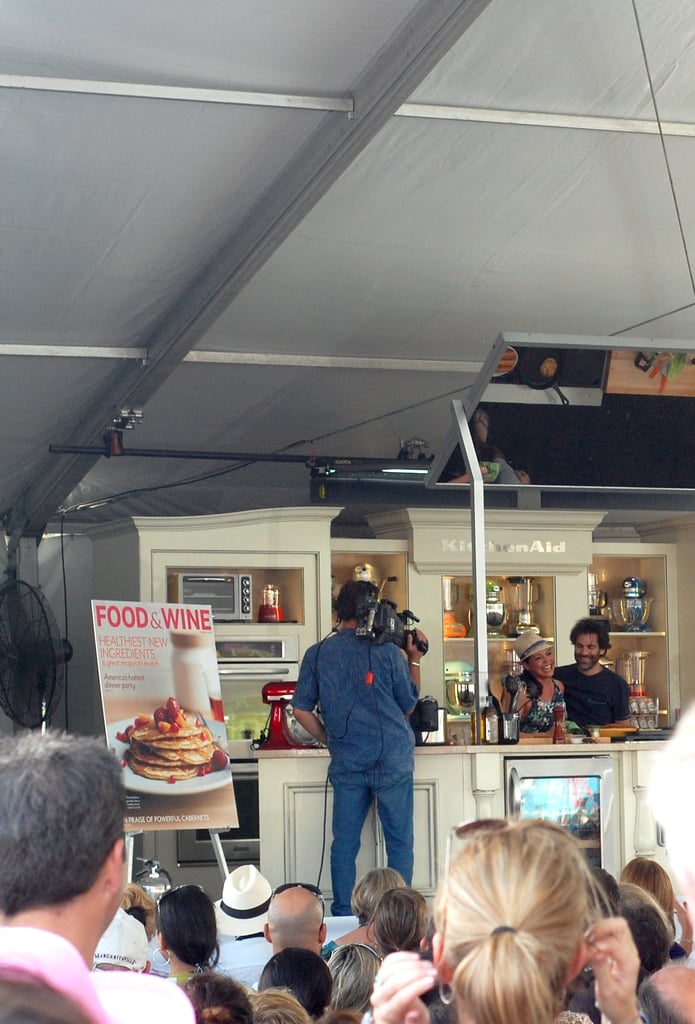 Rachael Ray [17] brought her hubby on stage during her demo and dished about how she thought he was gay at first!
Best Buns Award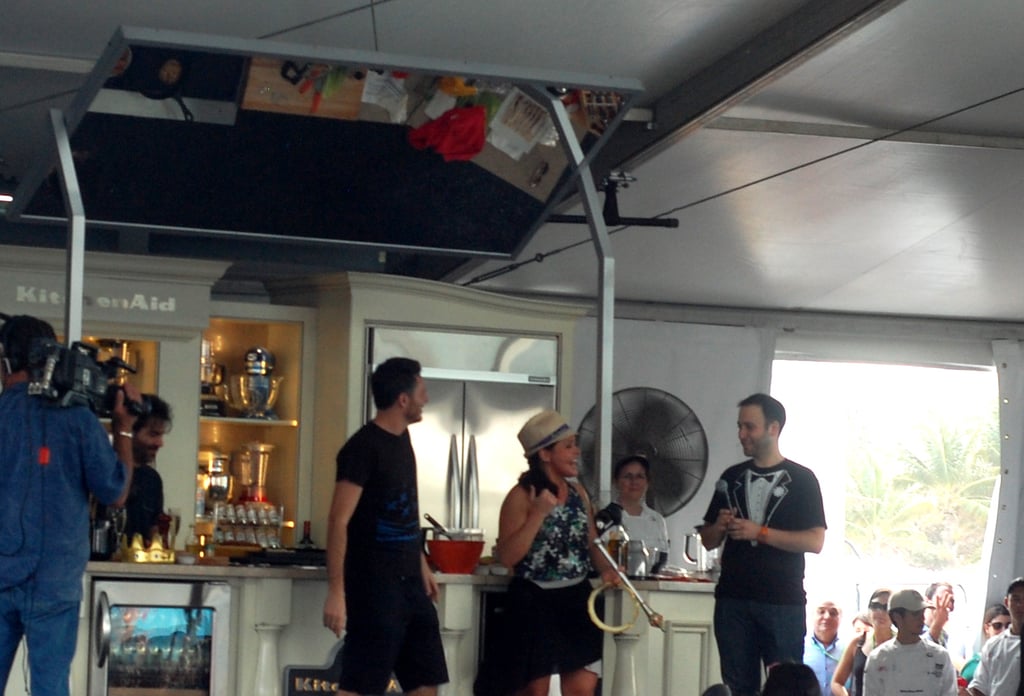 This year, for the first time, Rachael Ray [18] crowned a Burger Bun King of South Beach Wine and Food Festival. She took some time at the end of her demonstration in the village to bring some of her friends and colleagues on stage. We're not sure if the crowd was prepared for what followed. The audience actually got to pick which chef had the best buns. But we're not so sure she meant burger buns!
Guy's Backside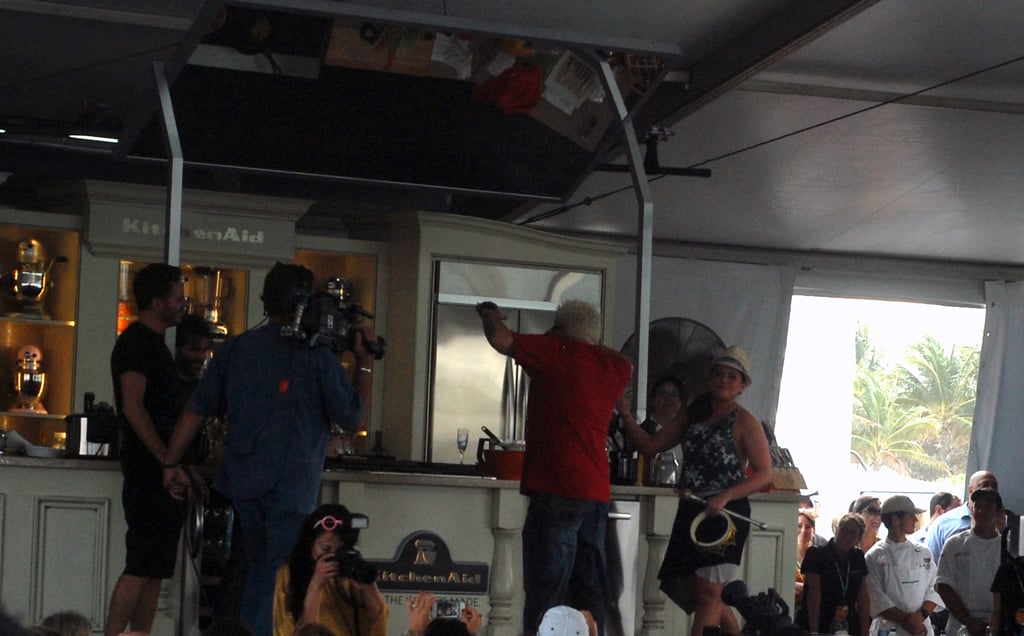 The nominees included Spike Mendelsohn, Guy Fieri, Emeril Lagasse [19], and Michael Chiarello. Guy showed us his "Italian brioche buns," while Spike referred to his as "flapjacks."
People's Choice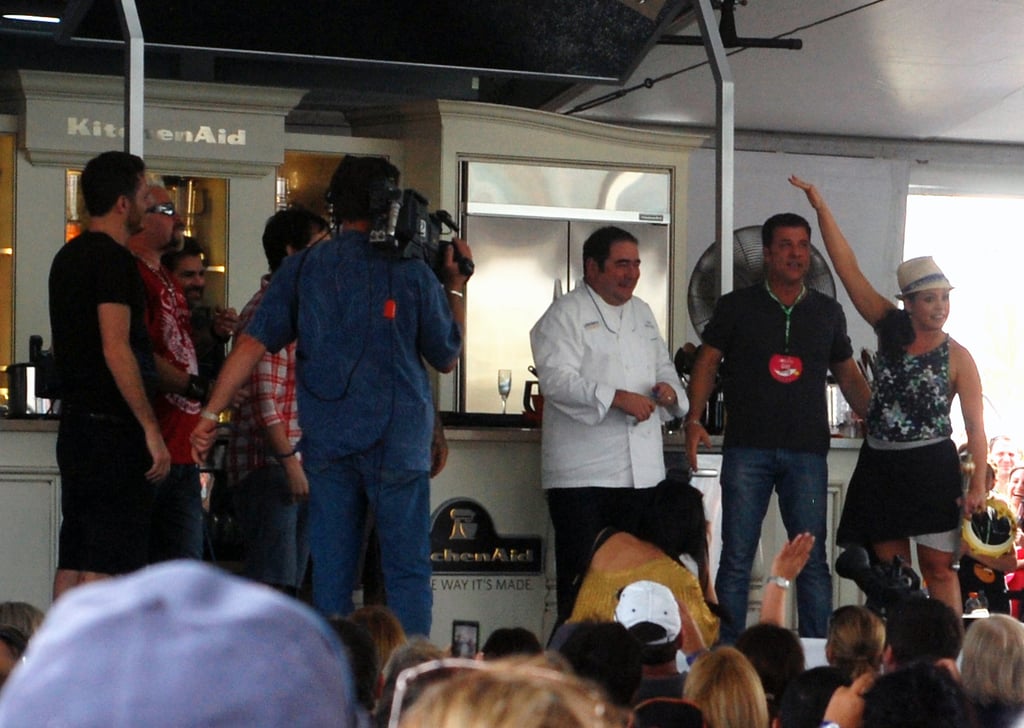 Rachael decided on the winners based off of how loud the audience clapped and cheered. Michael's pole dancing and Emeril's sweet shimmy got the biggest reactions.
Chef Chiarello Knows How to Work It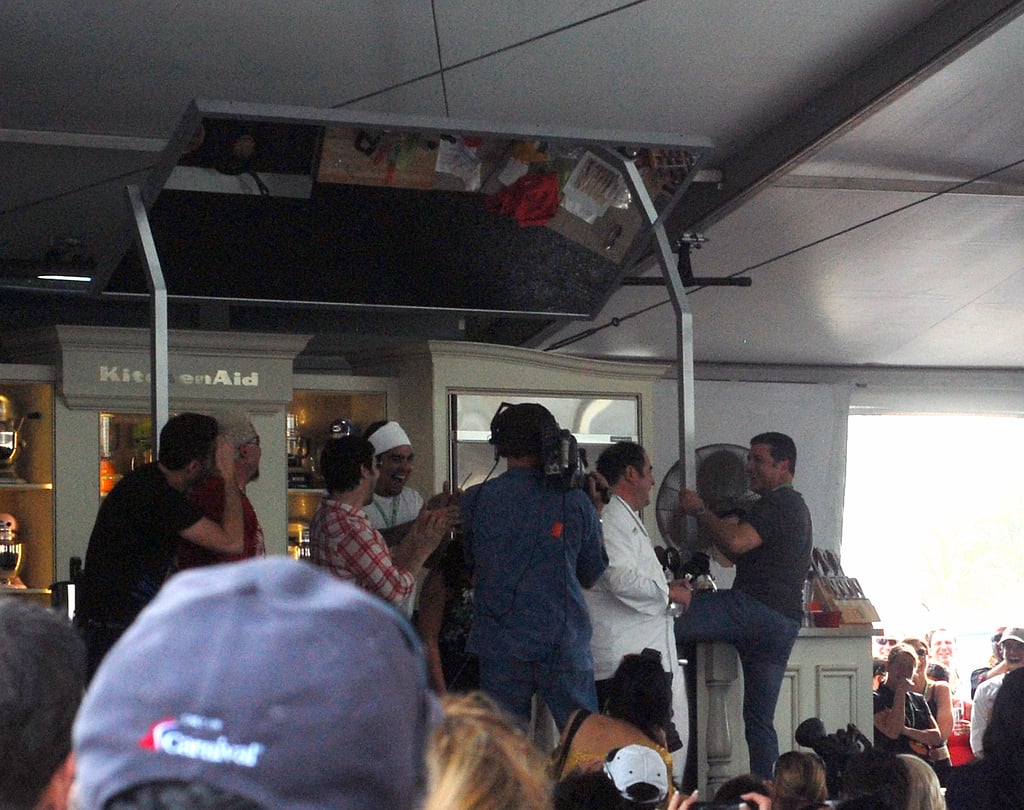 Michael Chiarello wowed us with his moves. He's definitely a man of many talents.
The Crowd Loves Emeril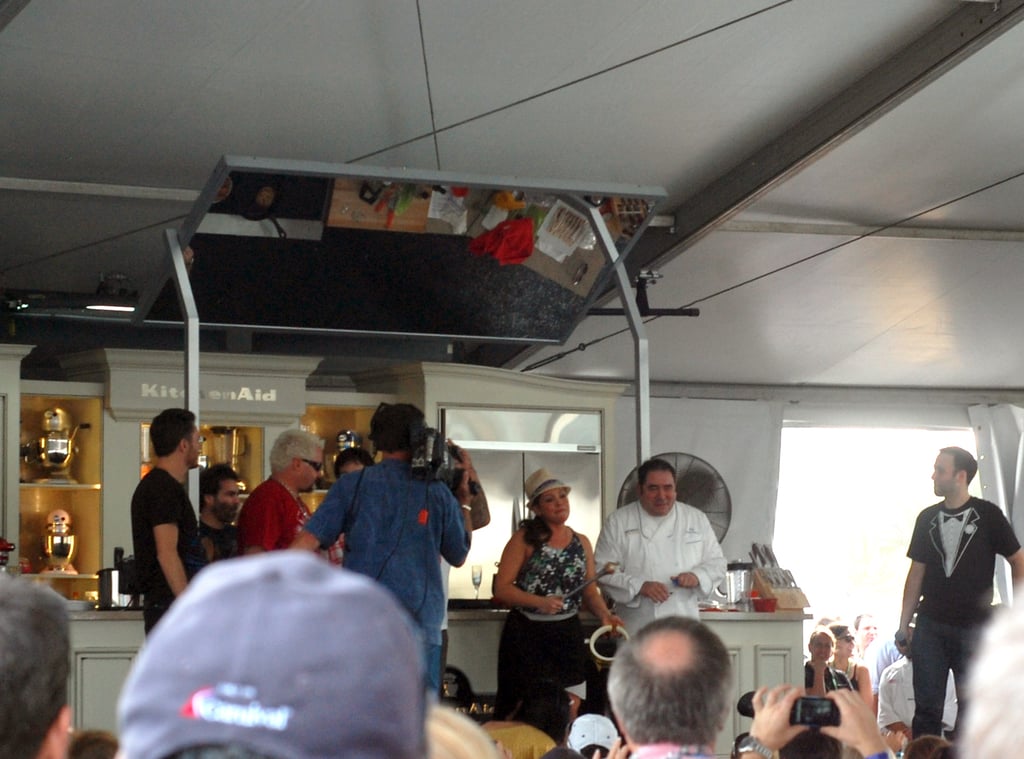 The audience went wild when Emeril did a little shimmy on stage.
Emeril Beats Out the Rest
But the audience made it clear whose buns they preferred! Emeril took home the crown (literally), with Michael Chiarello as the runner-up.
Bethenny Frankel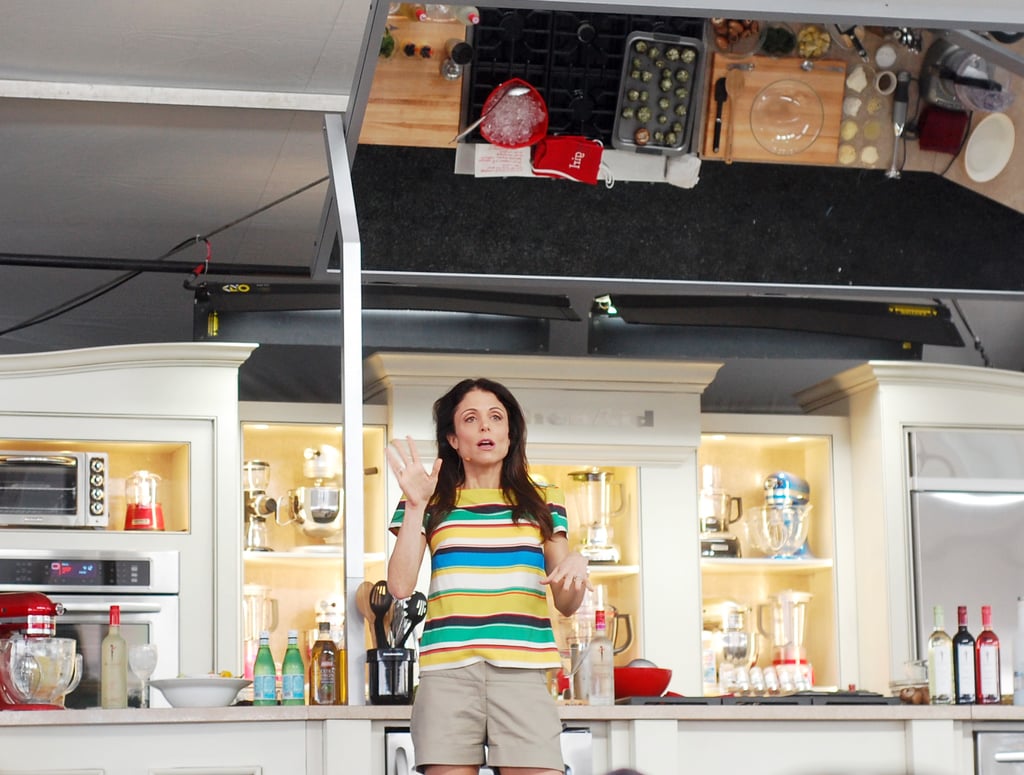 Bethenny Frankel [20] kept the crowd in stitches as she teased her husband and gossiped with the audience.
Guy Fieri Gets the Crowd Going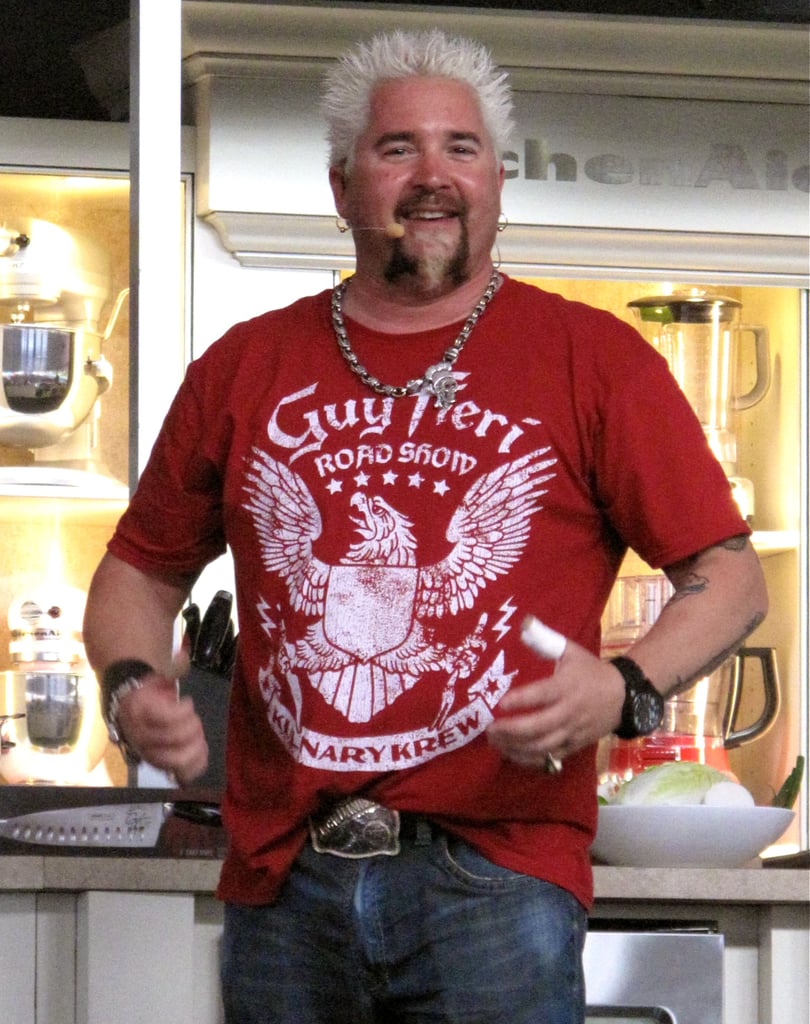 Guy Fieri's demo entrance was filled with loud music and knife throwing. No, really, he threw packaged knives from his line out to audience members.
Bobby Flay Loves Mojitos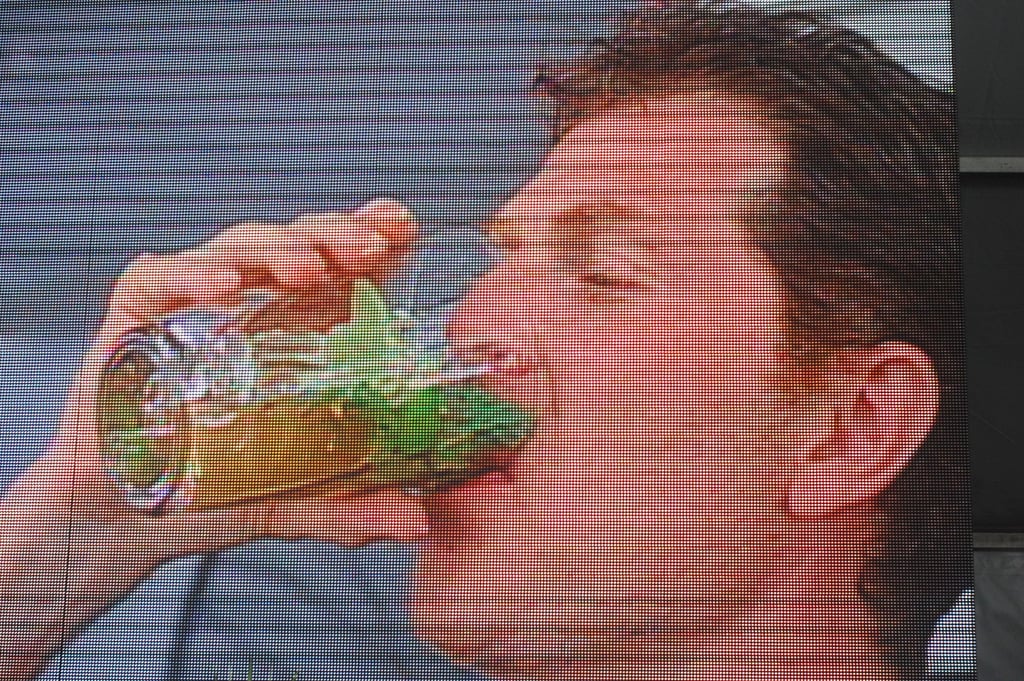 We can't remember if this was the first or second mojito he chugged.
Bobby Flay Has Got Charisma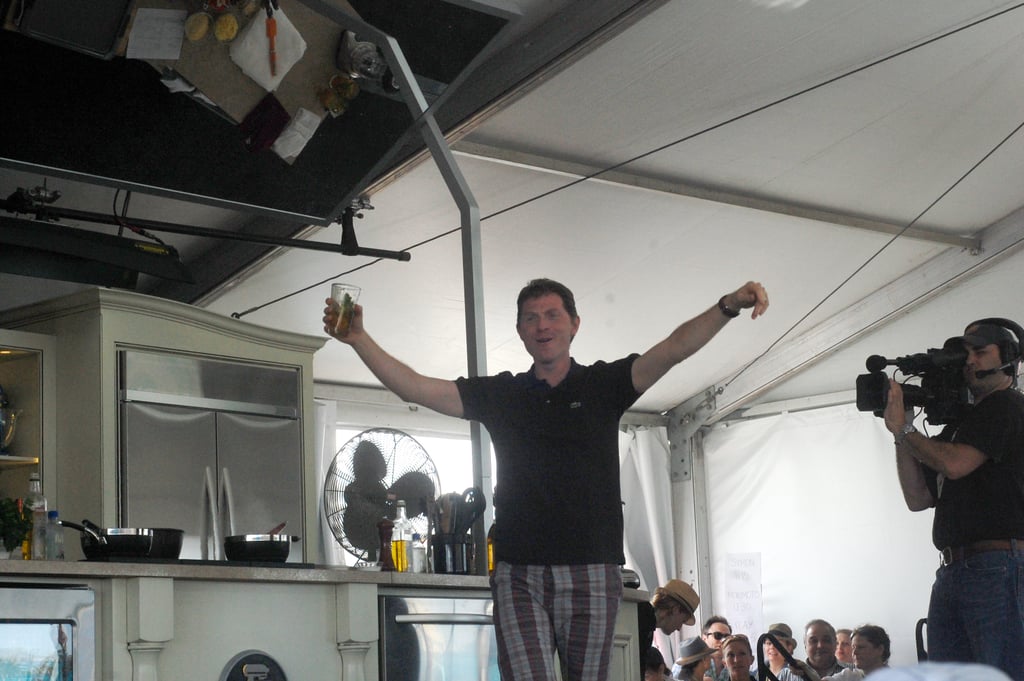 He's a charmer [21], that Bobby Flay [22], and he definitely knows how to work the crowd.
Bobby Flay's Fried Chicken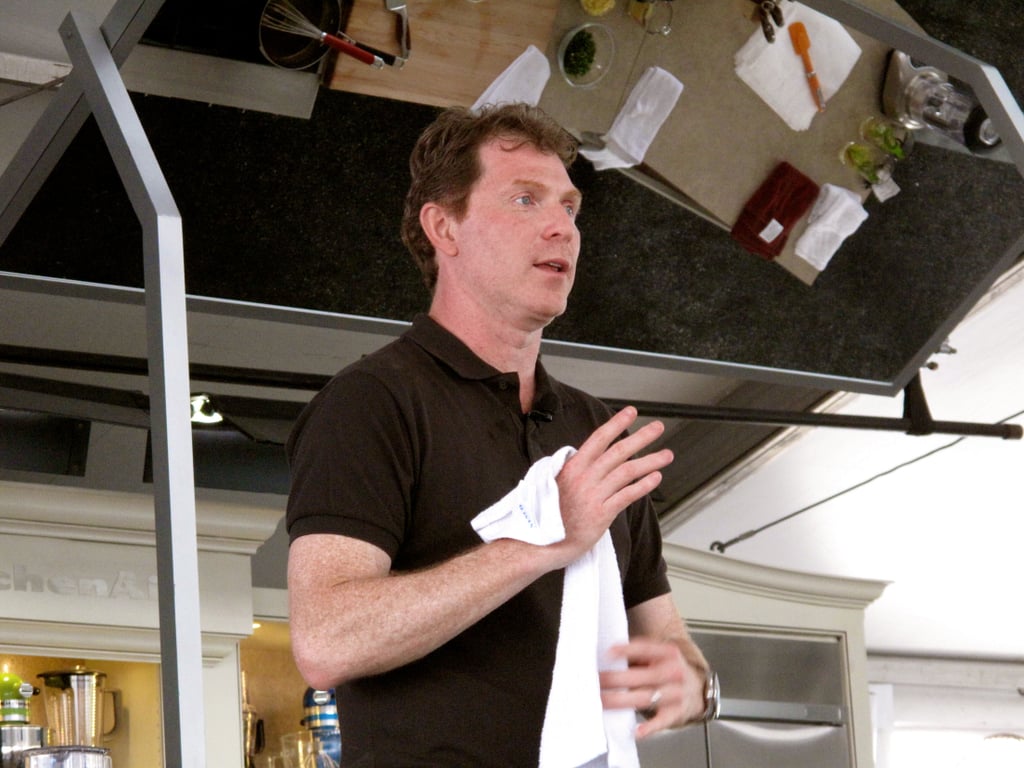 Bobby Flay [23] gave excellent tips on how to perfectly fry chicken [24].
Paula Deen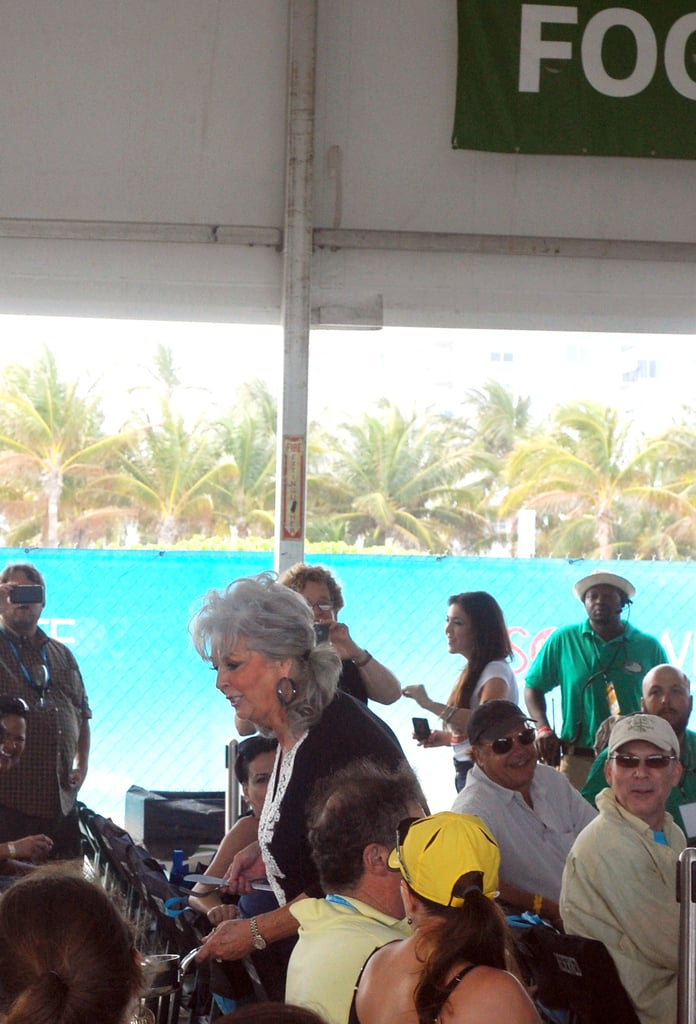 Paula Deen [25] worked it at her son Bobby Deen's demo.
Best Thing I Ever Ate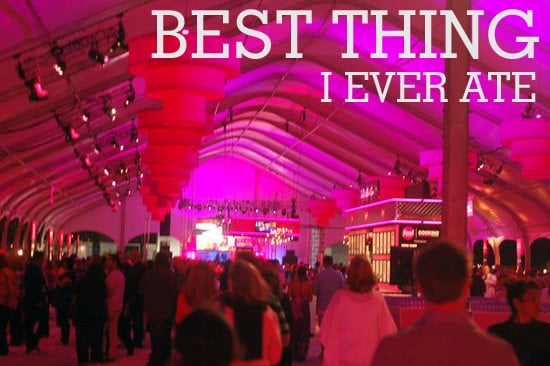 Saturday night's event was Best Thing I Ever Ate, featuring bites and sweet things on the beach.
Watermelon Granita With Basil Cream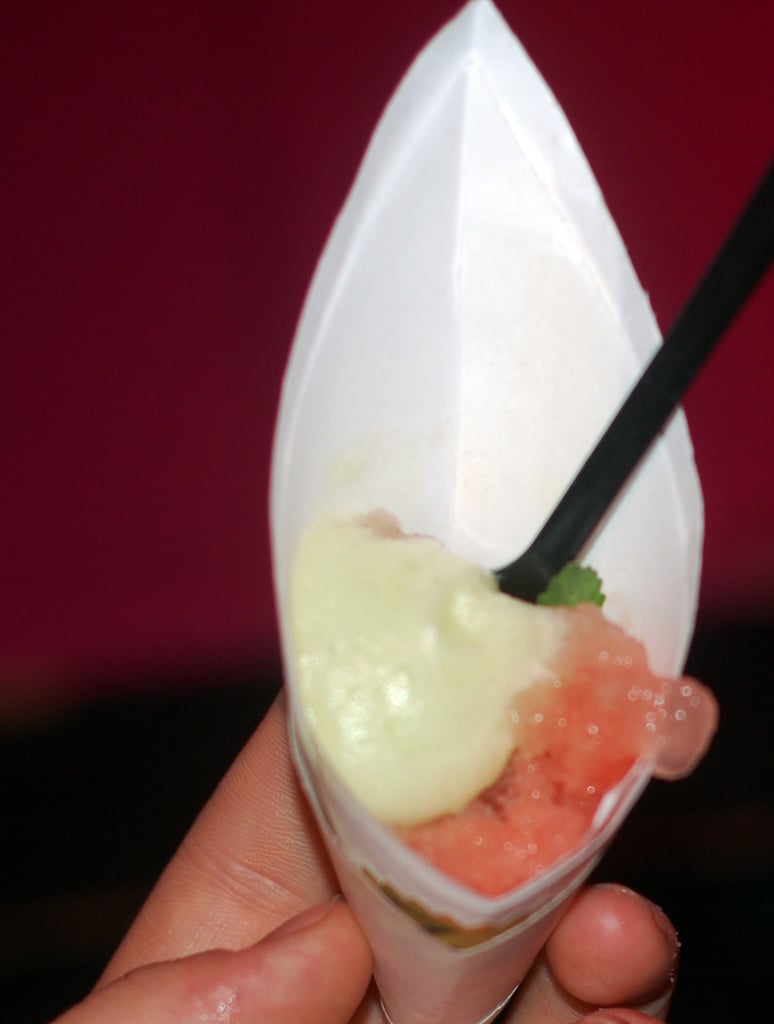 Watermelon granita with basil cream from Joe's Stone Crab.
Tuna Burgers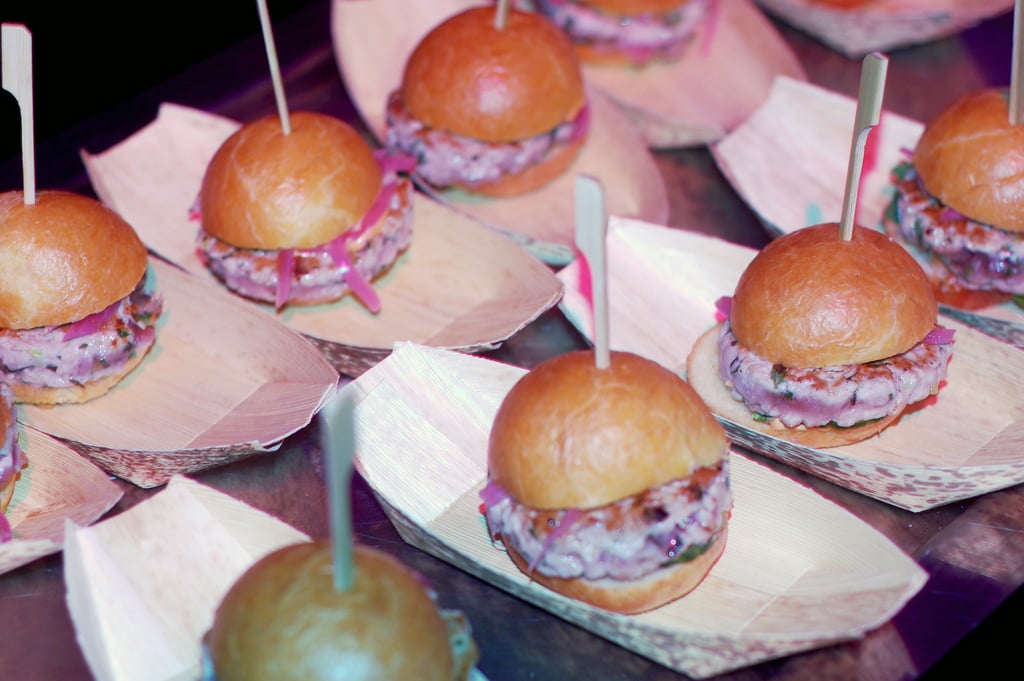 Tuna burgers from Ed's Chowder House.
Stone Crab Waffles With Quail Eggs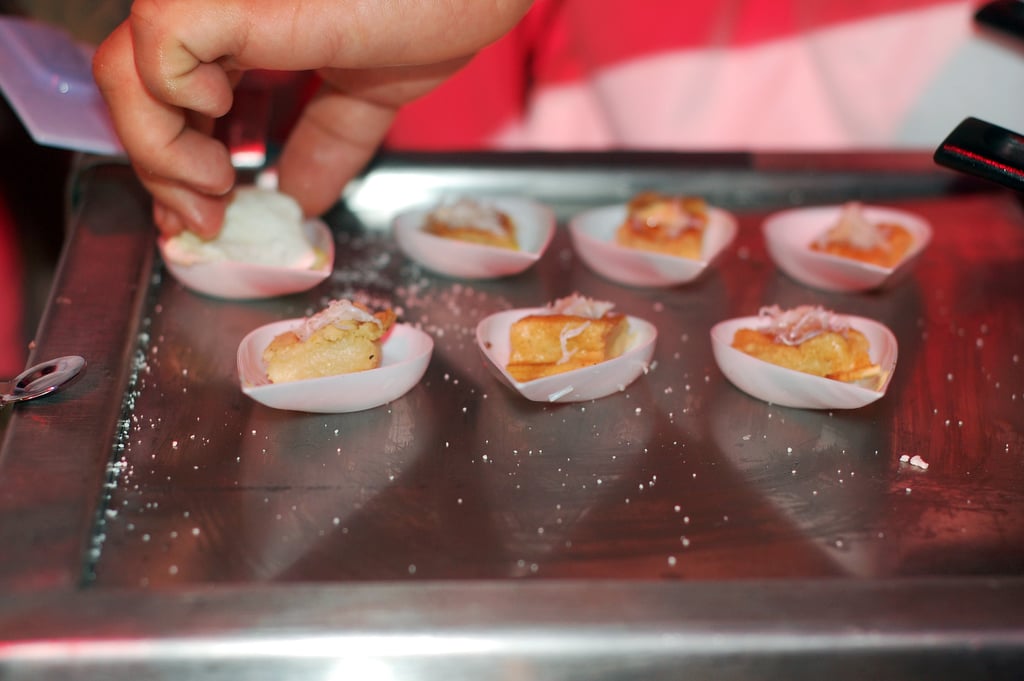 One of the most sophisticated bites we ate at the entire festival was a square of Belgian waffle filled with shredded stone crab and maple syrup, then topped off with a single pan-fried quail egg. Très magnifique!
Sonic Slaw Hot Dog With Tots
We were pretty excited to try Sonic for the first time. (It's not in San Francisco, you know!)
Glazed Lamb Ribs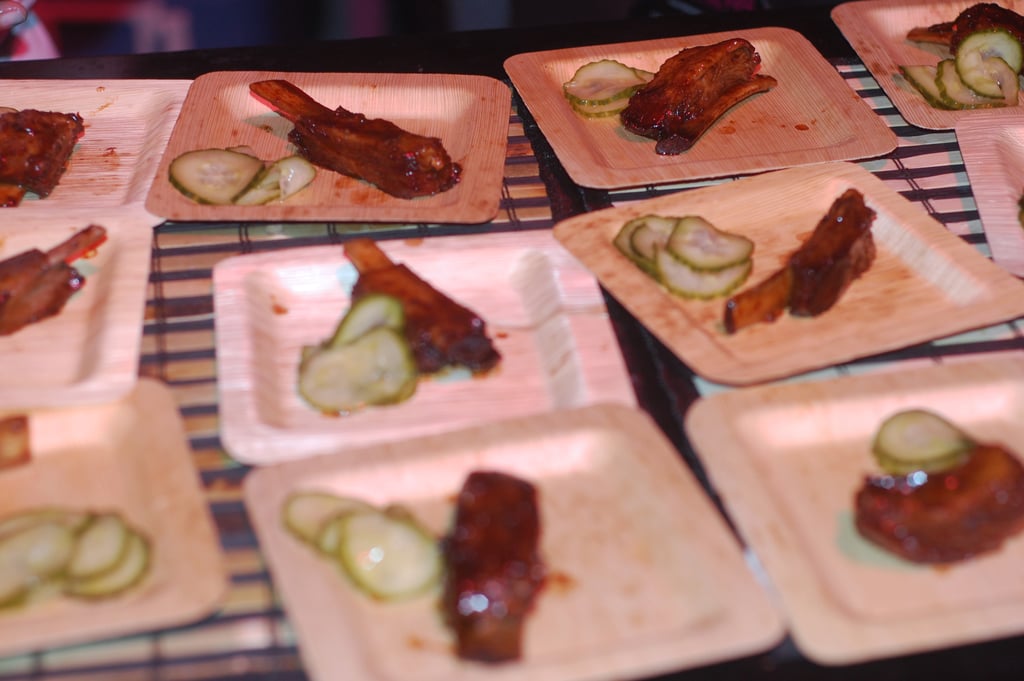 Glazed lamb ribs with pickled cucumbers from China Grill.
Pomegranate Cocktail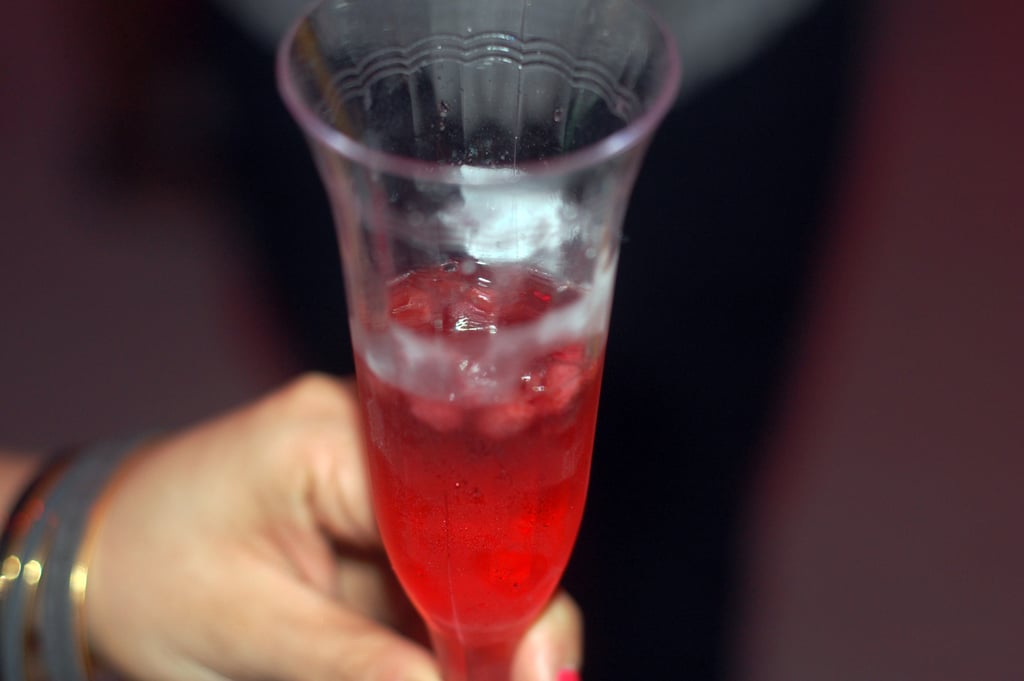 Pomegranate-infused vodka with Prosecco.
Oreos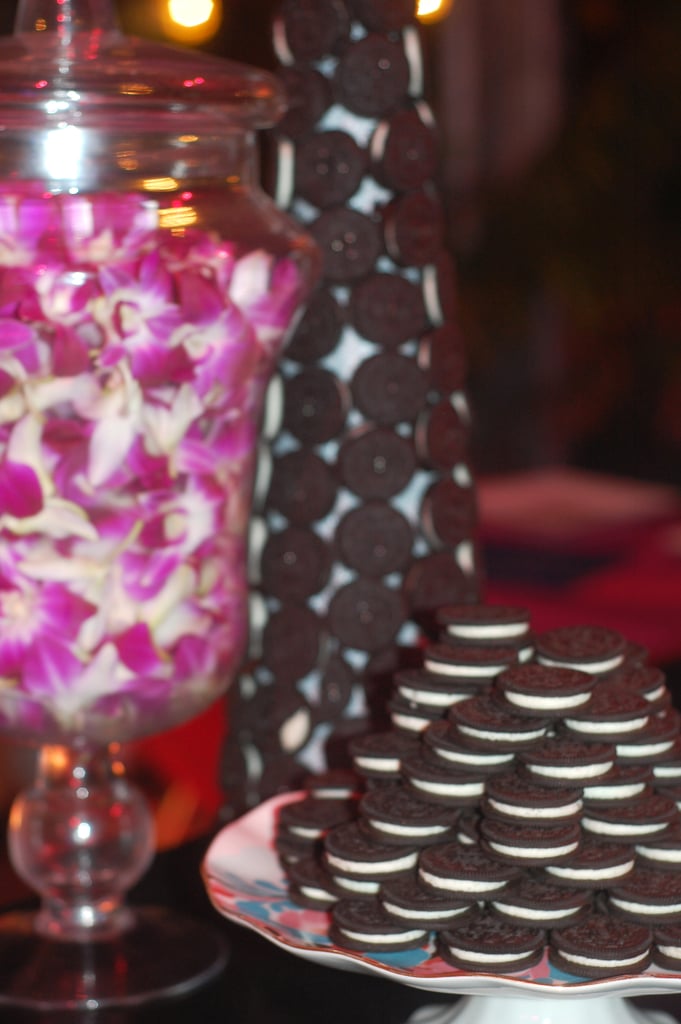 Oreos at one booth . . . can you guess what they're for?
Indian Honey Cake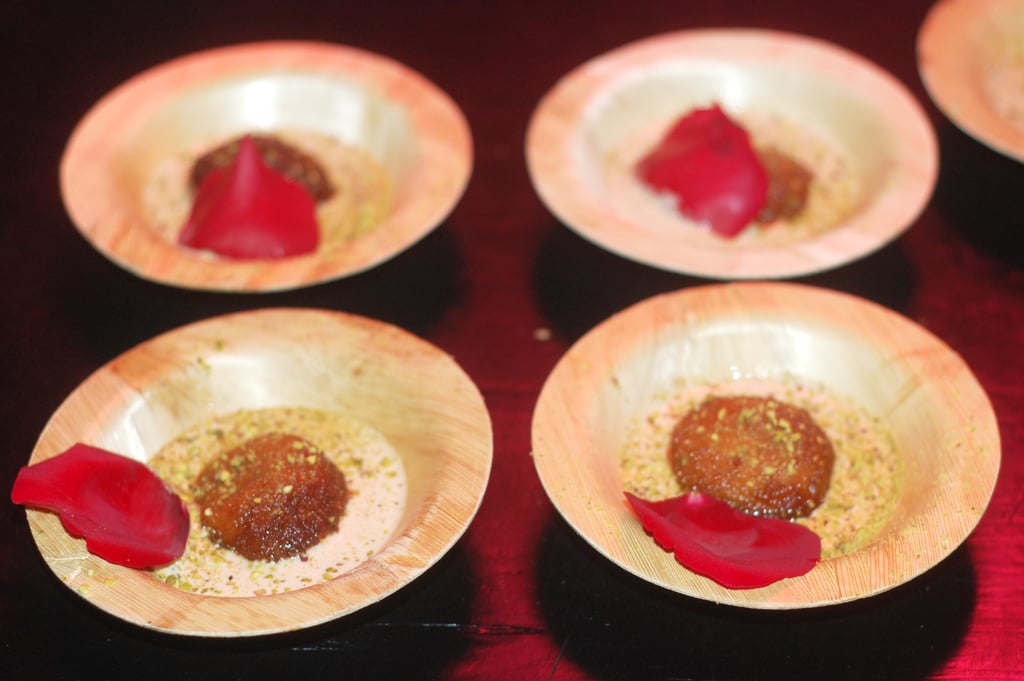 An Indian honey cake for dessert.
Best Thing I Ever Ate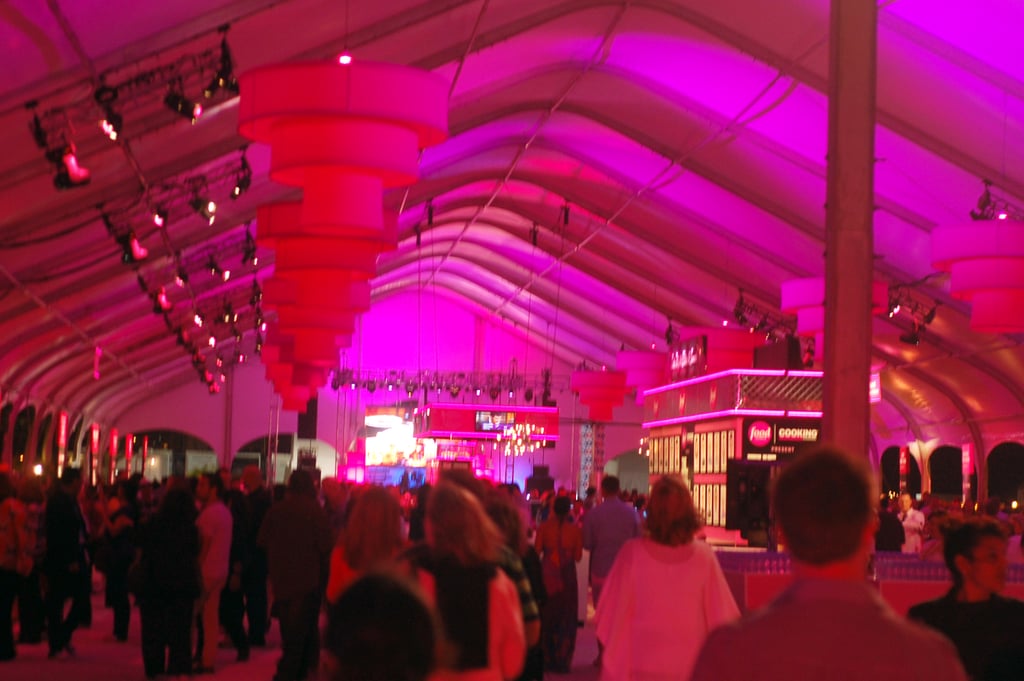 Serious mood lighting at the Best Thing I Ever Ate.
Deep-Fried Oreo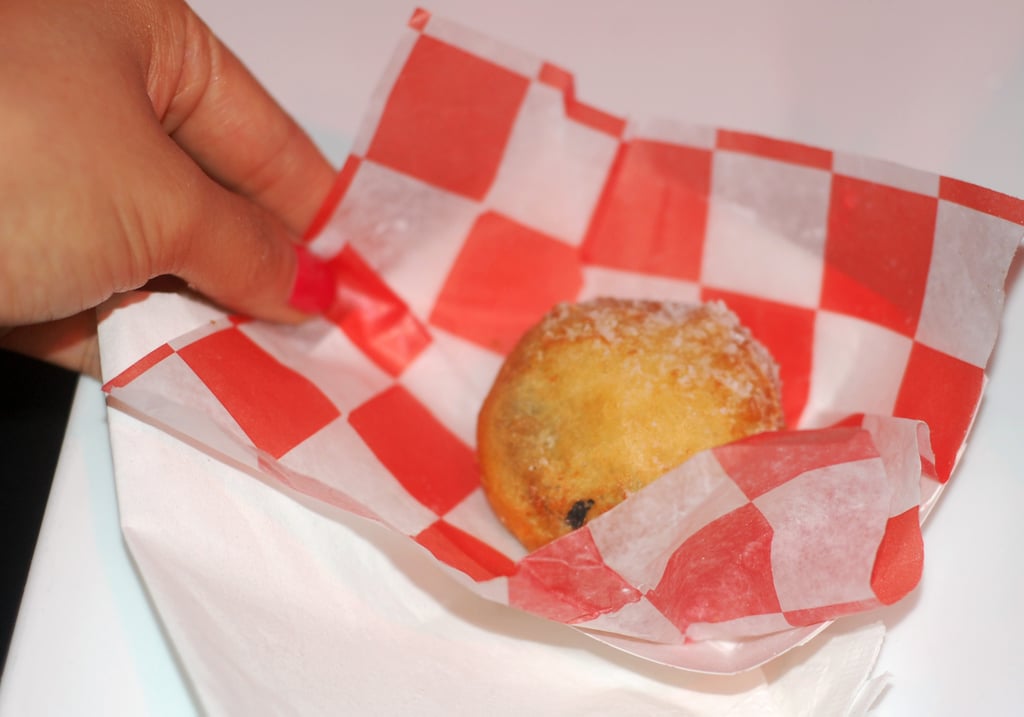 This was seriously the best thing we ever ate: our first deep-fried Oreo from Red Light Regional Diner in Miami.
The Music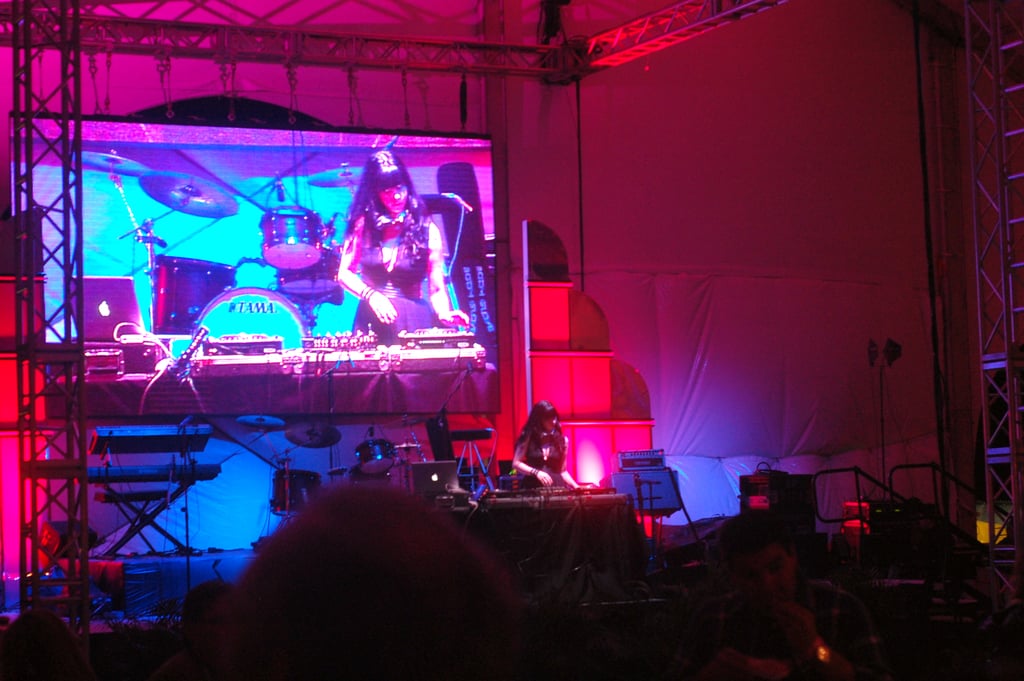 The music was great — this lead singer was covering Adele.
White Booths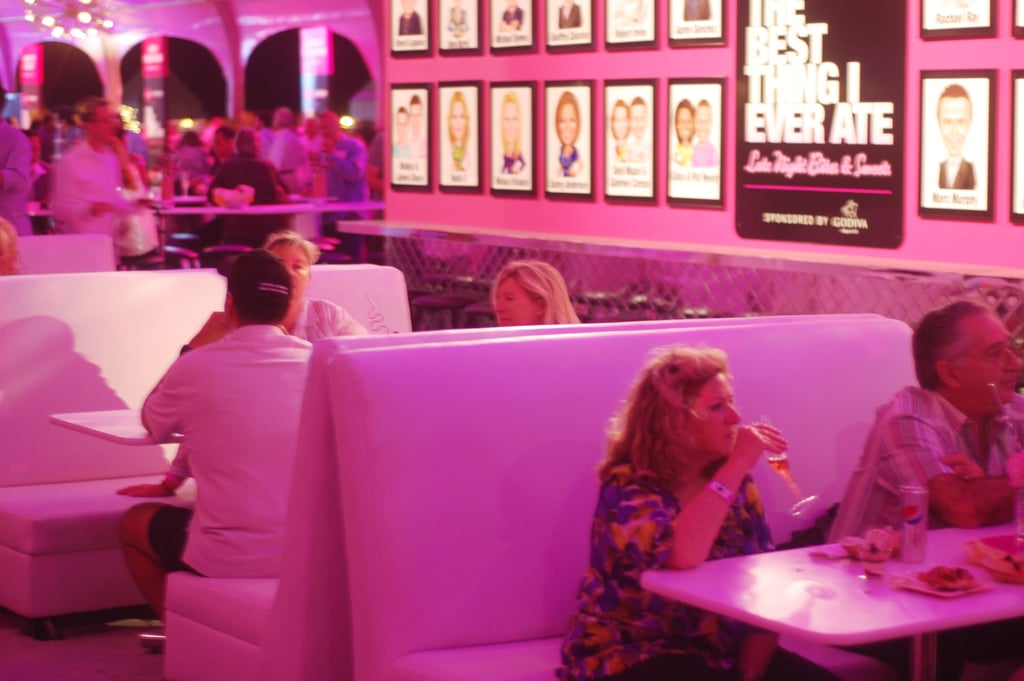 White booths at the Best Thing I Ever Ate.
Caricatures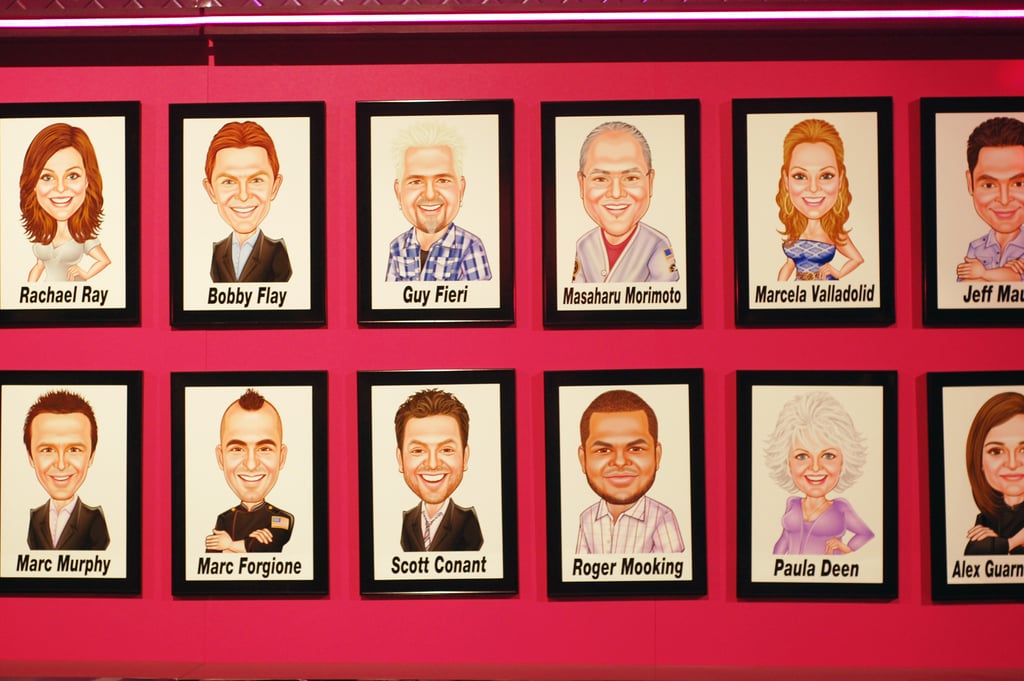 How funny are these?
True That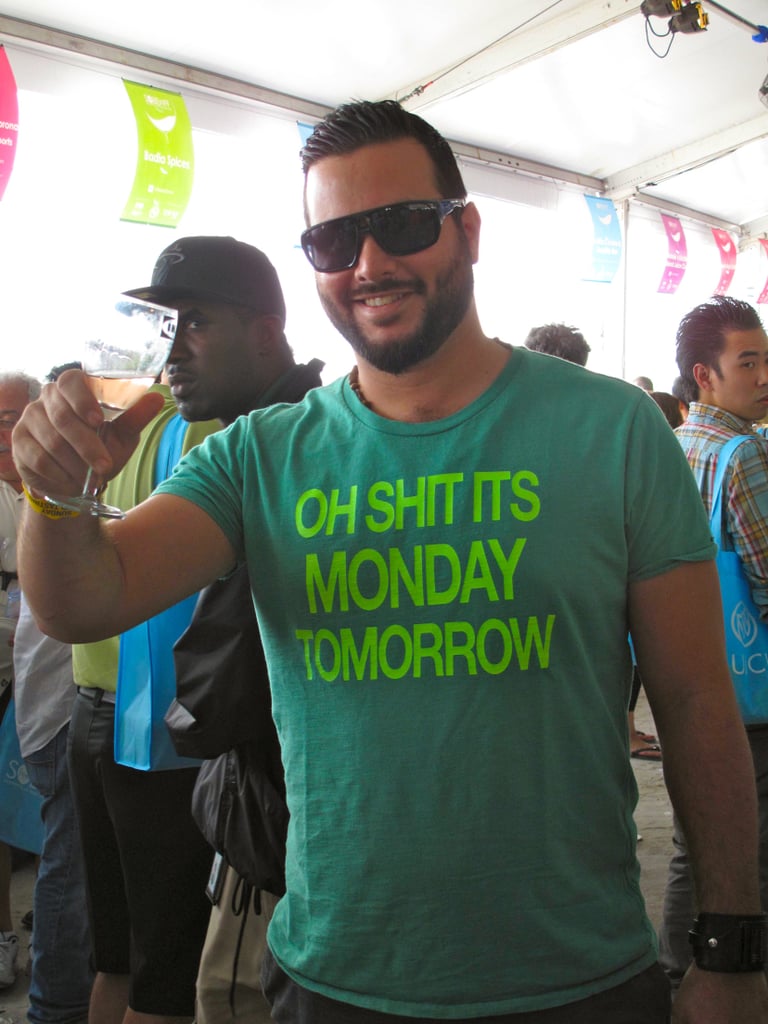 This is exactly how we were feeling Sunday at the Grand Tasting Village.
See You Next Year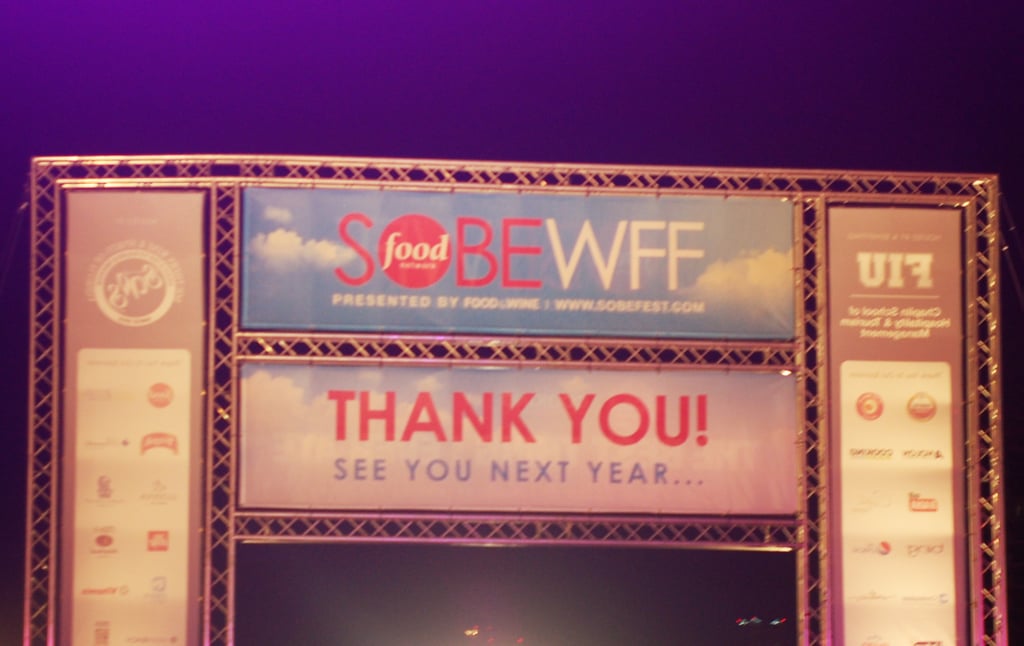 We were sad to leave. True story. Thank goodness there's always next year.