Early 2013 cold fronts, snowstorms, and nor'easters mean one thing: that this year's South Beach Wine and Food Festival couldn't come soon enough. The Miami celebration — often known among festivalgoers as culinary Spring break — kicked off Thursday night with a slew of events. Click through to see more.
— Additional reporting by Nicole Perry
Source: Getty [1]
Under the Tent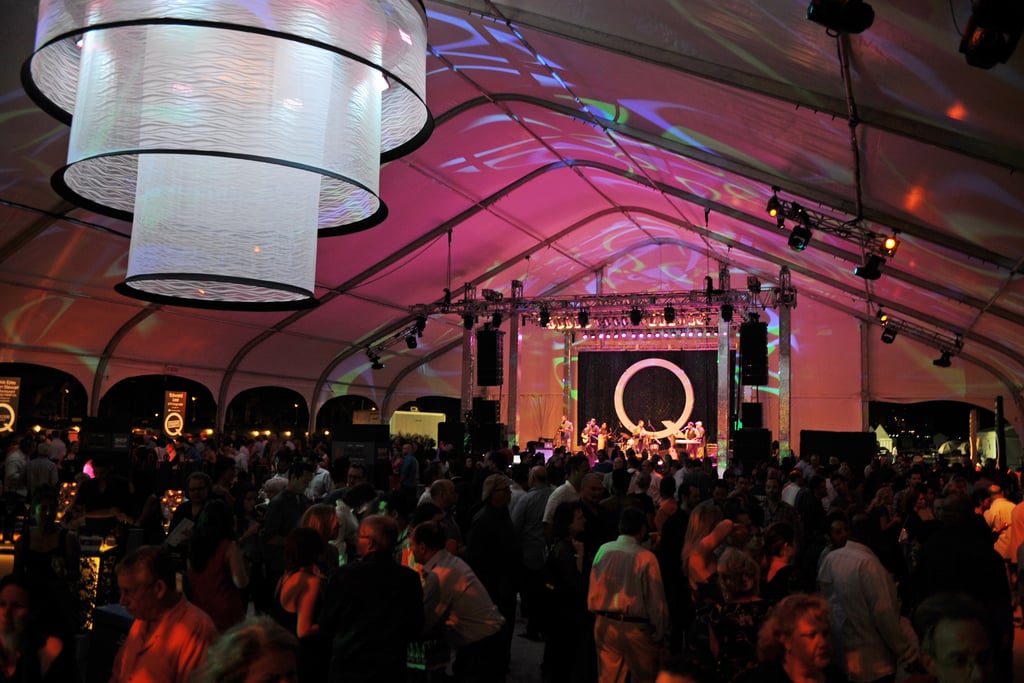 The South Beach Wine and Food Festival's biggest Thursday night event, The Q, was packed.
The Q Bar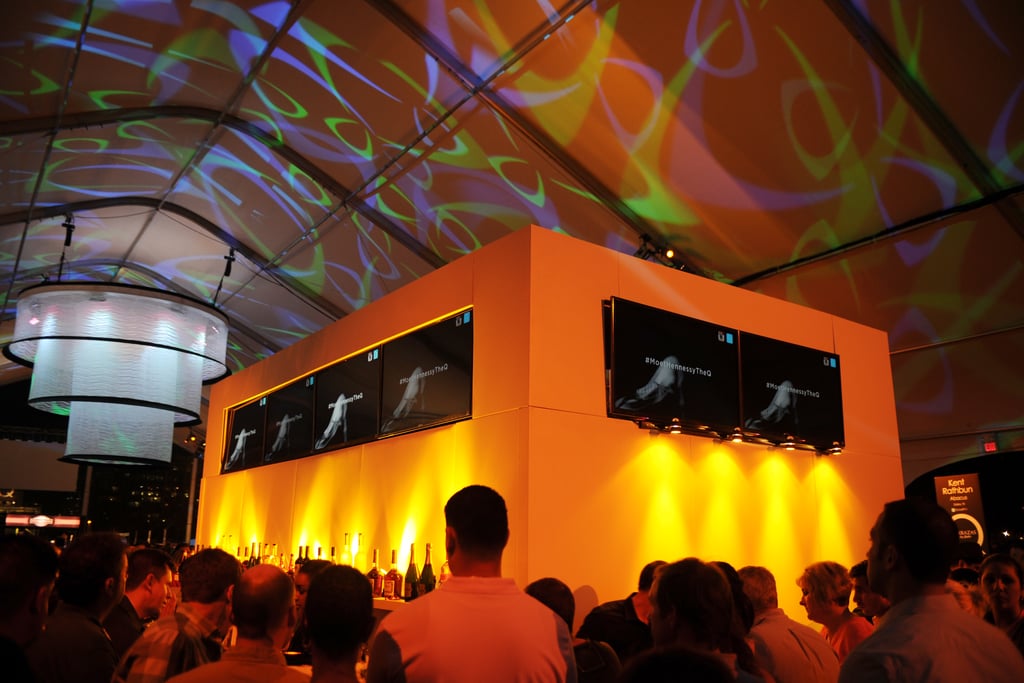 The illuminated bar at The Q.
Hostess Paula Deen
Paula Deen [2] — who was hosting The Q with her sons Jamie and Bobby — posed here with chef Jonathan Waxman.
Restaurant: Impossible's Robert Irvine
Food Network's Robert Irvine hammed it up for the camera while grilling burgers.
Todd English
Chef, restaurateur, and TV personality Todd English showed who's king of the grill.
Al Roker
Today host and barbecue enthusiast Al Roker returned to The Q this year to show off his cooking skills.
Warm Welcome
We arrived at our first destination, The Q After Dark [3], to a warm welcome.
Photo: Nicole Perry
Aerial Dancer
The first thing in our field of vision? A barely dressed, incredibly toned aerial dancer showing off her moves in the middle of the party.
Photo: Nicole Perry
Acrobatics
The aerial dancer looked to be flanked by two Buddha statues, but they turned out to be very still (and very flexible) human beings.
Photo: Nicole Perry
Brisket Sandwich
Sparky's Roadside Barbecue served a barbecued brisket slider, sandwiched by two pillow-soft buns and bread-and-butter pickles.
Photo: Nicole Perry
Porchetta With Caponata
Chef Brian Massie served Porchetta Allo Spiedo: generous slices of rotisserie-roasted porchetta with a vinegar-dressed mélange of eggplant, grapes, and pine nuts to cut the fat.
Photo: Nicole Perry
Qookies
"Q" cookies, courtesy of Cookies by Shar, made a memorable (if fleeting) souvenir.
Photo: Nicole Perry
Flo Rida
The Today show, in town for SOBEWFF, arranged to have rapper Flo Rida perform to an enthusiastic crowd of roughly a thousand onlookers — an impressive number, considering it was only 9 a.m.
Flo Rida and Al Roker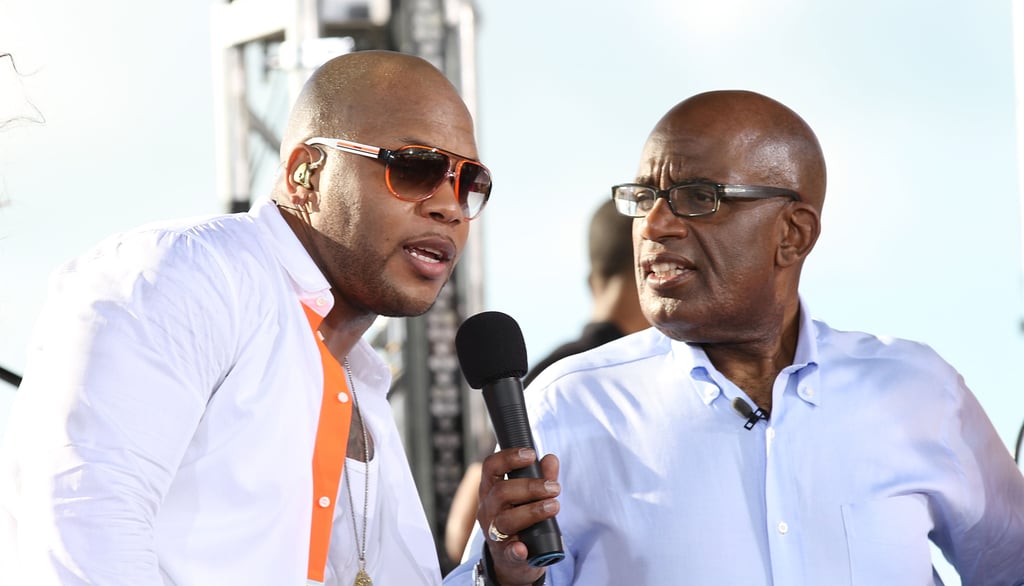 Al Roker interviewed rapper Flo Rida for the Today show, shot on location in South Beach.
Nigella Lawson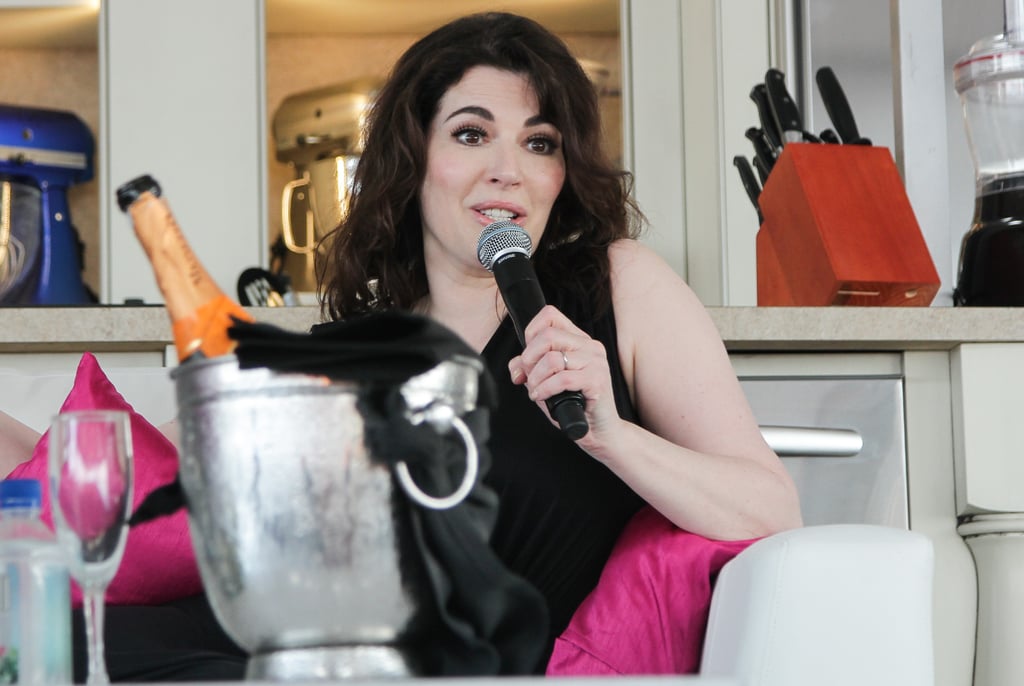 A bubbly Nigella Lawson [4] talked about her new Italian cookbook, Nigellissima.
Michael Symon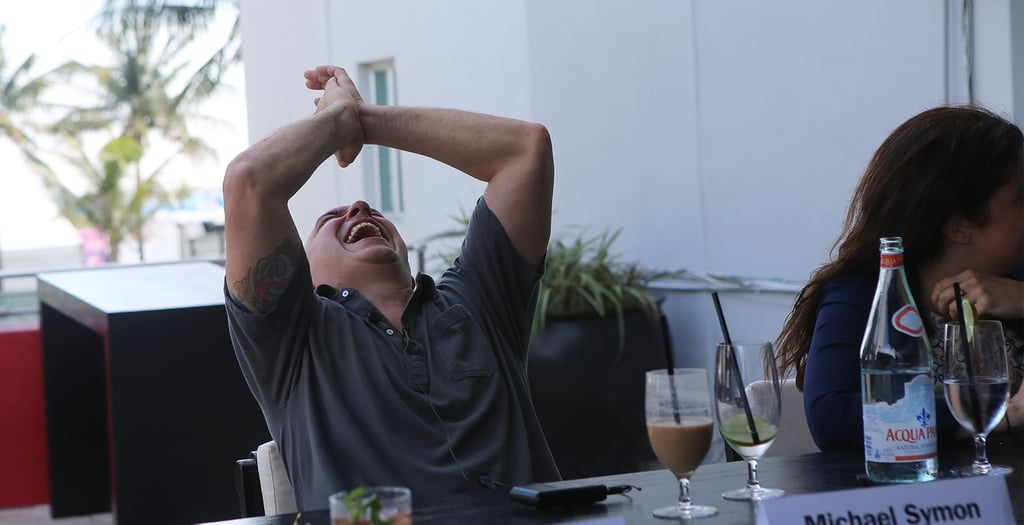 Iron Chef Michael Symon cracked up at Bullfrog & Baum's trade panel, "What It Takes to Be an Iron Chef."
Anthony Bourdain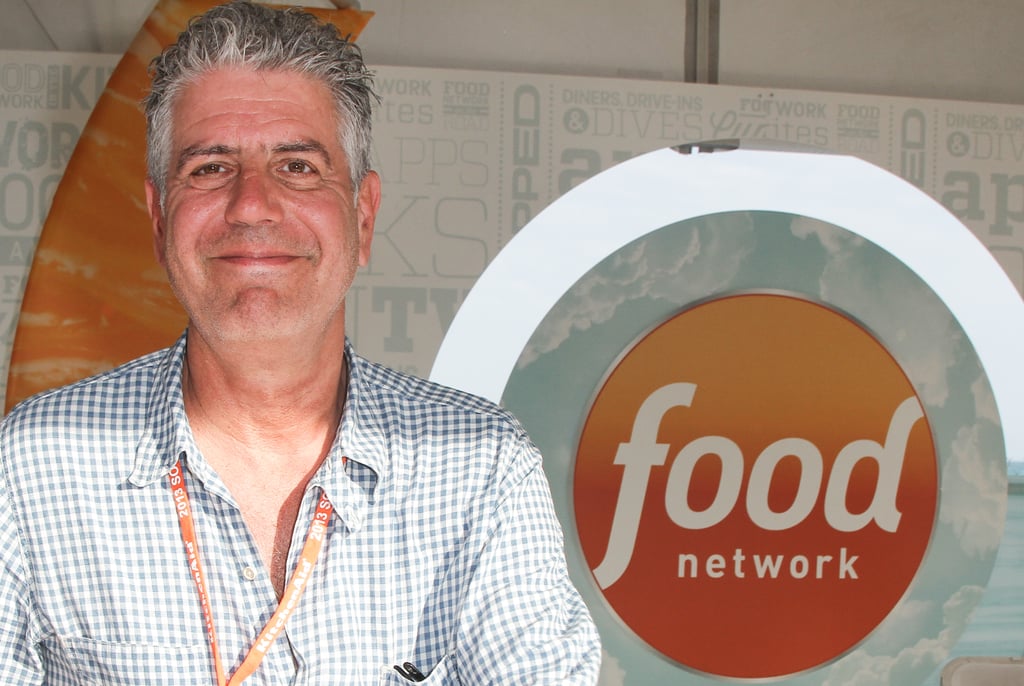 While at SOBE, Anthony Bourdain [5] found time to hang with Nigella and nurse Bloody Marys [6].
Celebrity Chef Volleyball Tournament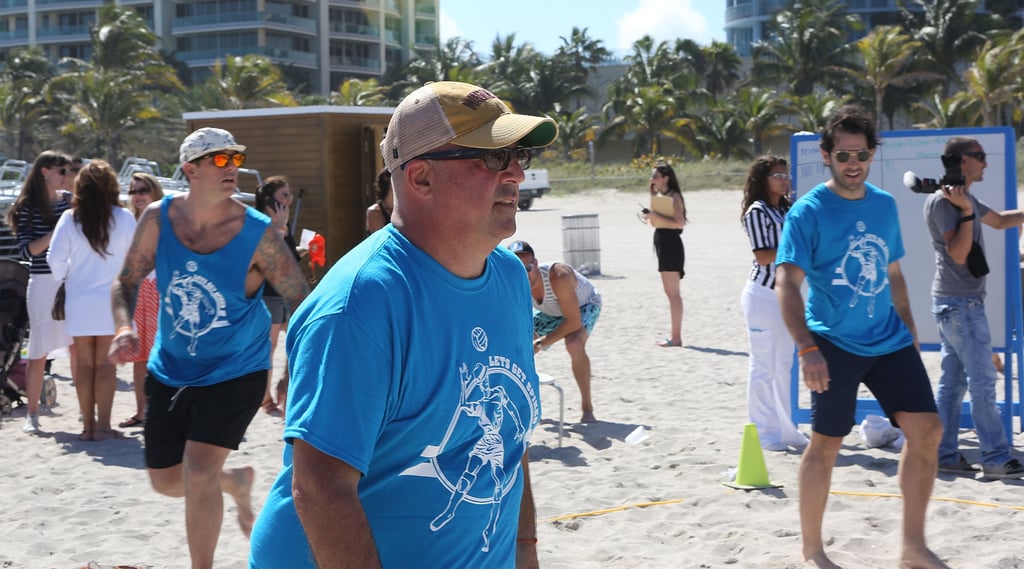 Andrew Zimmern partook in a celebrity chef volleyball tournament, which he later bragged about winning [7]!
Spike Mendelsohn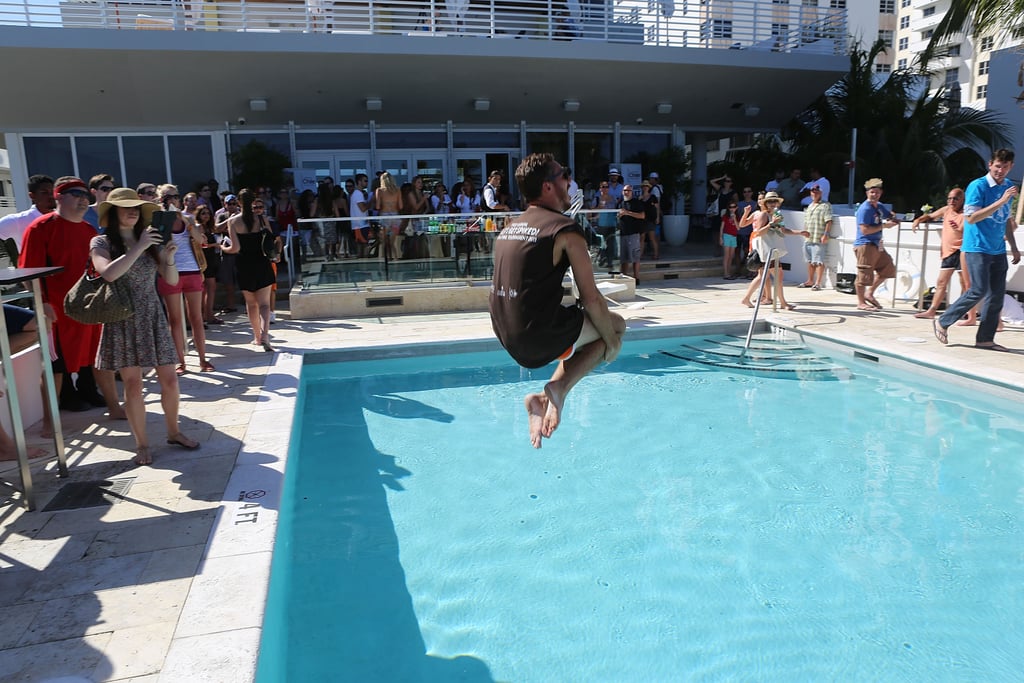 After a celebrity volleyball tournament, former Top Cheffer and DC restaurateur Spike Mendelsohn wasn't afraid to do a cannonball right into the pool.
Andrew Zimmern's Happy Hour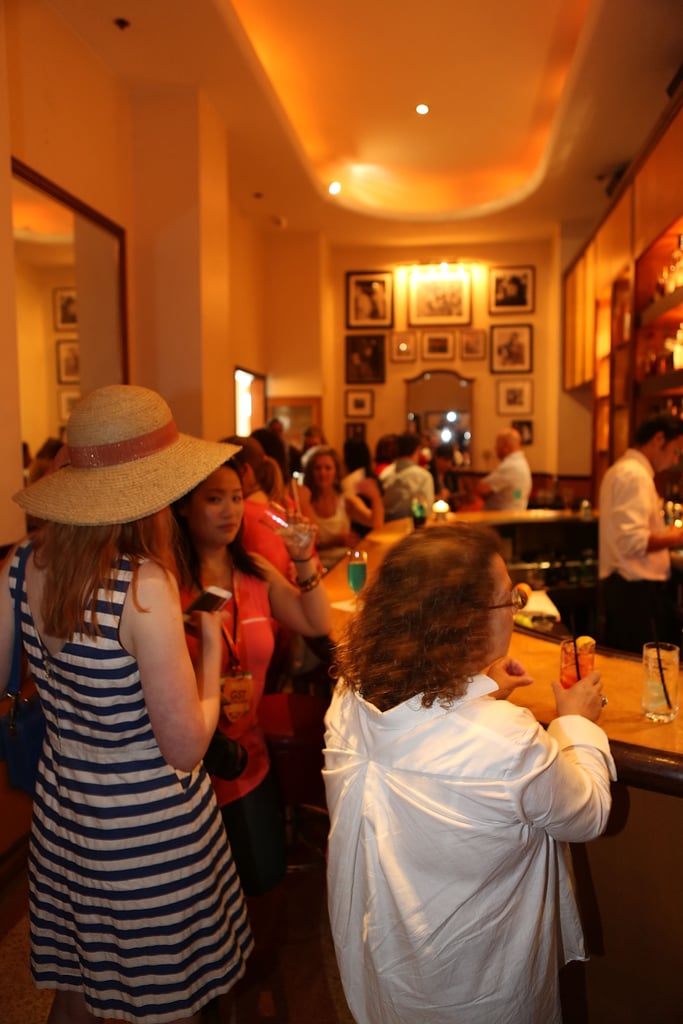 Andrew Zimmern chatted with new friends at The Raleigh Hotel, where he hosted a happy hour with travel site Traterra (and talked to us about what's next [8]).
Almondina Cookies
At the Trade Tasting, Almondina served original and dark chocolate biscotti crisps.
Photo: Nicole Perry
Or-G shots
Yes, these are shots of an orange vodka called Or-G.
Photo: Nicole Perry
Cantaloupe
Fresh cantaloupe at the Del Monte booth.
Photo: Nicole Perry
Stuffed Cheese With Chicken
The folks from Curaçao served a traditional island dish: keshi yená (stuffed gouda cheese) filled with ground chicken and tomato sauce. The end result tasted less tropical, more Italian American.
Photo: Nicole Perry
Botran "Guatamelon Punch"
Botran, a Guatemalan rum, offered one of the most refreshing drinks of the afternoon: a cocktail with lime, simple syrup, Botran, tarragon, watermelon, and soda water.
Photo: Nicole Perry
Wine Removal Towelettes
We're convinced that these PushClean wine-removing and hand towelettes — which are made from compostable bamboo, by the way — are going to be the next big thing.
Photo: Nicole Perry
Blue Curaçao Cocktail
Thought Blue Curaçao had long disappeared? Not so, we discovered, as we sipped on the electric blue liqueur, shown here in a cocktail with lime, vodka, soda water, and blackberries.
Photo: Nicole Perry
Banana Man
It was hard to miss Del Monte's crew of banana men and women.
Photo: Nicole Perry
Goya
Goya served up a pork slider served on a sweet and fluffy bun that was reminiscent of Hawaiian bread.
Photo: Nicole Perry
Mionetto Il Spriz
Mionetto Il Spriz [9] — a bottled wine spritzer modeled after the spritz, a bitter Italian aperitif — was on hand to quench our thirst.
Photo: Nicole Perry
Piedmontese Beef Slider
Piedmontese beef, a breed of cattle lauded for its tenderness and low saturated fat levels, topped crostini.
Photo: Nicole Perry
Sardinian Wine
We were pleased to see wine from Sardinia, an up-and-coming region, on hand.
Photo: Nicole Perry
Morimoto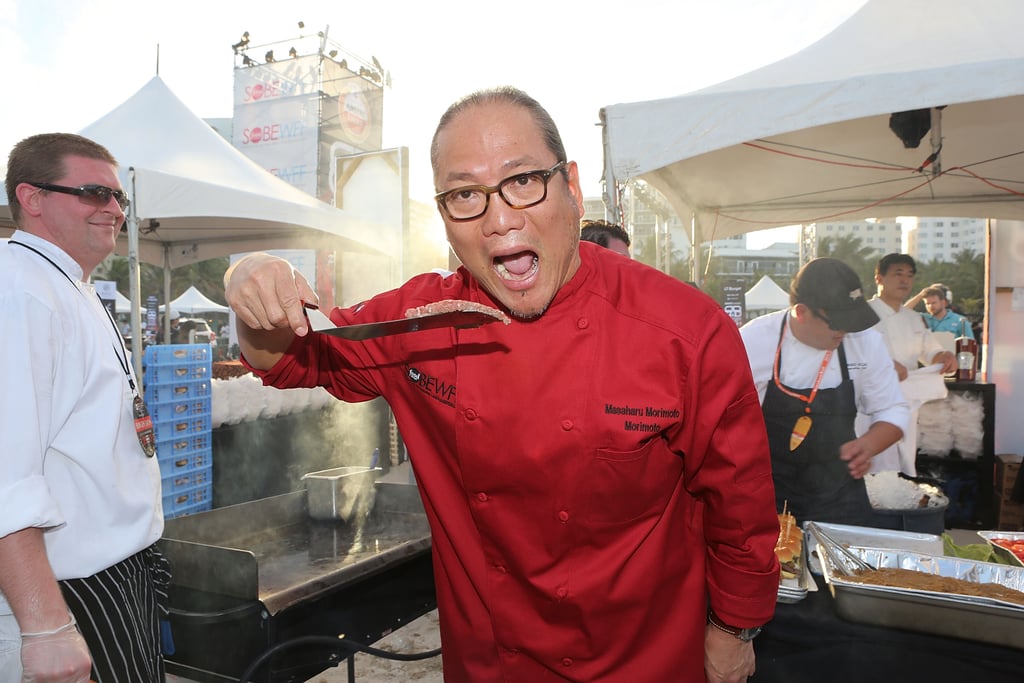 Iron Chef Masaharu Morimoto [10] struck a pose (with a patty) as he got ready to put his game face on at the Amstel Light Burger Bash.
Bobby Flay's Green Chile Burger
Bobby Flay [11]'s "Green Chile Burger," the winner of Burger Bash's [12] people's choice award, enticed with its bountiful toppings, including queso sauce, green chile pickle relish, and its side of potato chips.
Photo: Nicole Perry
Guy Fieri with Havaianas
Guy Fieri hammed it up at the Havaianas booth, which was handing out flip flops with custom burger and milkshake pins.
Source: Havaianas [13]
Holsteins Shakes and Buns Burger
Holstein's Shakes and Buns from Las Vegas, NV, charmed us with their thematically appropriate decorative toothpick.
Photo: Nicole Perry
Guy Fieri
Burger Bash attendees swarmed Guy Fieri's booth to catch a glimpse of the Food Network star. Here, he holds up a wooden vote token, perhaps hoping to inspire festivalgoers to choose his Pressed Chili Burger [14].
Photo: Nicole Perry
Rok:Brgr Burger Bar + Gastropub's Burger
While Rok:Brgr's "Miami" burger was a treat, their spicy honey-mustard-dressed lobster corn dog stole the show.
Photo: Nicole Perry
Charm City Burger Company's Burger
Charm City Burger Company, a Floridian favorite, offered up a brisket burger topped with white American cheese, candied bacon, smoked peppercorn Dijonnaise, and pickled tomato.
Photo: Nicole Perry
Lokal Burgers & Beer's Burger
Lokal set itself apart from the crowd with buns imprinted with their brand.
Photo: Nicole Perry
Cheeseburger Baby
Cheeseburger Baby, the oldest burger shop in South Beach, drew fans aplenty.
Photo: Nicole Perry
Chef Tim Love
Chef Tim Love cheerily served up his Love Shack burgers.
Photo: Nicole Perry
Love Shack's Burger
Tim Love's Love Shack showed off its Texan pride with state flag picks holding together the lamb-bacon- and roasted-red-pepper-hollandaise-topped slider.
Photo: Nicole Perry
Quality Meats's Burger
Our favorite presentation of the night easily went to Quality Meat's retro popcorn boxes, which housed dry-aged popcorn to accompany its bacon- and blue-cheese-topped dry-aged burger.
Photo: Nicole Perry
Live Music
An enthusiastic band was on hand to entertain.
Photo: Nicole Perry
Jeff Mauro's Ultimate Pattymelt
It turns out that Jeff Mauro's "Ultimate Pattymelt" wasn't all bluster, as it snagged the prestigious judges' choice award.
Photo: Nicole Perry
Ford's Filling Station Burger
If one needed a respite from the beef, a stop at Ford's Filling Station was just the cure, thanks to its juicy Moroccan lamb burger, which came topped with tomato chutney, goat cheese, caramelized onions, and mache.
Photo: Nicole Perry
Meat Market's Burger
Meat Market, another local favorite, offered up a "Tropical Reuben," a burger topped with Wagyu pastrami, pickled chilies, and cabbage slaw.
Photo: Nicole Perry
Red Robin Gourmet Burgers
Red Robin was serving a Korean Kalbi BBQ Burger with pickled cucumbers and cabbage on a Korean BBQ glazed beef patty served between a brioche bun.
The Butterfly
The Butterfly, Michael White's soon-to-open restaurant, was serving his legendary White Label Burger, which is made with dry-aged beef, bacon marmalade, McClure's pickles, and white American cheese.
Served with: Cacio e pepe tater tots.
B Spot Burgers
Michael Symon's French Onion Burger — caramelized onion, crispy onion, bacon, gruyère and horseradish cheese sauce, shasha and mustard sauce.
Burger & Barrel
Burger & Barrel's B&B Bash Burger — caramelized onion and bacon jam, shaved pickles, American cheese, secret sauce on a toasted sesame seed bun.
Guy's Burger Joint
The longest lines of all were for Guy's Pressed Chili Cheeseburger — ground beef, all-beef chili, cheddar cheese, thin-sliced dill pickles, bacon, donkey sauce, crispy sourdough shell, and spicy Sriracha ranch and ketchup.
The Forge's Burger
Love truffles? Then The Forge's truffle burger is just the bite for you.
Photo: Nicole Perry
Burger Bash Winner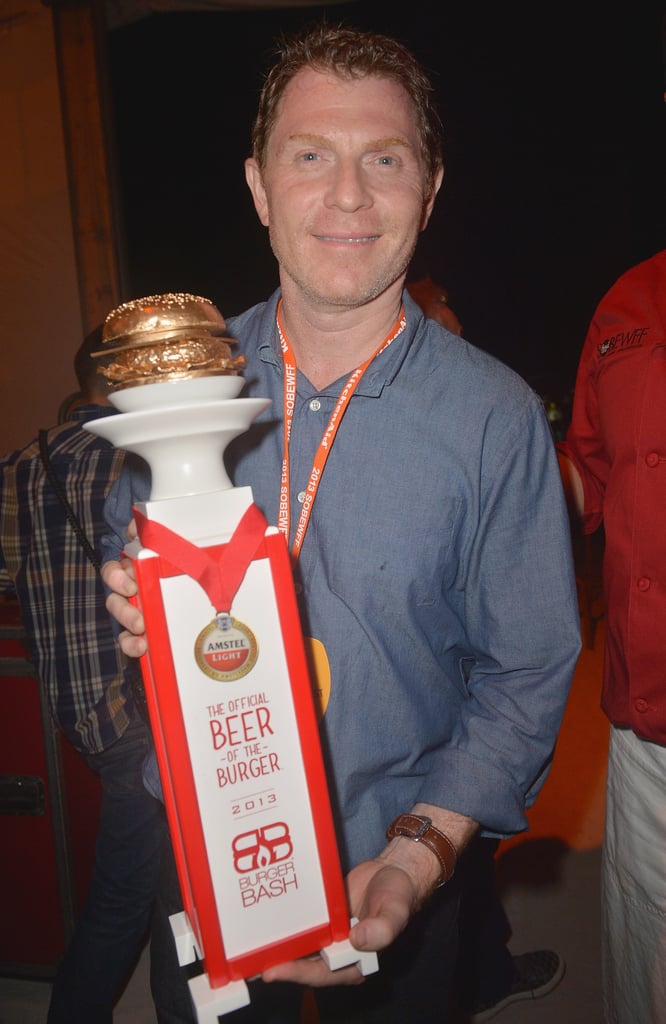 Bobby Flay [15] was all smiles when he took home the Burger Bash's top prize, the People's Choice Award.
Fontainebleau's Best of the Best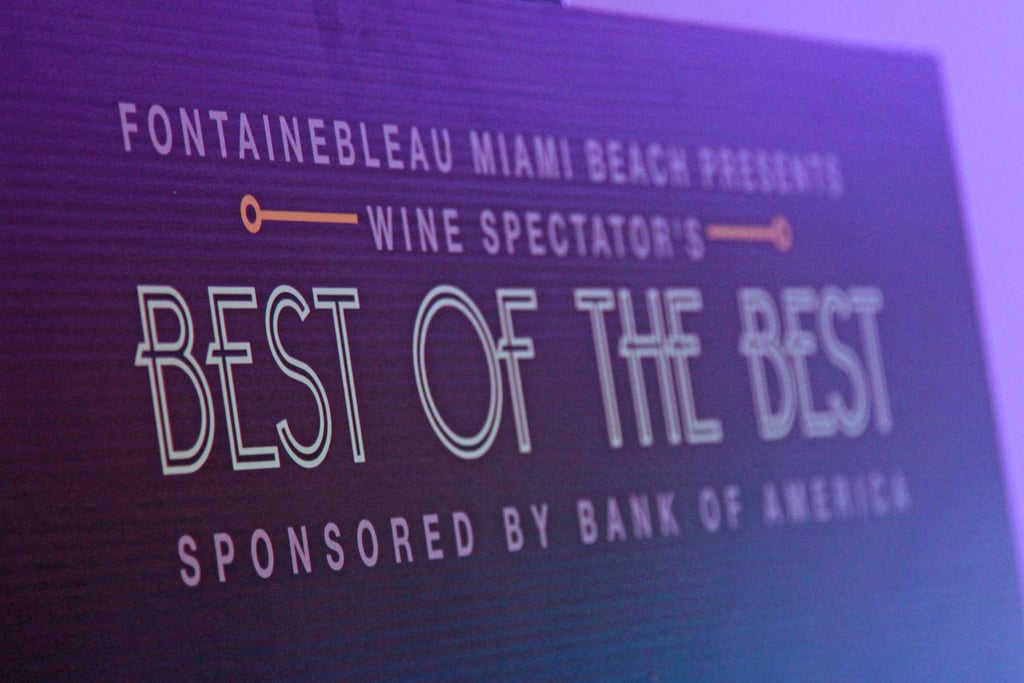 The luxe Best of the Best event hosted by the Fontainebleau Miami Beach [16] lived up to its name.
Photo: Nicole Perry
Glitzy Entrance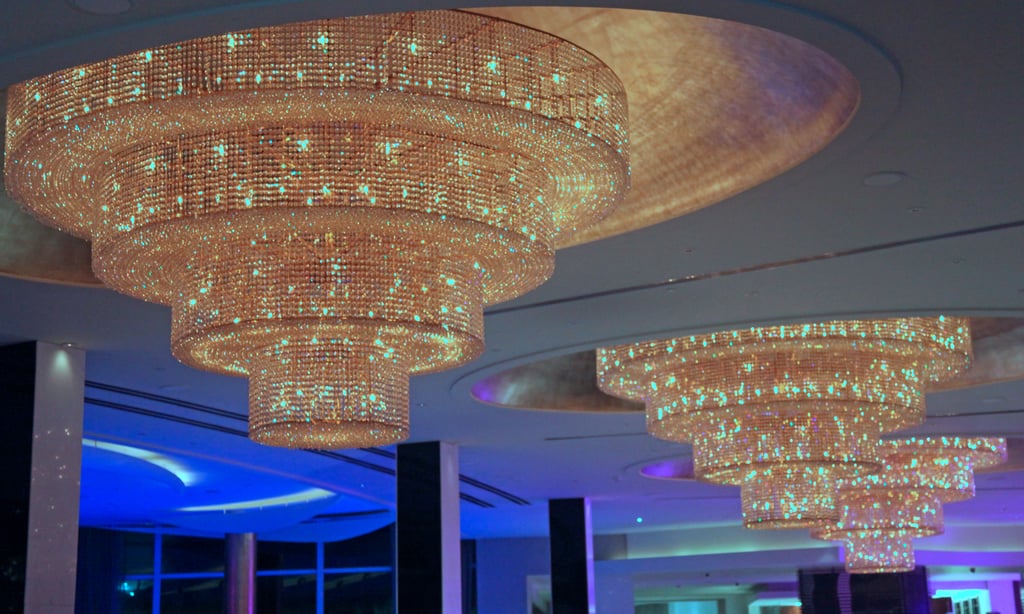 Glamorous light fixtures in the hosting hotel caught our eye.
Photo: Nicole Perry
Strawberry-Banana Cotton Candy Empanadas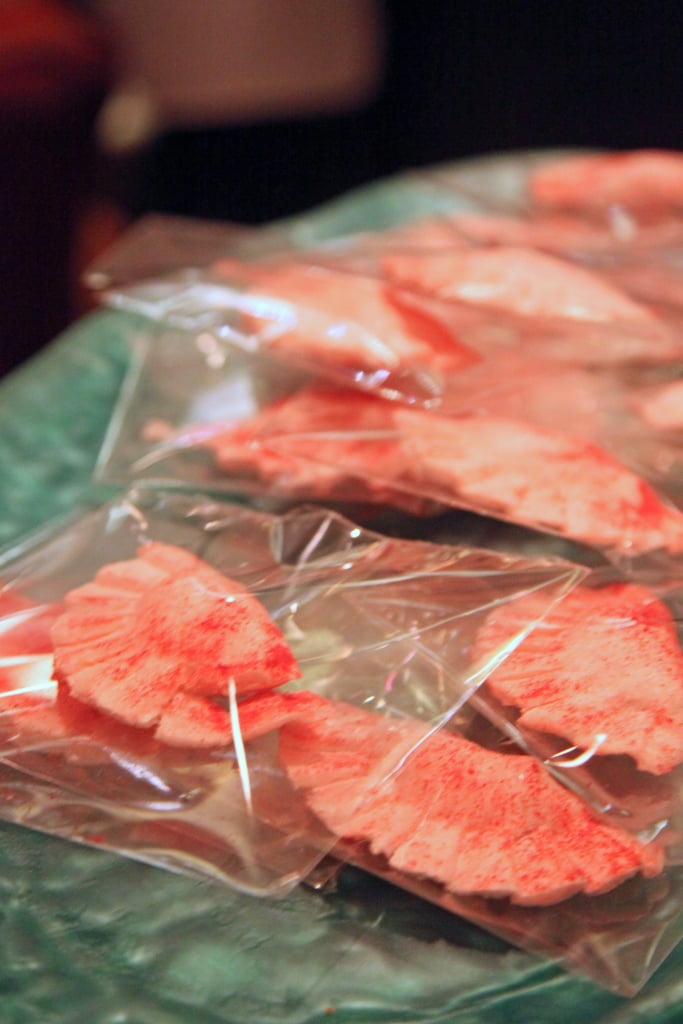 Sweet-tart cotton candy empanadas from pastry chef Jordi Panisello of the hosting hotel didn't sacrifice substance for creativity — they were also mouth-puckeringly delicious.
Photo: Nicole Perry
A Taste of Central Kitchen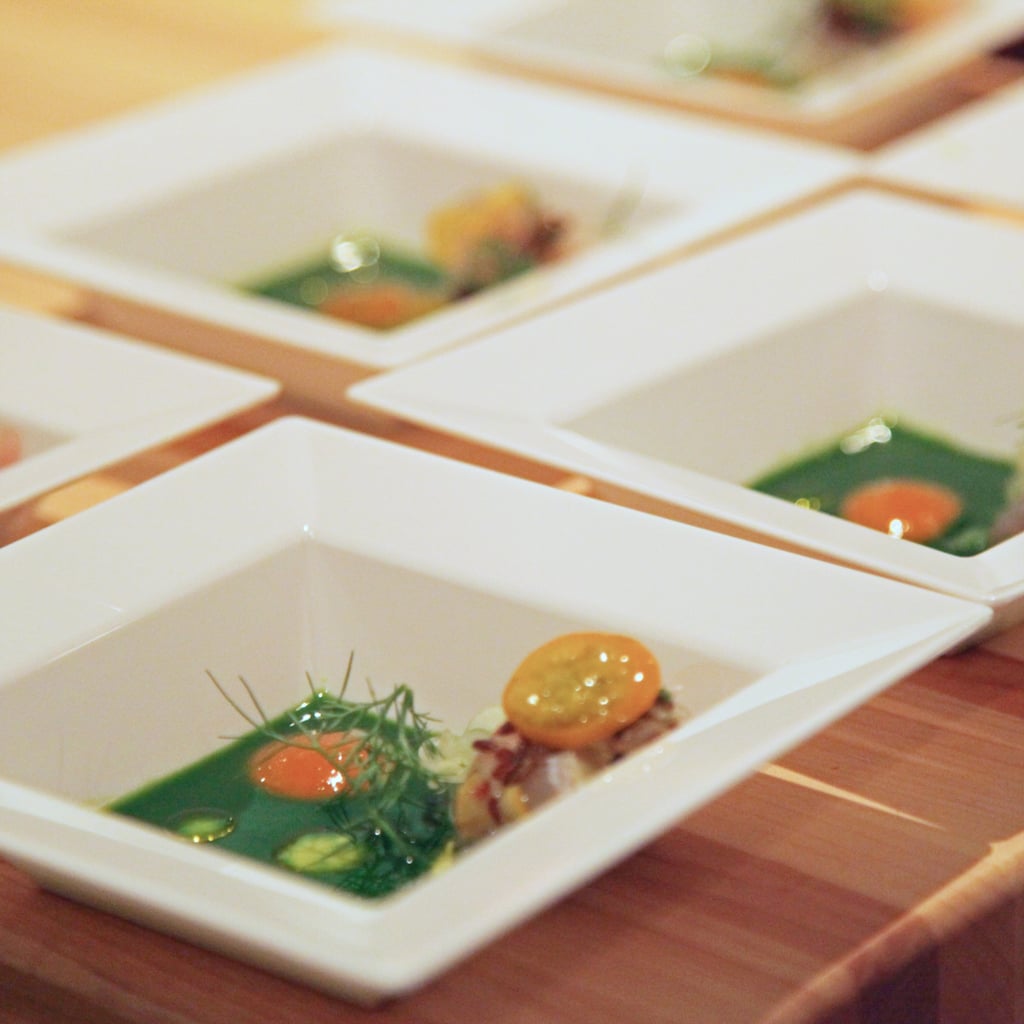 Thomas McNaughton, the James Beard Award rising star chef nominee [17] from San Francisco's Flour + Water and Central Kitchen, served up a stunningly plated bite.
Photo: Nicole Perry
Apple Pie Ice Cream Cone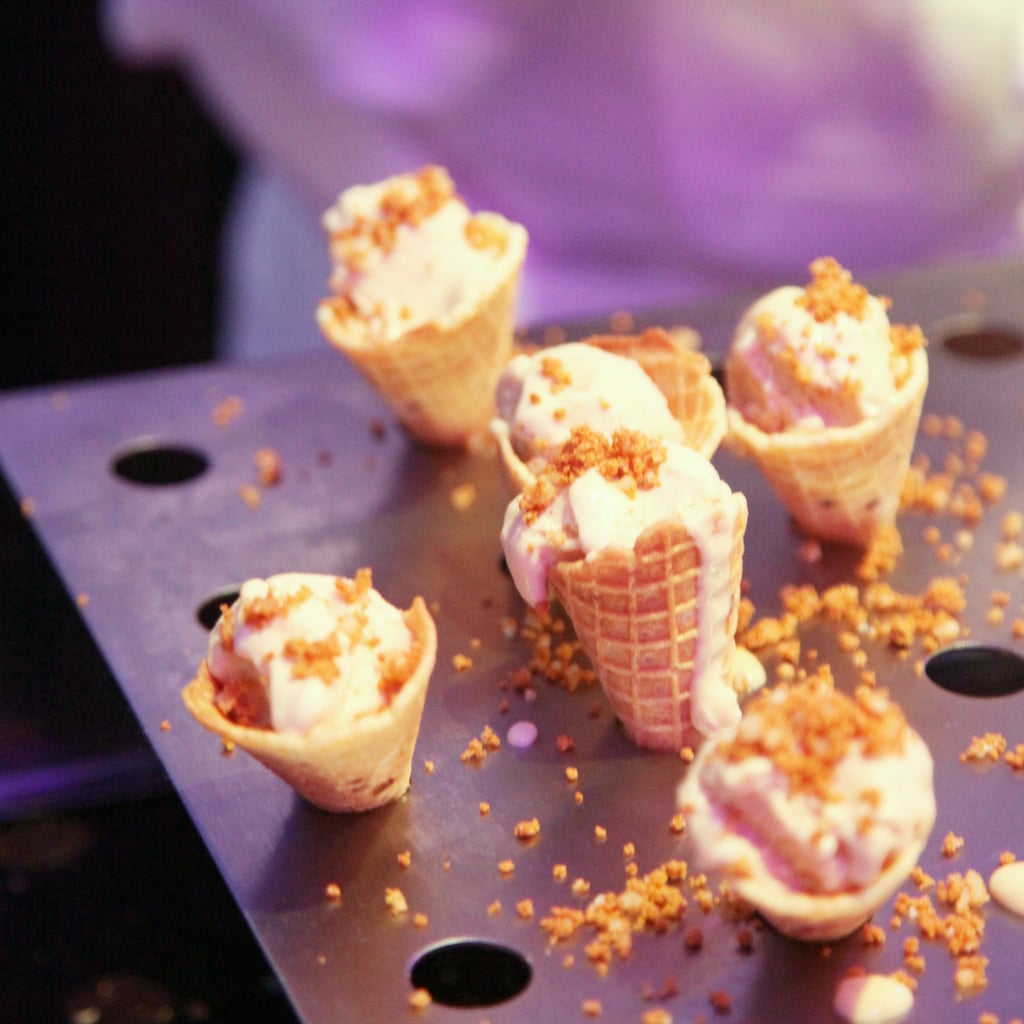 Portland's Beast offered up a sweet and salty apple-pie-inspired ice cream cone garnished with bacon. While the addition of bacon might seem a bit played out, the hit of smoky salty flavor worked well, as it accentuated the otherwise classic flavors.
Photo: Nicole Perry
Chocolate Sesame Ice Cream Bars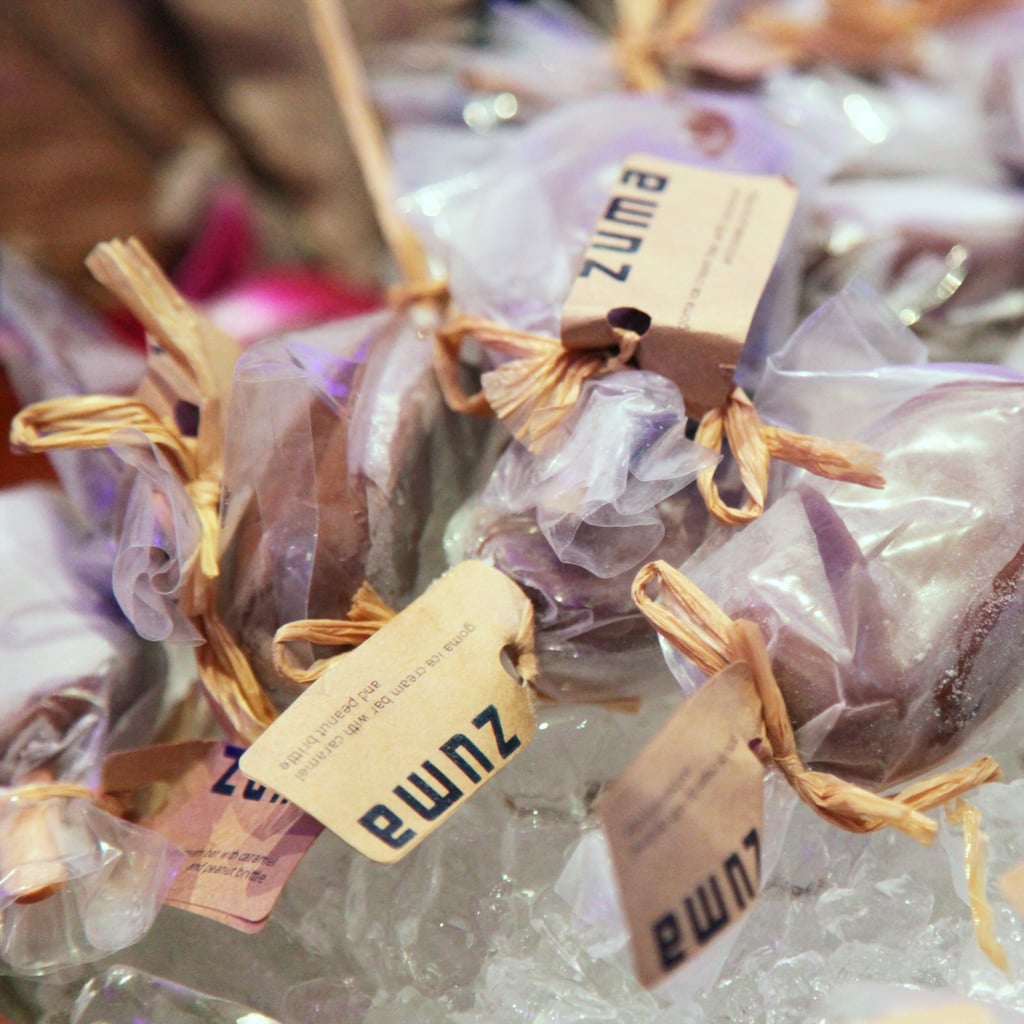 As die-hard halvah fans, we were immensely pleased by Zuma's chocolate-covered sesame ice cream bars, which reminded us of the Israeli treat.
Photo: Nicole Perry
Inventive Presentation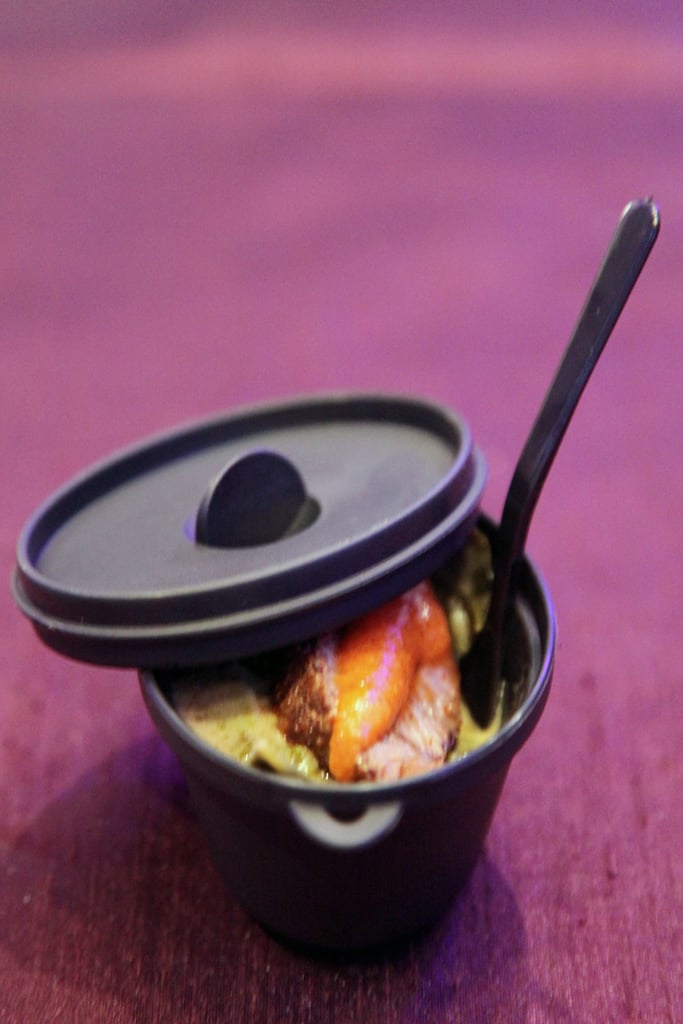 What could possibly improve upon braised hanger steak paired with collard greens and red chimichurri? The National's Peter Dale had the answer: serving it up in charmingly diminutive Dutch ovens.
Photo: Nicole Perry
Marshmallow Ropes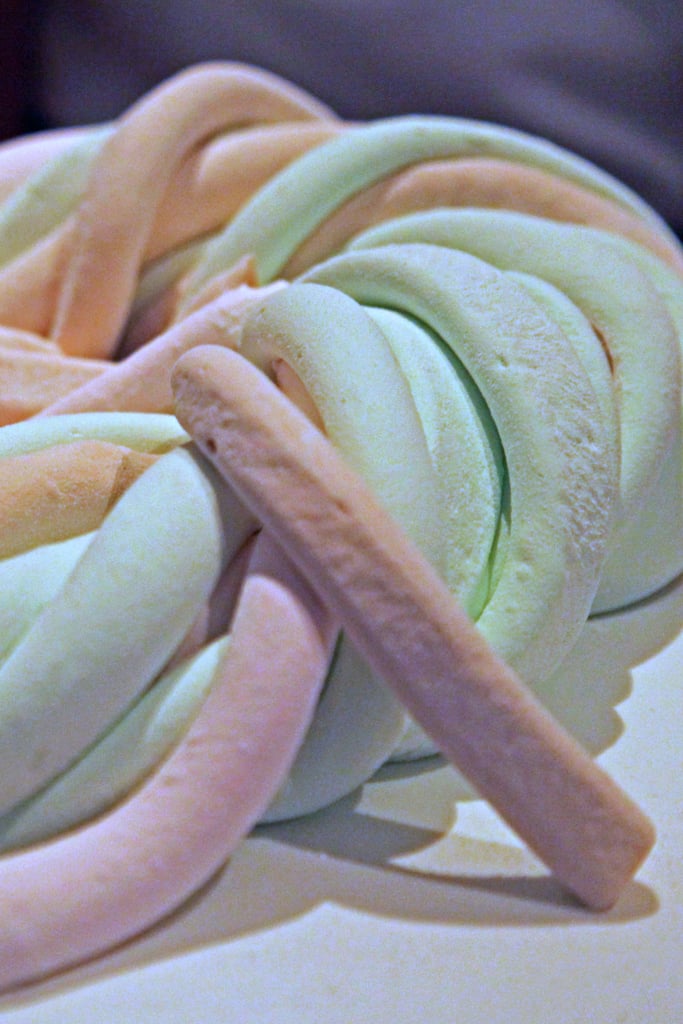 Jordi Panisello won us over again with ethereally textured marshmallow ropes that were snipped to order. Our favorite? The tangy passion fruit version.
Photo: Nicole Perry
Crispy Pork Belly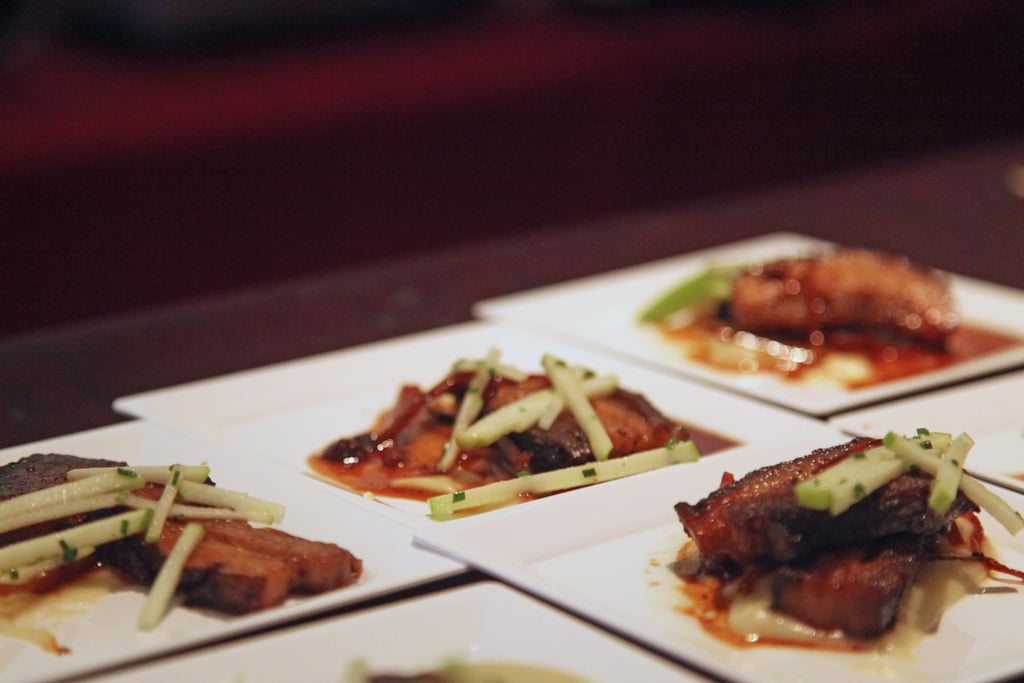 A salty, sweet, and deeply meaty pork-belly bite from Richard Reddington of Redd in Yountville, CA, shined.
Photo: Nicole Perry
Passion Fruit Mousse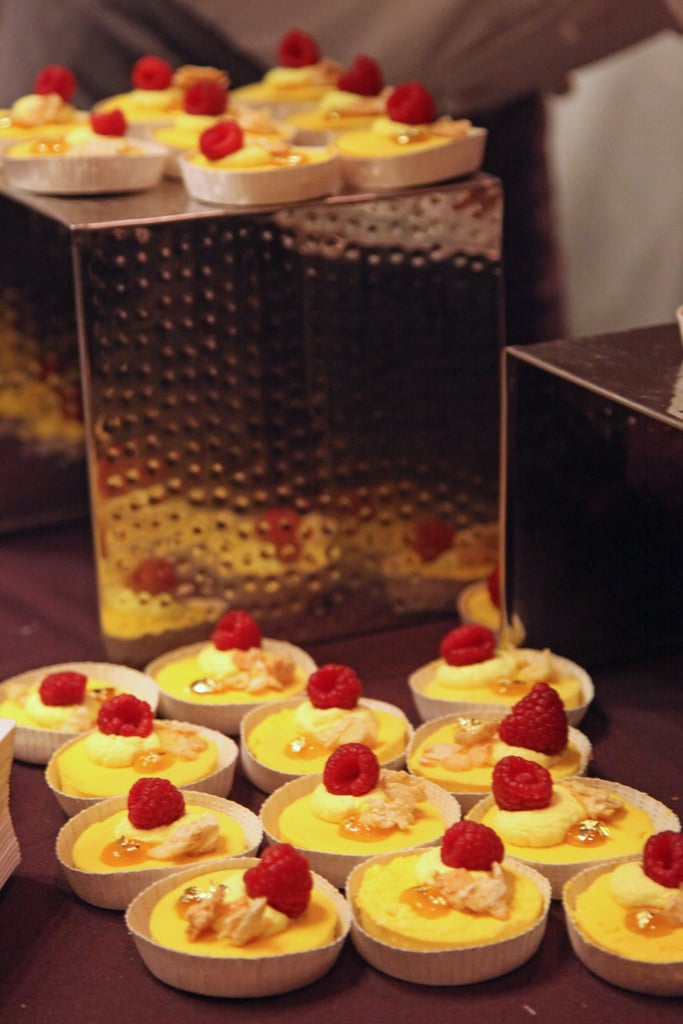 Despite full bellies, we came back for seconds of Jordi Panisello's composed passion fruit mousse dessert — it was just that good.
Photo: Nicole Perry
Now That's Love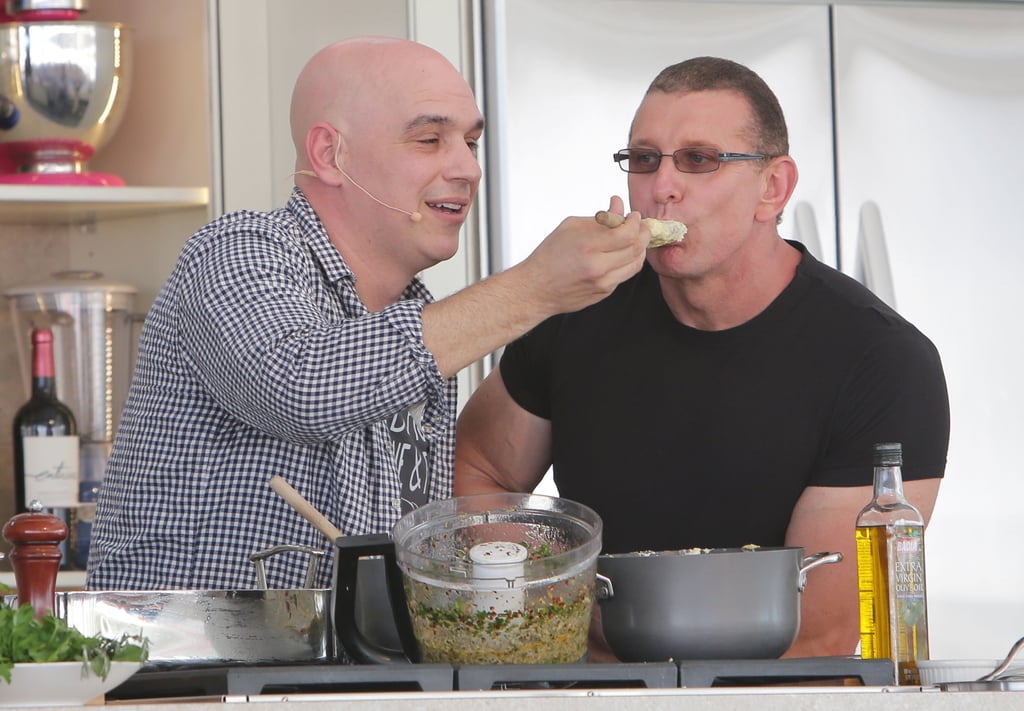 Michael Symon spoon-fed Robert Irvine at a Grand Tasting cooking demonstration.
Robert Irvine
Restaurant: Impossible's Robert Irvine showed off his fit physique while posing for the camera.
Sunny Anderson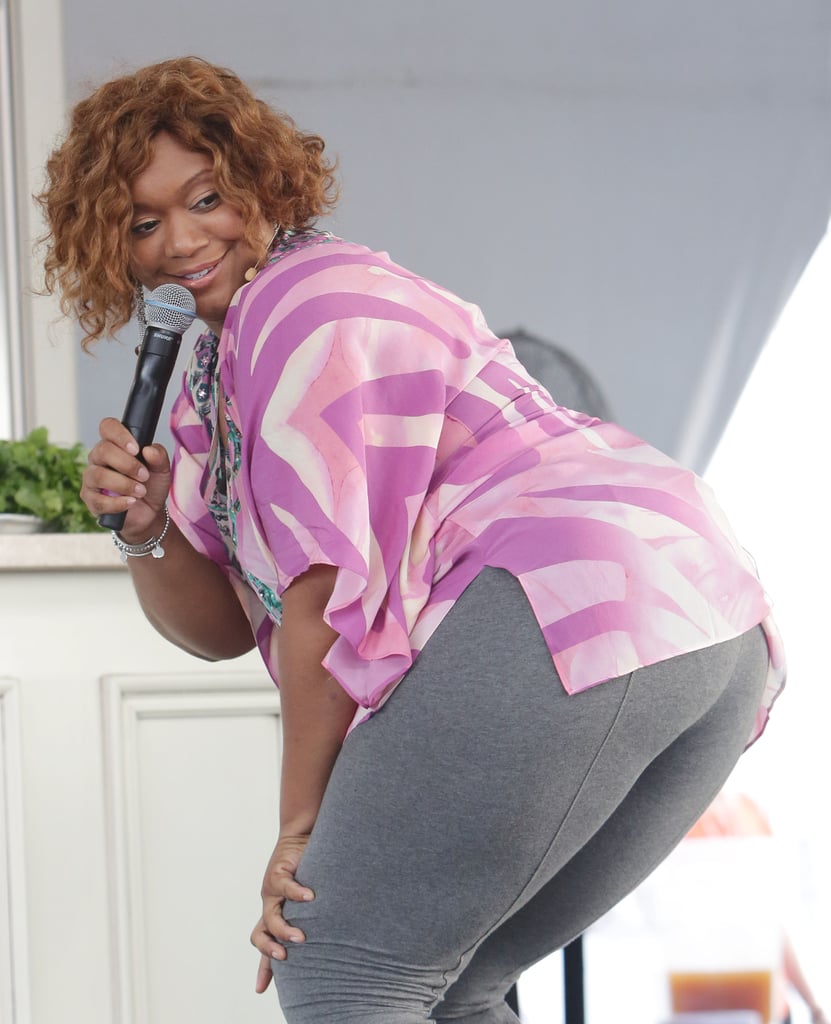 Cooking for Real's Sunny Anderson showed off to the crowd.
Michael Symon and Bobby Flay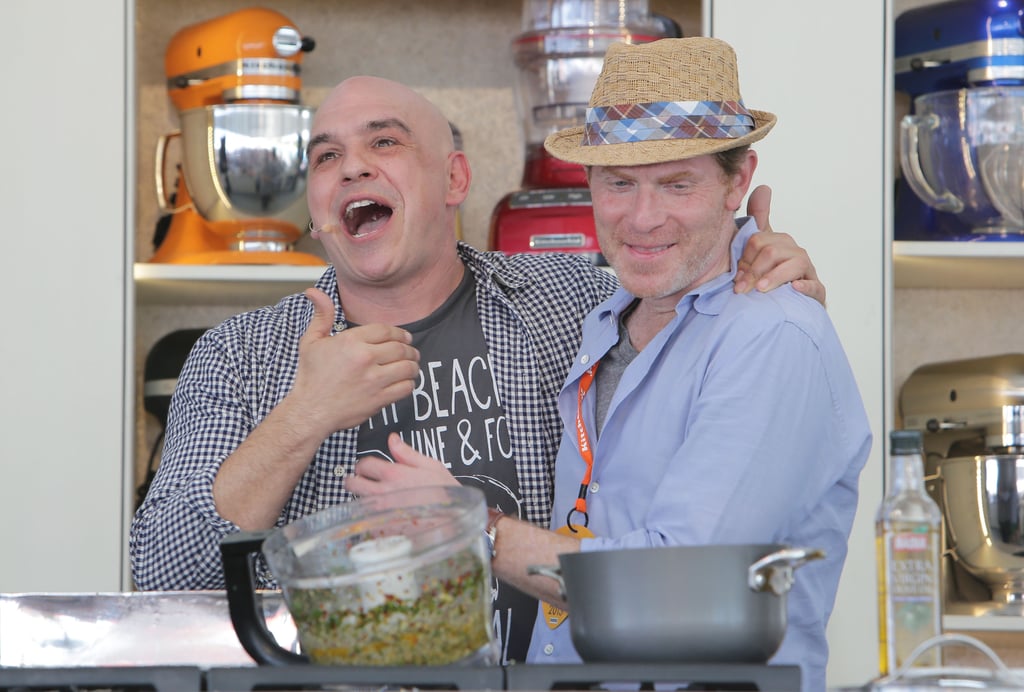 Best friends Michael Symon and Bobby Flay [18] joked about constantly being neck and neck for the Burger Bash People's Choice Award, which Bobby snagged this year [19].
Robert Irvine's Barilla Event
Robert Irvine shows a participant how to put a chef's hat on the right way at Barilla's Interactive Dinner Saturday night.
Photo: Susannah Chen
Rocco DiSpirito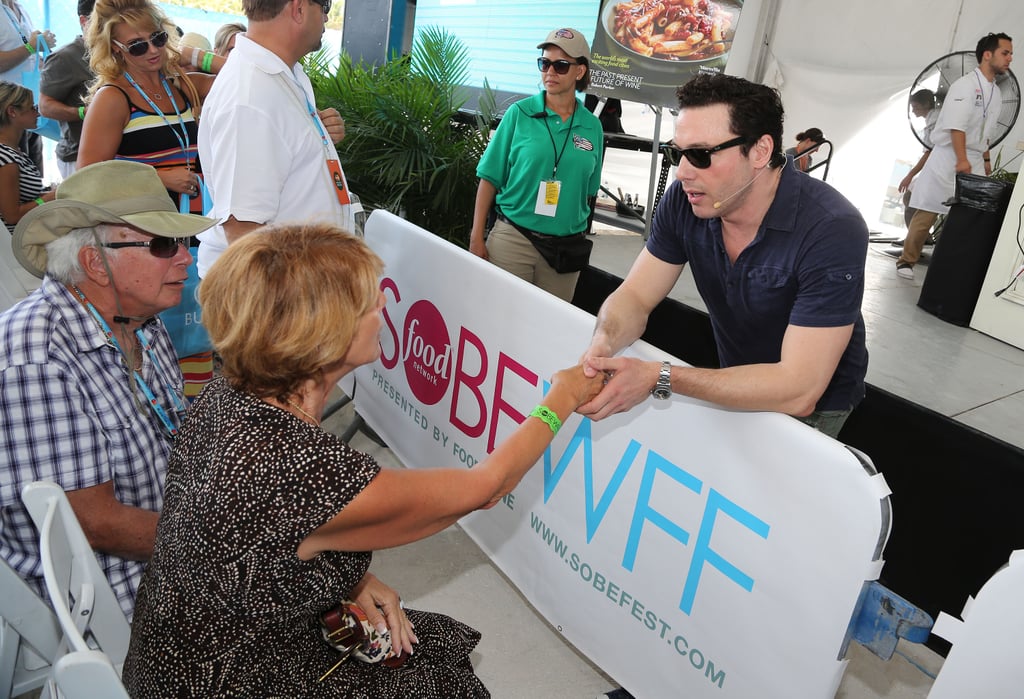 Rocco DiSpirito stopped to say hi to fans before he took the stage to demo recipes.
Guy Fieri Rocking It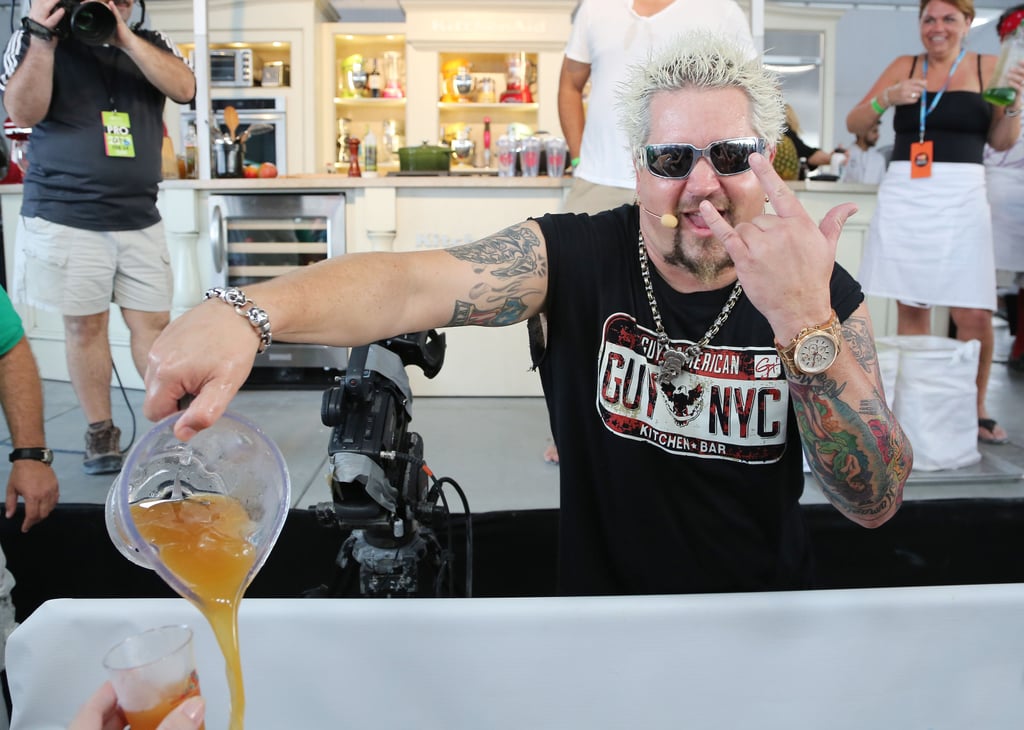 Guy Fieri didn't hoard the punch at his cooking demo Sunday afternoon.
Rachael Ray and John Cusimano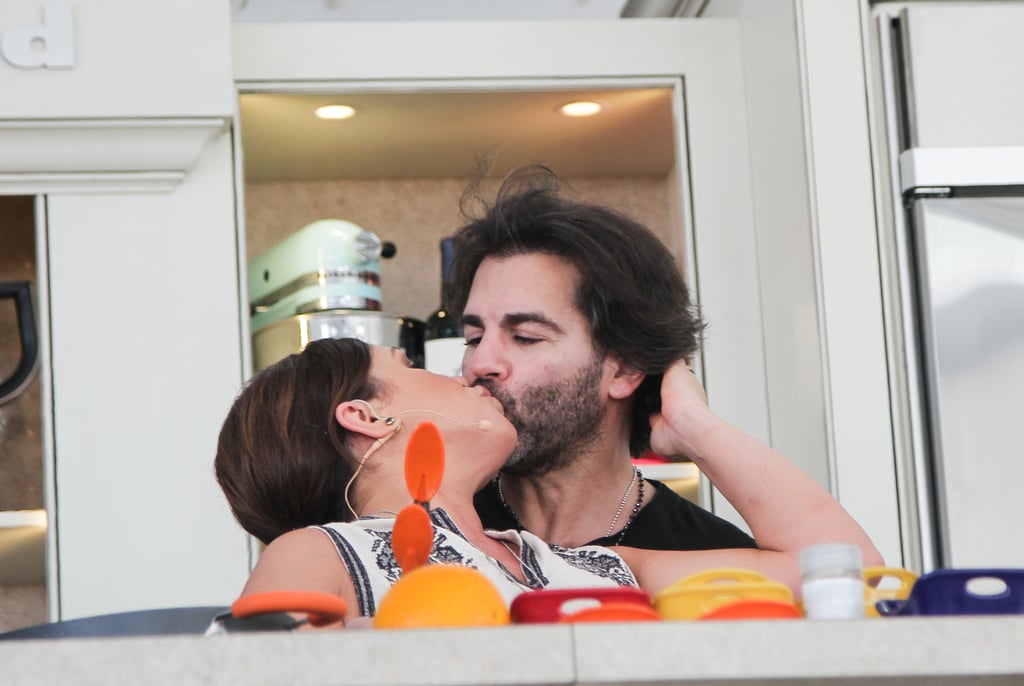 At her demo, Rachael Ray [20] — who took time to talk to us the night before [21] — made it clear that she and husband John Cusimano are still very much an item.
AZ Canteen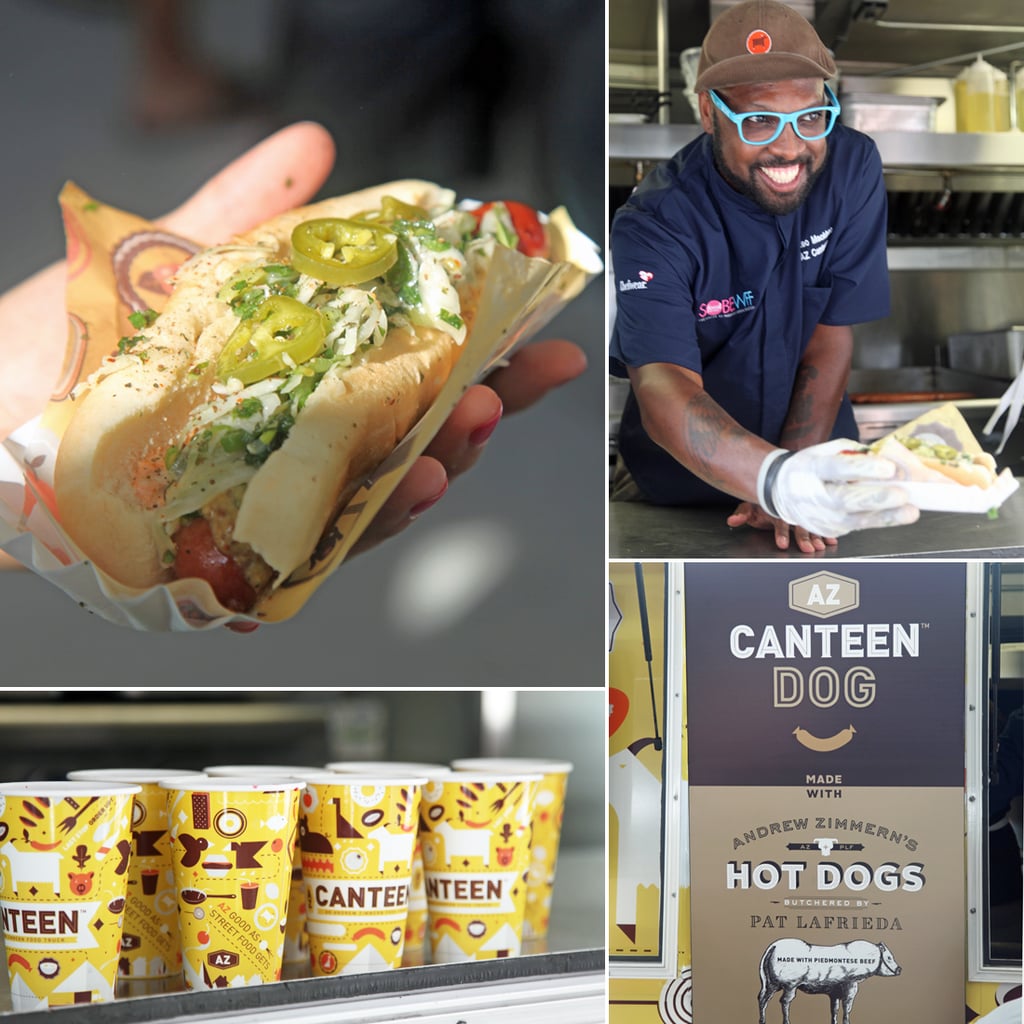 AZ Canteen, Andrew Zimmern's fledgling food truck, served the AZ Canteen Dog, a Piedmontese-cattle hot dog with slaw and pickled jalapeños, alongside tangy Jamaica hibiscus punch.
Palate Party
There was no mistaking the lump crab component in Palate Party's crab cake slider that was served up with roasted garlic aioli, sweet chili tomato jam and romaine lettuce on a classic bun.
Curbside Gourmet
Thai BBQ pork sliders served with apple ginger slaw tempted attendees passing by the Curbside Gourmet truck.
Firewall Food Truck
Firewall's white pizza topped with spiny lobster, garlic butter sauce, mozzarella, scallions, and lemon juice delighted.
Potoffee
We greedily gobbled down Potoffee's sweet and salty toffee-coated potato chips.
Ms. Cheezious
Ms. Cheezious — which was ultimately crowned the people's choice winner of the event — upped the grilled cheese ante with a "South in Your Mouth Melt" made up of smoked BBQ pulled pork, fried pickles, and cheddar cheese on Texas toast.
Friar Tuck's
Friar Tuck's served the "Vandross," a glazed donut cheeseburger topped with maple bacon, lettuce, tomato, and sauce.
Joji Frozen Yogurt
Fro-yo fans enjoyed Joji's subtly floral orchid vanilla almond and chili chocolate soft-serve frozen yogurt.
El Rey de las Fritas
El Rey de las Fritas dished out the "Original Cuban Frita," a crowd-favorite ground beef slider served on a Cuban roll with cooked onions and shoestring fries.
Gastropod
Pho lovers — ourselves included — flocked to the Gastropod airstream trailer to try their "gastroPho," a clever take on the Vietnamese soup comprised of beef tendon chicharrones, sous vide short ribs, mung beans, and Vietnamese herbs in an oxtail broth.
Walgreens
The drugstore chain previewed its Upmarket:juice line of juices, smoothies — pictured is a banana, peach, mango and vanilla rice milk offering — and fro-yo flavors like Tahitian vanilla and creamy tropical sorbet.
Smithfield
Sugar-glazed ham, mojo-marinated oven roasted pork, Swiss cheese, pickles, and yellow mustard made for an enticing bite when served between two slices of Cuban bread at the Smithfield truck.
Crazydilla
Cuban sandwich meets quesadilla in Crazydilla's Cubadilla, comprised of Cuban pork, Serrano ham, Swiss cheese, pickles, and a multigrain tortilla drizzled with a garlic mustard aioli.
Hip Pop's Handcrafted Gelato Bars
It was hard to pick a favorite between Hip Pop's chocolate-dipped pistachio gelato and passionfruit sorbet pops.
2 Jive Turkeys
The 2 Jive Turkeys truck offered up "Dyn-o-mite" Rolls — deep-fried turkey spring rolls drizzled with a red wine cranberry reduction.
Alisa's Cupcakery
Those with a raging sweet tooth found plenty of options on offer at Alisa's Cupcakery, including oreo, dulce de leche, and carrot cupcakes, as well as nutella-filled chocolate chip cookies.
Cubancube
Cubancube served the "Cuba Libre," a fried Spanish sweet potato stuffed with rum and cola braised ropa vieja paired with Materva-infused sugarcane.
Pescados Unidos
Miami natives: if you haven't yet tried seafood sausage, track down the Pescados Unidos truck and try its mahi, mango, and habanero sausage served with mango mustard, and a green papaya, jicama, and jalapeño slaw.
Brooklyn Italian Ice Company
Attendees cooled down with Brooklyn Italian Ice Company's "Brooklyn Bridge," a mango and lemon-swirled Italian ice.
Il Fiorento
Potato ravioli was topped with Parmesan fondue, radicchio, and walnuts at the Il Fiorento truck.
Slow Food Truck
Beef short rib sliders with queso fresco, arugula, and crispy shallots were on offer at the Slow Food Truck.
Waffleosophy Hong Kong Waffles
An insanely long line formed at the Waffleosophy truck to try their Hong Kong waffles topped with red curry braised beef and pickled pineapple.
Photo: Susannah Chen
Contenti Cupcakes
Cupcake fans could choose from classic flavors like red velvet and chocolate or the less conventional — think raspberry lemonade and a banana, chocolate, bacon and peanut butter buttercream confection — at the Contenti Cupcakes truck.
Ziggy Marley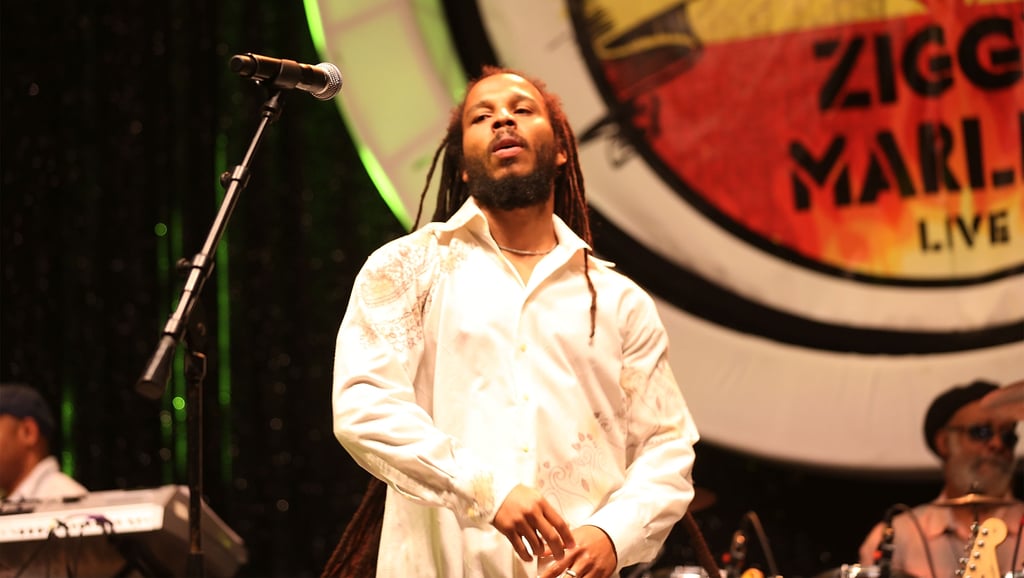 Ziggy Marley — who was also promoting his new line of coconut oils — headlined Guy Fieri's Reggae Jam on Sunday evening.
Guy Fieri's Reggae Jam With Ziggy Marley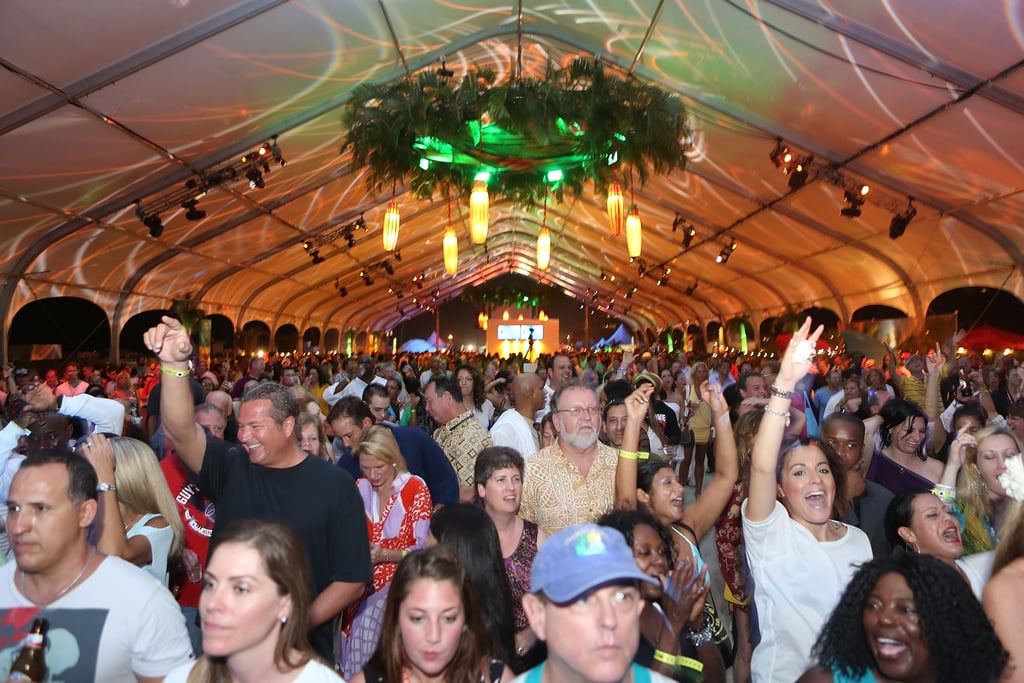 The crowd went wild at Guy Fieri's Reggae Jam with Ziggy Marley.
Landmarc
Landmarc's Big Smoke Burger was made with an all-beef patty, smoked aioli, pepper jack cheese, sweet pickles, and smoky slaw on a homemade jalapeño-sweet potato bun.
Shake Shack
Shake Shack won us over with its Heritage HAMburger, a hamburger with griddled heritage ham, American cheese, and pickled green tomatoes.