Anyone who ate and drank nonstop at this past weekend's South Beach Wine and Food Festival [1] can attest: after four days of eating and drinking, there are some hits that were so good that you could still find room in your stomach for more. Here are 17 things we ate that we won't forget.
Fried Plantain Cups With Conch Ceviche
We'd never had conch before, but if this conch, shrimp, and octopus ceviche was any indication, then it's delicious. The deep-fried plantain "bird's nest" that housed it was both crunchy and tender.
Photo: Nicole Perry
Shrimp and Grits
We could've gone back many times over to enjoy bowls of shrimp and grits in a creamy, unctuous, tasso-inflected sauce.
Photo: Nicole Perry
No. 209 Southsides
We declared the southsides at No. 209 gin to be perfect. They were sweet without being cloying and incredibly light, thanks to the mild flavor of the gin.
Photo: Nicole Perry
Ginger, Thyme, and Gin Cocktails
Our favorite drink of the entire festival came from Distillery No. 209: a pert, well-balanced combination of lemon, gin, thyme, and ginger. We took a few for the road to sip while watching Bobby Flay's demo [2].
Photo: Nicole Perry
Chai Stout
I wouldn't have expected my favorite beer to come from a culinary school, but the homebrewed chai sweet stout from the culinary students at Florida International University took me by surprise with its blend of wintry spices.
Photo: Susannah Chen
Oyster Shooters
It would've been easy to pass up oyster shooters at an outdoor food festival, but boy are we glad we didn't. We agreed that this oyster with tropical fruit juices was the best taste, hands down, in this year's Grand Tasting Village.
Photo: Susannah Chen
Ropa Vieja Tacos
Ropa vieja — which literally means "old clothes" — is a specialty of Miami, and this tomato-sauced shredded steak served with flour tortillas and three salsas was a splendid introduction to the dish's gutsy, bold flavor.
Photo: Nicole Perry
Kappa Pisco Cocktails
Pisco hasn't quite become an everyday bar essential, but these cocktails from Kappa Pisco made a good argument for why it should be. We were particularly sold on one made with black cherry syrup; it had just the right balance of tart, sweet, and bitter.
Photo: Nicole Perry
Pineapple Ice
Who knew fruit and ice could give fro-yo a run for its money? These simple parfaits of chopped pineapple in syrup, condensed milk, and finely shaved ice reminded us that sometimes less is more.
Photo: Nicole Perry
Botran Guatamelon Punch
If this punch — made with Botran Guatemalan rum, watermelon, tarragon, and soda water — is indicative of what people drink in Guatemala, then we need to make visiting a top priority!
Photo: Nicole Perry
Passionfruit Mousse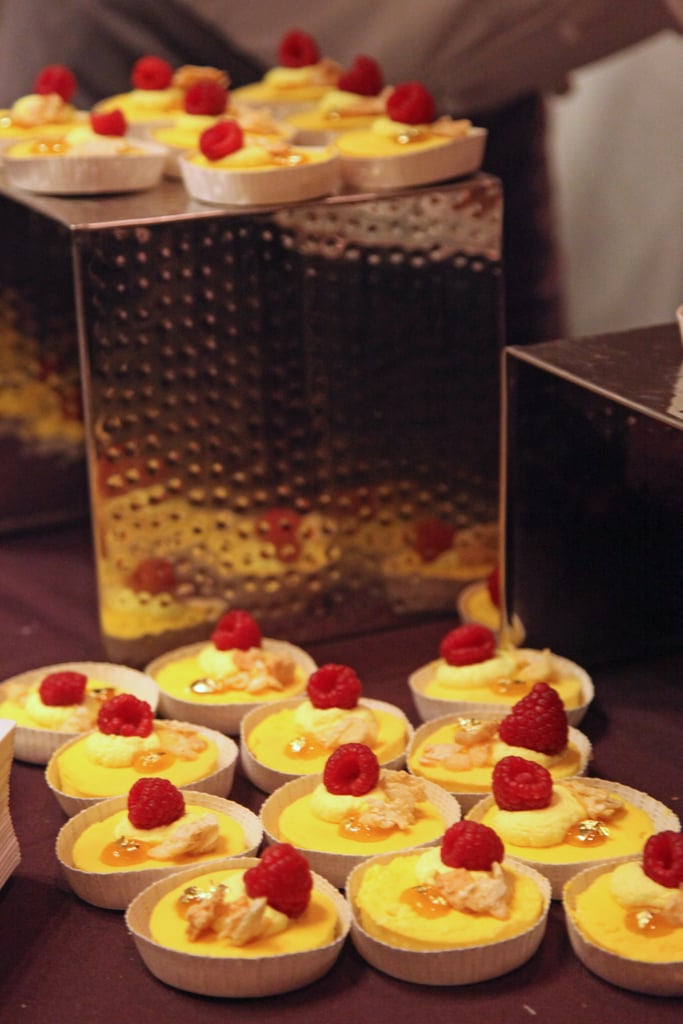 At the Best of the Best [3] event, we stumbled upon these passionfruit desserts from Fontainebleau chef Jordi Panisello and ate not one but two of them each. They were just that good.
Photo: Nicole Perry
Michael Symon's B Spot Burger
Don't let this messy-looking burger fool you: the picture belies a juicy, creamy, beefy burger patty laden with spicy cheese sauce. Even after eating a dozen burgers, we were still dreaming of another bite.
Photo: Nicole Perry
Shake Shack's Heritage HAMburger
What can't Shake Shack do right? Nothing, I decided, after trying my umpteenth Shake Shack burger creation and loving it as much as the first. This year's Shackburger — made with griddled heritage ham — was packed with umami and had just the right amount of creaminess thanks to that reliable American cheese.
Photo: Nicole Perry
The Butterfly Burger
New York chef Michael White's forthcoming restaurant, The Butterfly, will serve the same White Label burger that made him famous at Ai Fiori. Just like at previous Burger Bashes [4], this burger was really beefy, thanks to its blend of 25 percent dry-aged beef.
Photo: Nicole Perry
Gastropod's GastroPho
The lines at Trucks on Midtown's Tracks were among the shortest at the Gastropod Airstream, so we were shocked to discover how much we loved its offering. Gastropod's clever take on pho consisted of paper-thin slices of sous vide short ribs, fried beef tendon, pickled mung beans, Vietnamese herbs, and an oxtail broth. Unlike most experimental foods, it was spot-on in execution, with the same soul of a steaming bowl of pho.
Photo: Nicole Perry
Waffleosophy's Curry Beef Hong Kong Waffles
At first glance, this truck, which served red curry braised beef on a Hong Kong-style waffle with pickled diced pineapple, sounded like it had too much going on. But the sweet, salty, spiced flavors all worked together, as did the cushiony texture of the waffle with crisp cabbage slaw.
Photos: Nicole Perry, Susannah Chen
Potoffee
What's Potoffee, you might ask? It's the perfect marriage of potato chips and toffee. This salty-sweet crunchy combo was the last thing we ate at Trucks on Midtown's Tracks, and it remains ingrained in our snack food stomachs forever.
Photos: Nicole Perry
---
Links:
[1] http://www.yumsugar.com/sobewff
[2] http://www.yumsugar.com/Bobby-Flays-Burger-Tips-28283702
[3] http://2012.sobefest.com/e/fontainebleau_miami_beach_presents_wine_spectator_s_best_of_the_best_sponsored_by_bank_of_america-11
[4] http://www.yumsugar.com/Burgers-From-Rachael-Rays-Burger-Bash-2011-South-Beach-14563093?slide=5

---