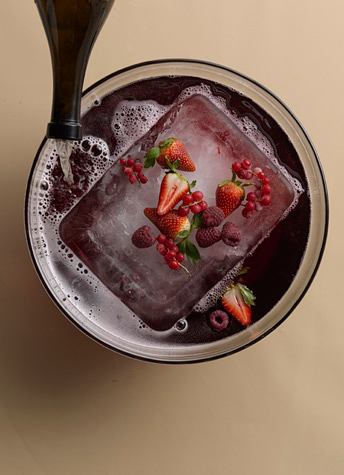 While some people believe that punches, especially the sparkling sort, should only be consumed around the Winter holidays, I happen to disagree. A beautiful and bubbly punch is too good to only enjoy once a year! I serve sangria, pitcher drinks, and other punches no matter what month it is. A
celebratory dinner
that honors a new season, like Spring, is the perfect occasion to bust out the punch bowl and ice block. This effervescent recipe combines red wine with brandy, Champagne, and fresh fruit. It calls for strawberries and raspberries, but I recommend using rhubarb instead of raspberries; they scream Spring. Want the easy recipe? Please read more.
From Gourmet
Aristocrat Sparkling Punch
Ingredients
1 cup cube sugar
1 quart of sparkling water
1 bottle Burgundy
4 ounces brandy
1 ice block
2 bottles of Champagne
seasonal fruit, for garnish
Directions
Dissolve sugar cubes in 1 cup—from a quart—of sparkling water, and pour into a punch bowl.
Add the Burgundy and brandy, stirring well. Place a block of ice in the bowl, and pour in Champagne and the rest of the sparkling water.
Garnish the top of the ice block with strawberries or raspberries, or other fruit in season, and float thin slices of 2 oranges on the punch.
Serves 8-10.
Information
Category

Drinks, Cocktails