Sunday BBQ: Chicken Sausages With Grilled Onion Chowchow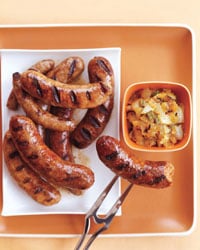 For a laid-back meal, try this rustic recipe for chicken sausages with grilled onion chowchow. Chowchow doesn't refer to the fluffy cute dog in this case, but rather a sweet-and-sour relish that's popular in Pennsylvania and many parts of the South.
The caraway seeds, turmeric, and mustard in the condiment are the perfect complement to the seasonings in the sausage. Should you have any relish left over, it will keep in your refrigerator for up to a week. To grill this casual dish,
.