Sunday BBQ: Grilled Salmon with Spicy Honey-Basil Sauce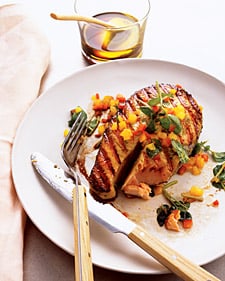 After pigging out on hot dogs, steak, and potato salad all weekend, tonight I'm in desperate need of something lighter like grilled fish.
This grilled salmon with spicy honey basil sauce sounds delicious! The fresh salsa is crunchy and cool and the salmon is moist and flaky.
The fish needs a couple of hours to marinate, so get a head start in the afternoon. Pair with a green salad or grilled vegetables for a complete meal. Take a look at the recipe and
.