Sunday Dinner: Vegetarian Chili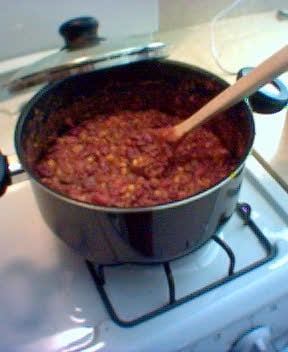 My friend Karen makes a mean chili, only there's one catch, it's vegetarian. The first time I tasted it, I was a bit dubious. Surely there's no way a meatless chili could be tasty. However, I was completely wrong. It was deliciously spiced, had a wonderful texture and bonus, I can invite both meat-loving and meat-hating friends over and know that everyone's going to be happy.
However, if you're scared of meatless chili and think there's no way you could possibly try it, just replace the fake meat with real meat. Remember to drain once browned.
To check out a great recipe for tonight's Sunday Dinner,