TV Dinners: Pan's Labyrinth - Caramelized Grapes
TV Dinners: Pan's Labyrinth - Caramelized Grapes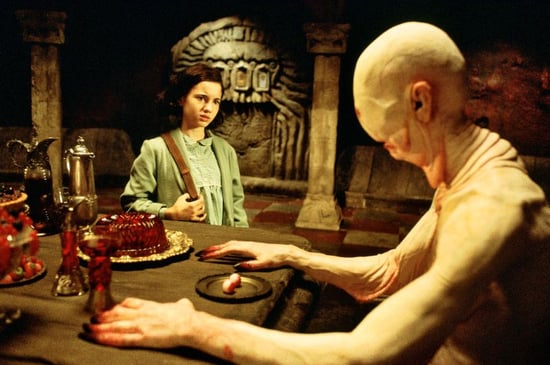 Unfortunately I don't get out of the kitchen often enough to see all of the Oscar nominated movies (be sure to fill in BuzzSugar's Oscar ballot). However I did manange to make some time to check out Pan's Labyrinth, the nominee for Best Art Direction and Best Cinematography. Although the movie is wonderfully beautiful, there is one scene that takes the cake (or should I say grape?). If you've seen the movie (warning mild spoilers ahead), you'll recall that Ofelia has to retrieve the dagger from the room with the monster and an amazing foodie spread (roasts, fresh fruits, wines, breads, etc) without eating a single morsel.
Unfortunately, our lovely heroine falls victim to the offerings and ends up chomping down on some particularly huge red globe grapes. During this scene I found myself yelling No! Don't eat anything!! However, we all know that I would probably do the same.
Lucky for me, I can chow down on grapes anytime and do not have to worry about some freaky hand-eye monster chasing me down. And since this is the case, I've decided to try this simple recipe for Brie en Croute with Caramelized Grapes. To check out a delicious recipe using luscious red globe grapes, as well as see a film clip of the entire Pan's Labyrinth feast scene,
Here's the scene where Ofelia just can't seem to resist the delicious feast. Just a bit of a warning: this scene is almost seven minutes long and is a bit creepy.
and now for a much nicer presentation of grapes: