Question: What happens when the small plates phenomenon catches on across America? Answer: The craze extends far beyond the reach of Spanish tapas restaurants, and into national chains like California Pizza Kitchen. This month, the casual dining spot unveiled a new menu, Small Cravings [1], with seven modestly sized (and priced) snacks to choose from. Anywhere from $4.50 to $7 can get you a moderate portion of buffalo chicken, fried artichoke hearts, a wedge salad, and ravioli. But how did they fare? We put them to the test. Read on for our favorites.
Sweet Corn Tamale Ravioli
We started with the hot dishes while they were still fresh, and this was the first. Four half-moons of ravioli filled with poblanos and cheese, tossed in a roasted pepper cream sauce with white corn and cilantro. It tastes exactly as the name would suggest: like a ravioli stuffed with a corn tamale filling. While the dish is actually pretty good, we couldn't help but question the use of corn, which is completely out of season right now.
Buffalo Chicken
We'll never say no to spicy buffalo chicken, but this CPK menu addition is about 10 times too salty. We liked the eating ease of petite-sized nuggets, which were tender on the inside, but we wished the outside batter maintained its crunch. The blue cheese dressing served on the side had a nice flavor, but was simply too watery.
Asparagus and Arugula Salad
A medley of arugula, asparagus, and sun-dried tomatoes looked innocent enough, but we were left disappointed by its generic flavor profile. Considering it takes about 3.5 seconds to shave Parmesan, we were irked by the fact that we could taste that the cheese had been shaved hours, possibly days, before. Similarly, the lemon-herb vinaigrette included no discernible fresh herbs.
Mediterranean Plate
Tuscan white bean hummus, feta cheese, a chopped Greek salad, and pizza-pita bread came together in a quaint Mediterranean platter. While we went back and forth on the pita triangles (were they doughy, or flavorful?), we did agree that this is one solid sampler. The garlicky bean purée is addictive, and the cucumber, red onion, tomato, and kalamata salad satisfyingly crunchy.
Crispy Artichoke Hearts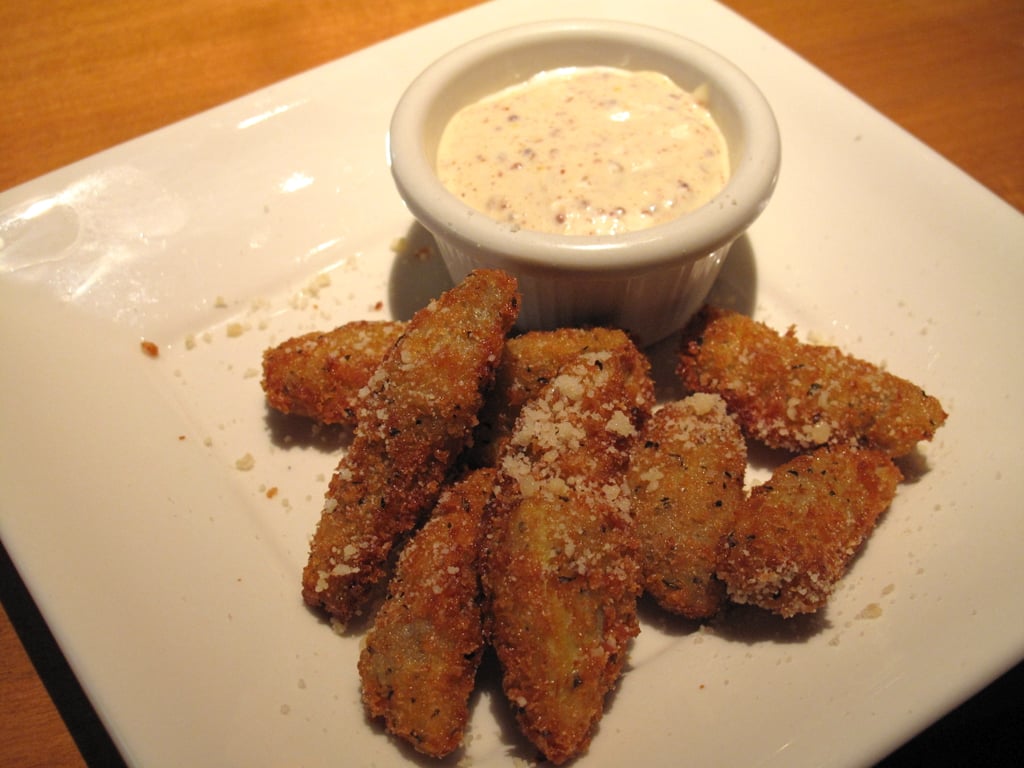 Quartered artichoke hearts come breaded with Japanese panko, deep-fried, sprinkled with Parmesan, and served alongside a remoulade sauce. But even the warm temperature and crispy texture couldn't conceal the concept's underwhelming blandness; the artichokes were in dire need of seasoning and general flavor. The "remoulade" was far from authentic. It tasted like a basic blend of mayonnaise and grainy mustard.
White Corn Guacamole and Chips
Nobody can deny the universal appeal of guacamole and chips — unless the guacamole's been studded with white corn, black beans, jicama, green onions, and red bell pepper. Far too many elements added a sweetness and texture that we didn't desire. The biggest blunder? The blue- and white-corn chips that had a quality of day-old staleness.
Wedge Salad
The dish that was most deserving of its enticing name turned out to be the iceberg wedge salad. Sometimes you just want a smaller-sized salad, and this was the perfect amount. A quarter of iceberg was topped with bits of crispy bacon, chopped egg, and tomato, then drizzled with the same blue cheese dressing served alongside the Buffalo Chicken. Here, the dressing worked much better, tying together all the components to make a salad that's cool, crisp, and refreshing — the way a wedge salad should be.
Wine Cravings Half Glasses
CPK's Small Cravings menu included a section called "Wine Cravings," which offers half-pours of three different whites and three different reds. The wine wasn't top-notch, but the half-sized glasses were very generous pours, making them a solid happy hour value.