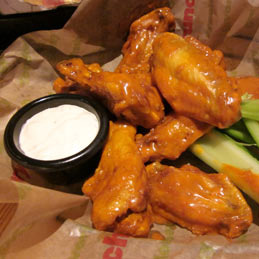 Ever wanted a recommendation within a chain restaurant? Well, with its new Best of the Menu series,
Slashfood
(and sister site
KitchenDaily
) are hoping to heed the consumer call. First off: the appetizers on the menu at nationwide chain Applebee's.
To find out how the starter portion of the menu fared, Slashfood sampled 13 appetizers from a local Applebee's, from Dynamite Shrimp to Potato Twisters and Queso Blanc. Which offerings made the top — and the bottom — of the list? Head over to Slashfood for the full story.