Taste Testing Stonewall Kitchen's Chocolate Doughnut Mix
Taste Test: Stonewall Kitchen Chocolate Doughnut Mix
Like us on Facebook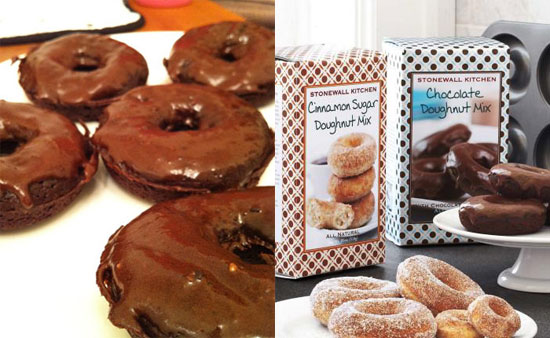 I'll admit I'm a huge fan of doughnuts. I'll also admit the idea of making the delicious fried dough is a little intimidating. Enter, Stonewall Kitchen Chocolate Doughnut Mix and Wilton Doughnut Pan. The boxed mix was a piece of cake (pun intended) to make, and baking them in the doughnut pan meant less mess and less fat than the frying method. (Although frying is still the best tasting method, in my opinion.)

The sole ingredients for the batter and frosting were milk, butter, and an egg. The only tricky part was spooning the extremely thick and goopy batter into the doughnut pan, but I got the hang of it by the second batch.

After about 12 minutes in the oven, I simply turned the pan over onto a baking rack, dipped the rings in frosting, and enjoyed the very moist, super rich, and almost brownie-like chocolate doughnuts. While they are no substitute for the real deal, they were easy and tasty enough to make again — I can't wait to try the cinnamon sugar doughnut mix! Have you tried any good doughnut mixes?