Savory Madeleines
From Martha Stewart [8]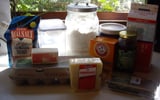 Ingredients
8 tablespoons (1 stick) unsalted butter
2 cups all-purpose flour
1 cup cornmeal
1/4 cup sugar
2 teaspoons baking soda
2 teaspoons salt
4 large eggs
2 cups whole milk
3 1/2 tablespoons finely chopped fresh sage
1/2 cup finely chopped Kalamata pitted olives
1/2 cup shredded Gruyére cheese
Olive Oil or Canola Spray for greasing pans
Directions
Preheat oven to 350°F. Grease madeleine pans.
Melt butter in a small saucepan over medium heat until lightly browned, about 2 minutes. Let cool slightly.
Whisk flour, cornmeal, sugar, baking soda, and salt in a medium bowl. Whisk in eggs, milk, and browned butter until smooth. Divide batter among 3 bowls.
To create 3 different flavors, fold 1 filling into each bowl of batter (sage, olives, and Gruyére cheese). Divide batter among pans, filling cups 3/4 full.
Bake until golden brown and firm, 8 to 10 minutes. Immediately unmold, and let cool completely on wire racks.
Makes 42 Madelines.
Information
Category

Breads, Biscuits