'Tis the Season of Giving!
'Tis the Season of Giving!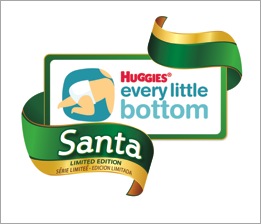 It's never too early to get your kiddo in on the charitable action! Introducing the Limited Edition Huggies® Santa Diaper (who knew giving could be so adorable?)! When you "Dress 'Em Like Claus For a Cause" in the Huggies Santa Diapers, Huggies will help diaper a baby in need by donating to Every Little Bottom. It's a win-win. In 2011, Huggies' Every Little Bottom has committed to donating more than 22.5 million diapers, teaching your tiny tot the reason for the season, even before they can spell Santa.
The stuffing in the stocking? You can spread even more holiday cheer by uploading a photo of your little one in their Santa Diapers at AmericanGreetings.com and creating a one-of-a-kind holiday ecard. For every ecard created or shared, Huggies' Every Little Bottom will donate to a baby in need!