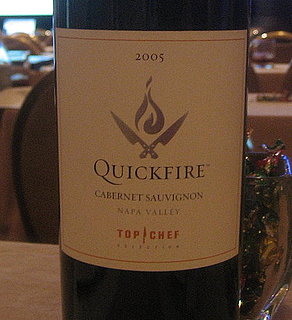 Today at the
Television Critics Association
's convention in Los Angeles, the people behind
Top Chef
revealed a new
TC
branded product, wine. The collection, which was created in partnership with
Rutherford Hill
winery, is expected to be released soon, but won't make its debut on the show this season.
Molly
and
BuzzSugar
were lucky enough to taste the wine last night. According to Molly, the Cabernet Sauvignon is smooth, very easy to drink, and slightly spicy. Padma Lakshmi hosted the Vegas season launch luncheon and the quickfire that followed the meal earlier today.
The challenge pitted three of the upcoming Top Chef Las Vegas cheftestants against accomplished competitors Fabio Viviani, Antonia Lofaso, and Ryan Scott. With so many Top Chef products — from knives to t-shirts to a cookbook — the introduction of a wine is not surprising. After all, if the Food Network's Iron Chef can have its own wine label, why not market one for TC? Are you interested in tasting this wine?