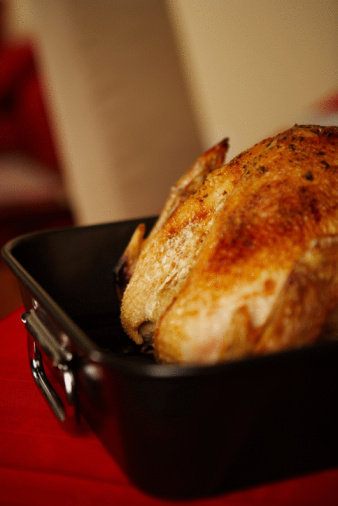 There's a first time for everything, and for a few brave souls out there, 2011 will be the first Thanksgiving in which you claim responsibility for the turkey. If it's your turn to cook the big bird this year, and you're worried about how it's going to turn out, fear not: we've got answers to every question you may have, whether it's about
thawing
,
pan size
,
cooking temperature
, or
brining
.
Now that you're fully equipped with turkey cooking knowledge, it's time to ensure you're completely equipped with the right cooking utensils. When we spoke with the experts at Butterball, they emphasized that, if you're going to be presenting the star of the show and you want to do it right, there are six essential kitchen tools you'll need.
A shallow open pan as a roasting vehicle for the turkey.
A roasting rack to place the turkey on, inside the pan. This will lift your turkey away from the direct heat of the pan, and also hold the bird away from the drippings.
Aluminum foil for tenting the turkey. If you're cooking the turkey uncovered, you'll want to place a piece of foil over the top of the breast and drumsticks when the turkey is two-thirds done to prevent the meat from overcooking and drying out.
Find out what the three other must-have tools are when you keep reading.
A meat thermometer to determine whether or not the turkey has reached its optimal cooking temperature.
Hot pads or oven mitts to take that turkey out of the oven.
A sharp knife for carving the turkey. An electric carving knife is helpful, but if you don't have one, use a sharp, thin-bladed knife, which will work just as well.
Are you in charge of the turkey this year? If so, what equipment do you have to have to get the job done right?