Turkey Cranberry Wreath Recipe | Video
Deck the Halls With This Turkey Cranberry Wreath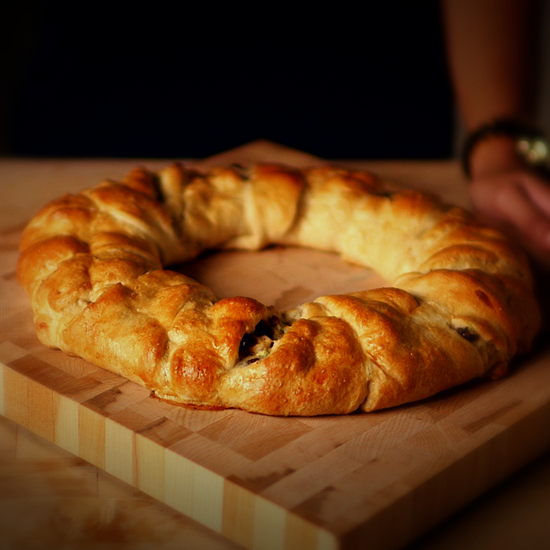 Question: what cheery holiday dish also happens to make use of last night's leftovers? Answer: a turkey and cranberry wreath! This baked number is not only the perfect showstopper to bring to a Christmas party, but it also comes together in well under an hour. It's our favorite way to use leftover turkey (or chicken) without it feeling like leftovers. Watch the video to learn how, then print out the recipe.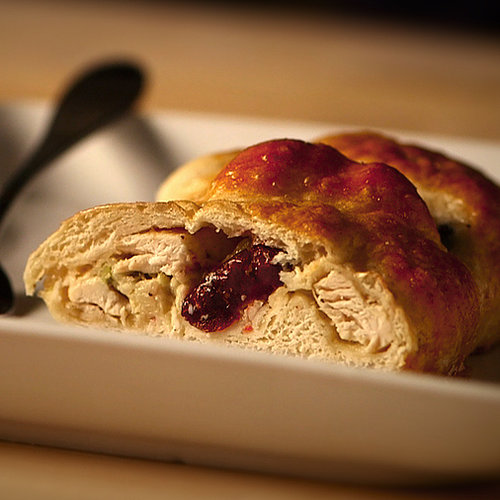 From Brandi Milloy, POPSUGAR Food
Turkey Cranberry Wreath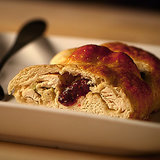 Ingredients
2 8-ounce packages refrigerated crescent dinner rolls
2 cups cooked turkey, cooked
1 1/4 cups swiss cheese, shredded
1/2 cup celery, sliced
1/2 cup dried sweetened cranberries
1/2 cup mayonnaise
2 tablespoons honey Dijon mustard
1/2 teaspoon black pepper
1 egg white, lightly beaten
Directions
Preheat oven to 375ºF. In bowl, combine turkey, 1 cup of the cheese, celery, cranberries, mayonnaise, mustard, and black pepper. Mix well. Set aside.
Unroll the 2 packages of crescent rolls. With wide end of triangles toward the center, arrange 8 triangles in a circle on a pizza pan/stone. Next, form an inner circle of dough by matching the wide ends of the remaining 8 triangles to the wide end of each outer triangle. Press seams together with fingers.
Scoop filling over the dough, around in a wreath shape.
Beginning with the last triangle placed in center of pizza pan, bring point of triangle straight across filling. Next, bring point of the opposite outside triangle diagonally across filling, covering point of previous triangle. Continue to overlap crescent triangles by tucking the points under the wreath.
Brush top of wreath with egg white (helps give it a glossy color and extra crispness), and bake 25-30 minutes or until golden brown. Enjoy!
Information
Category

Main Dishes, Poultry

Cuisine

North American

Yield

Serves 6

Cook Time

1 hour