Without a doubt, Chef Tyler Florence is one of the coolest Food Network stars on the scene. There's something so tough and cool about Tyler, and it's coupled with that teddy-bear charm that's hard to resist! Best of all, his flavorful recipes stand up to the hype. Check out eight of the delicious recipes we've re-created and loved from Tyler's kitchen over the years.
Source [1]
Steamed Artichokes
Steaming [2] is a simple, clean way to enjoy artichokes.
Spicy Chicken Broth
Chef Florence is one of the kings of elevated comfort food. Case in point: his spicy chicken broth [3] with avocado, lime, and cilantro.
Chicken Meatball and Pasta Soup
Chicken meatball and tortellini soup [4] is a filling and delicious soup for Fall weather.
Mother Hen Toast
This beautiful recipe for gallina de madre, or mother hen toast [5], is topped off with a decadent Manchego bechamel sauce.
Fish-Taco Bites
Fish-taco bite nachos [6] are almost too pretty to eat! (Almost.)
Nicoise Salad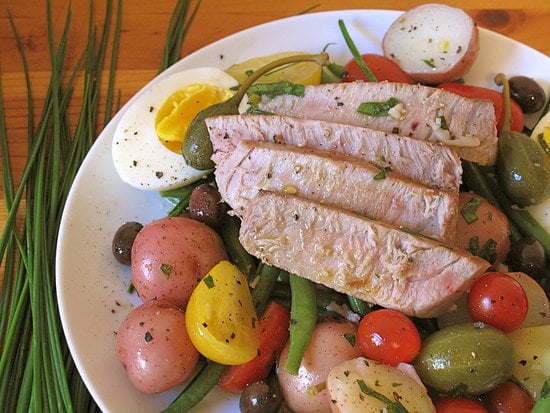 Bring a bite of French countryside to your kitchen with Tyler's salade Niçoise [7].
Sweet Potatoes With Honey
These simple sweet potatoes with honey [8] let the key ingredients shine on their own.
Tomatillo Enchiladas
Looking for a great way to make the most of a roast chicken? Delicious tomatillo enchiladas [9] are a great option.