With holiday party season upon us, it's time to dig deep and find some killer appetizers to serve up. Even if you're an avid carnivore, it's nice to include at least one meat-free option, as its likely some of your guests are vegetarian, or even vegan. Thankfully, we've got an array of options so superb that no one will miss out on the meat at all.
— Additional reporting by Susannah Chen and Hilary White
Warm Honey-Drizzled Feta With Pine Nuts
Part cheese plate, part dessert, this easy-to-make appetizer [1] is salty, sweet, crunchy, and all-around delicious.
Photo: Nicole Perry
Vegetarian Stuffed Mushrooms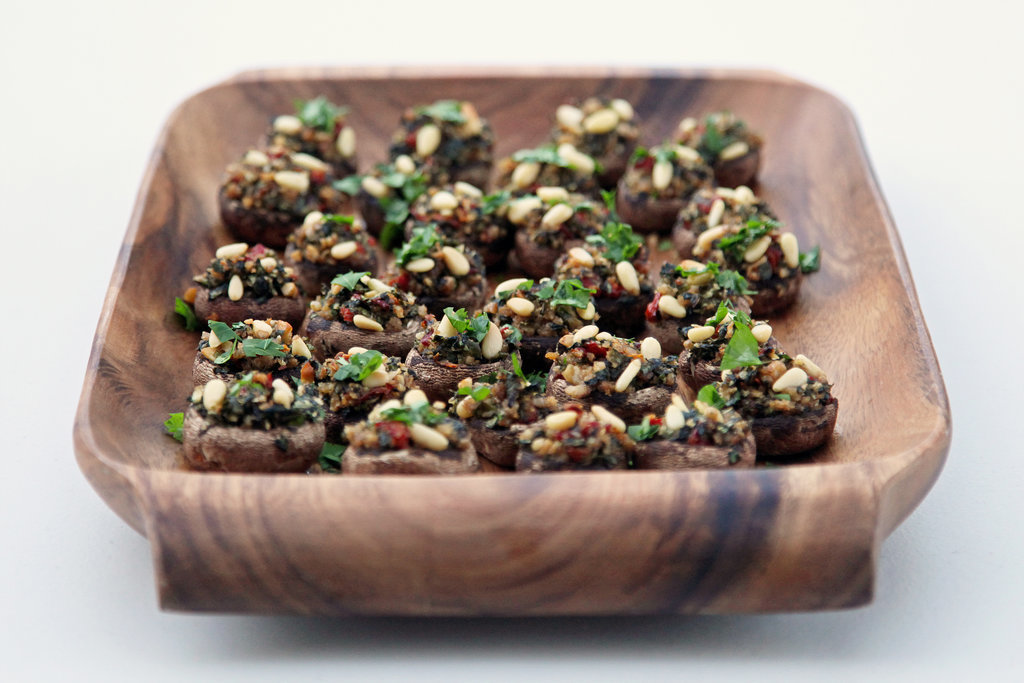 For a retro nibble with a modern spin, serve stuffed mushrooms [2] filled with arugula, walnuts, and sun-dried tomatoes.
Photo: Nicole Perry
Sautéed Kale and Burrata Bruschetta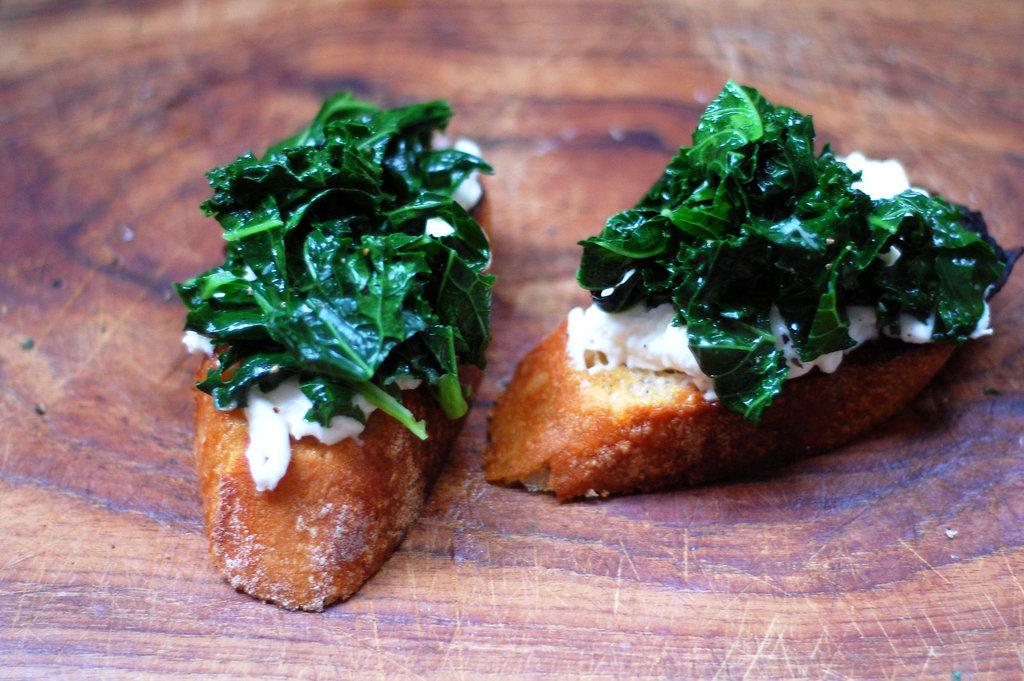 Make a healthy, stand-out Winter bruschetta [3] by employing the complementary textures of creamy, salty burrata and freshly sautéed curly kale.
Photo: Camilla Salem
Sun-Dried Tomato Hummus
Channel the Meditteranean with a dish of sun-dried tomato hummus [4] served with pita chips and crudité.
Source: The Two Bite Club [5]
Breadsticks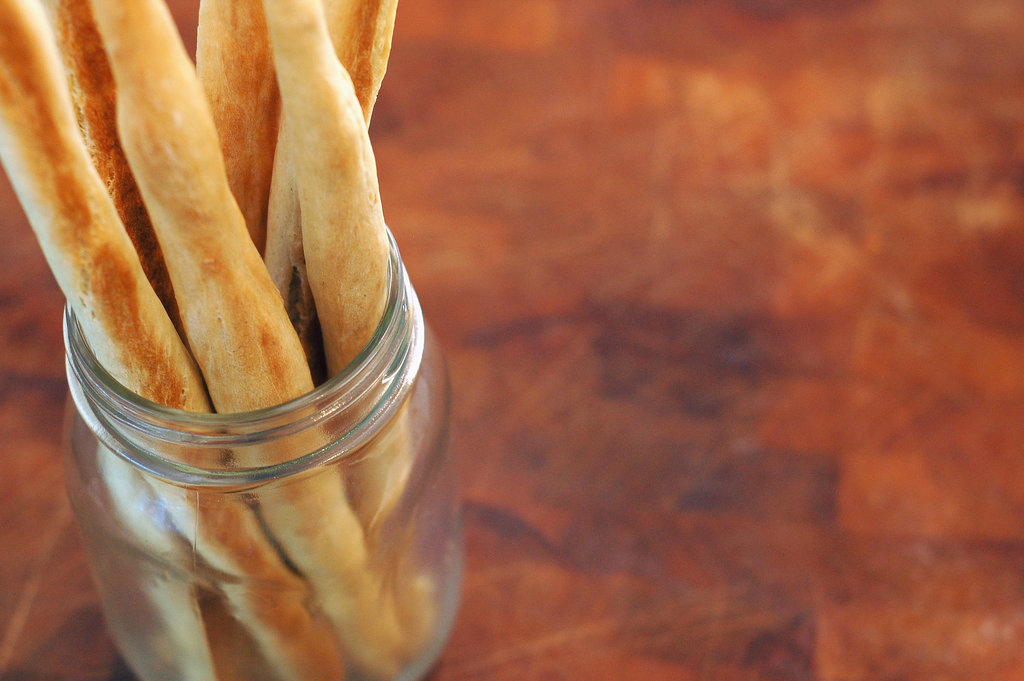 Whip up your own batch of Italian grissini [6], then set them out for easy snacking.
Photo: Camilla Salem
Red Lentil Terrine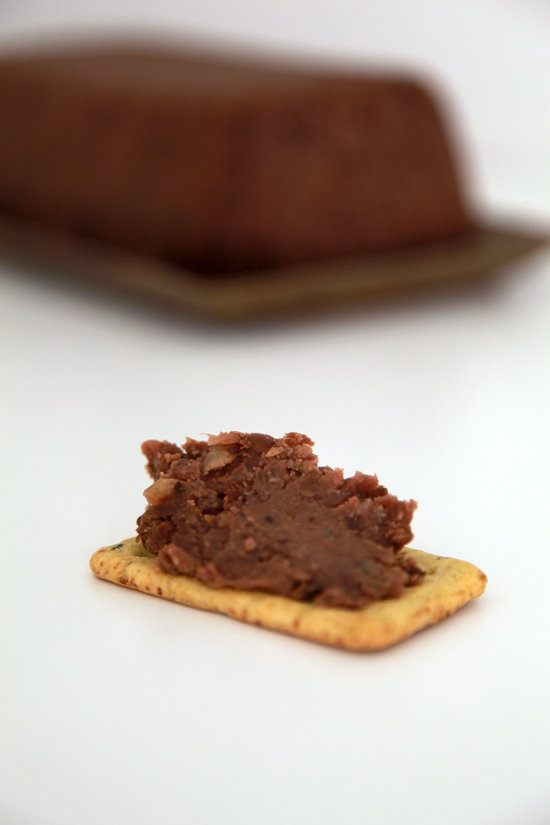 For a nontraditional and exceptionally delicious take on pâté (hold the liver) try a vegan red lentil terrine [7].
Photo: Anna Monette Roberts
Gruyère Gougères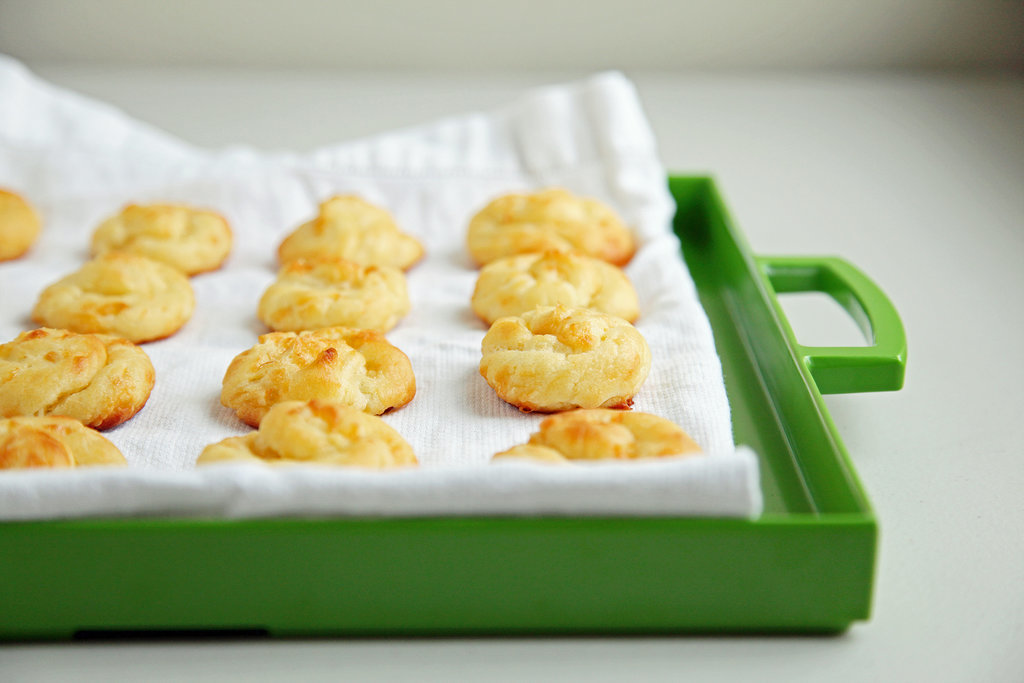 Gruyère gougères [8] may sound and taste fancy, but they're surprisingly easy to make. Also note that few foods pair better with a glass of festive Champagne than these cheese puffs.
Photo: Nicole Perry
Rosemary-Sesame Pecans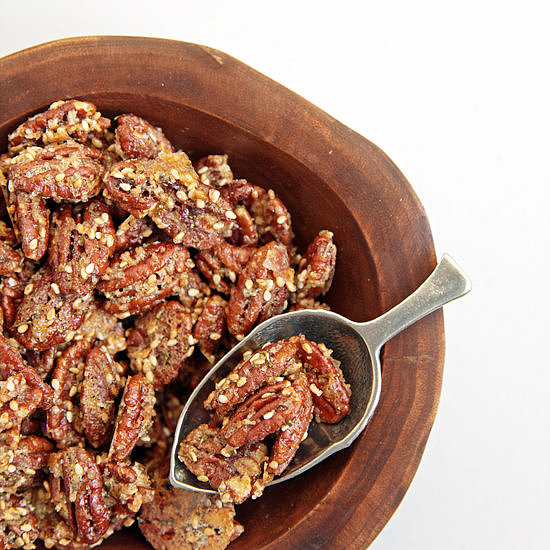 Consider this rosemary nut snack [9] your "back pocket appetizer" — it's an easy dish to pull out whenever you find yourself faced with last-minute entertaining.
Photo: Nicole Perry
Baked Goat Cheese
Meet your three-ingredient fix for last-minute entertaining: shockingly simple to make baked goat cheese [10].
Photo: Katie Sweeney
Brie and Fig Preserves Pie Bites
Sweet, salty, and creamy all at once, these pie bites stuffed with fig preserves and brie [11] are sure to be a big hit among vegetarians and carnivores alike.
Photo: Anna Monette Roberts
Hummus Toast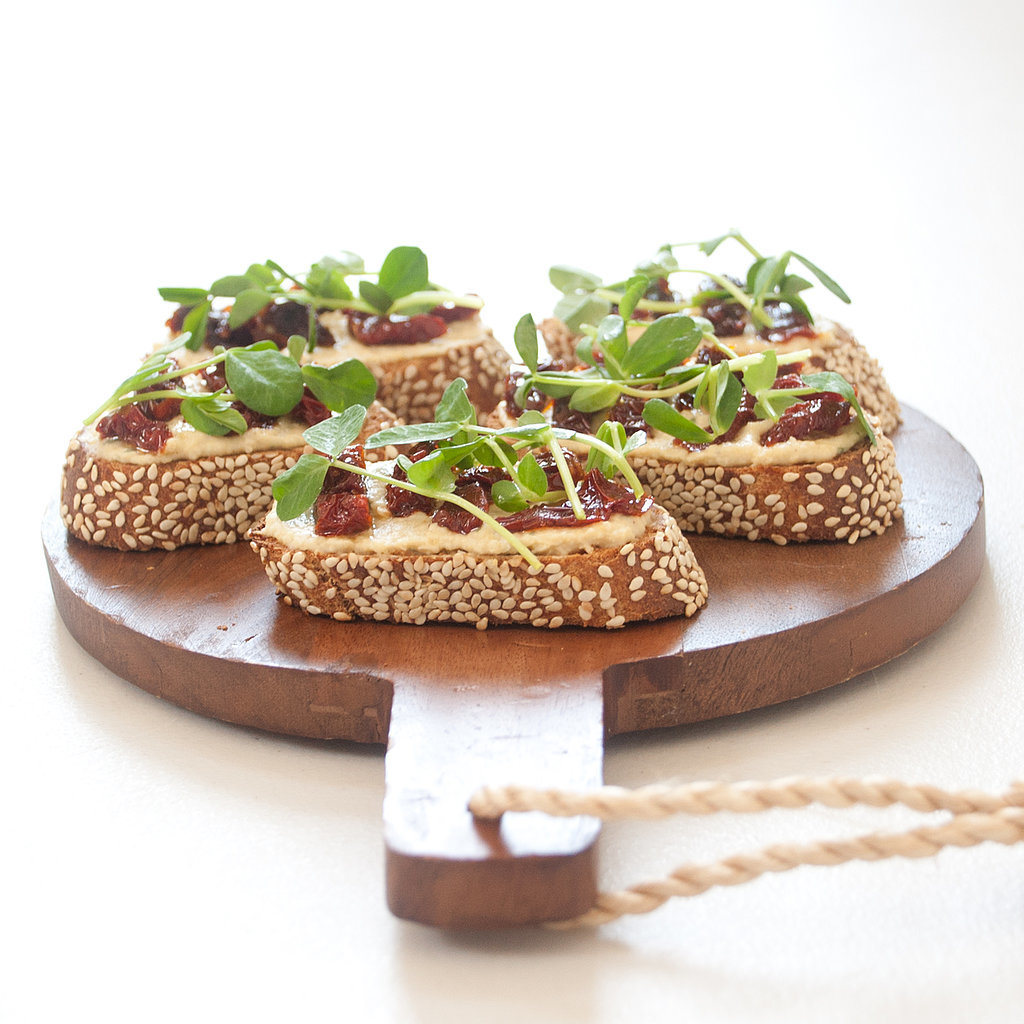 Vegans and vegetarians will love these hearty crostini toasts topped with hummus, sundried tomatoes, and pea shoots. [12]
Photo: Nicole Perry
Spicy Marinated Olives
These spicy marinated olives [13] taste even better when made ahead of time.
Photo: Camilla Salem
Parmesan Fricos
Ever wish you could set out a wedge of parmesan cheese, and leave it at that? Parmesan fricos [14], while far more elegant in presentation and flavor, are only minimally more involved to prepare.
Photo: Nicole Perry
Mediterranean Layered Dip
Like a Mediterranean take on the Southwestern star, 7-layer dip, this hummus-based feast for the eyes [15] packs a variety of crave-worthy flavors into each and every bite.
Photo: Nicole Perry
Brie With Caramel and Sliced Almonds
Brie and caramel [16] make an unexpectedly addictive pairing.
Photo: Anna Monette Roberts
The Easiest Microwave Spinach Artichoke Dip We've Ever Made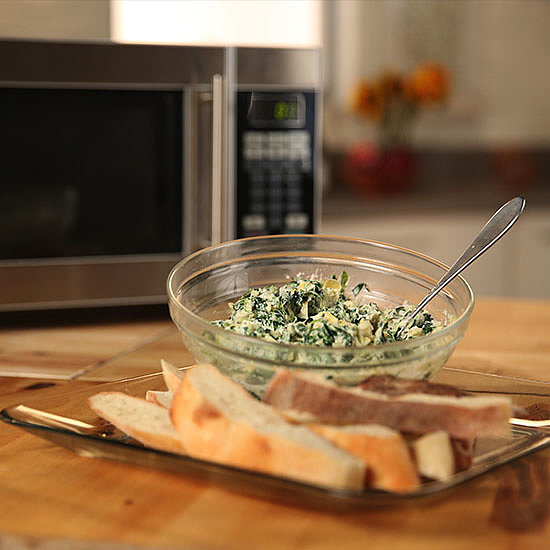 Yea, you read that right . . . This fast and easy take on spinach artichoke dip is made in the microwave! Watch the video to get the details, then print out the recipe [17].
Mediterranean-Spiced Roast Chickpeas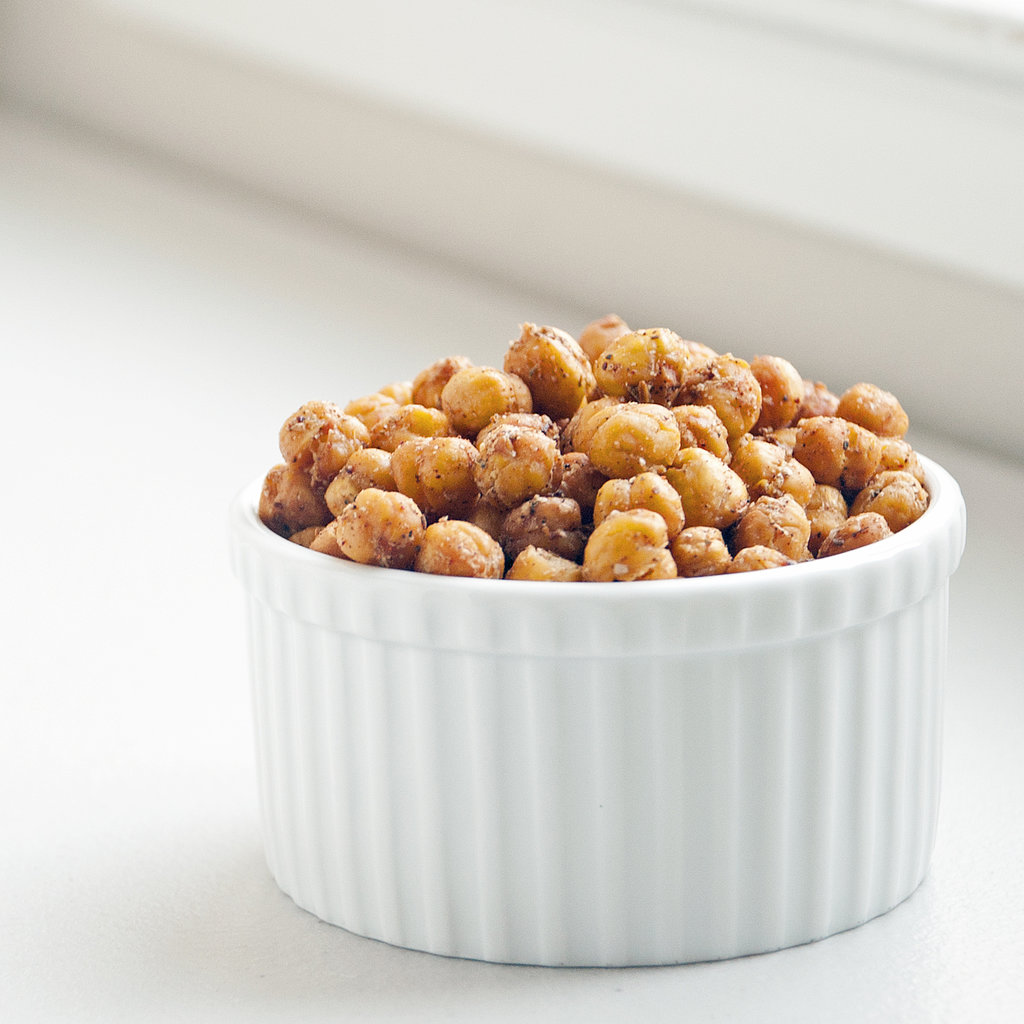 Satisfy the vegans (OK, everyone) on your guest list by setting out a bowl of crisp, Mediterranean-spiced roast chickpeas [18].
Photo: Nicole Perry
Zucchini Fries With Buttermilk Ranch Dip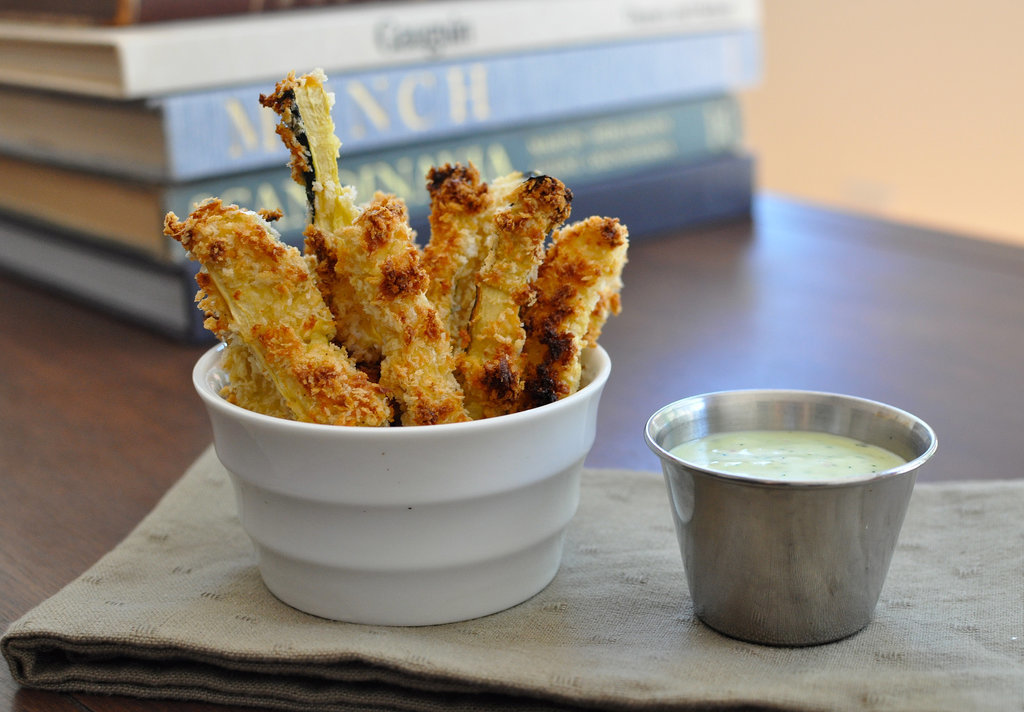 Fries get a healthy makeover when zucchini becomes their base. These zucchini fries [19] are oven baked, with a light breading and a fresh buttermilk ranch dressing.
Photo: Lauren Hendrickson
Parmesan, Black Pepper, and Thyme Crackers
One-up the standard cheese plate spread by including savory shortbread-like crackers [20] that have the cheese inside of them.
Photo: Nicole Perry
Mushroom and Brie Bruschetta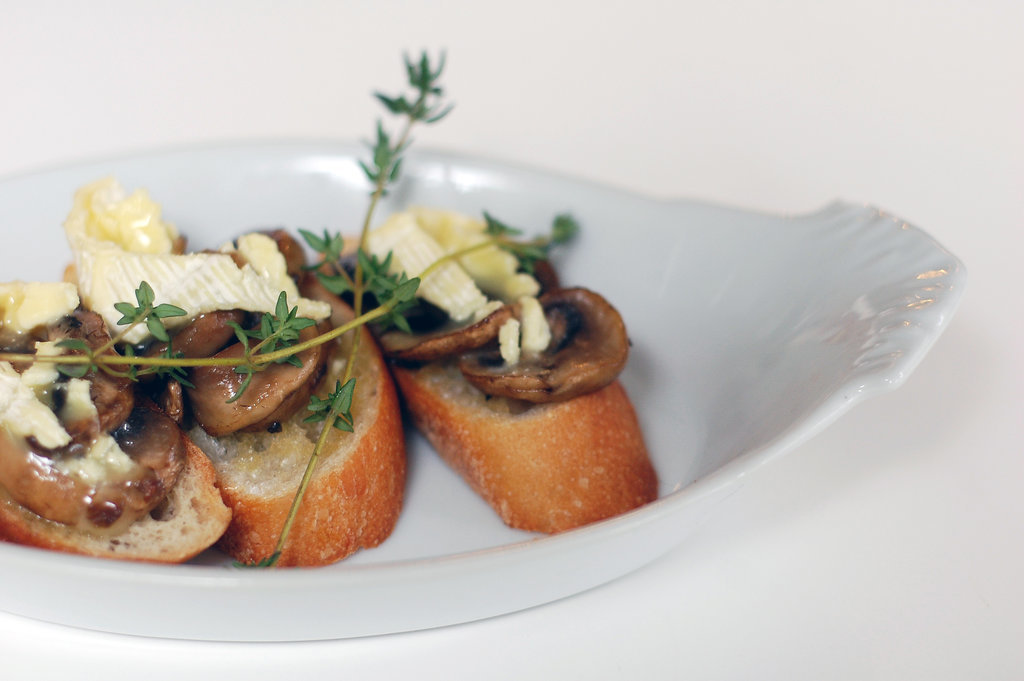 For an elegant and sophisticated appetizer, try mushroom and brie bruschetta. [21] Lots of fresh thyme is the secret to this dish.
Photo: Camilla Salem
Spicy Pickled Green Beans
Pickled vegetables are a great way to prep the palate before a meal, and these spicy pickled green beans have extra pep [22].
Photo: Anna Monette Roberts
Mushroom and Goat Cheese Queso
Let's face it, people love queso. This mushroom and goat cheese queso [23] is sure to take your meal to a whole new level.
Photo: Lauren Hendrickson
Greek Salad Bites
Everything — even these light Greek salad bites [24] — tastes better on a stick!
Photo: Lauren Hendrickson
Truffle and Parmesan Popcorn
A splash of truffle oil and a sprinkling of nutty parmesan [25] cheese elevate popcorn from everyday to party-worthy.
Photo: Sarah Lipoff
Apricot, Goat Cheese, and Almond Bites
Like a cheese plate in finger-food form, these jewel-like apricot, goat cheese, and almond bites [26] satisfy.
Photo: Nicole Perry
Spanish Pizza With Swiss Chard and Walnuts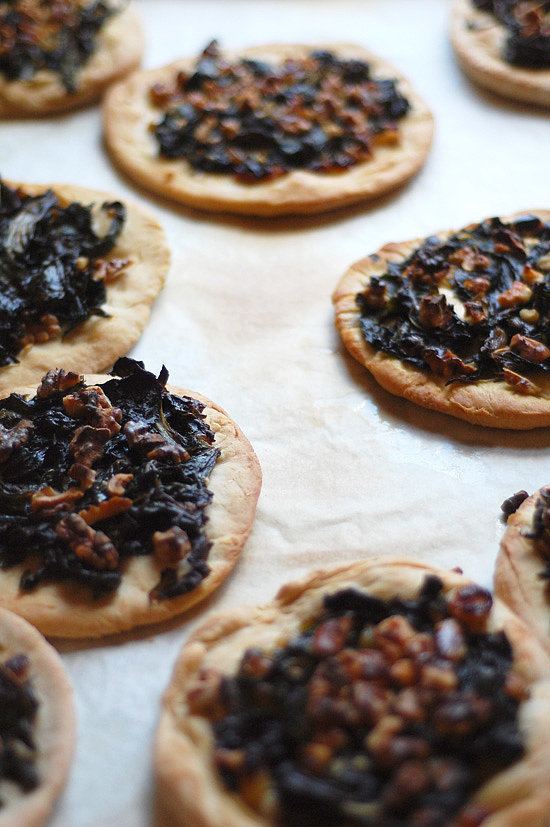 Spanish coca topped with swiss chard, walnuts, and raisins [27] is a simple and straightforward appetizer that's sure to be a crowd-pleaser.
Photo: Camilla Salem
Watermelon Mango Salsa
Take tortilla chips on a tropical vacation by serving them with a dish of zesty watermelon, mango, and cucumber salsa [28].
Photo: Nicole Perry
Roasted Figs With Goat Cheese
All that separates you from these elegant appetizers [29] is 20 minutes.
Photo: Nicole Perry
White Bean and Rosemary Dip
White bean dip [30] with rosemary is the right blend of rusticity, wholesomeness, convenience, and, of course, deliciousness.
Photo: Susannah Chen
Crostini With Orange, Pear, and Cranberry Mostarda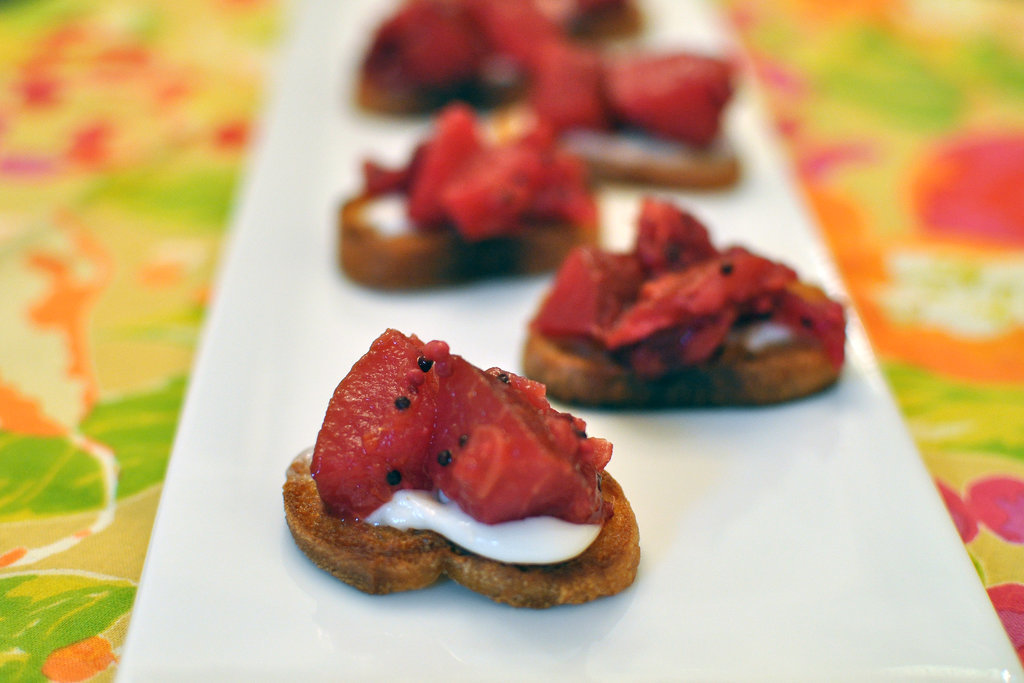 Mostarda [31], a traditional Italian condiment that combines sweet-cooked fruit with savory mustard, is a creative topping for a triple-cream cheese.
Photo: Lauren Hendrickson
Pimento Cheese Fondue
This Southern-inspired pimento cheese dip [32] is basically a queso and fondue combo that raw veggies are just dying to dive in to.
Photo: Anna Monette Roberts
Burrata-Stuffed Squash Blossoms
Leave out olive tapenade and crostini, then let guests assemble their own burrata-filled squash blossoms [33].
Photo: Nicole Perry
Edamame Hummus
For a fresh, green take on the Middle Eastern classic, swap out blah-looking garbanzos for vibrant edamame and frozen peas [34].
Photo: Nancy Einhart
Grilled Brie with Cherry-Thyme Relish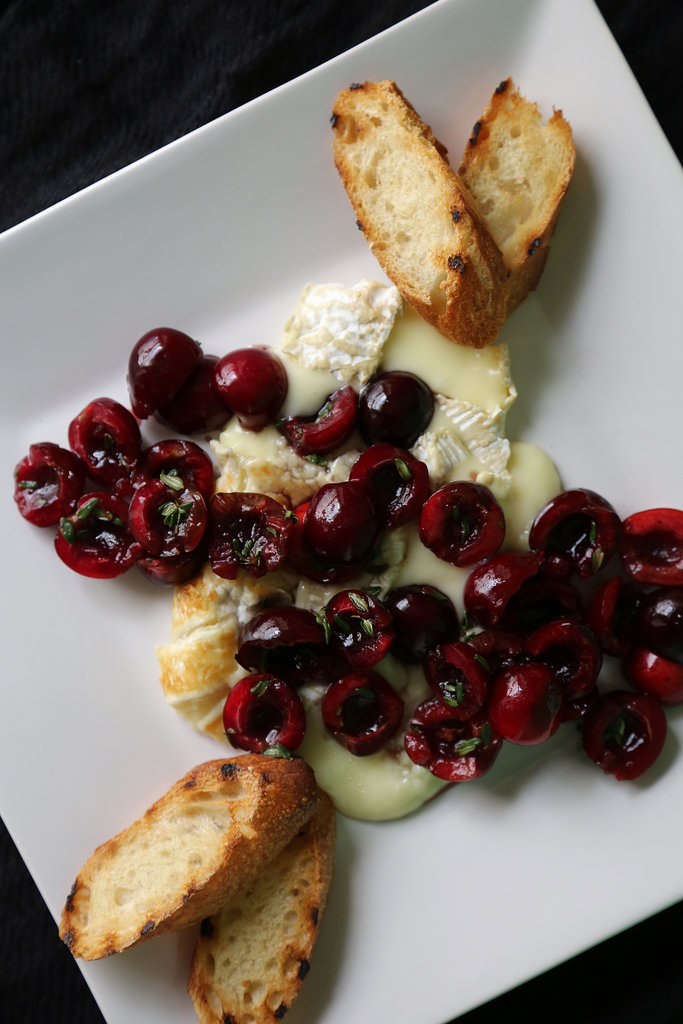 Baking brie isn't the only way to get it good and gooey. For a less-traditional spin, heat the triple-creme cheese over a grill's embers [35] and pair it with a heap of herb-flecked cherries.
Photo: Anna Monette Roberts
Pico de Gallo
If you've never made pico de gallo from scratch, there's no time like the present to master this classic salsa [36].
Photo: Katie Sweeney
Red Potatoes With Tomato-Avocado Salsa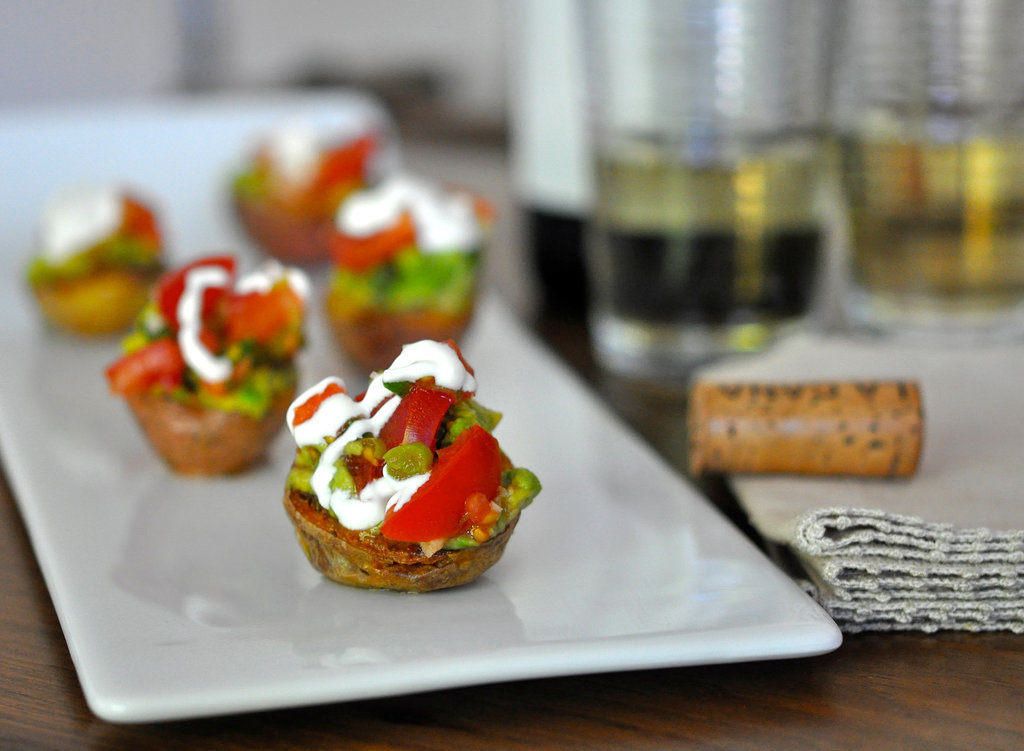 Roast red potatoes until crunchy and browned, then serve them with a dollop of fresh tomato-avocado salsa [37]. Skip the sour cream, and it's entirely vegan-friendly.
Photo: Lauren Hendrickson
Old Bay Hummus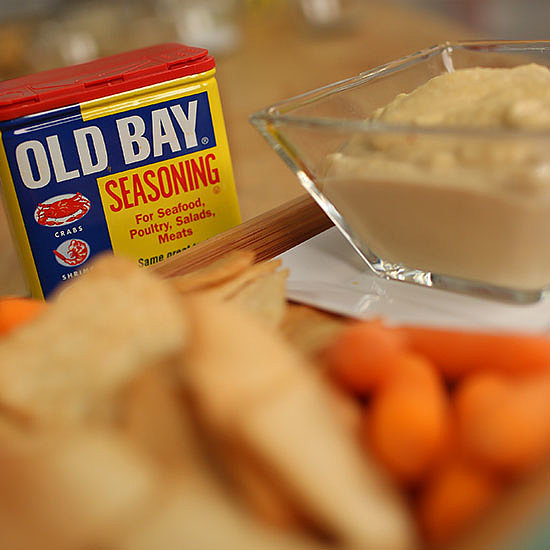 Hummus might not typically include a generous helping of Old Bay seasoning, but take one bite of this revamped take on the entertaining standard, and you may never look back. Watch the video to see how it's made, then print out the recipe [38].
Goat Cheese and Pistachio-Stuffed Dates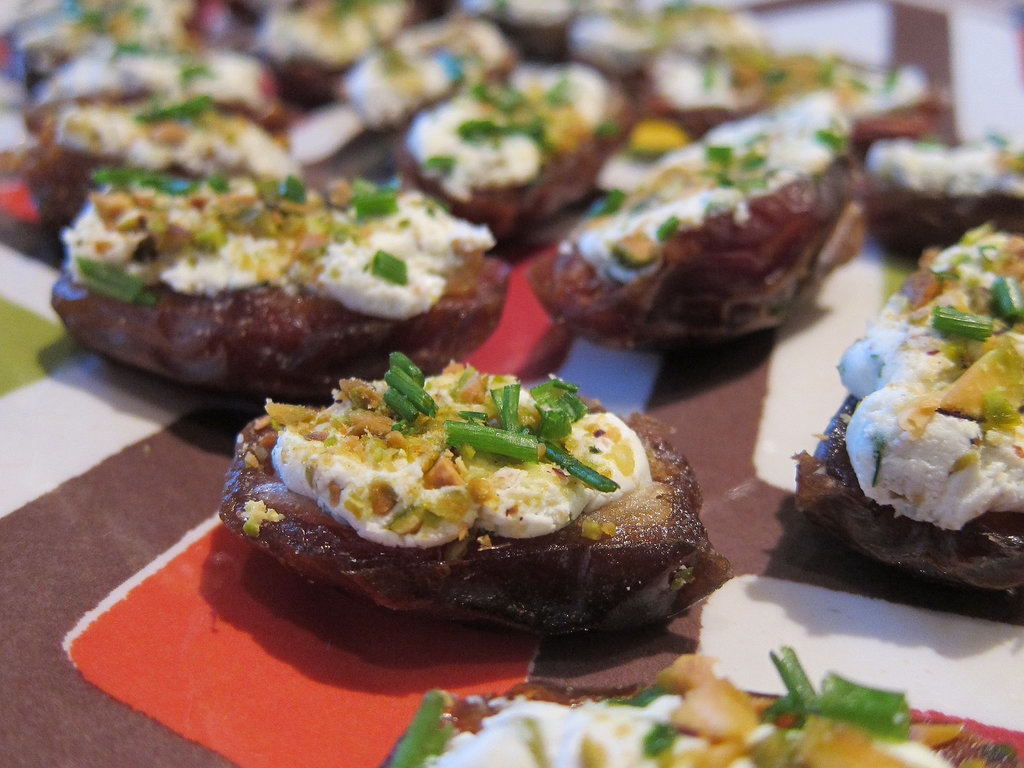 Goat cheese- and pistachio-stuffed dates [39] are a savory, vegetarian take on bacon-wrapped dates.
Photo: Nancy Einhart
Cheese Diablo Wafers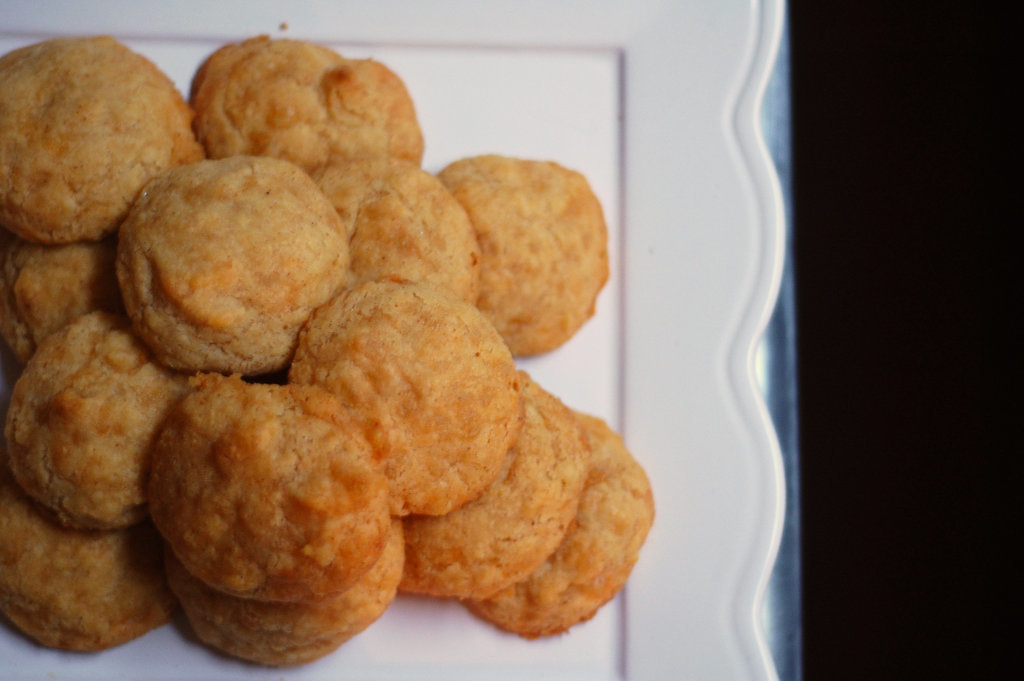 These spicy cheese wafers [40] are buttery and rich – the perfect way to start off any large meal.
Photo: Camilla Salem
Steamed Artichokes With Lemon-Pepper Butter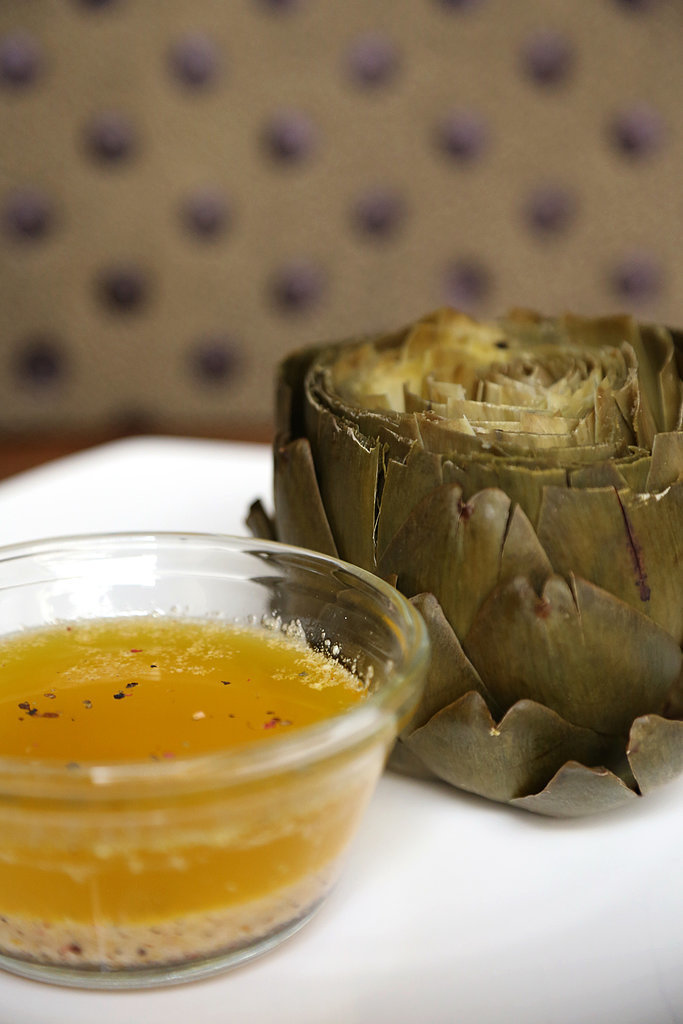 Limited prep is required when you pair steamed artichokes with a lemon-pepper butter [41] for dipping.
Photo: Anna Monette Roberts