Vegetarian Spicy Banh Mi Recipe
Fast & Easy Dinner: Spicy Banh Mi
Like us on Facebook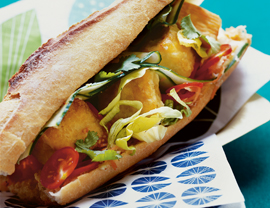 Traditionally, the classic Vietnamese sandwich that's known as banh mi has a pork filling. However, this clever update ditches the meat and replaces it with tofu, meaning the sandwich is vegetarian friendly. It's packed with tons of veggies and flavored with hot and soy sauces. It's a well-seasoned and provocative meal that's perfect for a night when you're on the go. It also doubles as a hearty lunch. Get the uncomplicated recipe when you

.


Ingredients
1/4 cup rice vinegar or apple cider vinegar
2 tsp. honey, agave nectar, or sugar
1/2–1 tsp. red pepper flakes
1/4 cup shredded daikon radish
1/4 cup shredded carrot
1 Vietnamese baguette or 1/2 French baguette, split in half lengthwise
1 Tbs. low-fat mayonnaise
1 tsp. red chile sauce, such as sriracha
1/4 tsp. tamari or low-sodium soy sauce
1/2 cup baked Asian-flavored tofu, thinly sliced, or stir-fried tofu cubes
2 6-inch strips cucumber
6 sprigs cilantro
6 cherry tomatoes, thinly sliced
4 lettuce leaves, torn
Directions
Combine vinegar, honey, and red pepper flakes in small bowl. Add daikon radish and carrot, and stir to mix. Let stand 15 to 30 minutes, stirring occasionally.
Preheat oven to 350°F. Place baguette on baking sheet, and crisp 5 minutes in oven. Cool 2 to 3 minutes.
Spread mayonnaise on both sides of bread. Sprinkle with red chile sauce and tamari. Fill with tofu, cucumber, and cilantro. Drain carrot-radish mixture, and spread on sandwich.
Top with tomatoes and lettuce, and season with salt and pepper, if desired. Press top half of baguette on sandwich, and slice sandwich in half.
Makes 1 sandwich.
Information
Category

Main Dishes, Sandwiches

Cuisine

Other Asian