Vegetarian Thanksgiving Menu and Recipes
Come Party With Me: Vegetarian Thanksgiving — Menu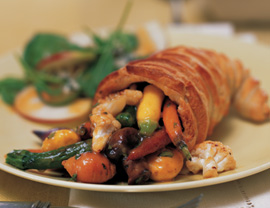 Since vegetables are the new meat, this year on Thanksgiving, why not serve an entirely meat-free meal?! The holiday can be just as delicious without the turkey. Start with an easy but luxurious appetizer: gorgonzola crostini drizzled with honey and sprinkled with chopped nuts. For the first course, offer a velvety, make-ahead pumpkin soup that's garnished with crunchy sweet potato chips and tangy sour cream.


Although there's no meat, the main course should still be a showstopper, so go all out with roasted vegetable cornucopias with homemade gravy. A tender green salad with champagne vinaigrette completes the meal. Get the recipes for this wonderful menu, after the jump.
Ingredients
2 medium onions, sliced
2 medium carrots, cut into 1/4-inch slices
1 tablespoon grated fresh ginger
1 tablespoon olive oil
3 cups water
1 14-ounce can vegetable broth
1 15-ounce can pumpkin
1/2 teaspoon salt
1/4 teaspoon ground black pepper
1/8 teaspoon ground nutmeg
1/2 cup dairy sour cream
Ground nutmeg
Purchased sweet potato chips (optional)
Directions
In a large saucepan, cook onion, carrot, and ginger in hot oil over medium heat, about 8 minutes or until vegetables are golden, stirring occasionally.
Stir in water, broth, pumpkin, salt, pepper, and the 1/8 teaspoon nutmeg. Bring to boiling; reduce heat. Simmer, uncovered, for 5 minutes, stirring occasionally. Cool mixture slightly.
Place half of the pumpkin mixture in a blender or food processor. Cover and blend or process until smooth. Repeat with remaining pumpkin mixture. Return all of the mixture to the saucepan. Heat soup over medium heat, stirring occasionally until hot.
To serve, ladle soup into bowls and top with a spoonful of sour cream; sprinkle with additional ground nutmeg. If desired, garnish top of soup with sweet potato chips.
Serves 4-6.
Information
Category

Bisque, Soups/Stews

Cuisine

North American