Vietnamese-Style Coffee Popsicles
Original recipe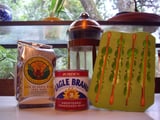 Ingredients
1/4 cup sweetened condensed milk
1 3/4 cup water
1/4 cup freshly ground espresso coffee
Directions
1. Brew the coffee to a strong robust flavor. Using a French press, it takes approximately 10 minutes. I love French press but any other coffee brewing method would also work.


2. Pour the sweetened condensed milk into a separate bowl.
3. Slowly pour the hot coffee into the bowl with the sweetened condense milk. Stir.
4. Chill coffee and sweetened condensed milk mixture in the refrigerator until cool.
5. Strain the coffee, if needed.


6. Fill popsicle forms and place in freezer.


7. Once frozen, pop out of the form and enjoy!

[Array]
Makes 4 popsicles.
Information
Category

Desserts, Frozen