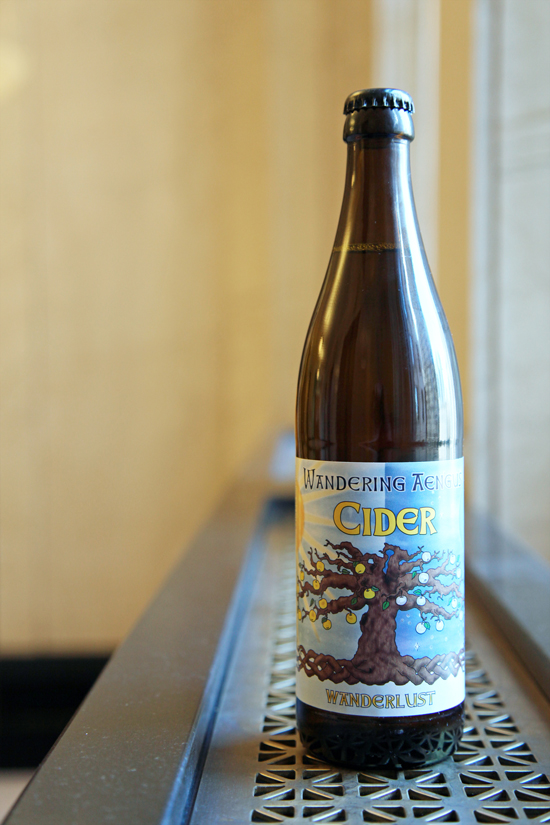 A quick preface: we get it; cider isn't exactly a beer, but hard cider has been going through a bit of a renaissance lately. No longer is it simply a last resort on tap for those who eschew beer; it's something to prize and seek out. Arguably, few places are doing it better than Wandering Aengus in Salem, OR, whose fruity brews are helping hard ciders shed their reputation as candy-sweet. If you're new to the hard-cider category, then
Wandering Aengus Ciderworks Wanderlust
($8) is an excellent introduction. Made from organically farmed heirloom apples and fermented with a champagne yeast, this libation has all the seeds necessary for those looking to branch out.
Keep reading for our tasting notes.
At first whiff, this golden-hued beverage reminds us of Martinelli's sparkling cider; but inhale again and you'll detect a yeasty aroma. Easy drinking, this cider is refreshingly tart and tangy with a hint of sweetness to balance its acidity. If you can resist downing the whole bottle before dinnertime, this tangy tipple would pair well with spicy Thai cuisine in the same way that an off-dry Riesling would. Alternatively, sip the cider while nibbling on nutty, aged cheeses, like a bandage-wrapped cheddar, as a playful nod to a classic apple-and-cheese pairing.