What Digital Camera Are You Lusting After This Summer?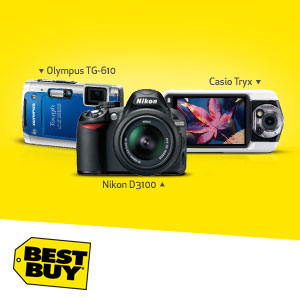 With its bevvy of product offerings, Best Buy is the place to get all your summer essentials when it comes to electronics. But we've narrowed down the top three digital cameras to capture all your summer fun and want you to vote on which one you just can't live without. Is it the Nikon D3100 with its learn-as-you-go guide, allowing you to easily take beautiful pictures and amazing video while lounging poolside with your friends? Maybe it's the Olympus TG-610, the waterproof digital camera that you can take scuba diving off the coast of Costa Rica. Or is it the Casio Tryx that offers pocket-sized touchscreen technology, so you can easily slip it into the pocket of your bermuda shorts while you beat the summer heat?
Log in and tell us about which product you're lusting after, and you'll be automatically entered to win a $1,000 gift card from Best Buy.