What Is Your Favorite Laundry Tip?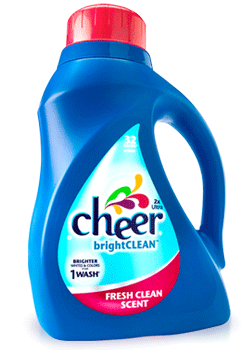 It seems like just yesterday, you were wearing that little white dress, you know, that one that you've had for years and still fits like the Summer of 1999; yeah, that one. Well, the last time you wore it there was an unfortunate coffee mishap, and you haven't worn it since (sigh). We say it's time to stop letting stains dictate your style — bring balance and brightness back to your wardrobe by using Cheer Bright Clean!
Check out some of these great tips for keeping your clothes on the up and up. If you have some tips of your own, be sure to leave a comment! Then click here to start sparkling up your closet and save $1 on the new Cheer Bright Clean (and be a little more careful with the coffee, would ya?).