Unlike Summer produce that you can toss into a salad, Winter veggies often require roasting, which has the added benefit of warming up your house. This week, I took another page from Nancy Silverton's Sandwich Book to prepare roasted radicchio sandwiches with a seasonal side of Brussels sprouts.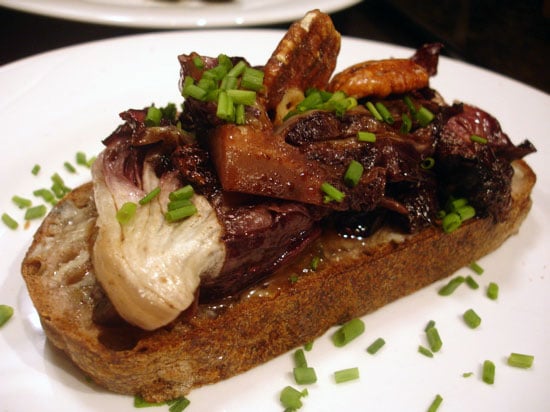 Though I'm not usually partial to open-faced sandwiches, this Italian-inspired recipe won me over with a surprising combination of ingredients and comforting, wintry flavors. The punchy gorgonzola and slightly bitter radicchio get a sweet assist from honey and candied walnuts. You can make the walnuts from scratch if you want, though I used store-bought candied pecans. For more details on the recipe and to see how I made it,
.
It's not the easiest sandwich to eat, but it would be nearly impossible without a knife and fork, so the open-faced format makes sense. Plus, the presentation according to Silverton's directions is stunning. This sandwich is highly sophisticated in flavor and appearance yet relatively easy to make. I'd certainly make it again.