'Ino's Pancetta, Lettuce, and Tomato
Nancy Silverton's Sandwich Book [5]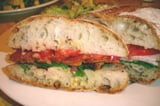 Ingredients
1 recipe lemon aioli [6]
8 ounces pancetta, sliced into 16 1/4-inch-thick slices
1 tablespoon extra-virgin olive oil, for drizzling over the tomatoes
2 or 3 ripe tomatoes, core end discarded, sliced into 1/4-inch-thick slices
1/2 tablespoon kosher salt
8 slices white or whole-wheat sourdough bread*
Approximately 2 cups arugula leaves, loosely packed (about 1 to 1 1/2 ounces)
Directions
Adjust the oven rack to the middle position, and preheat the oven to 350 degrees.
Place the slices of pancetta about 1/2 inch apart from each other on a baking sheet. Cook them for about 20 minutes, until they're cooked through, but not crisp.
Drizzle the olive oil over the tomato slices, and sprinkle them with salt. Allow them to sit for 5-10 minutes.
Grill the bread.
To assemble the sandwiches, spoon about 1 tablespoon of lemon aioli on one side of each slice of bread. Arrange the slices of pancetta on the bottom slices of bread, and place the tomato slices over it. Arrange the arugula on top and cover with the top slice of bread. Cut each sandwich in half on the diagonal.
Makes 4 sandwiches.
*I used one loaf of ciabatta, sliced horizontally, then cut into four separate sandwiches. Since I was using the ciabatta I skipped step 4 and left my bread untoasted.
Information
Category

Main Dishes, Sandwiches

Cuisine

Italian