'Wich of the Week: Monte Cristo
'Wich of the Week: Monte Cristo
If there were any doubts about my intense love for sandwiches, this post should put them to rest, because I consumed this Monte Cristo at Canter's Deli in Los Angeles a mere three hours after eating an enormous French Dip at Philippe's. Hey, I was only in town for a few days, and there were many iconic sandwiches to be consumed!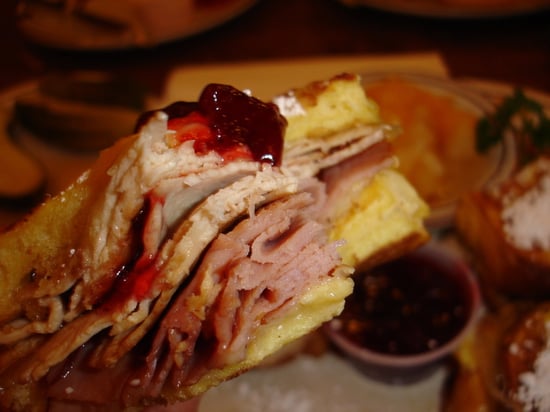 Like the French Dip, the Monte Cristo was invented in Southern California. Traditionally, a Monte Cristo is made with bread dipped in egg — essentially, French toast — and filled with ham, turkey, and swiss cheese. The sweet, salty delight is then topped with powdered sugar and strawberry preserves. For more history and a recipe for the Monte Cristo,
No one is quite sure where the name came from. Originally called a French sandwich, the Monte Cristo was renamed in Southern California in the 1950s, possibly as a nod to the French adventure novel and film The Count of Monte Cristo. The Monte Cristo hit the big time in 1966, when it was featured on the menu at the Disneyland's Blue Bayou restaurant.
Rather than visit Disneyland just to eat a Monte Cristo (even I'm not that crazy), I headed to Canter's, a Jewish deli that's been serving sandwiches in LA since 1931. Its Monte Cristo was a perfect, classic version, oozing with cheese between creamy slices of bread. To make your own at home, check out the recipe below.