'Wich of the Week: Old-School Club
'Wich of the Week: Old-School Club
Club sandwiches are so ubiquitous that I usually take them for granted. I order them very occasionally, maybe from hotel room service or when I'm looking for a "healthy" option at a diner. But every time I eat a good one — when the bread is only lightly browned and there's just enough mayo to balance out the crispy bacon — I realize that the club sandwich deserves more credit.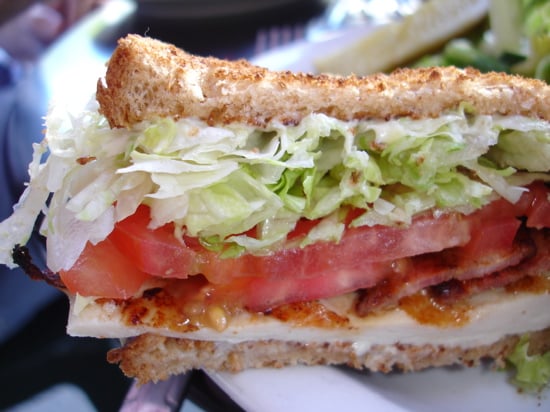 The club is actually one of the oldest original American sandwiches, invented sometime around the 1890s. Originally, club sandwiches were single decker and usually made with chicken instead of turkey. So for this 'Wich of the Week, I went in search of an authentic old-school club and found the object of my affection at St. Francis Fountain, an 80-year-old diner and soda fountain in San Francisco. For more details and my recipe,
.
It was a beautiful day, so I got to sit outside and enjoy my somewhat heavy lunch: a deliciously overstuffed club, a chocolate malt, and a salad for good measure. The best thing about a single-decker club is that by getting rid of the third piece of bread, you can go heavy on the other ingredients to create a much moister sandwich. St. Francis Fountain's club had the ideal ratio of crunchy bacon to juicy chicken; the shredded lettuce added a great texture, and the bread was perfectly toasted and just lightly buttered.
My only gripe is that there was a bit more mayo than I would have liked, so I've reduced the amount in my recipe below. How do you like your club? Do you think this classic sandwich is overrated or underappreciated? Tell me in the comments.