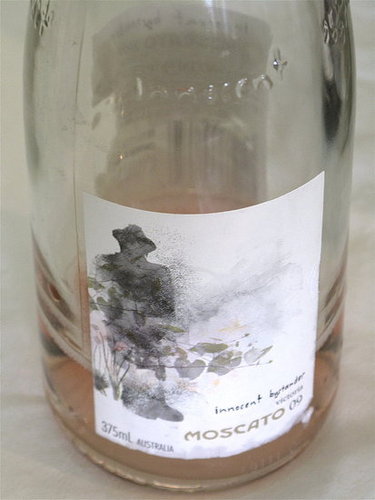 Despite the fact that many guests in
Aspen
had a chance to hit up the tasting tent five times, the last 30 minutes of the last
Grand Tasting
on Sunday rapidly deteriorated into a crowded, debaucherous food and wine free-for-all. In the midst of it all, we stumbled upon an Australian wine table that had been completely abandoned: there the whites and rosés sat, on ice, ready to be enjoyed, but there was no one there to pour them. It was as though the whole wine team suddenly took off, afraid they would miss their 15-hour flights back to Australia.
As the old adage goes, one person's trash is another person's treasure. While we still had the time, we dug into quite a few varietals. The most beautiful to stare at and to drink turned out to be the
2009 Innocent Bystander Pink Moscato
($10 for 375 ml) from Victoria, Australia. I've long loved the sparkle of a good
Moscato d'Asti
, but I'd never before come across a sparkling pink Moscato. The combination of Muscat Alexandria and Black Muscat contribute to the ballet slipper hue, and the wine is wildly easy to drink, with a floral-spicy perfume, red fruit flavor, and long, lingering, well-rounded finish. I can't wait to seek it out here in San Francisco. Have you ever had a sparkling pink Muscat?