We recently gave you a peek at the menu for the Governors Ball [1] — the official afterparty of the Oscars — prepared by none other than Wolfgang Puck [2]. But if you think you can't get it for your own Oscars party, think again — we've put together easy versions of the dishes you can prepare yourself and even exact recipes of the night that come from Wolfgang's own flagship restaurant. Read on for celeb-worthy meals you can make in your own kitchen.
Tuna Tartare
If you can't serve spicy tuna tartare on sesame miso cones, prepare the appetizer on soy-glazed rice crackers [3] instead for a fast, healthy treat.
Twice-Baked Potatoes
Wolfgang Puck [4]'s baked potato may be smothered in caviar but treat guests your own way with bacon-topped twice-baked potatoes [5] they can eat sans fork and knife.
Breadsticks
Don't pass up on the power of an easy-to make, addictive breadstick recipe [6]. Cover the snacks in shaved fresh Parmesan and truffles to get the taste of Wolfgang's version.
Smoked Salmon Crostini
Wolfgang Puck [7]'s most iconic Governors Ball recipe comes in the form of blinis with smoked salmon — make your own mark by serving fresh smoked salmon and goat cheese crostinis [8].
Bacon-Wrapped Dates
Bacon-wrapped dates [9], like the ones to be served on the big night, can be prepared before the party so guests can enjoy the salty-sweet snack the second they arrive at your home.
Nut Mix
Hollywood guests will be munching on a tropical party nut mix spiced with pineapple, and your guests can, too. Just follow this easy tiki snack mix [10] and expect a Polynesian party for the mouth.
Guacamole
Leave it to Wolfgang to offer up edamame guacamole on chips made with kombu, a Japanese seaweed — but if you don't have the time or resources to do that yourself, you can never go wrong serving some good ol' delicious guacamole [11] and chips, like this spicy recipe straight from Chipotle Mexican Grill.
Kale Salad
The ever-popular kale has made it onto the Hollywood menu in form of a vegan salad tossed with grilled artichokes and a lemon vinaigrette; put a twist on your own kale and chard salad [12] by topping it with pomegranates and hazelnuts.
Truffle Mac and Cheese
Comfort food meets Hollywood with Wolfgang's truffle mac and cheese vegetarian dish, and we've got a similar dish that takes the favorite to a whole new level. Check out the video [13] for this velvety stove-top version that includes three types of cheese and truffle butte.
Chicken Pot Pie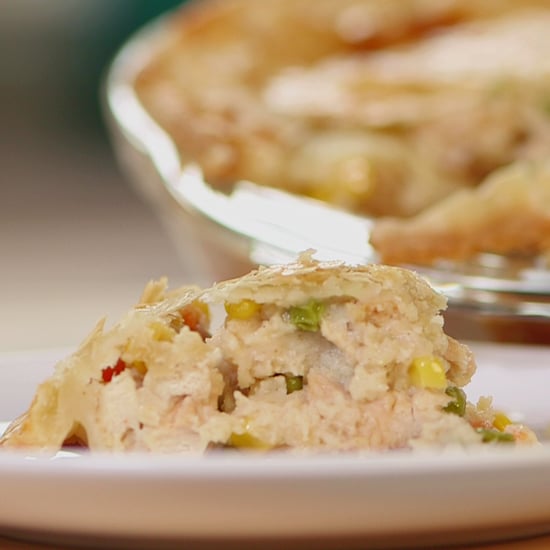 The Oscar party's chicken pot pie version may have Oscar-shaped stenciling and black truffle filling, but we've got a savory recipe [14] courtesy of POPSUGAR Food host Brandi Milloy's grandma. Watch the video to learn how to make everything from the creamy chicken filling to the golden, flaky pie crust in just under an hour.
Sliders
Copy the Wolfgang menu by serving up a crowd favorite: sliders. Make mini versions of this easy traditional cheeseburger recipe [15] for a fail-proof appetizer.
Sushi
Create your own sushi station à la Wolfgang with this vegetable sushi roll [16] that uses two secret ingredients that pack plenty of flavor.
Wolfgang Puck's Smoked Salmon Pizza
Smoked salmon pizza [17] is a famous dish from Spago, Wolfgang Puck [18]'s flagship restaurant, so it's no surprise that the dish will be served on Sunday night. Taste it yourself by getting the recipe low-down from Tetsu Yahagi, chef de cuisine at the restaurant, who shows us in this video how to take the luxurious pizza from restaurant grade to homemade.
Champagne Cocktails
Champagne Thienot is the official sparkling wine of Sunday's celebration, and we can't help but think of plenty of champagne cocktail recipes [19], like a grapefruit-elderflower sparkler, to bring on the bubbly.
Granita
Guests at the Hollywood dessert table can expect shaved ice with frozen grapes. Treat your friends and family to an unexpected ginger limeade granita [20] sweet and bring the sunshine indoors.