It's the Most Wonderful Time of the Year . . .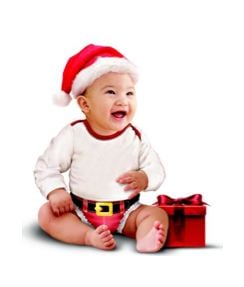 That's right. Not only is the holiday celebration and charity season in full effect, but your tiny tot can get in on the action this year! How you ask? With Huggies® of course! Introducing the limited-edition Huggies Santa Diaper (we know, ADORABLE)! And, in the true spirit of the season, when you "Dress 'Em Like Claus For a Cause" in the holiday-inspired Huggies Santa Diapers, Huggies will help a baby in need by donating to Every Little Bottom. In 2011, Huggies' Every Little Bottom has committed to donating more than 22.5 million diapers.
The stuffing in the stocking? You can spread the holiday cheer by uploading a photo of your little one at AmericanGreetings.com and creating a one-of-a-kind holiday ecard. And the bow on the gift? For every ecard created or shared, Huggies' Every Little Bottom will donate to a baby in need!