Stars of the big screen stepped out in Hollywood tonight to salute film at the Oscars [1]. The ladies dazzled in sequins, sparkle and glamour [2] from their perfectly coiffed hair to their flawless manicures. We were there live on the red carpet and in the press room covering all the fashion and beauty as it happened on the red carpet — check out all our Academy Awards coverage below!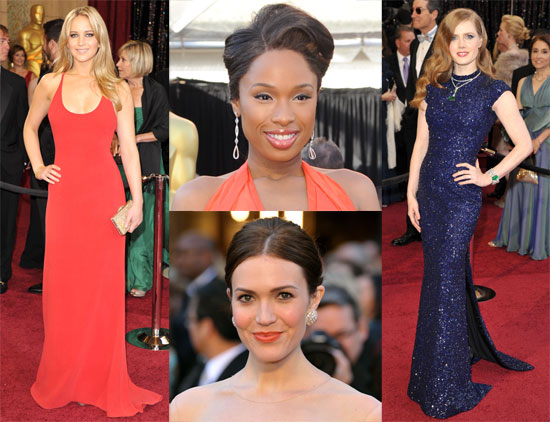 [3]
Red-carpet fashion coverage:
Vote on all of Fab's fashion red carpet love it or hate it polls [4]
Who was best dressed [5]?
Anne Hathaway [6] rocks the Oscars stage in 7 looks — which one stole the show [7]?
Battle of the stage stars: who had the best performance outfit [8]?
Red-carpet trend: sirens on the red carpet [9]
Red-carpet trend: subtle sparklers [10]
Award worthy: see the couples that shined on Oscar's red carpet [11]!
Red-carpet beauty coverage:
Check out all the hottest manicures and nail trends [12]
Poll: Which Oscar updo was your favorite [13]?
Close up: see the hottest Oscars hairstyles from every angle [14]
What you didn't see: best beauty looks from Elton John's Vanity Fair viewing party [15]
How to get Natalie Portman's luminescent purple palette [16]
How to get Mila Kunis's sultry yet sweet makeup [17]
How to get Jennifer Lawrence's voluminous and shiny locks [18]
See how to get these red carpet looks:
Gwyneth Paltrow [19]'s sleek and silver lamé gown [20]
Busy Philipps's black, detailed mermaid dress [21]
Penelope Cruz [22]'s red-hot sequined L'Wren Scott [23]
Rhea Durham's strappy sandals, drop earrings, and Naeem Khan stunner [24]
Virginia Madsen's black-and-white classic gown [25]
Check out what the winners had to say in the press room:
Press room: The Social Network's Aaron Sorkin says "My hat's off to Mark Zuckerberg" [26]
Press room: Christian Bale missed Melissa Leo's F-bomb because he was at the bar [27]
Press room: Melissa Leo talks Oscar campaign and her F-bomb [28]
Press room: Natalie Portman talks about "Dream-like" Oscar state and "Little dancer" baby [29]
Video: watch the Oscars auto-tune the movies [30]!
Video: Gwyneth Paltrow performs "Coming Home" at the Oscars [31]!
Poll: What did you think of Anne and James's hosting performance [32]?
Check out Buzz to see the full list of Academy Award winners [33]!