Welcome to the 2011 PopSugar 100 [1]! It was so much fun to watch how you all voted, and there were some huge surprises on this year's list. Click through to see the amazing fifth annual PopSugar 100! Robert Pattinson [2] scored the number one spot on the PopSugar 100 in both 2009 and 2010, but it was down to the wire and he ultimately slipped to the number two spot this year behind beloved A-lister Johnny Depp [3]. Last year's runnerup Sandra Bullock [4] maintained her status near the top while Kristen Stewart [5] made a huge leap into the top 10. Jennifer Aniston [6], Reese Witherspoon [7], and Beyoncé Knowles are once again some of your favorite ladies while Blake Lively [8] made a big jump into the top 20. There are a ton of newcomers making their first PopSugar 100 appearances as well, and we're breaking down all the individual categories you voted on. Thanks to everyone for all your votes, and once again putting together a list like no other — enjoy your PopSugar 100!
100. Brooklyn Decker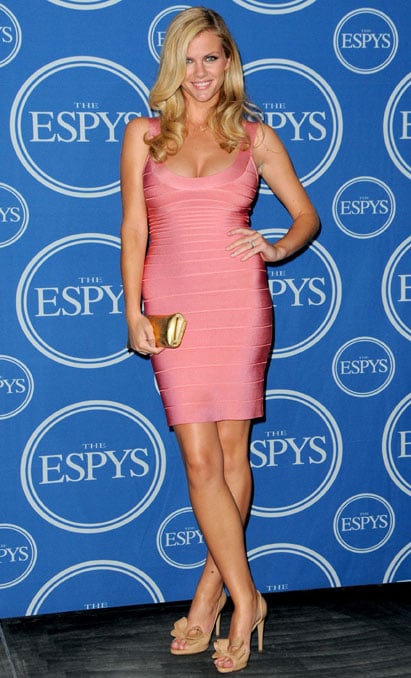 Brooklyn Decker is making her PopSugar 100 debut after a fabulous 12 months moving from sexy swimsuit model to actress. Brooklyn was the runner-up in our 2010 bikini bracket, coming in right behind her Just Go With It costar Jennifer Aniston [9]. She made her acting debut in the movie, and got great reviews for her comedic talent alongside Jennifer and Adam Sandler [10]. Brooklyn may be gorgeous, but she also has a superb sense of humor, which she loves to show off on Twitter. She has become a red-carpet staple as well — that is, when she's not cheering on husband, Andy Roddick, on the tennis courts.
99. Scarlett Johansson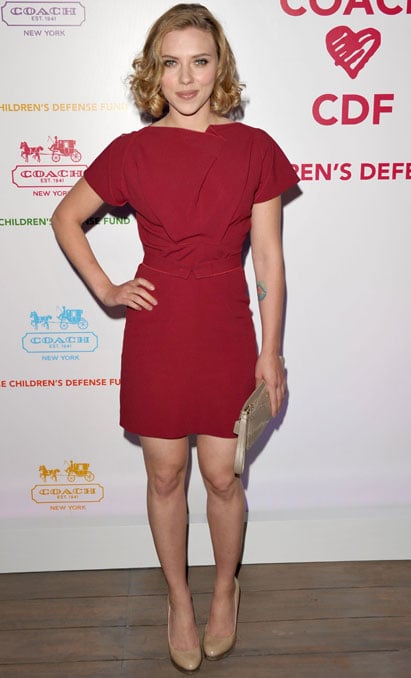 Scarlett Johansson [11] kicked off her year with Ryan Reynolds [12] by her side as she won an award for A View From the Bridge at the Tonys, but by December the couple had confirmed their decision to separate. The newly single star quickly took up with Sean Penn [13], and the duo were spotted on vacation in Mexico, jogging in Malibu, and even making out at the White House Correspondents' Dinner. In the meantime, she shot We Bought a Zoo with Matt Damon [14]. Scarlett and Sean's fling was over by early June, giving her plenty of time to work on The Avengers with Chris Evans and the rest of the crew.
98. Rachel Zoe
Rachel Zoe [15] continued to enjoy TV success with her hit Bravo show The Rachel Zoe Project. She shared her love of fashion with fans through her newsletter The Rachel Zoe Report, and faithfully kept people updated on Twitter. Rachel further branched out with the newly launched Rachel Zoe Collection, which will go on sale later this year. Perhaps the biggest achievement of Rachel's year, though, was the birth of her first child, Skyler Morrison Berman. Rachel and her husband, Rodger Berman, welcomed the bundle of joy in March.
97. Joe Manganiello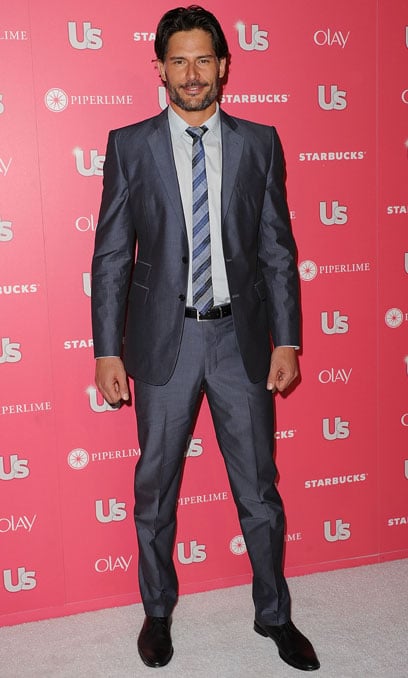 Werewolves often play second fiddle to Hollywood's hunky vampires, but True Blood's Joe Manganiello's smoldering good looks steal scenes from even the sexiest bloodsuckers. Joe's popularity with fans quickly caught the attention of HBO, who promoted him last Summer to a full-time cast member in the upcoming episodes of season four. His great fortune continued on to the Fall when he and girlfriend, Audra Marie, announced the exciting news of their engagement.
96. Justin Bieber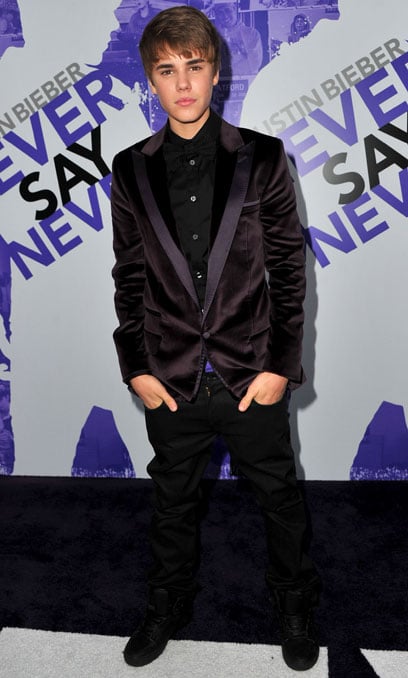 Justin Bieber has done a lot of growing up over the past 12 months, and he's making his PopSugar 100 debut on this year's list! The singer, whose movie Never Say Never was a hit at the box office, turned 17 in March. He's also been taking his romance with Selena Gomez [16] public recently, with the pair locking lips on camera at the Billboard Music Awards in May and following it up with a PDA-heavy trip to Hawaii together. Justin expanded his brand with a line of nail polish and his own fragrance, Someday, which hit stores this Spring.
95. Joseph Gordon-Levitt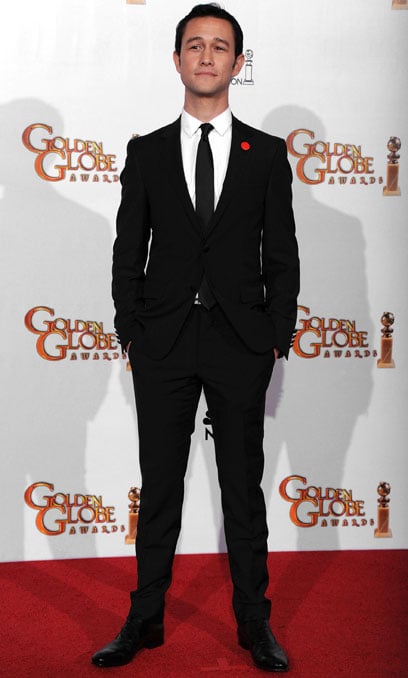 Joseph Gordon-Levitt had a huge year, breaking into the big time in last Summer's Inception. Director Christopher Nolan also cast him in The Dark Knight Rises. The artsy and adorable star, who turned 30 this year, also runs a collective for musicians and filmmakers called HitRECORD in his spare time. Joseph will show off his funny side again in the upcoming cancer comedy 50/50, and is also confirmed for a role in Steven Spielberg [17]'s upcoming Abe Lincoln biopic.
94. Dianna Agron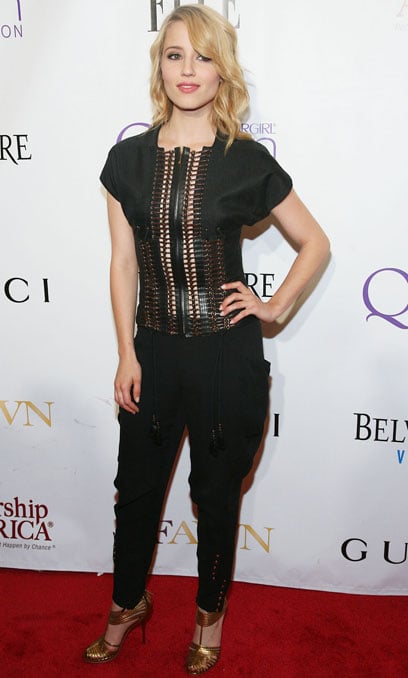 This year marks Dianna's first time on the Pop 100! The Glee star shed her good-girl image earlier this year when she and her costars Lea Michele [18] and Cory Monteith [19] caused a bit of a controversy with a sexy GQ spread in October. In season two, the Glee cast performed some of their most ambitious episodes to date, including their Lady Gaga [20] spectacular, and Dianna also starred in I Am Number Four with her former real-life flame, Alex Pettyfer. There was buzz that the pair was engaged around the movie's February release, but they split soon after. She moved on from the relationship by focusing on time with her girlfriends, chopped off her long locks at the end of Glee's season, and is currently on a nationwide tour with her costars.
93. Nina Dobrev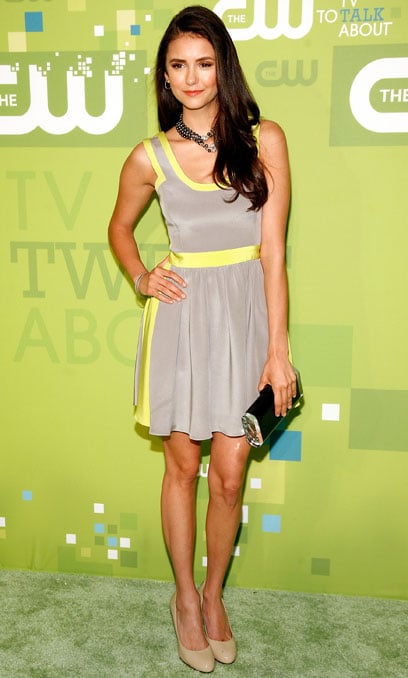 Nina Dobrev [21]'s star continued to rise this year as her CW show, The Vampire Diaries, returned for a second season and her romance with costar Ian Somerhalder [22] heated up. Her role on the show expanded to include both good girl Elena and evil Katherine, which gave Nina a chance to show off her range and have some fun. She scored the cover spot of Seventeen's special fitness issue this Spring, showing off her bikini body in the magazine, and even landed a role in The Perks of Being a Wallflower alongside stars like Emma Watson [23]. Meanwhile, she and Ian — who were first spotted kissing last August — took their romance on the road. The cute pair even took their mothers on a vacation to Paris in May!
92. Michelle Williams
Michelle Williams [24] had a major year, with her Blue Valentine role opposite Ryan Gosling [25] earning her an Oscar nod. The actress's obvious chemistry with Ryan was buzzed about all awards season, but there is no real-life romance there, and she took her longtime best friend, Busy Philipps, as her date to the Academy Awards. Michelle spent most of the year single, though she recently stepped out with her new guy, Jane Eyre director Carey Fukunaga. Her daughter, Matilda, is still the center of her life, and Michelle touched on her experience as a single mom and Heath Ledger [26]'s passing during a December interview with Nightline, marking one of the first times she's spoken about the loss. Michelle is lightening things up a bit after heavy Blue Valentine, having signed on for a role in Oz: The Great and Powerful as Glinda the Good Witch, and we'll see her as Marilyn Monroe in My Week With Marilyn, out in 2011.
91. Miranda Kerr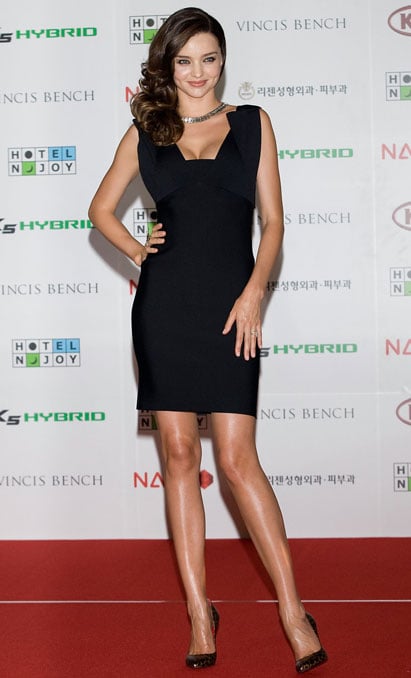 Supermodel Miranda Kerr [27] added supermom to her résumé this year! In the Summer of 2010, Miranda Kerr and Orlando Bloom [28] wed in a surprise ceremony, and soon after shared the exciting news that they were expecting their first baby. Miranda gave birth to Flynn in January, and he's accompanied her on many journeys since then. Her pregnancy didn't keep her off the runway, as she walked in Balenciaga shows both while pregnant and two months after Flynn's arrival. Miranda is also back to modeling bikinis and tiny dresses in her role as a Victoria's Secret angel, and she always looks fantastic with her new mom glow and a smile on her face.
90. Salma Hayek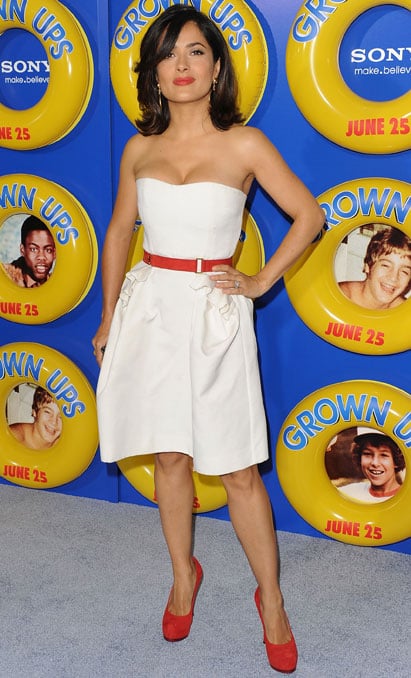 Salma had a year filled with travel, family, and fun since she debuted her movie Grown Ups last Summer. She toured the world with her daughter, Valentina, and husband, Francois-Henri Pinault, frequently meeting up with famous friends from Halle Berry [29] and Olivier Martinez to Demi Moore [30] and Ashton Kutcher [31]. Since debuting a preview of her film Puss in Boots at the Cannes Film Festival in May, Salma made a brief stop in Boston to do some filming on her upcoming movie Here Comes the Boom. She's been focusing on more than just film, though, and recently unveiled her Nuance line of beauty products for CVS.
89. Tina Fey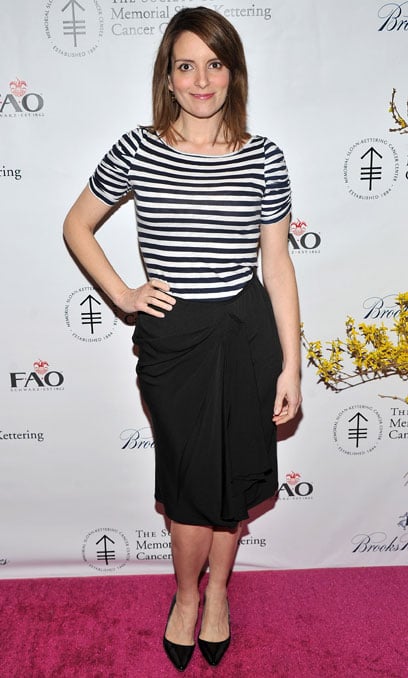 The 30 Rock funny lady celebrated the 100th episode of her hit show and added bestselling author to her résumé with her memoir Bossypants. Tina made us laugh all year long, hosting SNL in May and teaming up with her former costar Amy Poehler [32] for a Jersey Shore spoof on their friend Jimmy Fallon [33]'s show. As she continues with her successful movie and TV career, one of Tina's biggest moments of the year is yet to come, since she and her husband are expecting their second child late this Summer!
88. Nicole Richie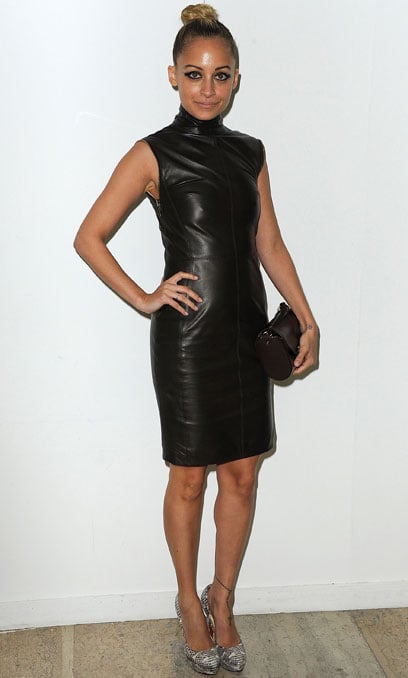 It was a milestone year for Nicole Richie [34], who married Joel Madden [35] in a romantic ceremony in December. The proud parents spend lots of time with their kids Harlow and Sparrow at home in LA. Newly married Nicole continued to enjoy success with her ever-expanding fashion brands Winter Kate and House of Harlow 1969. Nicole also has success with her career as a novelist, releasing her second book, Priceless, in the Fall. Leading up to her wedding [36], Nicole became deeply committed to fitness and teamed up with her trainer Tracy Anderson on a fun workout video, all while keeping fans entertained with her dry humor on Twitter.
87. Mark Wahlberg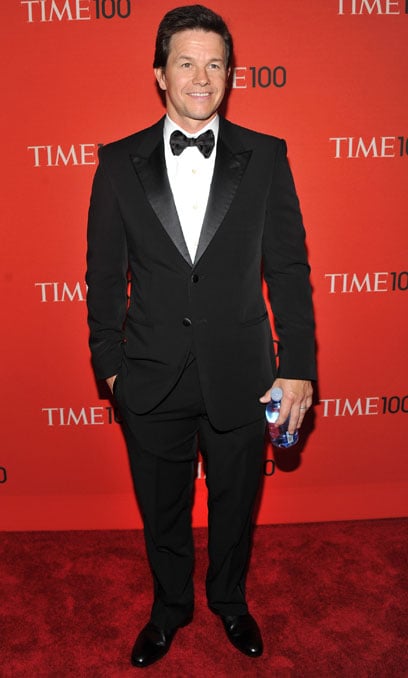 Mark Wahlberg [37] is always juggling a ton of projects, but his biggest one is doting on his wife, Rhea, and their four kids, Grace, Ella, Brendan, and Michael. Mark earned his star on the Walk of Fame in July 2010, and brought his whole family along for the celebration. Mark and Rhea made the award season rounds on behalf of his movie The Fighter, which took home honors from the Broadcast Film Critics Association as part of the best acting ensemble, and Mark was nominated for his individual performance at the Golden Globes. Mark spent the last few months shooting Contraband and trying his hand at comedy in the dark picture Ted with Mila Kunis [38]. His producing projects continue to shine as well, with new hit Boardwalk Empire dominating at the Golden Globe Awards and excitement building for the final season of Entourage this Summer.
86. Christian Bale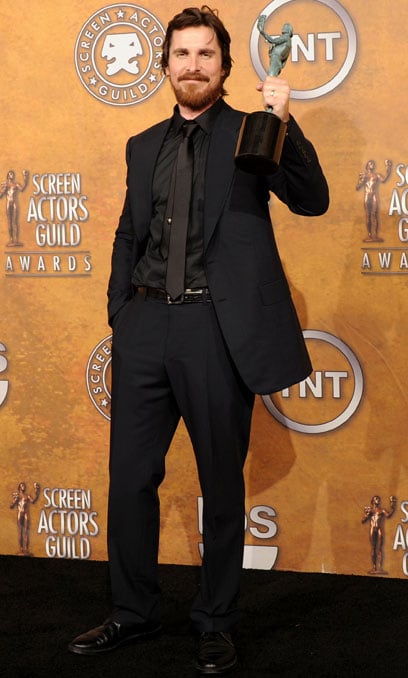 Christian Bale [39] earned his Oscar in 2011, taking home the best supporting actor statue thanks to his life-changing role as Dicky Eklund in David O. Russell's The Fighter. The part also earned Christian awards from the Golden Globes, the National Board of Review, the Screen Actors Guild Awards, and the Critics' Choice Awards. He made the red-carpet season rounds with his wife, Sibi, on his arm, and touchingly thanked her and their daughter, Emmeline, in many acceptance speeches. Christian sported a beard throughout the proceedings since he was gearing up to shoot The 13 Flowers of Nanjing, and we'll see him reprise the role of Batman in The Dark Knight Rises.
85. Alicia Keys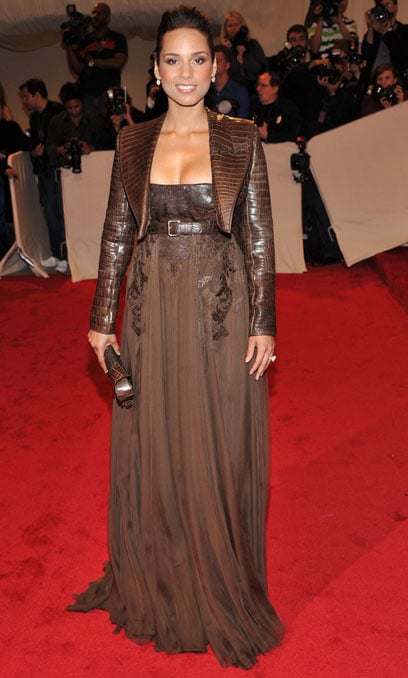 Alicia Keys [40] married Swizz Beatz last July in Corsica, and shortly after, they welcomed their first child, Egypt Dean. He's the younger brother of Swizz's other sons, Prince and Kassem, and daughter, Nicole, and has two doting parents in Alicia and Swizz. Egypt inspired her to write new music, but she's largely been relishing the role of motherhood. She and Swizz had a rare night out at May's Costume Institute Gala, which came a few months after they publicly celebrated Swizz's new job as the first-ever producer-in-residence at NYU. Alicia was also one of the many celebrities to turn 30 this year, arriving at the milestone on January 25.
84. Kim Kardashian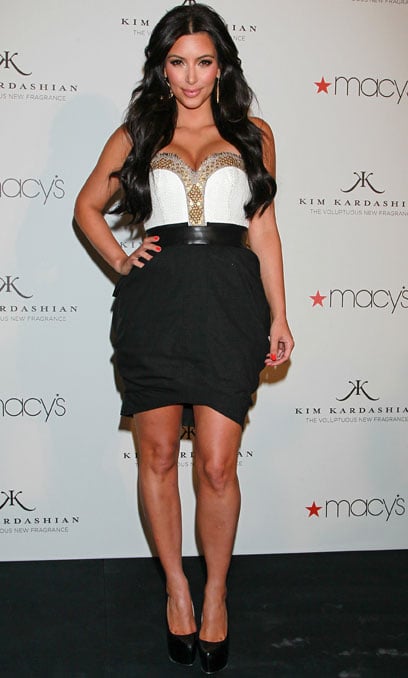 It was a major 12 months for Kim Kardashian [41], who continued to ride the wave of reality TV success with her shows Keeping Up With the Kardashians and Kourtney and Kim Take New York. She went beyond the small screen to launch clothing, jewelry, and perfume lines, in addition to overseeing her Dash retail empire. She even made a foray into recording, teaming up with The Dream for "Jam (Turn It Up)." Kim doted on her young nephew, Mason, but celebrated big news of her own as well — Kim recently announced her engagement to NJ Nets player Kris Humphries. Her massive 20.5 karat diamond ring was almost as big a story as the engagement itself. Despite all the hard work, Kim managed to escape for multiple fun and bikini-filled vacations, including getaways in Mexico, Monaco, and Las Vegas. Kim and Kris are not wasting any time and plan to tie the knot this Summer.
83. Heidi Klum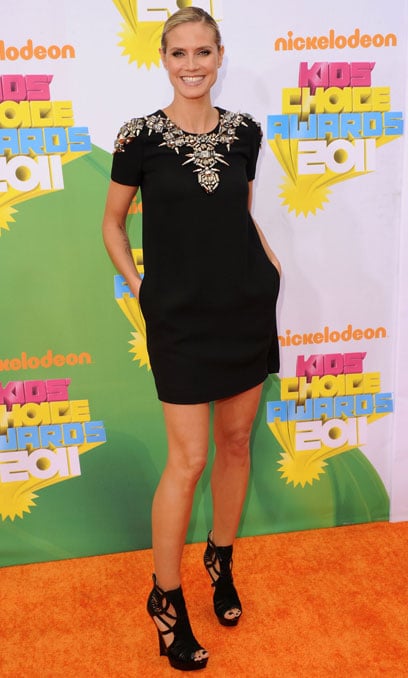 The supermodel was a frequent fixture on red carpets and at her kids' karate classes this year. She kept busy with a new reality series, Seriously Funny Kids and made her first foray into fragrance with Heidi Klum [42] Shine while gearing up for an all-star season of Project Runway. Heidi and Seal have a number of other reality shows in the works, including one in which they hand out love advice. She and Seal also kept up their family traditions this year, throwing their raucous Halloween [43] bash back in October and heading to Florida together in May, celebrating their sixth wedding [44] anniversary and their annual renewal of their vows with a costume party at Donald Trump [45]'s Mar-a-Lago estate.
82. Daniel Radcliffe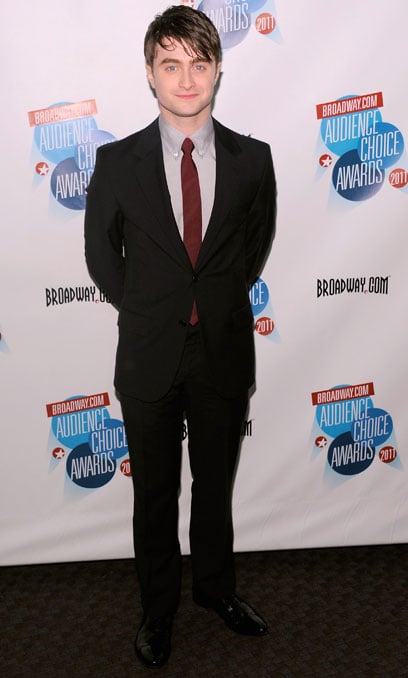 With just one last installment of Harry Potter coming out in July, Daniel Radcliffe [46] is proving he has the star power to stick around well beyond the franchise. The charming star made his Broadway debut in How to Succeed in Business Without Really Trying to rave reviews. Although fans are sure to miss him as the bespectacled sorcerer once Harry Potter and the Deathly Hallows: Part 2 is released in July, he's already lining up more movie projects starting with the thriller The Woman in Black.
81. Daniel Craig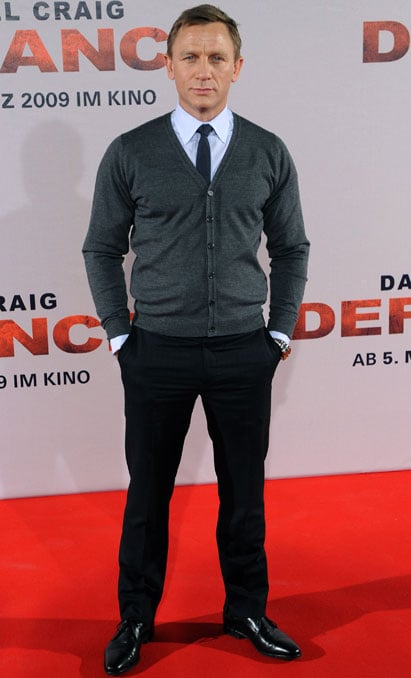 The current James Bond is one of several sexy men who found a spot on the 2011 Pop 100, and starring in two of the most anticipated movies of the year means things are only on the rise for 007. Daniel hasn't had a big-screen release since 2008, but he's been hard at work, and fans will get a chance to see him in theaters again soon. He has two likely blockbusters ahead with his sci-fi action Summer release Cowboys & Aliens and a darker role in Christmas's The Girl With the Dragon Tattoo. Off camera, Daniel split from his longtime girlfriend Satsuki Mitchell this year, but soon found a new romance with Rachel Weisz [47], following her breakup from Darren Aronofsky. Daniel and Rachel went public during a hand-in-hand stroll in England over the holidays.
80. Leighton Meester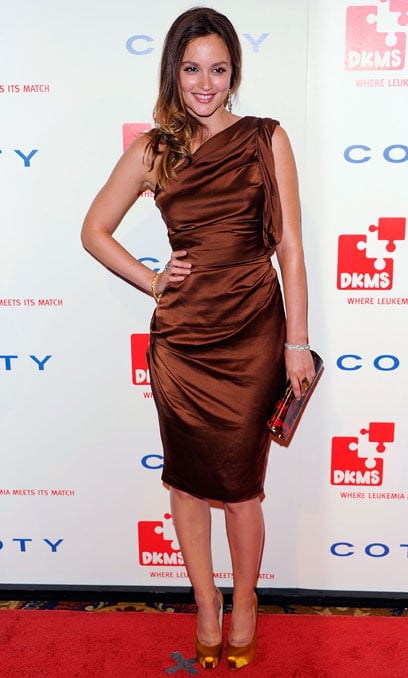 Leighton Meester [48] moved beyond Gossip Girl this year and made herself a presence on the big screen while breaking out even more on the red carpet with her bold style. She took on Minka Kelly in The Roommate and also sang alongside Gwyneth Paltrow [49] in Country Strong. On the fashion front, Leighton became a spokesperson for Missoni and appeared in a Vera Wang fragrance campaign. The actress maintained her single status for quite a while following her split from Sebastian Stan, as she focuses on her acting and music careers.
79. Ashley Greene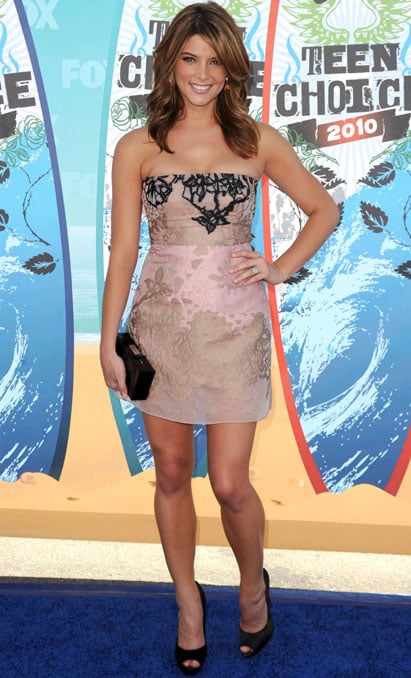 The sprightly Twilight star is best known for playing Bella's best friend and Edward's sister, Alice Cullen, in the vampire series, but Ashley is ready to break out into new roles this year. She costarred with Miley Cyrus [50] as a rebellious teenager in LOL and shared the big screen with Jennifer Garner [51] and Hugh Jackman [52] in the political comedy Butter. Her personal life often made headlines when she hooked up with Joe Jonas [53], but their fairy-tale romance ended after about six months. Ashley also landed a gig as the spokeswoman for Mark cosmetics and continues to be known for her commitment to fitness.
78. Katie Holmes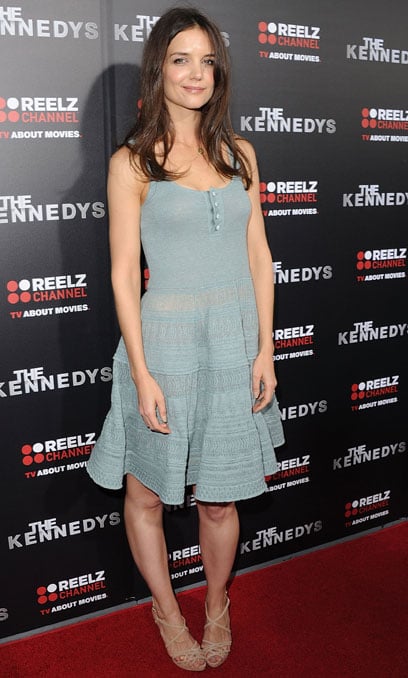 It was a year of film, fashion, and family fun for Katie Holmes [54]. She and Suri made several trips to visit Tom Cruise [55], as he traveled the globe to shoot Mission Impossible: Ghost Protocol and spent lots of playtime as a trio. She spent several months on her own set, embodying style icon Jackie O. for The Kennedys miniseries. The controversial final product eventually found a home on Reelz Channel, airing in April. In the Winter, Katie teamed up with Adam Sandler [56] to shoot Jack & Jill. Katie was also the spokesperson for Ann Taylor's 2011 Spring collection and continued to develop her clothing collection Holmes & Yang, debuting a line of handbags. She'll be back to her red-carpet duties soon though with new horror movie Don't Be Afraid of the Dark and comedy Jack & Jill out in 2011.
77. Madonna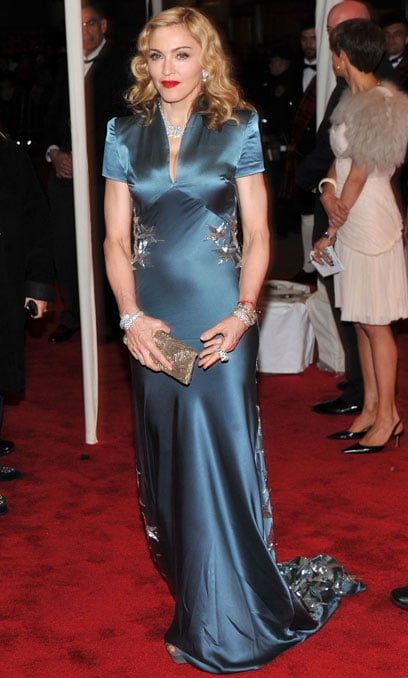 The queen of pop stepped out of the music spotlight this year and focused on a new venture, design. She partnered with her daughter Lourdes on a fashion line targeted at teens aptly named Material Girl. Madonna [57] expanded her fitness empire by opening the first of her planned chain of gyms called Hard Candy in Mexico City. The jet-setting superstar focused on enlarging her home in NYC as well so that she and her kids, Lourdes, Rocco, David, and Mercy, have room to grow. She parted ways with her boyfriend Jesus Luz, but has lately been seen keeping company with the 20-something dancer Brahim Zaibat. The Weinstein Company also recently acquired the rights of the romantic feature film WE, which Madonna directed.
76. Clive Owen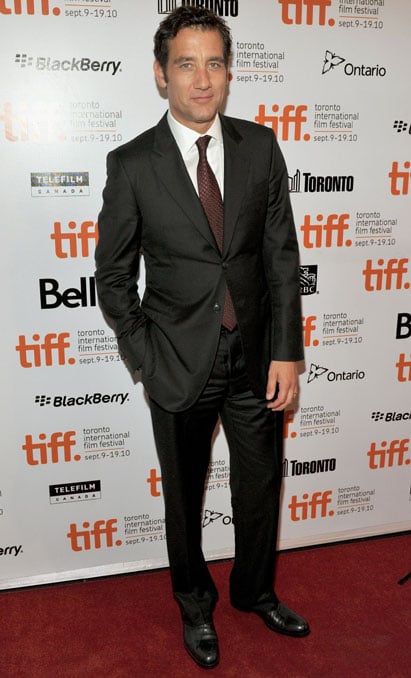 Clive Owen [58] masked his dashing good looks behind a mustache for much of the year getting into character for his role in The Killer Elite and as famed author Ernest Hemingway for the HBO series about the famous poet. For the few fresh-faced months spent between his hairier projects, Clive hit the road promoting Trust, directed by David Schwimmer, and partying in Madrid. Clive also spent much of his time with his family, including wife, Sarah-Jane Fenton, and their two daughters.
75. Amy Adams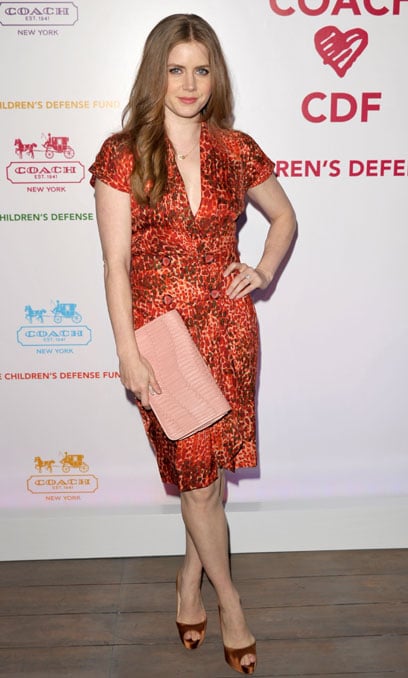 The actress moved beyond her sweet girl wheelhouse and made a name for herself starring opposite Mark Wahlberg [59] in the gritty drama based on a true story, The Fighter. The role earned Amy an Academy Award nomination in addition to a slew of new parts. She teamed up with Jason Segel [60] and returned to her singing and dancing background in the Muppets after taking a trip back in time with Kristen Stewart [61] while filming the American classic On the Road. Amy is now up for the task of starring in the latest Superman remake, Man of Steel, as the legendary character Lois Lane opposite Henry Cavill's Clark Kent. Amy and her fiancé, Darren Le Gallo, celebrated daughter Aviana's first birthday in May 2011.
74. Ashley Olsen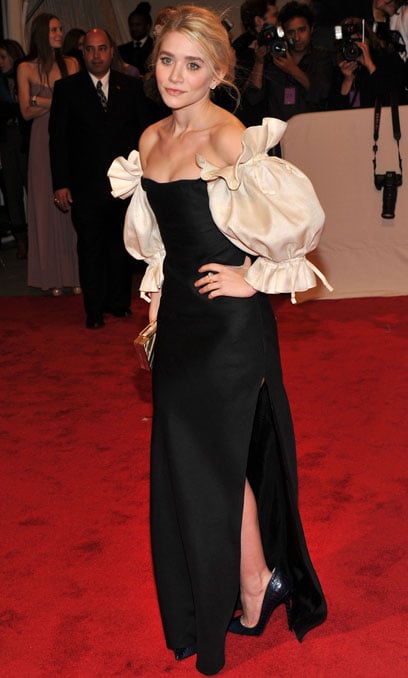 Ashley Olsen [62] makes up one half of the powerhouse behind fashion lines The Row and Elizabeth and James. The sisters expanded their clothing empire into an entry-level line last Summer with Olsenboye and extended their Row collection to offer sunglasses as well as TEXTILE Elizabeth and James. The Row earned Ashley and Mary-Kate their first CFDA nomination, and they were named "America's Next Billionaires" by Newsweek. Ashley and boyfriend Justin Bartha [63] went separate ways earlier this year, and since then she has been primarily spending time with her twin sister MK. Ashley and Mary-Kate just celebrated their 25th birthday on June 13.
73. Selena Gomez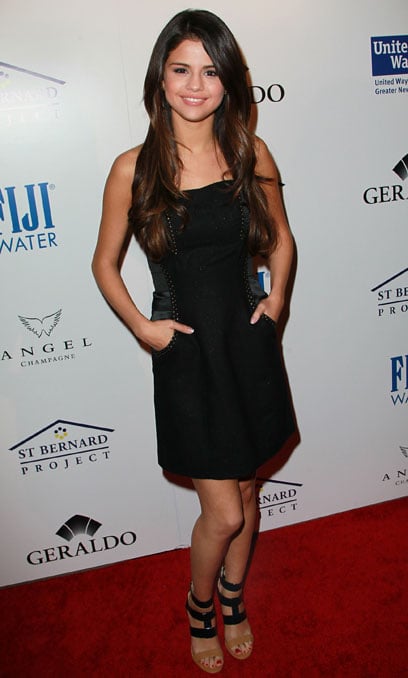 Selena Gomez [64] is growing up and moving beyond her teen queen title as she makes her debut on the PopSugar 100. The singer and actress nabbed a role in the soon-to-be released romantic comedy Monte Carlo and started dating the most eligible bachelor under 18, Justin Bieber. Justin and Selena's romance started in late 2010, and they've been stepping out more as a couple lately, even sharing a public kiss at the Billboard Music Awards. Selena and her band, Selena Gomez and the Scene, have a new album coming out on June 28 titled When the Sun Goes Down, and she's headed on tour this Summer to support it. Selena stays in touch with her fans on Twitter, even though at times Justin's die-hard female followers can let their jealousy of Selena get the best of them.
72. Meryl Streep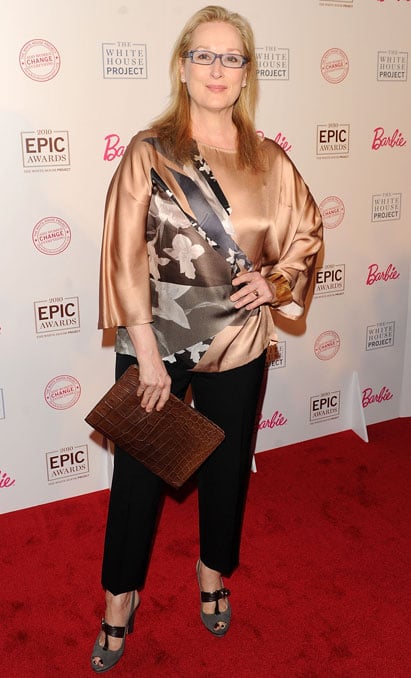 Meryl Streep [65] took on the challenge of portraying British prime minister Margaret Thatcher in The Iron Lady, which she spent much of this year working on. It's a departure from her most recent comedy success in It's Complicated but could put her back into contention for another Oscar nod. Her break from comedy is short lived since Meryl is already in talks to star with funny lady Tina Fey [66] as a neurotic mother-daughter duo in Mommy & Me.
71. Sarah Jessica Parker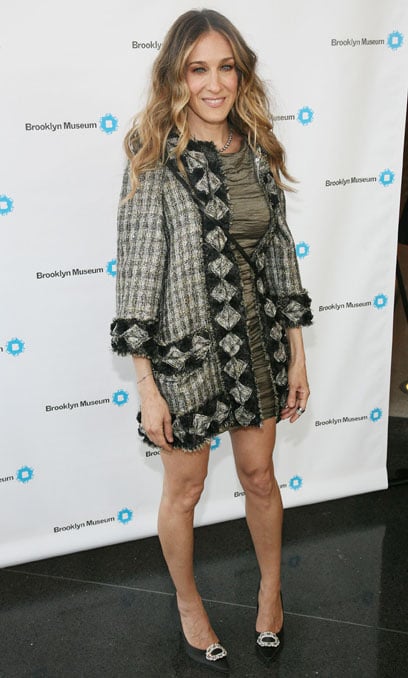 Sarah Jessica Parker [67] had another huge year full of family, film, and fashion! Sex and the City 3 rumors continued swirling around the star, though she moved forward with other projects like a small part in New Year's Eve and the leading role in I Don't Know How She Does It. SJP was a staple at the hottest fashion events of the year, supporting the NYC ballet at their annual events and joining her date Andy Cohen at this year's Met Gala. Family remained SJP's number one priority, and she still found time to walk James Wilkie to school in the morning and explore the city's parks with her twins, Marion and Tabitha. Sarah Jessica Parker remains in her role of creative director at Halston Heritage as well.
70. Zac Efron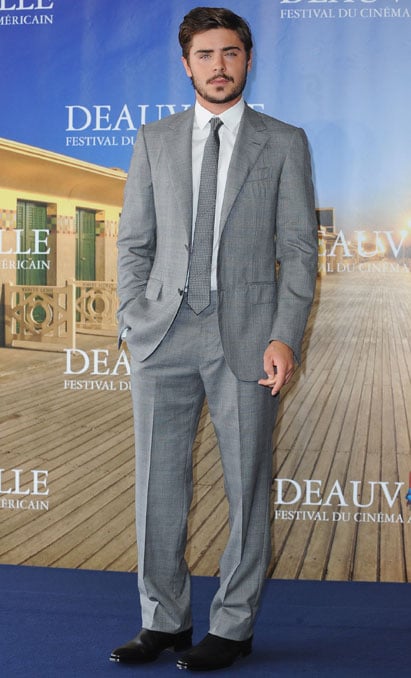 How can you resist those gorgeous blue eyes? Zac made some big changes this year, first starting with his physique, bulking up for his starring role in The Lucky One, and adding a feather tattoo to his inner arm. He also made a move in his personal life, ending his long-term relationship with Vanessa Hudgens [68]. Things are going well for him professionally, scoring a part in the ensemble cast in New Year's Eve, and we'll hear more of his sexy voice in next year's animated flick The Lorax.
69. Tom Cruise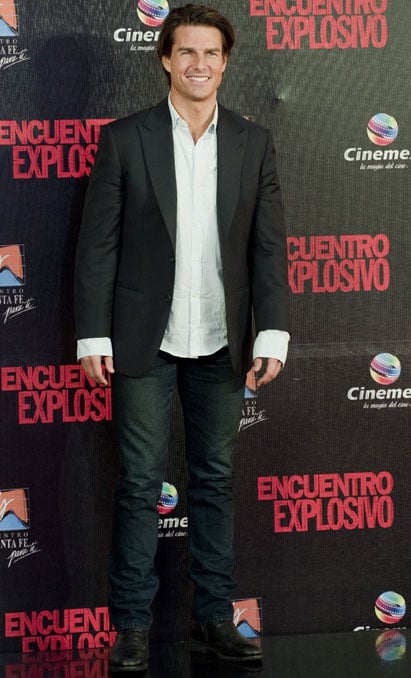 Tom Cruise [69], one of Hollywood's hardest-working guys, kicked off the Summer of 2010 by bringing Knight & Day all over the world with costar Cameron Diaz [70]. From there, Tom went on to close a chapter in his career by filming his final appearance as superspy Ethan Hunt in Mission Impossible: Ghost Protocol. He spent months shooting in locations such as Dubai and Vancouver before turning the reigns over to Jeremy Renner, who will continue the series. Tom didn't take a break after that epic project, and he immediately went on to do the comedy Rock of Ages. He split his time between his homes in Manhattan and LA, hanging with Katie Holmes [71], Suri, Connor, and Bella. Tom and Katie were also on hand to bid farewell to Oprah Winfrey [72] during the taping of the TV queen's final episodes.
68. Nicole Kidman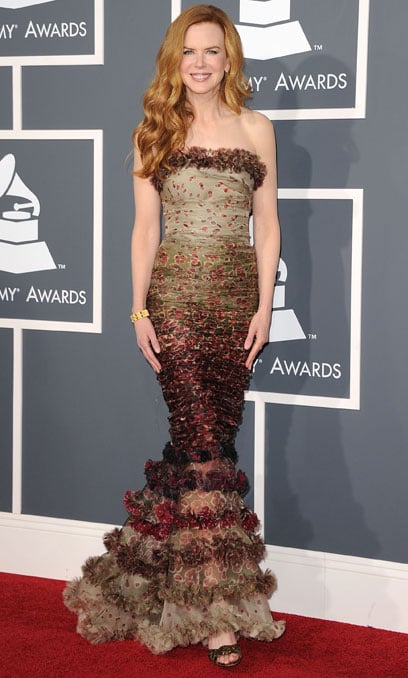 Nicole Kidman [73] claimed her spot among the finest actors in Hollywood once again this year with a best actress Oscar nomination for her work in Rabbit Hole. She glowed throughout award season with husband, Keith Urban [74], on her arm. The tortured characters she often plays on the big screen were a stark contrast to the quirky one she brought to life in the romantic comedy Just Go With It. Her personal life was in the headlines again recently with news that she and Keith welcomed a second daughter, Faith Margaret, with the help of a surrogate. The happy family of four temporarily relocated to San Francisco this Spring while Nicole filmed the HBO miniseries Hemingway and Gellhorn.
67. Stephen Moyer
True Blood's Stephen Moyer [75] is a heartthrob, vampire, and, since the Summer 2010, a loving husband. Making his debut on the PopSugar 100, the HBO hottie tied the knot with his costar Anna Paquin [76] in August during a lovely beachside ceremony. The couple didn't have much time to celebrate before stepping out the following week wearing their new wedding [77] bands to the Emmys. With an award show behind them, the newlyweds set out in September to explore Europe on their well-deserved honeymoon. Anna and Stephen's real-life love story is going strong, but their tortured onscreen True Blood romance will have fans on the edge of their seats when it returns for a fourth season on June 26.
66. Patrick Dempsey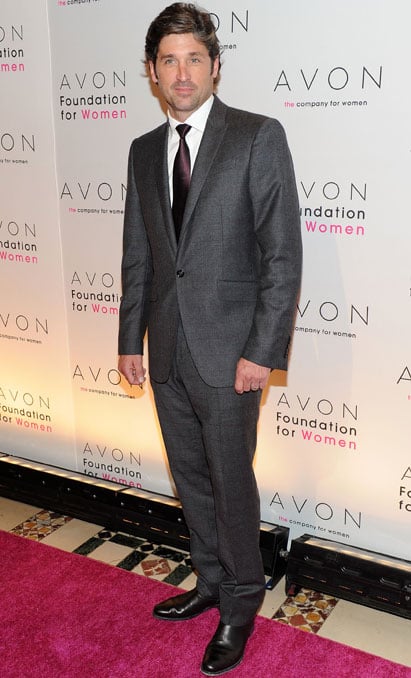 Grey's Anatomy star Patrick Dempsey [78] has been a fixture in prime time for the better part of a decade, and this year will transition from trustworthy doctor into a villain in Transformers: Dark of the Moon. He spent most of Summer 2010 shooting with Shia LaBeouf [79] and Josh Duhamel [80]. His McDreamy story line on Grey's was dire, but Patrick lets loose in real life by getting behind the wheel of race cars or pitching the ball during his sons' Little League practices.
65. Javier Bardem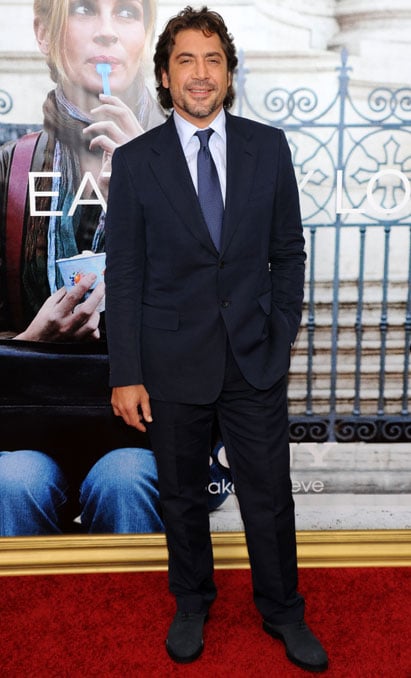 Spanish import Javier Bardem [81] is having another monumental year, which kicked off with his surprise wedding [82] to longtime love Penelope Cruz. Shortly after the exciting news of their nuptials, Penelope and Javier announced they were expecting their first child. The couple welcomed their first son, Leo, in January and, within days, Javier also received an Academy Award nomination for his dramatic performance in the foreign film Biutiful. This Spring, he was on daddy duty while Penelope went on an international press tour for her Pirates of the Caribbean: On Stranger Tides.
64. Ellen DeGeneres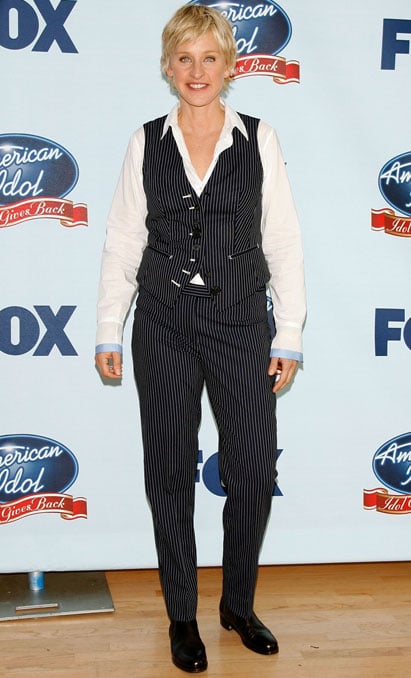 It's been an exciting year for Ellen DeGeneres [83]. After announcing her exit from American Idol, the TV host went on to land some of the most noteworthy interviews on daytime. She welcomed stars like Taylor Swift [84], David Beckham [85], Robert Pattinson [86], and Katie Holmes [87] to the show and even sat down with her wife, Portia de Rossi [88], for a one-on-one interview. Portia made a big change in her life as well, officially changing her last name to DeGeneres.
63. Robert Downey Jr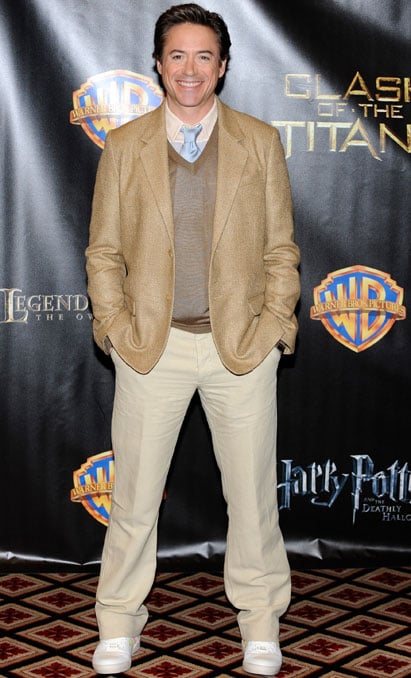 It's been one hit after another for Robert Downey, Jr.! He rode the wave of success following the release of Iron Man's sequel last Summer, and will have even more superhero fun in The Avengers. Robert also reprised his role in another Sherlock Holmes movie, due out later this year. Aside from all the action, Robert got comedic for the Todd Phillips film Due Date. Throughout the many projects, RDJ has had his wife, Susan, by his side.
62. Eva Longoria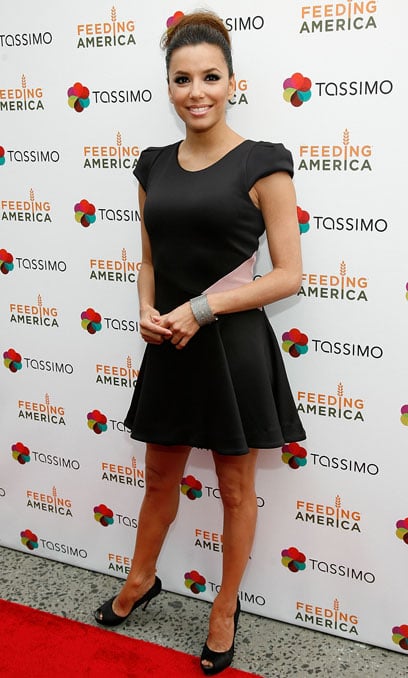 It was a whirlwind year full of highs and lows for Desperate Housewives star Eva Longoria [89]. Her personal life was rocked by a scandal last Fall when she split with husband Tony Parker. Eva wasn't solo for long, since she quickly fell into the arms of another lucky guy, Eduardo Cruz. She ventured out on a new career path and released a cookbook, Eva's Kitchen, and also showed off her party-planner skills by hosting a baby shower for her best friend Victoria Beckham [90]. As of now, things are still going strong with her new love Eduardo, and the pair have been spotted all over the globe on romantic dates.
61. Emma Stone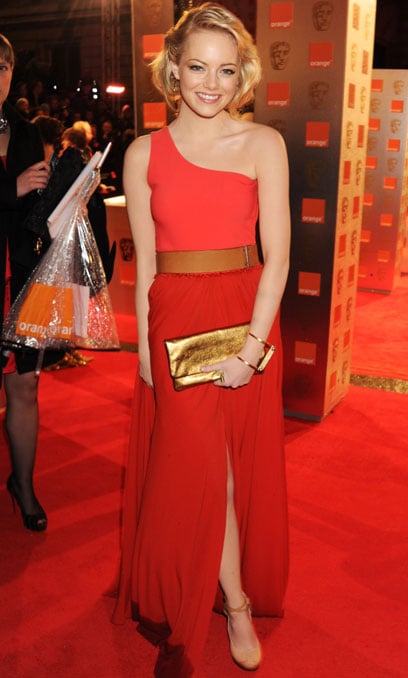 Emma Stone [91] rode high into 2011 after the success of last year's Easy A. She had people laughing as she promoted the project on late-night talks shows and as the host of SNL. Emma grabbed even more attention when the funny role earned her a Golden Globes nomination. The actress switched gears and hair colors to film The Amazing Spider-Man alongside Andrew Garfield, and ventured into animation by voicing The Croods with Ryan Reynolds [92]. She has even more projects on her list with the upcoming Crazy, Stupid, Love and The Help, all the while being a stylish staple in Hollywood and one of the hottest rising stars.
60. Katy Perry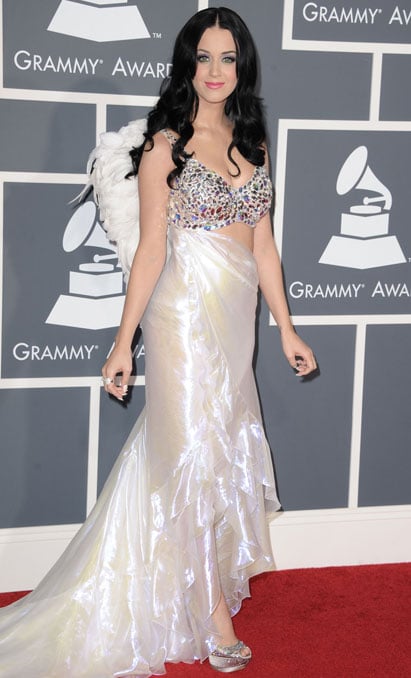 Pop star Katy Perry [93] had a huge year both personally and professionally. She represented Summer 2010 with her hits "California Gurls" and "Teenage Dream" and kept the jams coming all year with the release of "Fireworks" and "ET." The singer also debuted her first perfume, Purr. Katy married Russell Brand [94] in October in a lavish Indian ceremony, and the newlyweds have been each other's best red-carpet accessories ever since. She shared a peak at her secret nuptials during her performance at the Grammys, where she was nominated for four awards. She's currently on tour with her Teenage Dream album.
59. Drew Barrymore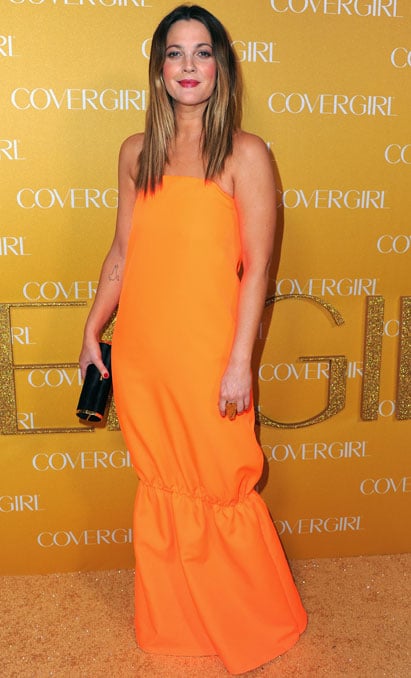 Drew Barrymore [95] took Going the Distance around the globe, but shortly after promotions for the film wrapped, she and costar Justin Long [96] went their separate ways in real life. She hadn't been single for long when she started dating Will Kopelman early this year, and they've enjoyed romantic dates, casual lunches, and courtside Lakers seats in the Spring. Drew headed to Alaska in the Winter to shoot Everybody Loves Whales. She's now gearing up to direct again, with the project How to Be Single in development. There was more professional success in store, as the Charlie's Angels TV series, which she's producing, got picked up by ABC.
58. Jessica Simpson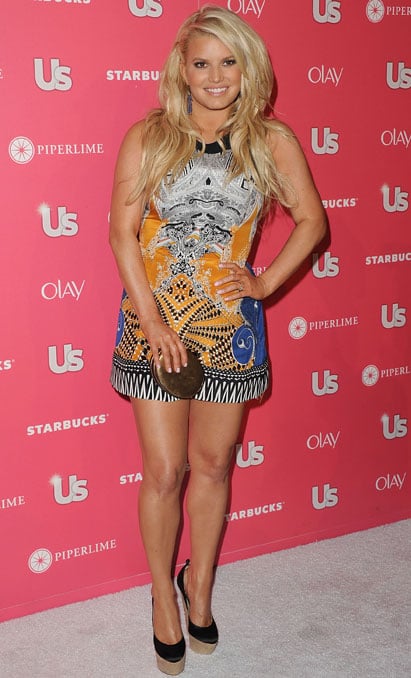 Jessica Simpson [97] had a banner year of celebrating her 30th birthday, growing her Jessica Simpson Collection, and getting engaged to Eric Johnson! The pair first got hot and heavy during a vacation to Capri last Summer, and were engaged in early November. The cozy couple have had no problem with PDA, and Jessica raves about her man in interviews and shares sexy shots of him on Twitter. He was close by her side as she traveled between the East and West Coasts all year to support her fashion brand. She added denim to her offerings this year, and her next endeavor is a line for tweens, which she'll helm with her little sister Ashlee. Jessica's hugely successful fashion empire also scored her a new reality TV show on NBC, Fashion Star, in which she'll mentor aspiring designers trying to launch their own lines.
57. Kate Middleton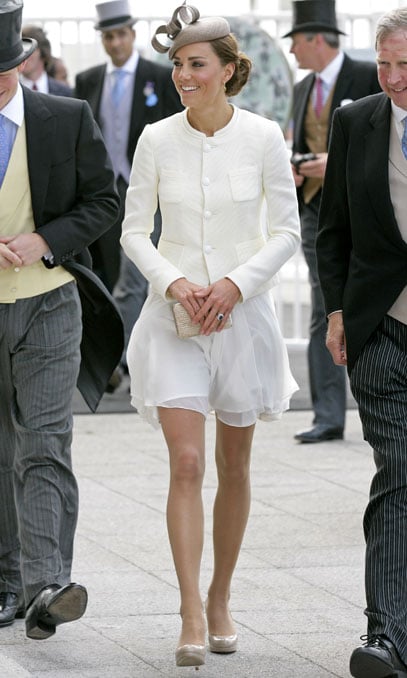 Kate Middleton was catapulted into the world's spotlight with the November announcement of her engagement to Prince William. The longtime couple began making official appearances together shortly after, stepping out in Wales, visiting St. Andrews University, and touring Northern Ireland. Once the wedding [98] date was set, speculation about the details of grand nuptials was intense. On April 29, the stunning bride had the attention of billions when she arrived at Westminster Abbey in a gorgeous Sarah Burton for Alexander McQueen gown, and later when she kissed her new husband on the balcony of Buckingham Palace. The royal couple had to wait a few weeks before heading off on their honeymoon in the Seychelles. The newlyweds got to work upon returning home, helping welcome the Obamas to the UK and making a fabulous entrance at the Epsom Derby and other official royal events. It was quite a year for the prince and princess, who will make a highly anticipated trip to North America in late June.
56. Andrew Garfield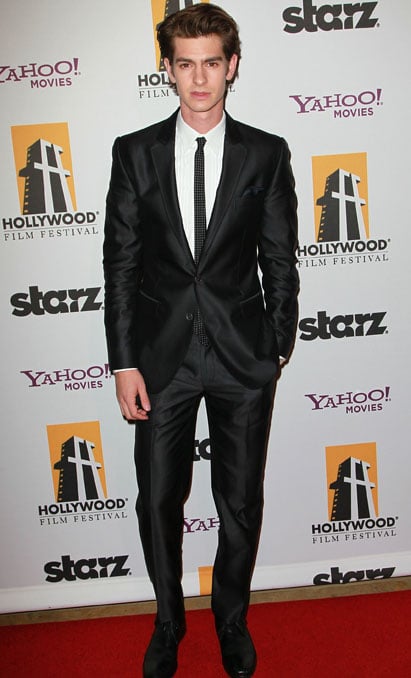 Andrew Garfield grabbed Hollywood's attention in the last 12 months with the success of The Social Network and his role in Never Let Me Go. He didn't pick up the Golden Globe for best supporting actor, but the whole cast walked away with the award for Best Drama — the movie also won the Oscar for best original screenplay. His star continued to rise when he landed the lead role in The Amazing Spider-Man, and he got right to work in the iconic Spidey suit on set with Emma Stone [99]. Andrew recently split with his longtime girlfriend Shannon Woodward, and he remains single and focused on his career. He recently signed on to costar with Jennifer Garner [100] in Back Roads.
55. Adam Sandler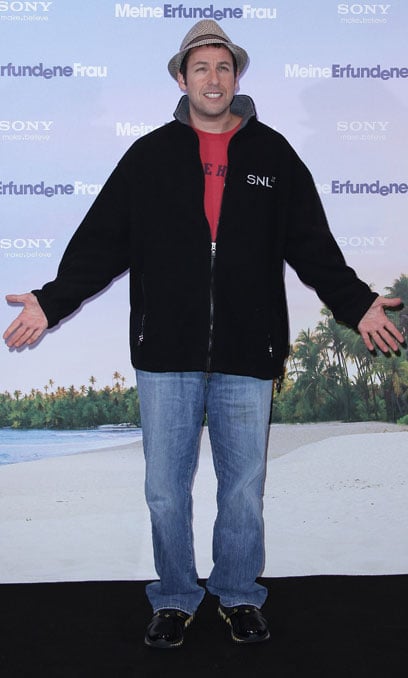 Adam Sandler [101] continued his comedy streak this year with two new releases, including Grown Ups and Just Go With It. His big-screen effort with Jennifer Aniston [102] saw success at the box office after he wrapped work on another funny film, Jack and Jill, with Katie Holmes [103]. Adam scored his well-deserved star on the Hollywood Walk of Fame and his adorable daughters Sunny and Sadie stole the show during his ceremony.
54. Julia Roberts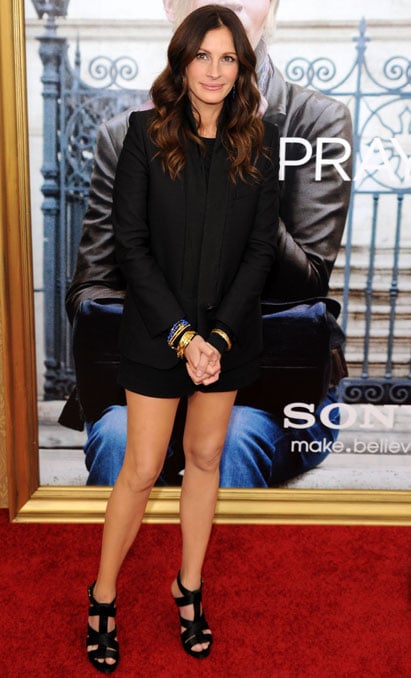 Julia Roberts [104] continued her success with the Summer release of Eat, Pray, Love alongside Javier Bardem [105]. The movie adaptation was Julia's highest debuting film since America's Sweethearts and helped land her a Glamour Woman of the Year award. She also made one last appearance on Oprah with friend and Larry Crowne costar Tom Hanks [106] before their film hits theaters in July.
53. Helena Bonham Carter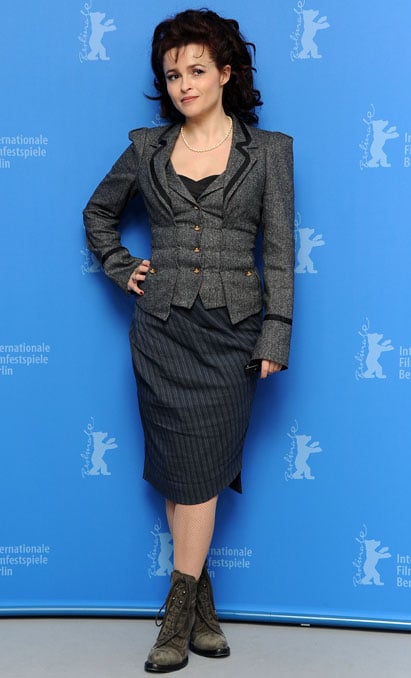 Helena Bonham Carter is one of a kind in Hollywood. Her role in The King's Speech grabbed her Golden Globe, SAG, and Oscar nominations, and the whole cast was celebrated when they took home the industry's top prize, the Oscar for best picture. The honors continued this year when Helena was one of a select group of American stars to join the Obamas for dinner with the queen of England. Helena never ceases to keep us on our toes with her fashion sense, and she made a particularly big splash when she wore two different colored shoes to the Golden Globe Awards. For the Oscars, she honored fellow nominee, the Alice in Wonderland costume designer, by sporting one of her unique designs.
52. Lady Gaga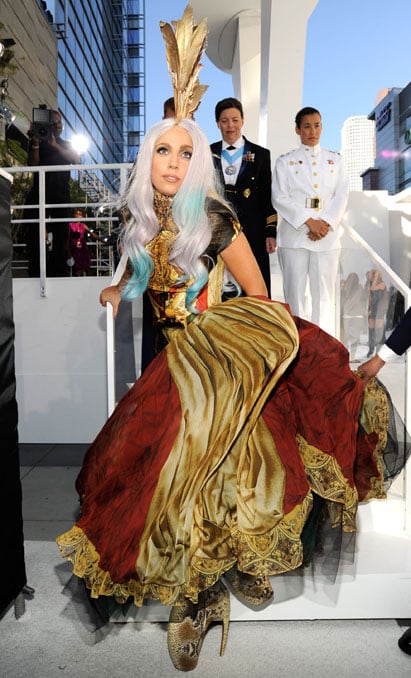 Lady Gaga [107] kicked off her year with a bang when she took home the MTV VMA for best video after walking the red carpet in an outfit made entirely of meat. She celebrated her milestone 25th birthday, graced the covers of Vanity Fair and Vogue, and debuted "Born This Way," but the singer didn't stop there. She arrived in an egg to the Grammys, where she picked up three awards, and went on to release two more controversial singles. Lady Gaga's second album Born This Way sold 1.11 million copies in its first week, topping the charts in 23 different countries.
51. Taylor Swift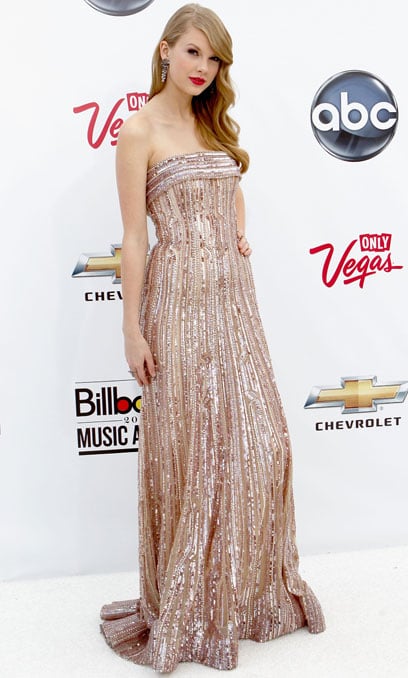 Taylor Swift [108]'s Speak Now album was released last year and she's been on the go since. The pop-country singer went on tour with dates in Asia, Europe, and North America. She picked up multiple nominations and accolades including Billboard's album of the year and entertainer of the year. She had a short-lived relationship with Jake Gyllenhaal [109], which once again landed her love life in the headlines, and was linked to Glee's Chord Overstreet in the Spring.
50. Courteney Cox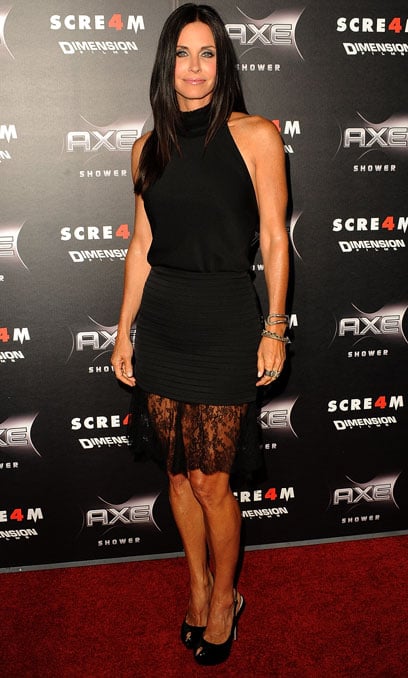 The last 12 months have been a roller coaster for actress Courteney Cox [110]. She and David Arquette [111] reunited with Wes Craven and Neve Campbell, as well as a slew of hot young actors, to film Scream 4 in the Fall, though that was also around the time that Courteney and David announced they were separating. Her small-screen sitcom Cougar Town continues to gain momentum and was renewed for another season. Amid rumors about her Cougar Town costars, David and Courteney's status remains uncertain, though they are both committed to raising their daughter, Coco, together and the two did press for Scream 4 side by side.
49. Diane Kruger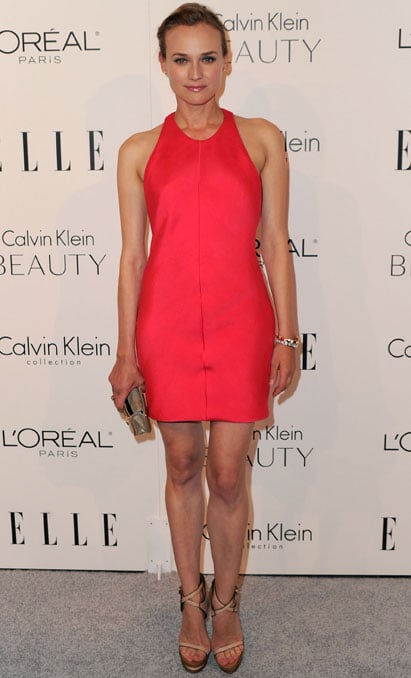 Diane Kruger [112] brought her enviable style all over the world this year. She started Summer 2010 in Paris for the premiere of Lily Sometimes, headed to LA with Joshua Jackson [113], and then traveled to NYC for Fashion Week. She racked up even more miles on trips to Mexico, Berlin, and Cannes but took a break from traveling to grace the cover of Glamour as she promoted her thriller with Liam Neeson, Unknown. The intense film grabbed the number one spot at the box office on opening weekend, and she took her success to Coachella with Joshua. Diane attended the Cannes Film Festival as one of the celebrity ambassadors for L'Oreal, and she and Josh once again were a picture-perfect red-carpet pair.
48. Justin Timberlake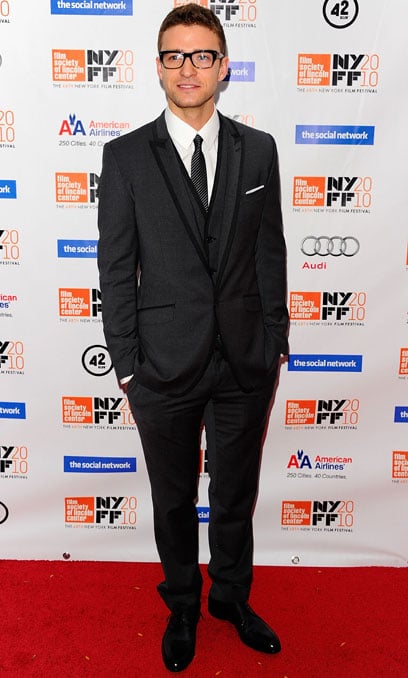 Justin Timberlake [114] continues to leave his music career in the past as he makes his mark as an actor in Hollywood. He focused on the big screen with a solid performance in huge hit The Social Network, the animated feature Yogi Bear, and got in front of the cameras to film Now. His real-life relationship to Jessica Biel [115] fizzled out after four years, but 30-year-old Justin bounced back with a rumored fling with Olivia Wilde [116] and an SNL hosting gig. His 12-month run doesn't end there, since Bad Teacher, which brings him back together with ex Cameron Diaz [117], hits theaters at the end of June, and Friend With Benefits is out later in the Summer.
47. Carrie Underwood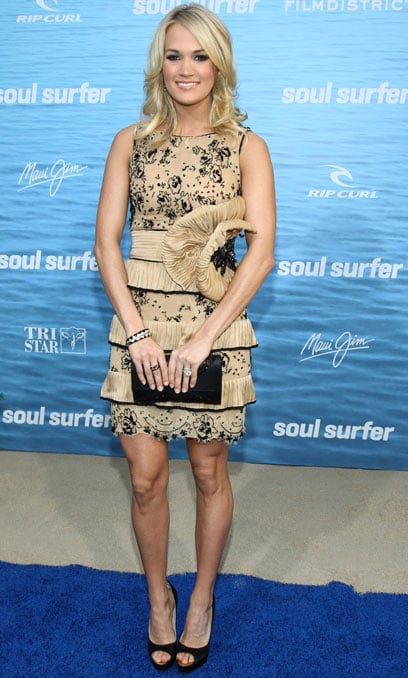 Carrie Underwood [118] started her busy year with her July wedding [119] to Mike Fisher. The newlyweds laid low after their tropical honeymoon to Tahiti, but Carrie's music stayed on top. "Undo It" and "Temporary Home" went gold, and she released "Mama's Song" shortly after. She and Brad Paisley hosted the Country Music Awards, where she was nominated, in November, and the singer later switched gears to make her big-screen debut in Soul Surfer in the Spring. Carrie went back to her American Idol roots to perform on the season 10 finale alongside contestant Lauren Alaina.
46. Rihanna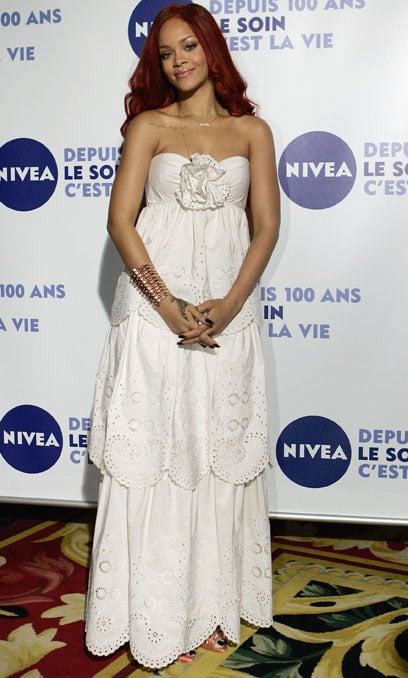 Rihanna [120] had a year full of hit new songs and hot hair colors! She kicked things off with collaborations with Eminem [121] and Kanye West [122] and released her fifth album, Loud, in November with the hit tracks "Only Girl (In the World)" and "What's My Name?" but she didn't stop there. Rihanna grabbed her tenth number one spot on the Billboard charts with "S&M" and performed the song with Britney Spears [123] at the Billboard Music Awards. She also got candid with Vogue and Rolling Stone and shocked fans with her controversial "Man Down" music video.
45. Bradley Cooper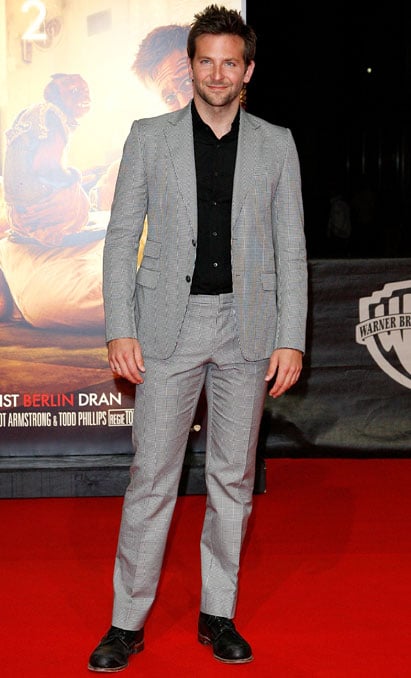 Bradley Cooper [124] really cemented his leading man status this year and jumped 30 spots on this year's list. Bradley kicked off last Summer promoting The A-Team with Jessica Biel [125], and he only had a little downtime before getting to work on The Hangover Part II. He went straight from filming in Thailand to doing press for Limitless. He brought that film to the top of the box office, though his personal life hit a snag when he separated from longtime girlfriend Renée Zellweger [126]. He recovered by being linked to multiple ladies as he hit the town again to talk up his huge box office hit The Hangover sequel. The in-demand actor has a number of upcoming projects in the works as well.
44. Matthew McConaughey
Matthew McConaughey [127] might be known for his fun-loving ways and adorable family, but of course he's still a major movie star as evidenced by the success of this year's The Lincoln Lawyer. He filmed the movie last Summer in between sweet days out with his kids, Levi and Vida, and released the feature film in March. MM's been taking it easy since and hanging around his Malibu home when he's not traveling with his foursome.
43. Will Smith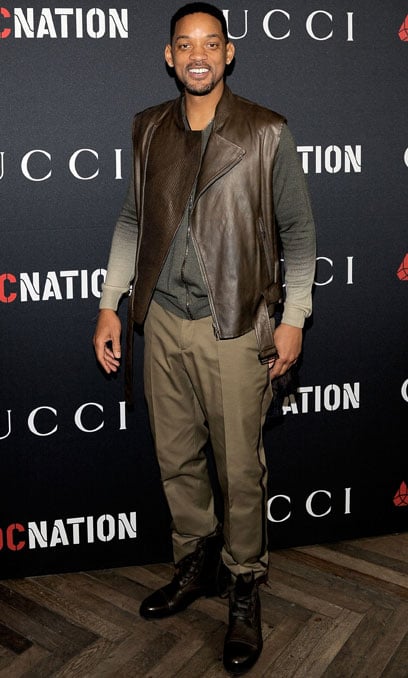 One of your favorite Hollywood dads, Will Smith [128], had a busy year managing his talented crew. His kids had huge moments in the spotlight with supportive father Will cheering them on the whole time. His youngest, Jaden, starred in The Karate Kid, then daughter Willow kicked off her singing career with huge hit "Whip My Hair" and his oldest, Trey, graduated from high school. Will was back in the spotlight to film Men in Black 3 this Spring, and he's reportedly joining Quentin Tarantino [129]'s next project Django Unchained.
42. Mila Kunis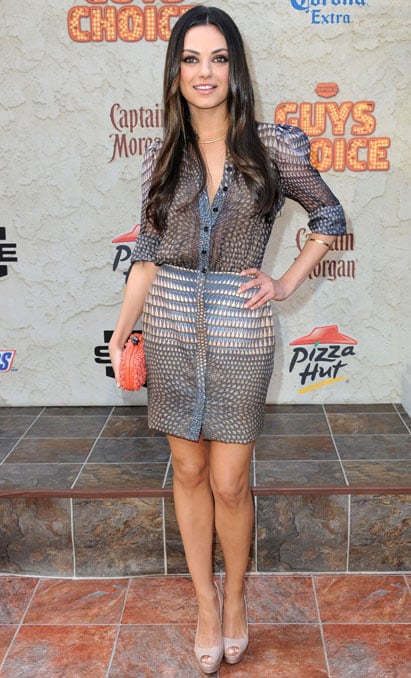 It was a big year for rising movie star Mila Kunis [130] who is making her debut on the PopSugar 100 this year. She wrapped up filming Friends With Benefits with Justin Timberlake [131] by the end of Summer, leaving her plenty of time to promote Black Swan in the Fall. The movie was met with rave reviews for both Natalie Portman [132] and Mila, setting them up for a busy award season. Mila didn't miss a step on all the glamorous red carpets, landing her on best dressed lists for every major event. When the season wrapped up with the Oscars, Mila's love life was the center of attention in the wake of her split from longtime boyfriend Macaulay Culkin. Rumors swirled about a romance with Justin Timberlake, though the two maintain that they're just friends. Mila kept her sense of humor throughout it all, even playfully getting groped by Justin on stage at the MTV Movie Awards.
41. Ryan Gosling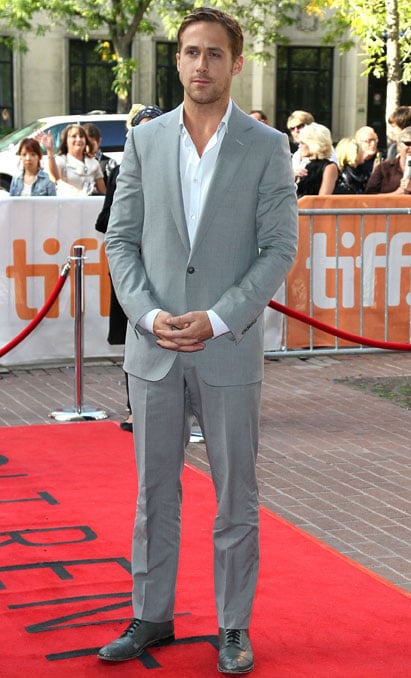 Ryan Gosling [133] went from one film set to another as he continued to be one of Hollywood's hottest leading men moving up 33 spots this year. His band, Dead Man's Bones, took a backseat as he focused on film. Ryan was one of the stars of the critically acclaimed movie Blue Valentine, though only his costar Michelle Williams [134] earned an Oscar nod for her role. He logged weeks shooting both The Ides of March and Drive, with the latter film earning a prize at Cannes for director Nicolas Winding Refn. Ryan's personal life was a hot topic, as always. He had a brief flirtation with Blake Lively [135] before being spotted on a personal tour through the Cincinnati aquarium with Olivia Wilde [136]. Still, he remains one of Hollywood's most eligible bachelors. As Ryan gears up for his next release, Crazy Stupid Love, there is sure to be more speculation about who his real-life leading lady is.
40. Jennifer Garner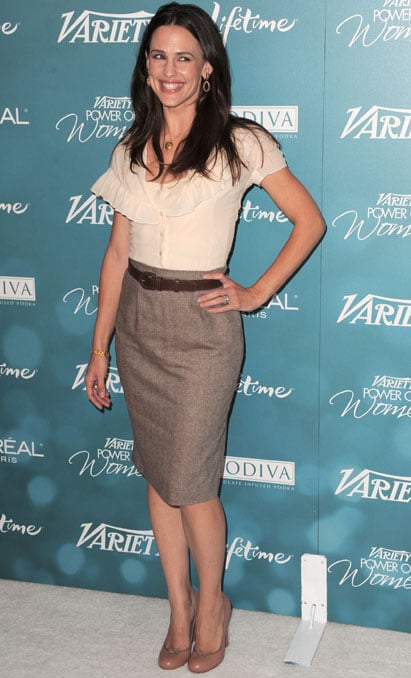 Whether walking the red carpet to promote a new movie or sticking close to home with her daughters, Seraphina and Violet, Jennifer Garner [137] is one of your favorites. She seems to be in her element when exploring LA, doing school runs, or having frozen yogurt with her girls, but we also love to see Jen dressed up and enjoying a date night with her hot husband, Ben Affleck [138]. She was on the big screen this year with a steamy role in Arthur opposite Russell Brand [139], then Jennifer spent a few months out of the spotlight filming The Odd Life of Timothy Green in Atlanta. Jennifer also travels the country to promote one of the organizations she's most passionate about, Save the Children. She's visited libraries to promote literacy and met with politicians to advocate for early childhood education. She's passed on a love of reading to her oldest daughter, Violet, who's frequently spotted stocking up at libraries in their California hometown.
39. Halle Berry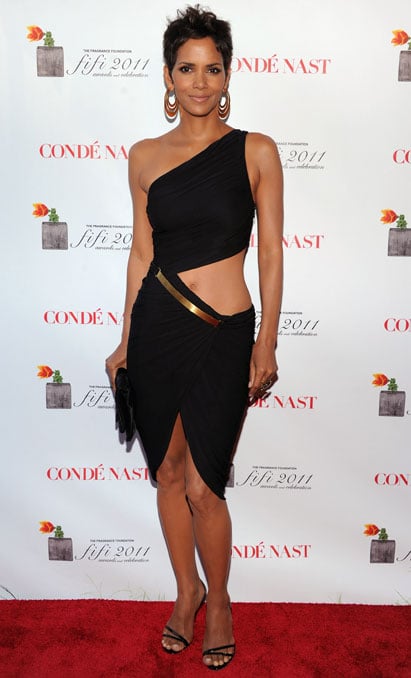 Halle Berry [140] kicked off last Summer as a single woman, but that didn't last long! She became an item with her Dark Tide costar Olivier Martinez after meeting on the South African set. Halle spent more time filming a role in the upcoming New Year's Eve after enduring a brief custody battle with Gabriel, and made the press rounds on behalf of her Winter release Frankie & Alice. Halle starred as a woman struggling with multiple personality disorder in the film, and the portrayal earned her a Golden Globe nomination in addition to honors from the African-American Film Critics Association and the NAACP. Halle landed on the September cover of Vogue, which is the first time an African American woman has scored that coveted spot since 1989. Halle was the recipient of another statue at the Fifi Awards, for her work building a mini-empire of fragrances with her Halle by Halle Berry, Pure Orchid, and Reveal. Halle took advantage of a few opportunities to show off her amazing bikini body by the Malibu beach, but she was covered up in Marchesa to attend the Oscars in February in order to make a posthumous tribute to her legendary idol Lena Horne.
38. Jessica Alba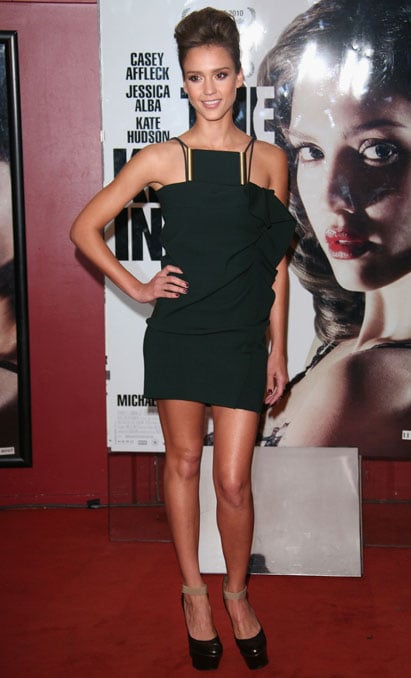 Jessica Alba [141] has a lot to be happy for in 2011 as she, husband, Cash Warren, and daughter, Honor, prepare for baby number two in the Summer! When she wasn't spending time with her family, Jessica released three movies this year — Little Fockers, Machete and The Killer Inside Me. This Summer she'll be sporting a sexy jumpsuit in Spy Kids 4.
37. Matt Damon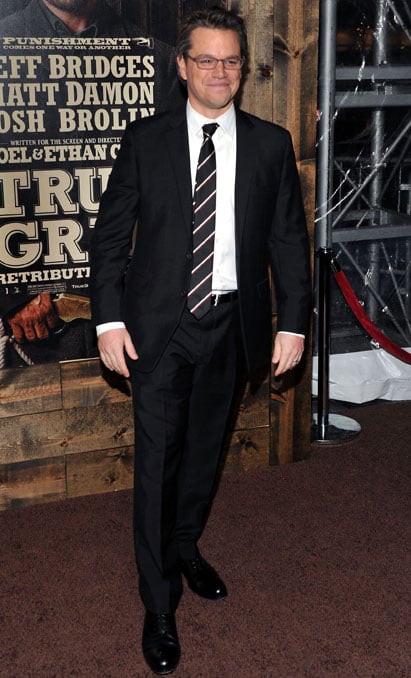 There are so many reasons that Matt Damon [142] landed on the PopSugar 100! He's a family man, an accomplished actor, and one of the nicest guys in the business. He welcomed his fourth daughter, Stella, in October just as he started promoting Hereafter. Next up was True Grit, and later, The Adjustment Bureau. True Grit earned 10 Academy Award nominations. He fit in some funny appearances on 30 Rock and even managed to film Contagion and We Bought a Zoo. Matt was honored for his hard work in filmmaking with a prize from Mayor Bloomberg at the beginning of July. Matt also remains deeply committed to his many philanthropic causes, including Feed America, ONEXONE, and his Water.org organization.
36. Kate Hudson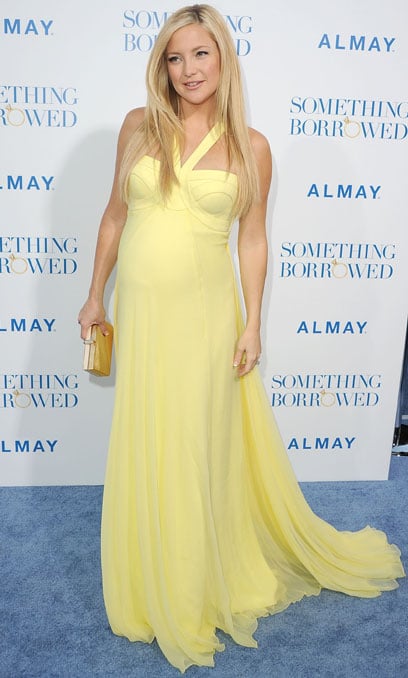 The past 12 months brought lots of change for Kate Hudson [143]. Her romance with Muse front man, Matthew Bellamy, took off after they connected last year, and now they're gearing up for a wedding [144] and a baby! Kate announced their plans to get married this Spring in an interview on The Today Show while making the rounds to talk up her latest comedy Something Borrowed. Kate and Matthew will also welcome their first child together this Summer. Kate's 7-year-old son, Ryder, will become a big brother, and the family is prepping to move into a LA-area mansion and a grand home in London to make room for the new addition.
35. Penélope Cruz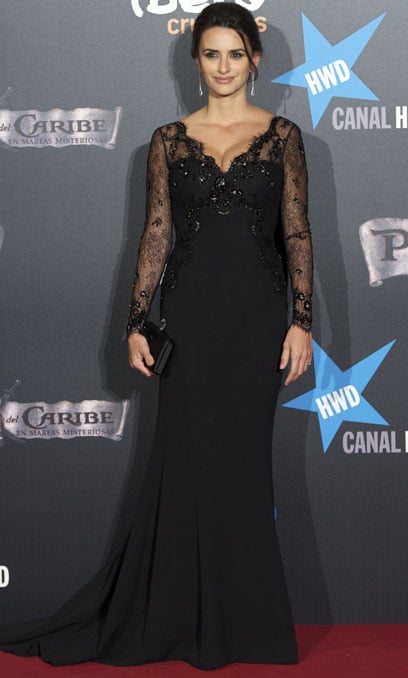 The last 12 months brought many changes to Penelope Cruz's life — she wed longtime boyfriend Javier Bardem [145] in a private July 2010 ceremony in the Bahamas, and later gave birth to their son, Leo, in January of this year. A mere five weeks after welcoming Leo, Penelope dropped jaws in a sequined red L'Wren Scott dress at the Oscars, where she supported Javier and his best supporting actor nomination for Biutiful. Pregnancy didn't get in the way of her spending last Summer on the set of Pirates of the Caribbean: On Stranger Tides with costar Johnny Depp [146]. Penelope and Johnny reunited this Spring for a global press tour on behalf of the Disney blockbuster, though now she seems content to spend downtime with Leo and Javier. Penelope spoke about her young family in various interviews in recent months, even crying from happiness when opening up in her beautiful June issue of Vogue.
34. Ian Somerhalder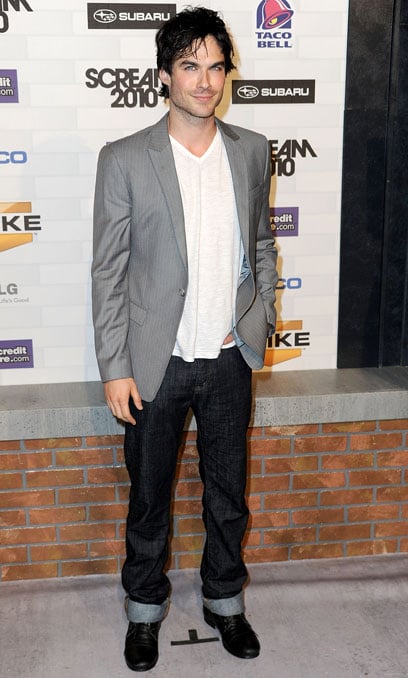 Ian Somerhalder [147] continued to attract legions of admirers and made a huge debut on the PopSugar 100 thanks to his role as Damon Salvatore in The Vampire Diaries. The series' devotees enjoy tuning in to see Ian's antics weekly on the CW, and even follow his Tweets that frequently address the eco causes he's so passionate about. Off screen, Ian keeps company with his costar Nina Dobrev [148]. Ian and Nina are a fan favorite, though they keep their romance relatively low-key. The Vampire Diaries was recently renewed for a third season, meaning there is more of Ian and Nina to come on the small screen starting this Fall.
33. Hugh Jackman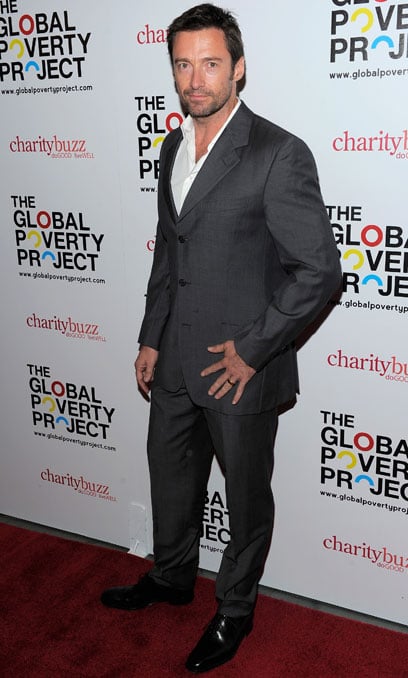 One of Hollywood's most devoted dads, Hugh Jackman [149], didn't have any projects hit the big screen this year but that didn't stop him from being a fan favorite. He worked on Real Steel, which is out later this year and spent lots of time around NYC with his kids. Hugh also starred in a one-man show in San Francisco in March, which showed off his singing, dancing, and acting skills.
32. Victoria Beckham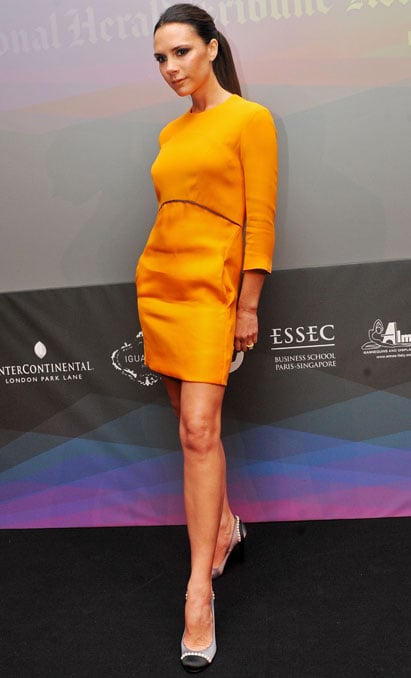 Victoria Beckham [150] became an even bigger force in the fashion industry with the addition of bags and sunglasses to her own signature Victoria Beckham collection. She split her time between London and LA with frequent shopping trips to NYC. Victoria and David announced the news that they were expecting over the holidays, and shortly thereafter spilled the beans that their fourth child will be their first baby girl! Despite being pregnant, Victoria kept up with her busy schedule of attending David's Galaxy matches and sitting on the sidelines to watch Cruz, Romeo, and Brooklyn at their weekend games. She and David also scored the coveted invite to the royal wedding [151], and they looked stunning as they stepped out on Prince William and Kate Middleton's big day.
31. James Franco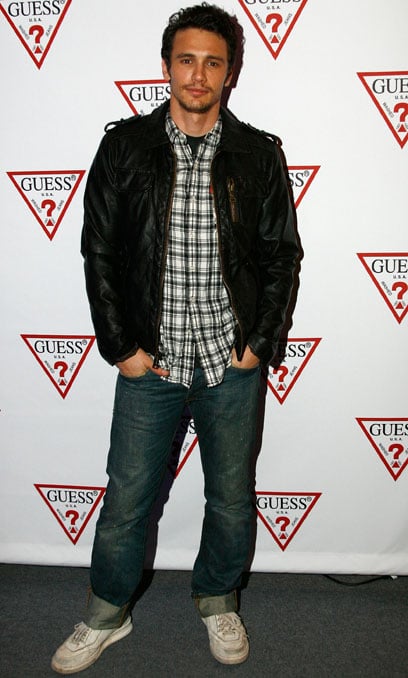 Mr. Franco got Hollywood's attention this year with his critically acclaimed performance in 127 Hours, his eccentric personality, and seemingly never-ending series of new projects. He hosted this year's Academy Awards with Anne Hathaway [152], and though the media critiqued his less-than-enthusiastic effort, he still stood behind his hosting duties. James moved forward in the Spring promoting Your Highness before accepting his MFA in filmmaking from NYU's Tisch School of the Arts in May. James also released his first book, Palo Alto, and a multimedia project based on Three's Company, which debuted at the Sundance Film Festival. James made a brief foray into Twitter, but quit after a few of his tweets raised controversy at Yale, where he is getting yet another degree. This Summer we'll see more of his handsome good looks starring in one of the most anticipated sci-fi flicks of the year, Rise of the Planet of the Apes.
30. Colin Firth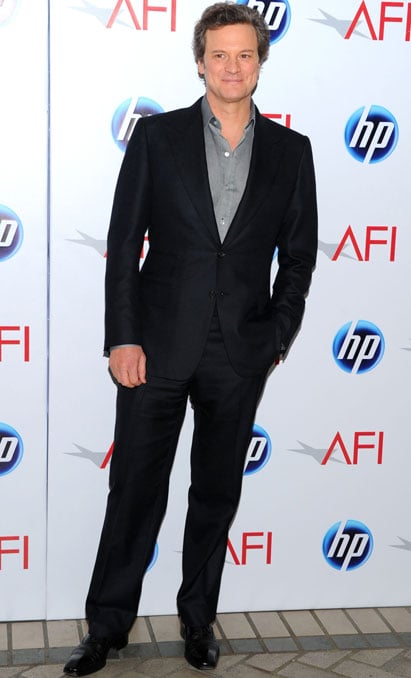 This was really the year of Colin Firth [153]! The hot British actor swept award season and won every major honor from the Oscar to the BAFTA for his role as King George VI in The King's Speech. His proud wife, Livia, was right by his side throughout the months of red-carpet walking, supporting her own eco causes by wearing environmentally responsible gowns. Colin also had the honor of hosting this year's Met Ball, which was a tribute to the late designer Alexander McQueen, with fellow Brits Anna Wintour and Stella McCartney. He'll next tackle comedy after a string of serious roles, as he's starring opposite Cameron Diaz [154] in a remake of the 1966 Michael Caine film Gambit. Colin makes his debut this year on the PopSugar 100 and also found a place on Time's annual list of the world's 100 Most Influential People.
29. Orlando Bloom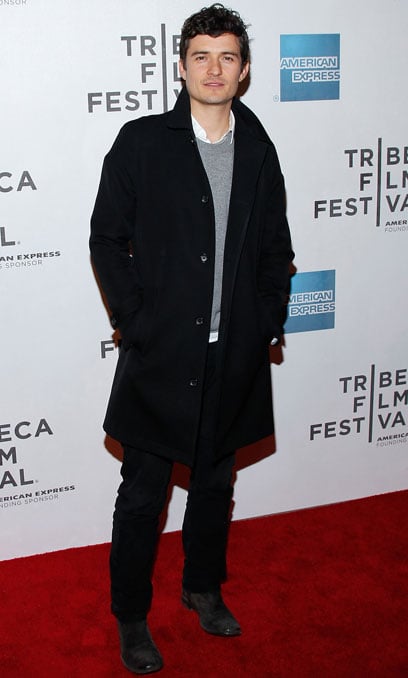 Orlando Bloom [155] had a big life change when he became a dad in January! He and wife, Miranda Kerr [156], married last July and became the proud parents of baby Flynn in January. Flynn has blended into their busy lives seamlessly, and travels the globe with his actor father and supermodel mother. Orlando's gearing up for a return to the big screen in The Three Musketeers, and will soon resume his role as Legolas in the Lord of the Rings movies. Orlando's good looks earned him a gig modeling with Uniqlo, and he frequently uses his celebrity to advocate for the green causes near to his heart.
28. Ben Affleck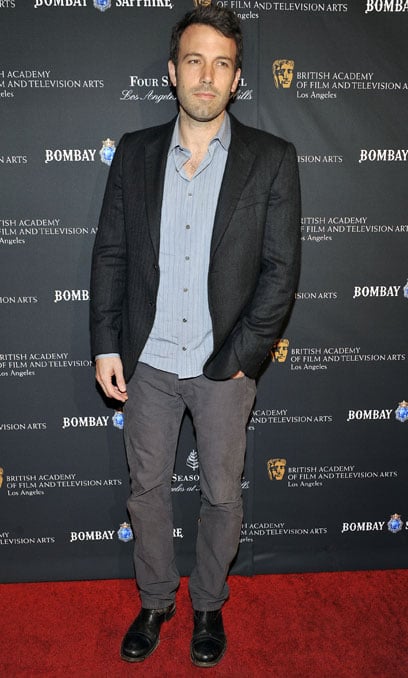 Whether acting or directing, Ben Affleck [157] made his mark in a big way. He received accolades for his work behind the lens in the crime thriller The Town, and despite not making it to the Oscars, Ben got lots of love from other organizations like Broadcast Film Critics Association and the National Board of Review. Ben makes time for philanthropy between his many movie endeavors — his support for our armed forces earned him the Troops Award at Spike TV's Guy Choice Awards. He's also clearly the number one guy in his household full of ladies. Gorgeous Ben truly looks best when he's surrounded by his girls, wife, Jennifer Garner [158], and their daughters, Violet and Seraphina. Ben's gearing up for another big year, as he's scheduled to direct Argo and promote his upcoming Terrence Malick picture.
27. Jennifer Lopez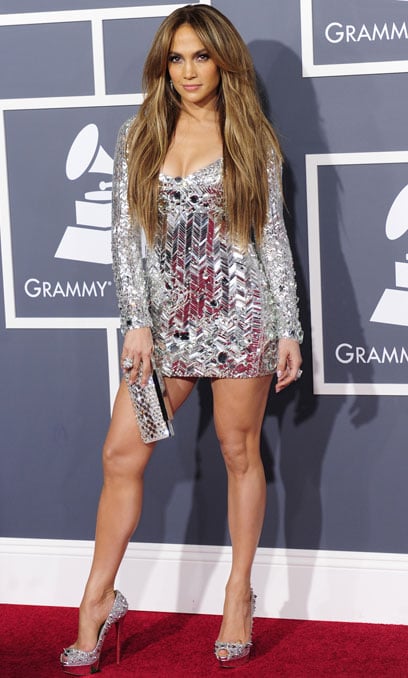 Jennifer Lopez [159] had a huge year jumping 51 spots on the PopSugar 100, helping to reinvigorate American Idol as one of the new judges alongside Steven Tyler. After much speculation over who would be joining Randy Jackson at the judging table, Jennifer scored the gig, and she immediately won over everyone's hearts with her gentle critiques and amazing fashion. J Lo also released her first album since 2007, entitled Love?, and the single "On the Floor" remains a huge hit. Jennifer and Marc Anthony [160]'s adorable twins, Max and Emme, had their own moment in the spotlight when they modeled for Gucci's kids line! J Lo also released yet another successful fragrance and was named a brand ambassador for L'Oreal as well as Venus razors. The busy mom isn't slowing down since she and Marc are working on a Latin singing competition reality show.
26. Alexander Skarsgard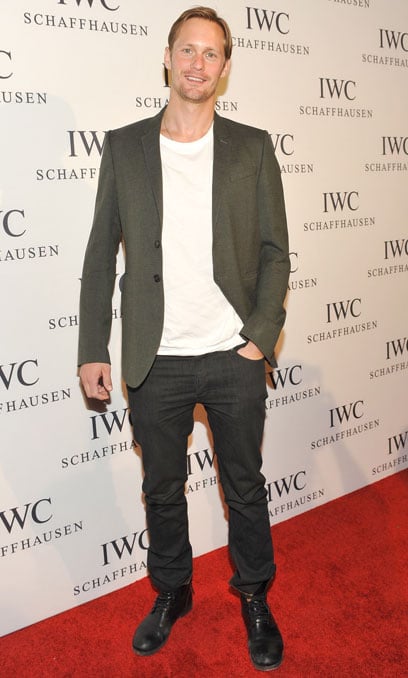 Alexander Skarsgard [161] may be best known for his ab-baring role on True Blood, but this sexy star, making his debut on the PopSugar 100 list, is ready to hit the big time. This year Alexander starred alongside Kirsten Dunst [162] in Melancholia, which debuted at the Cannes Film Festival. He also shot Battleship, which is expected to make a splash in 2012. Alexander also smoldered in tons of magazine shoots and kept things hot with his girlfriend Kate Bosworth [163].
25. Jake Gyllenhaal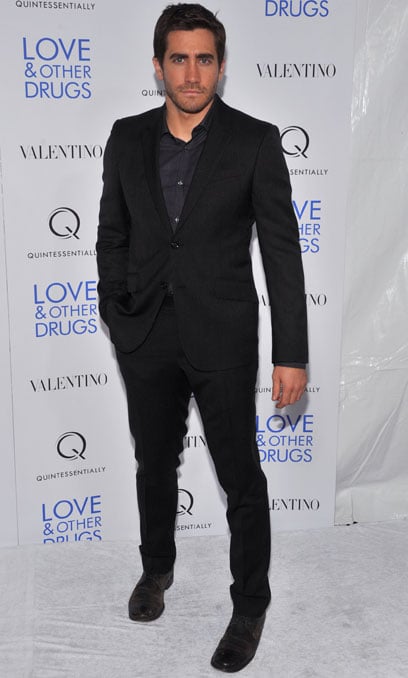 Jake Gyllenhaal [164] may be a single man, but he was surrounded by beautiful women all year long. Jake's relationship with Taylor Swift [165] surprised fans in the Fall, though their mutual love of maple lattes wasn't enough to make the romance last more than a few months. In the midst of dating Taylor, Jake threw himself into promoting Love and Other Drugs alongside Anne Hathaway [166], and the movie earned him a Golden Globe nomination. In the Spring, Jake hit the road again for Source Code and got to work shooting End of Watch with a very sexy buzz cut.
24. George Clooney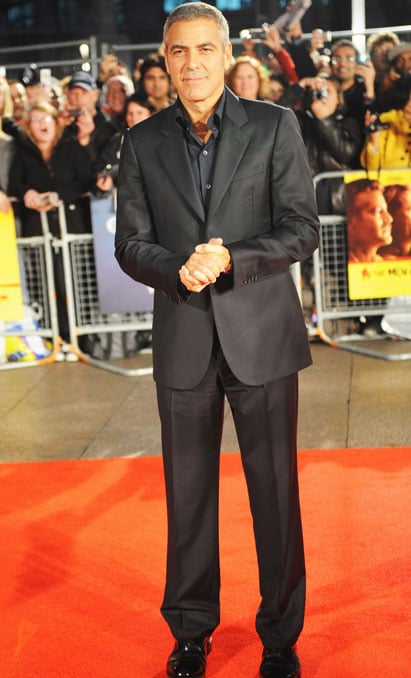 George Clooney [167] mixed box office triumph with philanthropy and long-term love this year. Long seen as Hollywood's most eligible bachelor, George turned 50 an unmarried but certainly not single man. He's going strong with Elisabetta Canalis after almost two years together. George topped the box office with The American and headed to Hawaii to shoot The Descendants, which is out later this year. George was honored with the Bob Hope Humanitarian Award at the Emmys and continued his political efforts by meeting with President Obama and traveling to Africa multiple times to raise awareness for the situation in the Sudan. In the Spring, George once again put on his director hat to work on and star in The Ides of March alongside Ryan Gosling [168].
23. Emma Watson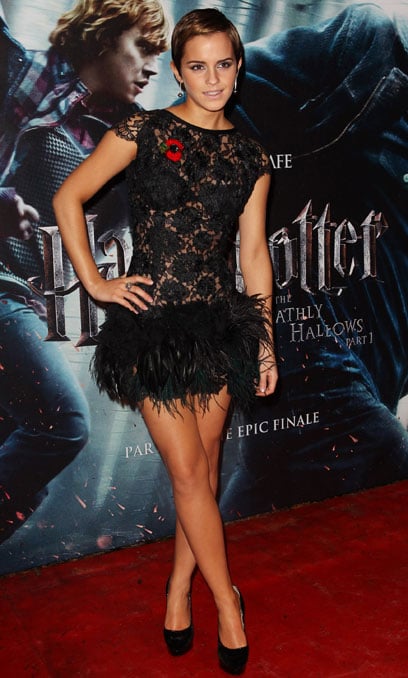 Emma Watson [169] is ready to graduate from Hogwarts, though she put her real-life education on hold when she left Brown University part way through her sophomore year. Instead, she's focusing on promoting her final Harry Potter film, Harry Potter and the Deathly Hallows, and carefully choosing her follow-up projects, which include a small part in My Week With Marilyn and a leading role in The Perks of Being a Wallflower. The conscientious fashion-lover is also designing her own line and was named Lancôme's newest celebrity ambassador.
22. Gwyneth Paltrow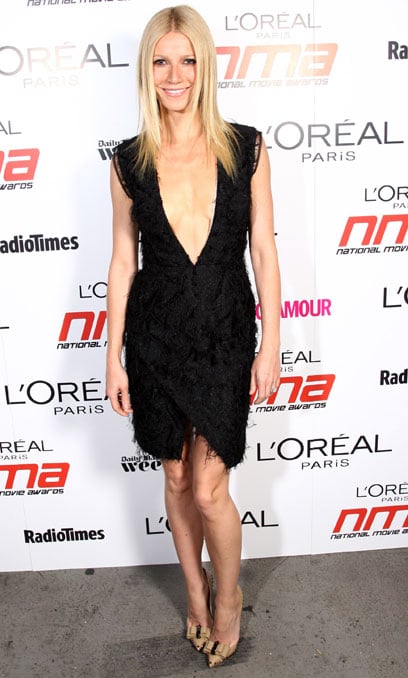 Gwyneth Paltrow [170] ventured out of her comfort zone this year to explore her interest in music. Her leading role in Country Strong offered her a chance to show off her singing skills, and Gwyneth went on to display her range with a solo performance at the Oscars and a duet with Cee-Lo Green at the Grammys. Cee-Lo was also by Gwyneth's side when she hosted SNL, but it was Matthew Morrison [171] who played her leading man in Glee. Gwyneth appeared on the hit show multiple times as Holly Holliday. Gwyneth continued updating fans on her food, travel, and fashion passions with her GOOP newsletter. She further explored the written word in her first cookbook, My Father's Daughter, which was inspired by her late dad, Bruce Paltrow. Gwyneth jetted around the world supporting her various endeavors, going between her home bases in NYC and London. She made sure to spend as much time possible with her kids, Moses and Apple, as well as husband, Chris Martin [172]. Gwyneth also had tons of fun nights with her best friends, like Stella McCartney, Gwen Stefani [173], and Mario Batali [174].
21. Anne Hathaway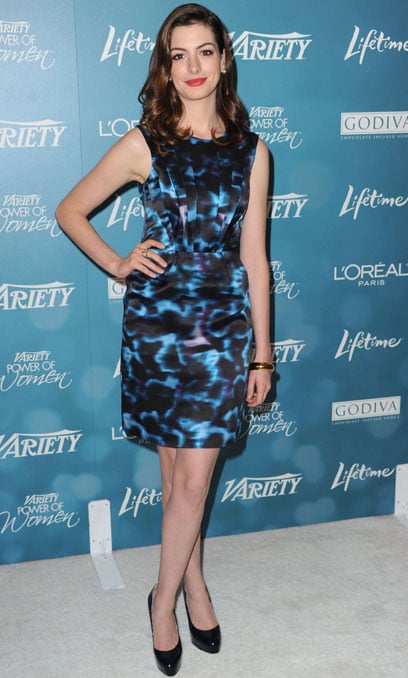 Anne Hathaway [175] sang and danced her way into your hearts as one half of the Oscar hosting duo this year. She was certainly the charmer up on stage on Hollywood's biggest night, and earlier in award season she earned her own Golden Globe nomination for Love and Other Drugs. Anne bared it all alongside Jake Gyllenhaal [176] in that romance, and she'll take on another tumultuous relationship in this Summer's One Day. As for her real love life, Anne is going strong with boyfriend Adam Shulman.
20. Blake Lively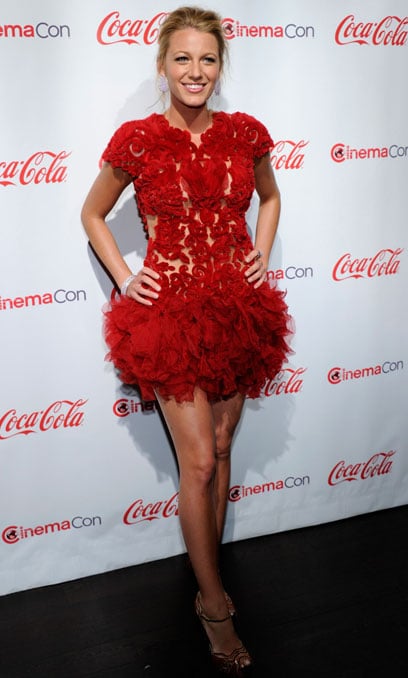 Blake Lively [177] moved from Gossip Girl star to big-screen leading lady this year. Her small but acclaimed part in The Town showed she's more than just a pretty face on the CW show, and this Summer, she stars opposite Ryan Reynolds [178] in Green Lantern. Blake's status in the fashion world was further cemented when she was selected as the face of Chanel Mademoiselle handbags. As Karl Lagerfeld and Anna Wintour's darling, Blake is a staple at fashion weeks around the world and is known for her daring and sexy red-carpet choices. Blake split with longtime love Penn Badgley [179], and was linked to a number of high-profile men before stepping out with new boyfriend Leonardo DiCaprio [180] at the Cannes Film Festival.
19. Taylor Lautner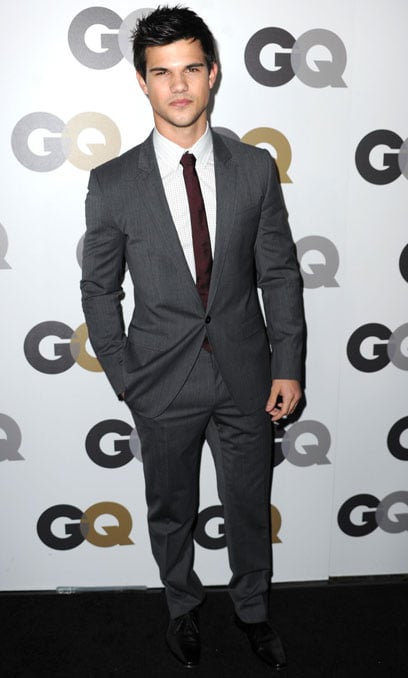 Taylor Lautner [181] is ready to break out of the Twilight series that made him famous and solidify his standing as an action star. Taylor filmed Abduction last Summer, and the thriller hits theaters in September. On set he met his rumored new love, Lily Collins, and the two have been spotted on dates in LA and Vancouver. The role also landed Taylor at number nine in Vanity Fair's list of the highest earners in Hollywood. After Abduction hits, Taylor and his famous abs will be back on the big screen as Jacob Black for the two Breaking Dawn movies alongside Robert Pattinson [182] and Kristen Stewart [183].
18. Ryan Reynolds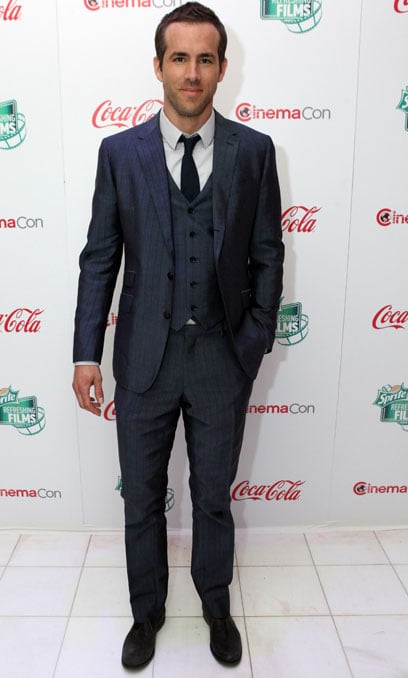 Reigning sexiest man alive Ryan Reynolds [184] rocked the celebrity news world with the announcement of his split from wife, Scarlett Johansson [185], in December. He was coming off the moderate success of his one-man movie Buried, and the twosome, who always kept things private, continued to stay quiet and civil about their divorce. Ryan didn't have much time to dwell in the breakup, since the long promotional road for Green Lantern started early. In early Spring, Ryan headed to South Africa to shoot Safe House, and while there he was romantically linked to model Agnes Fischer. The handsome star remains mostly single and has not only his comic book movie, but the comedy The Change-Up coming out this Summer.
17. Gisele Bündchen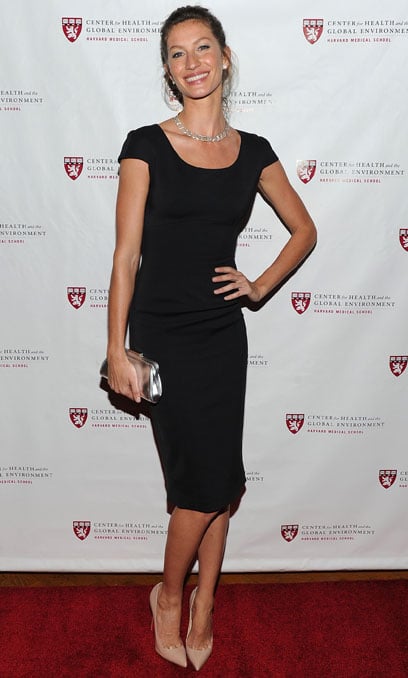 Gisele Bündchen seems to have it all. Her career is soaring, her family is gorgeous and happy, and she always looks ready to have a good time. Gisele spent the year working hard on her modeling career and bringing her adorable son, Ben, along on many of her adventures. Gisele remains committed to her work with the environment as well. In the Spring, Gisele launched her first fashion line in her native Brazil, and she also participated in a float during Carnival for the first time, with husband Tom Brady [186] dancing along on the sidelines.
16. Cameron Diaz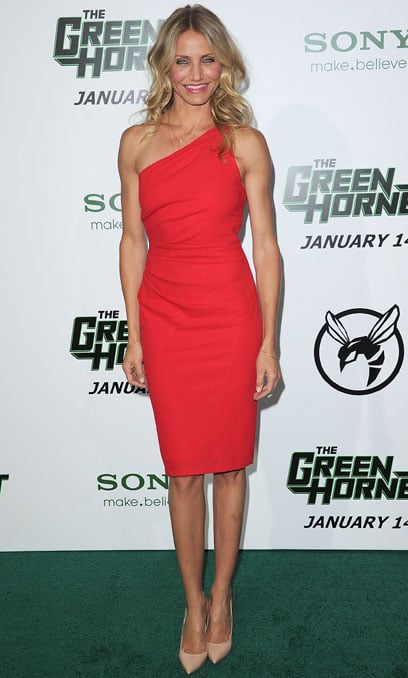 Cameron Diaz [187] had a fast-paced Summer of 2010, traveling the world to promote Knight and Day with Tom Cruise [188]. Between her jet-setting stops, Cameron's romance with Alex Rodriguez heated up and the two were spotted relaxing on beaches from Hawaii to Miami. The two are going strong, and she is frequently spotted cheering on his NY Yankees at home and on the road. Cameron kicked off 2011 with The Green Hornet and will show off her comedic chops on the big screen with Bad Teacher. All the while, Cameron looks fantastic at 38 and still has one of the most enviable, toned bodies in Hollywood.
15. Leonardo DiCaprio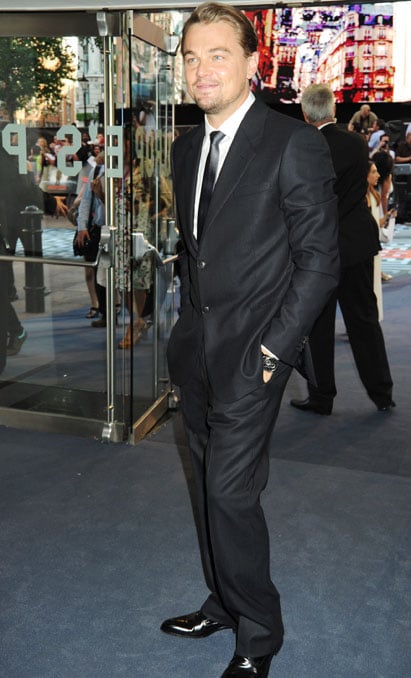 Leonardo DiCaprio [189] starred in one of the most mind-bending and critically acclaimed movies of the year, Inception, which rocked the 2010 Summer box office. From there, Leo moved on to another challenging role in the J. Edgar Hoover biopic, and he'll take on an iconic part in Baz Luhrmann's remake of The Great Gatsby. For much of the year, Leonardo was with on-again off-again girlfriend Bar Refaeli [190], but after their Spring split, he quickly moved on with sexy young thing Blake Lively [191]. The two were first spotted together at the Cannes Film Festival and frolicking throughout Italy and France together in early June.
14. Gwen Stefani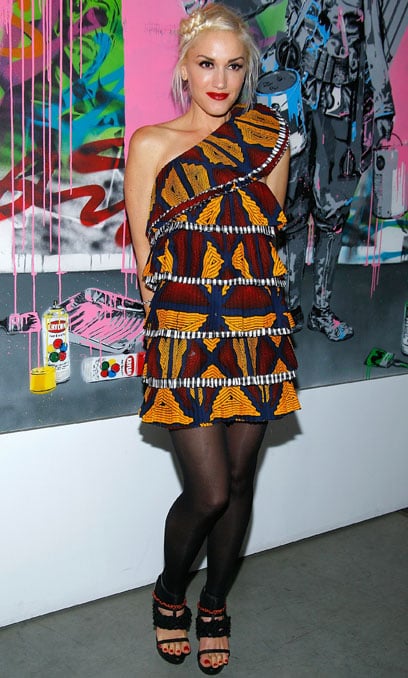 Gwen Stefani [192]'s career was firing on all cylinders this year. She got back in the studio with No Doubt to record their first album in almost a decade, and the group is expected to tour later this year. Gwen continued to expand her L.A.M.B. brand, with shows at both NY Fashion Weeks, where she was joined on the runway by her son Kingston. The superstar was also named the face of L'Oreal Paris and has since starred in huge TV and print ad campaigns. In the Spring, she used her Harajuku Lovers line to help raise money for the victims of the earthquake in Japan. Even with so much on her plate, Gwen and Gavin are hands-on parents to their adorable boys Kingston and Zuma, who have clearly inherited their eclectic fashion sense from mom.
13. Kate Winslet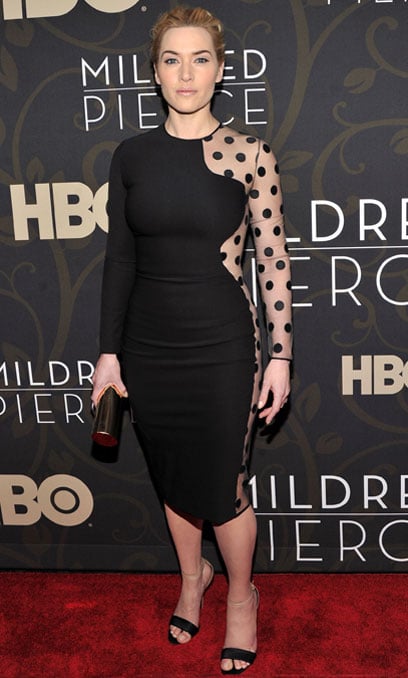 Kate Winslet [193] took her talents to the small screen this year with her acclaimed turn in Mildred Pierce for HBO. She turned 35 last Fall, and has been on and off again with her hot model boyfriend Louis Dowler since splitting with Sam Mendes in the Spring of 2010. The glamorous actress is also the face of Lancome and starred in a steamy ad for their L'Absolu Nu lipstick. Up next she is part of the ensemble cast of Contagion alongside Matt Damon [194], Gwyneth Paltrow [195], and Jude Law [196].
12. David Beckham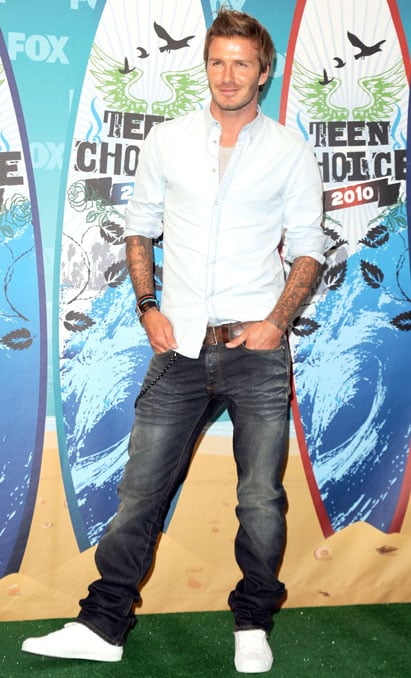 David Beckham [197] scored big honors and big goals over the past 12 months, and perhaps the most exciting news of all is that he and Victoria are expecting their first baby girl this Summer. David kicked off the Summer of 2010 by heading to cheer on England in the World Cup and celebrate his 11th wedding [198] anniversary with wife, Victoria. David treated fans to tons of shirtless [199] eye candy on the soccer field with the LA Galaxy and always melts our hearts when playing with his three boys. He was also honored as BBC Sports personality of the year and won the Teen Choice Award for choice male athlete. As he and Victoria prepare for the addition to their family, he's also working on another new venture: he's officially launching his own underwear line.
11. Natalie Portman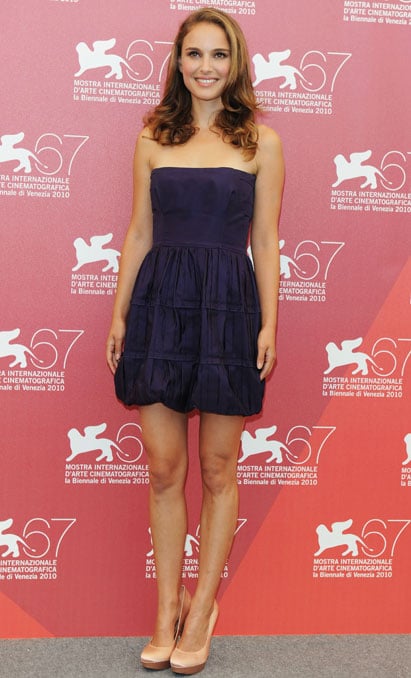 It truly was Natalie Portman [200]'s year to shine during the 2011 award season [201], so of course she's right near the top of the PopSugar 100. The Black Swan actress swept the award shows, and she earned her first Oscar for her work in the film. It wasn't all about professional milestones though, since in late December, Natalie also announced her engagement to Benjamin Millepied and the happy couple recently welcomed a baby boy into their lives. Natalie also got to show off her comedic side in two new releases, No Strings Attached and Your Highness.
10. Sandra Bullock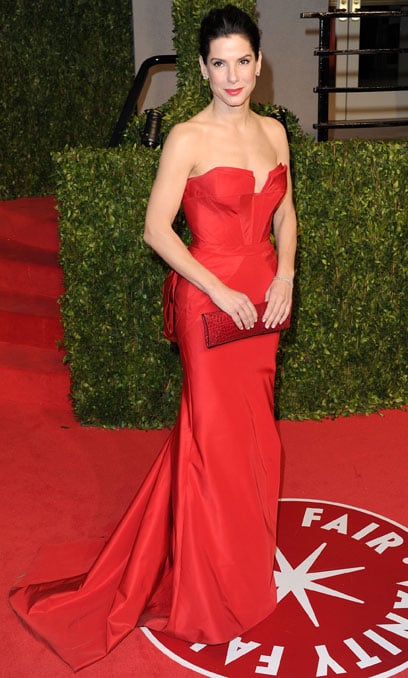 Sandra Bullock [202] was the runner-up in the 2010 PopSugar 100 and even one year after her Oscar-winning run, she's still in the top 10. Sandra took a short break from acting to care for her baby son, Louis, but after a few months off, she was back in action shooting Extremely Loud and Incredibly Close in NYC. She recently started work on Gravity alongside George Clooney [203] in London. Sandra denied reports of a rumored romance with Ryan Reynolds [204], insisting that the only man in her life is Louis.
9. Reese Witherspoon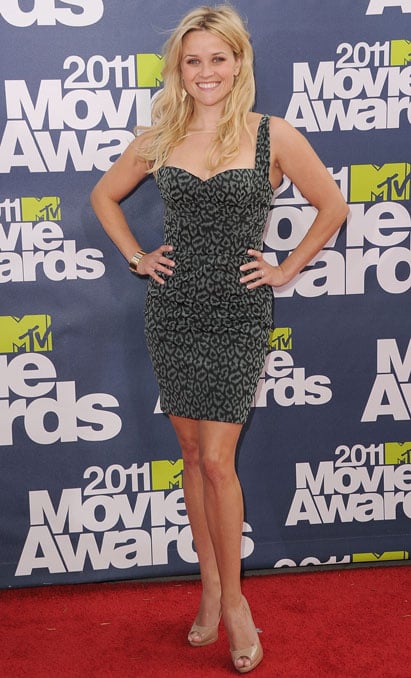 Reese Witherspoon [205] had a year full of highlights both professional and personal since landing at number three in the 2010 PopSugar 100. After a year-long romance, Reese announced her engagement to Jim Toth over the holidays, and the two tied the knot on her Ojai estate in April. The good girl actress celebrated the release of two big movies — first up was How Do You Know with Paul Rudd [206] and Owen Wilson [207], followed by Water For Elephants alongside Robert Pattinson [208]. She may be the envy of Twilight fans everywhere for getting to kiss Robert, but she only has eyes for Jim and their family-filled weekends around LA. Reese also remained active in her role with Avon and was honored with the Generation Award at the MTV Movie Awards.
8. Beyoncé Knowles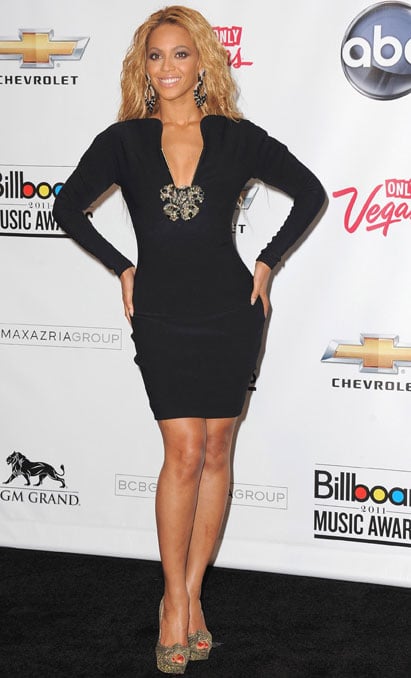 Beyoncé Knowles is a girl who runs the world, and once again landed in the top 10 of the PopSugar 100. Her new singles are rocking the charts while we await the release of her new album, and she's already making sure her presence is everywhere ahead of her tour later this year. Her Billboard Awards performance was especially showstopping. Beyoncé also committed herself to Michelle Obama's childhood fitness campaign, "Move Your Body." Otherwise, Beyoncé was hard at work with her music and traveling the world with Jay-Z. They enjoyed a romantic vacation in Paris and, of course, fit in their usual glamorous yachting adventures.
7. Angelina Jolie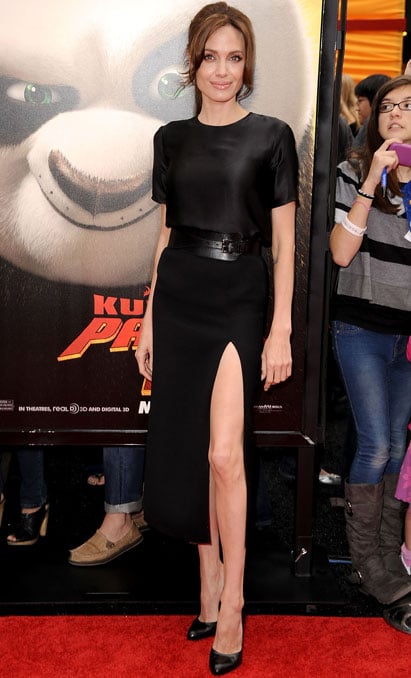 Angelina Jolie [209] went from badass to ladylike to animated with her three releases over the past 12 months. First up was Salt in the Summer, followed by The Tourist, which earned her a Golden Globe nomination, and Kung Fu Panda 2 this Spring. A one-time winner, Angelina is consistently in the top 10 of the PopSugar 100, and is one half of Hollywood's biggest couple. She and Brad Pitt [210] spent the year globe-trotting with their six kids, and Angelina also fit in time for her work as a UN Goodwill Ambassador. In late 2010, Angelina stepped behind the cameras as a director for the first time, and her film about the war in Bosnia, In the Land of Blood and Honey, will be out at the end of 2011.
6. Britney Spears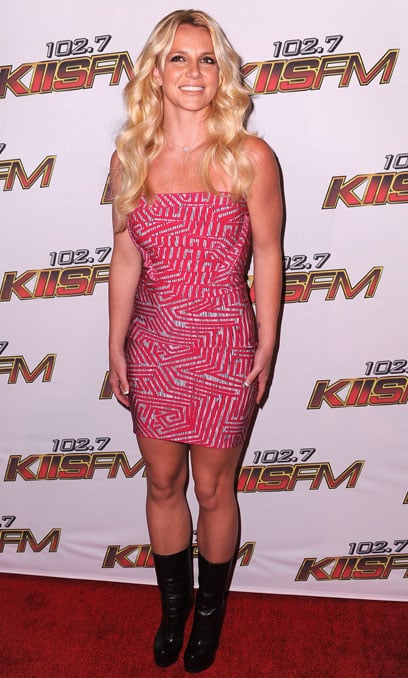 Britney's back! Britney Spears [211] rose right to the top of the 2011 PopSugar 100 thanks to all her many fans. The pop star released her new album, Femme Fatale, in the Spring and kicks off her world tour in just a few days. Her first singles off the album, "Hold It Against Me" and "Til the World Ends" were both huge hits and helped her debut at number one on the Billboard charts. Britney is also going strong with boyfriend Jason Trawick and spends all her free time with her sons, Jayden James and Sean Preston. It's been a great 12 months for Britney, who is back at the top of her game.
5. Brad Pitt
Brad Pitt [212]'s handsome face spent most of the past 12 months off the big screen, but we luckily got to see him everywhere from movie sets, to premieres and world travels with his gorgeous family. Brad was an animated star in Megamind last Fall, and this Spring, he made a big splash at Cannes with The Tree of Life, which won the festival's top honors. Brad also spent last Summer shooting the highly anticipated Moneyball, which is out in September. Otherwise, Brad played the supportive partner, as Angelina released Salt and The Tourist. Brad and Angelina didn't expand their family this year, though their six kids are getting so big and are, as always, quite the jet-setters. Brad and Angelina had some stunning red-carpet moments together from the Golden Globes to Cannes, and they showed their commitment in the form of her latest tattoo, which added the coordinates of Brad's birthplace to the list of their kids'.
4. Kristen Stewart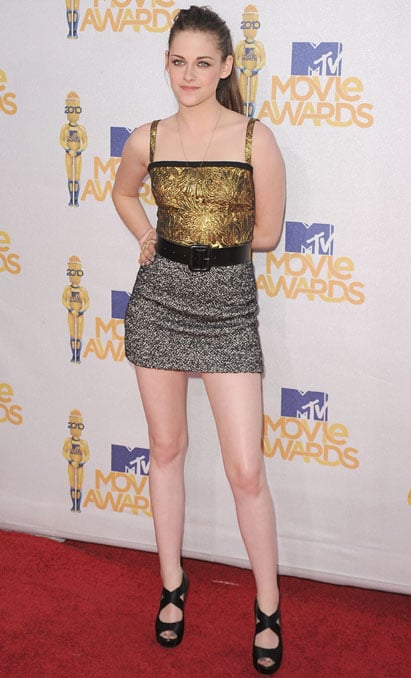 Kristen Stewart [213] was eliminated early in a surprising 2010 PopSugar 100 turn, but in 2011 she shot right up to the top! The Twilight star has legions of devoted fans around the world, who love everything from her red-carpet style to her relationship with costar Robert Pattinson [214]. Kristen celebrated a milestone birthday this year, turning 21 just as she finished up work on Breaking Dawn. Kristen landed on her first ever cover of Vogue and further cemented herself as a fashion risk-taker on red carpets while maintaining her t-shirt and jeans style otherwise. Kristen also shot On the Road and signed on to star in an upcoming adaptation of Snow White called Snow White and the Huntsman.
3. Jennifer Aniston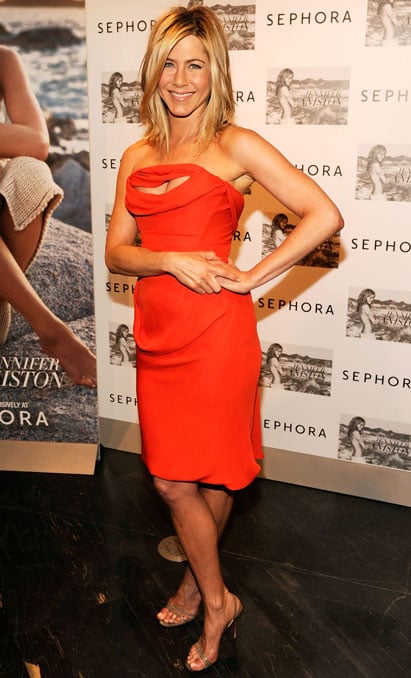 Jennifer Aniston [215] is on a roll with her movie career. Just Go With It was a hit at the box office, and Horrible Bosses is shaping up to be one of the most popular comedies of the Summer. The Smartwater spokeswoman also launched her first eponymous fragrance in the States between her many film projects. Jennifer spent time in the South shooting Wanderlust, and she met her current flame, Justin Theroux, on set. The two are just starting to go public, and she has reportedly introduced him to her friends, including Courteney Cox [216]. Jennifer celebrated her 42nd birthday, tried her hand as a director by working on a short film this Spring, and guest starred on Courteney's Cougar Town. Jennifer somehow still found time to head to Cabo on a handful of vacations with friends, which helped her earn the title of PopSugar's best bikini body of 2010.
2. Robert Pattinson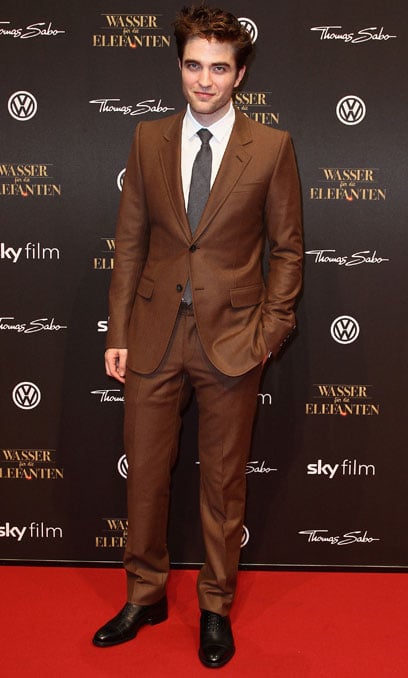 Robert Pattinson [217] slipped from the top spot to number two in the 2011 PopSugar 100! After coming in at number one for 2009 and 2010, Robert still has an amazingly devoted fan base who come out to vote for him in droves, no matter the contest. Robert scored his first big post-Twilight success this year with Water For Elephants, which costarred Reese Witherspoon [218]. Robert also got back into character as Edward Cullen to film both Breaking Dawn movies, which come out in November of 2011 and 2012. Shooting the sexy honeymoon scenes gave us a peek at his hot shirtless [219] body with a bikini-clad Kristen Stewart [220], and their offscreen romance is still hot as ever. He's currently working on another high-profile movie, David Cronenberg's Cosmopolis, which will once again cement Robert's leading man status after the franchise that made him famous.
1. Johnny Depp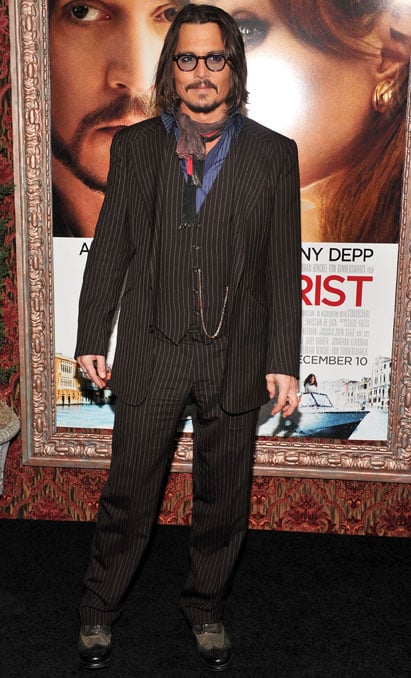 Johnny Depp [221] is your 2011 Popsugar 100 number one! This A-list star is at the top of the his game with Spring blockbuster Pirates of the Caribbean: On Stranger Tides, which has already made over $800 million at the box office worldwide. It was the end of an amazing 12 months for Johnny, who also scored two Golden Globe nominations for his work in both The Tourist and Alice in Wonderland. The devoted family man also spent tons of time with his kids and partner, Vanessa Paradis, between his movie projects, like the critically acclaimed Rango. The big-hearted actor even surprised a classroom of kids in full Jack Sparrow costume, proving that this is the kind of star who deserves the top spot. Congrats, Johnny!