Biography and Facts About Flipping Out's Jeff Lewis
15 Little-Known Facts About Jeff Lewis
Like us on Facebook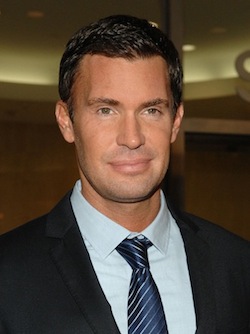 Today I attended a live, Charlie Rose-style conversation with Jeff Lewis of Bravo TV's Flipping Out at the San Francisco Design Center. I've been following Lewis for years, but he's still a bit of a mystery to me. But as you know, the flipper-turned-designer is never one to hold back, so I did know I was in for a laugh. From what makes this man tick to what pays his mortgages to what makes him look so young, I wound up learning more than I could dream of about Jeff Lewis.
Here are 15 little-known facts about the go-getter:
Jeff's father, who always had his hand in real estate, had a major influence on his career and business savvy. One of his biggest pieces of advice: "You get rich off your investments, not your income. People live off of their income."
Though Jeff has a tendency to use curse words — and was actually told he'd forfeit his entire fee for the event if he cussed — he was raised well . . . in Catholic school!
Jeff attended University of Southern California and Chapman University, but it took him five years to graduate. He admits, "I'm actually not that smart, but I'm driven."
Eventually, Jeff says he'd like to adopt a child, but not until he reaches his financial goals. His advice for his future child? "Do what you love."
When he was 18, Jeff lost his mom to cancer. But he calls Zoila, his housekeeper who's lived with him for seven years, his "surrogate mother."
Jeff lost at least half of his net worth when the market crashed. What saved him was that he sold the majority of his properties in the first half of 2007 at a profit. He quickly evaluated the rest of his properties, selling what he could and keeping what he needed to stay afloat.
Continue reading to read nine more little-known facts about Jeff!
Jeff called winning House Beautiful's 2010 Kitchen of the Year award "a milestone for [him] in [his] career."
Jeff does most of his shopping for furniture and housewares online. About once a month, he'll get a chance to visit showrooms in LA, but even then he usually sends an intern to take photographs for him.
And why does the 40-year-old look so young? He admits to having had filler and Botox, but no plastic surgery. As for his locks, he says, "It may look like doll hair, but it's real! I'm not wearing a toupée!"
Thirty percent of Jeff's business is now consultations. He and his Chief Operating Officer Jenni fly all over the country to meet with home renovators for anywhere from one to 15 hours, offering advice on how to update their homes.
One of two new personalities joining Flipping Out in its fifth season is actually a former interior design client of his, Nancy, a former LAPD police officer who helps him around the office and still carries a gun. "So now we have a security guard too," Jeff jokes. Jeff says he liked her so much, he hired her.
Coincidentally, after Jeff decided to sell his house, which we saw in the last season, a house that he'd sold for $2.8 million five years ago went into foreclosure. He's making an offer on it for $1.4 million this week.
Jeff has flipped more than 40 homes, probably 50, in his career, making as much as $1 million profit on one house.
Jeff's gig with Bravo was kind of a fluke. Jenni, his COO, is an actor and friend and asked for permission to film a promo at his office for an acting gig of her own. Within 48 hours of shooting her promo, her producers were calling him to pitch a different television show.
Jeff has a new line of lighting, pillows, wallpaper, lampshades, and fabric. You can shop his collection at Shop.JeffLewisDesign.com.