Desire/Acquire: Clio Glass Hargreave Carafe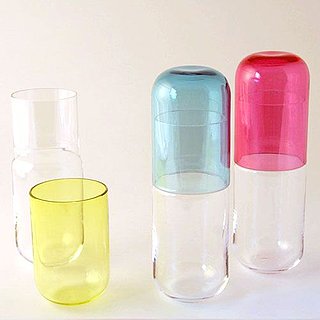 I've been aching to own the Clio Glass Hargreave Carafe ($120) since I first saw it about five years ago. It's so clever and fun! I love its modern pill shape and bright colors, and how its top becomes a glass. But I wouldn't use it enough to justify buying it; it would really just be a display piece. As it turns out, I'm not alone in my love for this carafe. A well-known designer created one for his own collection. Want to see it? Then read more.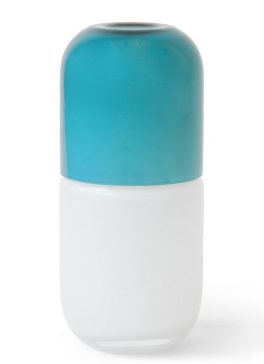 The new Jonathan Adler Pill Carafe ($48), made of double-cased handblown glass, is available in turquoise, tomato, yellow, smoke, and white. It's definitely not as striking as Clio's transparent glass design, but it does have its own appeal.
To be honest, it bugs me a bit that Adler is knocking off the work of other designers. He is one of few interior/product designers who has really made a name for himself (and is reaping the benefits of it) — can't he come up with his own designs? Just a reminder: his Utopia series was very clearly "inspired" by the work of Danish artist Bjørn Wiinblad. Sorry to vent, but does anyone else agree?