Formal Thanksigiving Table Setting
How to Set a Formal Dining Table
Like us on Facebook
Relaxing with loved ones while giving thanks over good food and drink is what Thanksgiving is all about, but hosting it can also be stressful if you're doing it for the first time. Want to impress your guests with more than just a well-executed meal? Set a table to match, using this easy cheat sheet.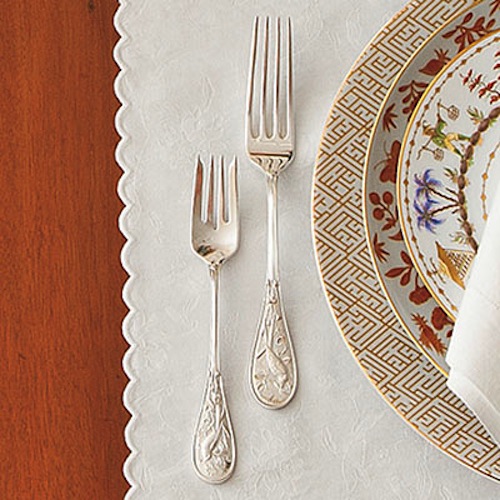 Set plates first to determine spacing (they should be about 2 feet apart from center to center) and the layout for the rest of your place settings.
Arrange cups and glasses on the right side of the plate and butter and salad plates on the left.
Silverware should be set in the order they will be used, starting from the outside working your way in. First course silverware will be on the outside and main course silverware will be on the inside.
Set forks to the left of the plate (unless it's a small cocktail fork, which goes on the outermost right side of the plate) and knives and spoons (in that order) to the right. Flip knives so that the cutting edge faces the plate and line up the silverware so that the bottoms of the handles align with the bottoms of the dinner plates.
Napkins are traditionally placed to the left of the forks, but since there are so many ways to artfully fold or display cloth napkins, feel free to play around with the placement. Slipping on a napkin ring and placing it directly on the plate or tucking it beneath a soup bowl (if you're serving soup) on top of the dinner plate are a couple of alternatives.
Butter plates go above the forks to the left of the plate and should include a butter knife. Dessert silverware go above the dinner plate with the fork handle facing the left and the spoon or knife handle to the right with the cutting edge facing the plate.
The water glasses are placed above the dinner knives, but the arrangement of the wine glasses can vary. Either place the white wine to the right, and red wine top center, forming a triangle, or placed above the knives in a straight row, slanting down from the upper left, going from biggest to smallest glass. Coffee cups and saucers are placed to the right of the setting with the coffee spoon on the right side of the saucer.
Keep reading for an easy-to-read visual diagram for the formal place setting!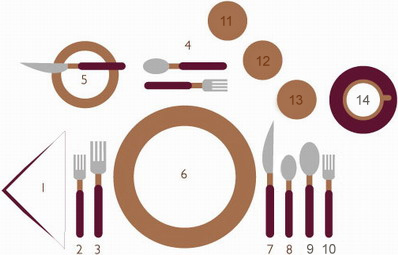 Napkin
Salad fork
Dinner fork
Dessert fork & spoon
Bread and butter plate with spreader
Dinner plate
Dinner knife
Teaspoon
Soup spoon
Cocktail fork
Water glass
Wine glass (red wine)
Wine glass (white wine)
Coffee cup and saucer