George Clooney and Cindy Crawford's Home in Mexico
Tour the Vacation Home George and Amal Clooney Share With Famous Friends
The biggest testament to George Clooney's tight bond with friend and business partner Rande Gerber and his wife, Cindy Crawford, are the two vacation homes they built side by side in a shared compound in Los Cabos, Mexico, lovingly dubbed Casamigos (aka House of Friends). After nixing the initial idea of building one large vacation house and deciding on two separate homes, it looks like Rande, Cindy, George, and now Amal, might be getting even cozier.
George is reportedly looking to unload his vacation home on the property to spend more time with wife Amal in their homes in London and LA, but that doesn't mean it's the end of Casamigos. If George can find a buyer for his half of the compound, he and Amal plan to shack up with Rande and Cindy while vacationing in Los Cabos.
The history of Casamigos goes way back. George and Rande discovered the oceanside lot while traveling together and began to envision the possibilities: Christmas vacations without booking a year in advance and a short enough flight to accommodate spontaneous weekend trips. Designed by Ricardo Legorreta, one of Mexico's famed architects, and his son, Víctor, the two modern structures nestled in the oceanfront compound are breathtaking.
The house was even featured in a past issue of Architectural Digest. Take a peek inside!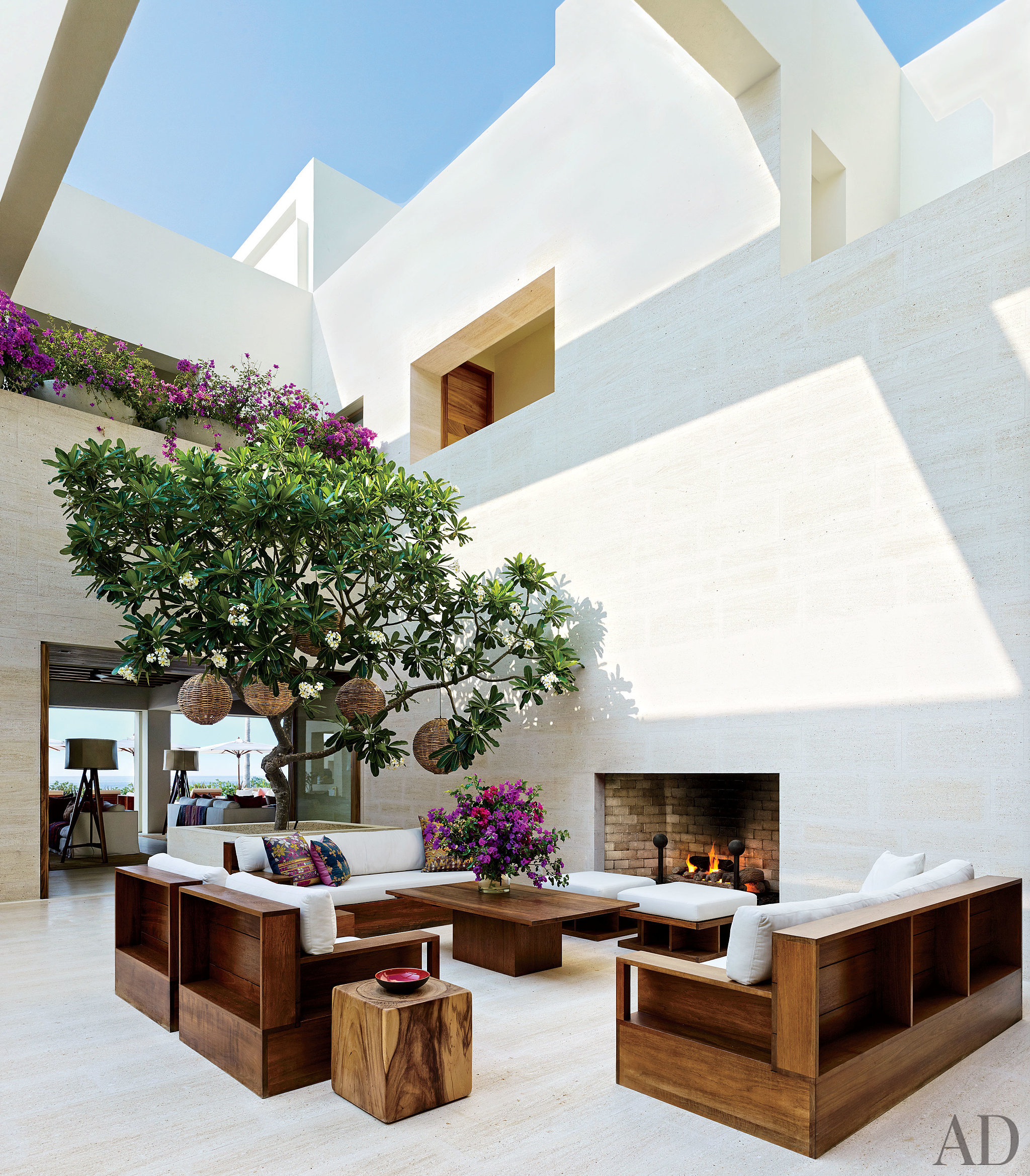 Like Rande and Cindy's home (pictured here), George's house also opens with a long hallway that flows elegantly into a dramatic central courtyard. The courtyard connects to a series of sitting areas, dining spaces, an open kitchen, and a bar.
Both homes have spacious pools that face the ocean. Rande and Cindy's pool (pictured here) includes a stunning terrace that provides plenty of places to lounge and eat while taking in the views.
George's home comes equipped with an especially spacious bar area. The large flat-screen TV is a popular spot for catching sports games with friends.
George's courtyard is similar to Rande and Cindy's, with the addition of netted, fisherman-style pendants that illuminate the space at night.
For even more pictures of Casamigos, check out the full feature in Architectural Digest!