If you've ever purchased an old wooden dresser from Craigslist for the express purpose of turning it into something fabulous, you're not alone. With a little DIY [1] ingenuity, even the most unattractive dressers can become the focal point of a room. Keep reading for 10 solutions for tricking out dated dressers, and let us know which one inspires you the most!
Source: Camille Styles [2]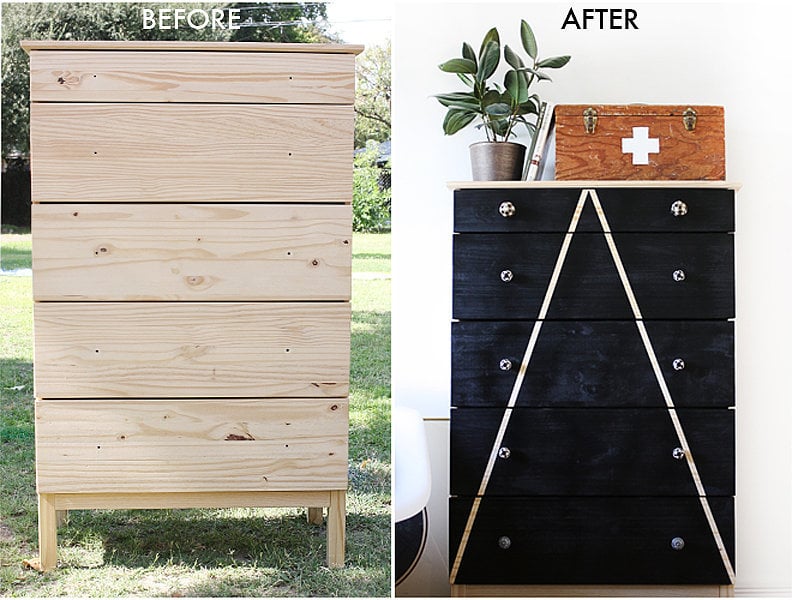 Lidy D. from Hello Lidy fabulously revamped her Ikea dresser with some black paint and tape — get all the instructions here [3].
Flag It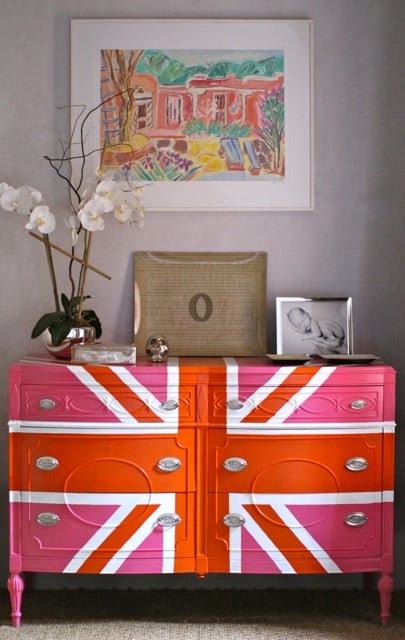 Sheridan French [4] put a color spin on the Union Jack Flag graphic with hot pink and tangerine paint.
Source: Sheridan French [5]
Fake It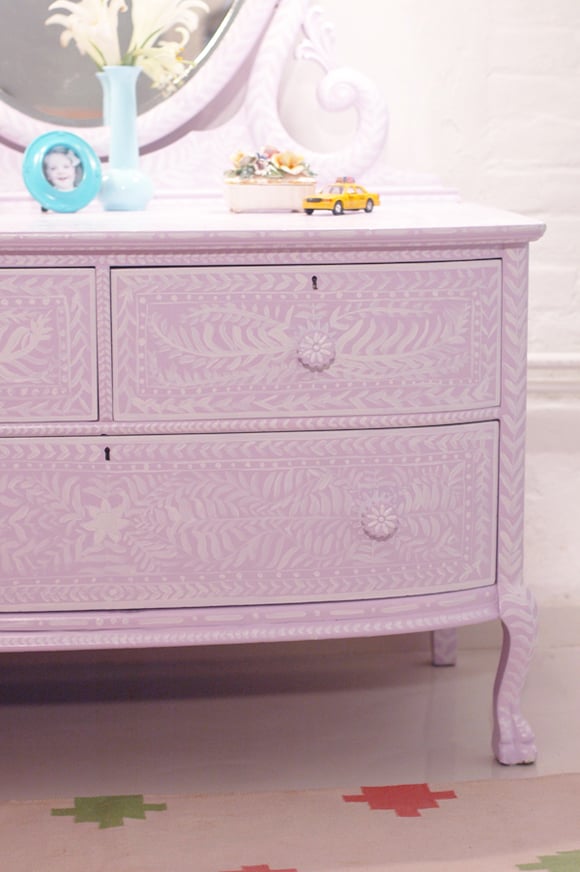 Traditional inlay dressers can cost thousands of dollars, but Little Green Notebook's DIY version [6] can be done under $40.
Source: Little Green Notebook [7]
Paint a Border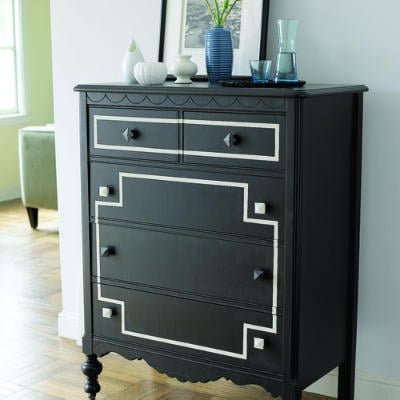 Sunset Magazine [8] shows how a little painter's tape can create a beautiful border. The choice of black and white makes an especially powerful contrast.
Photo by Rob Broadman via Sunset magazine [9]
Go Ombré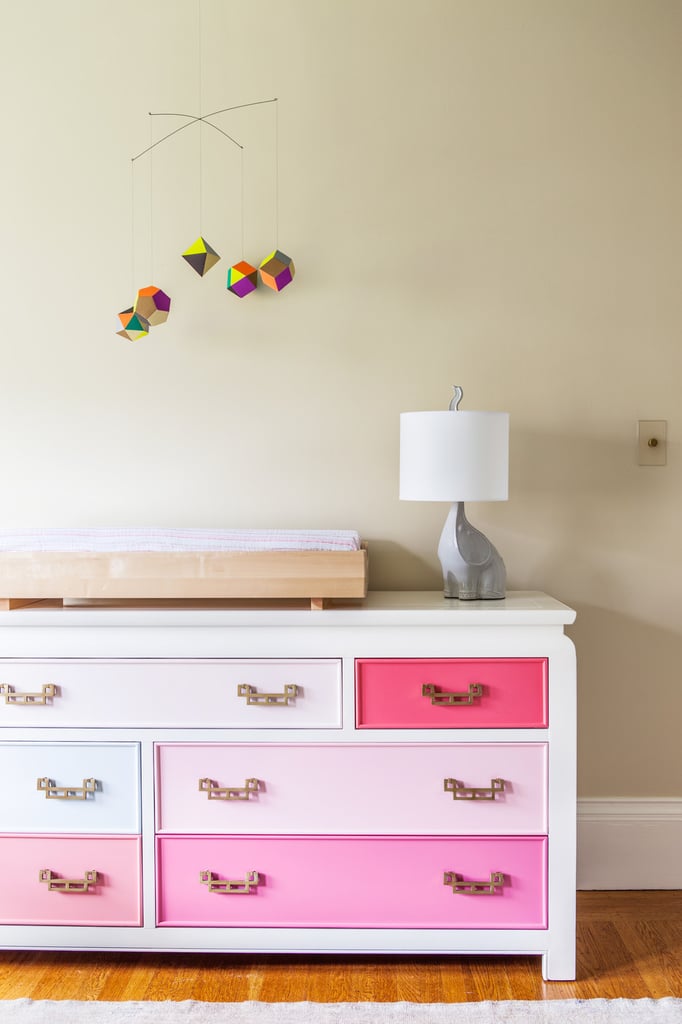 Interior designer Chloe Warner turned a simple vintage dresser [10] into something extraordinary by playing with the pretty spectrum of pink.
Photo by Laure Joliet [11] via Lonny Magazine [12]
Draw a Diamond
Thanks to a coat of white paint, gold spray paint, and shiny new knobs, Camille Styles contributor Claire Zinnecker got this old dresser [13] to shine bright like a diamond.
Source: Camille Styles [14]
Replace Drawer Pulls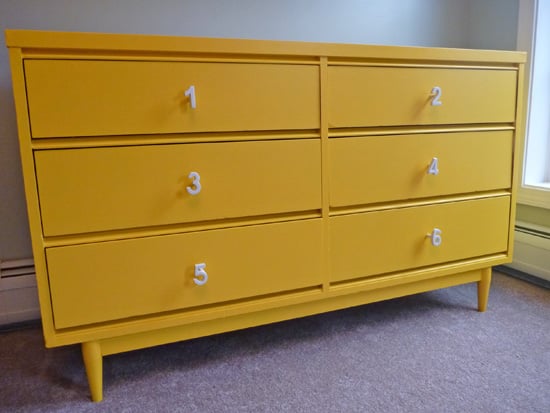 These cute numbered drawer pulls will not only help Erin's babe learn to count, but they also make the piece pop. See the complete before-and-after on Domestic Adventure [15].
Source: Domestic Adventure [16]
Use O'verlays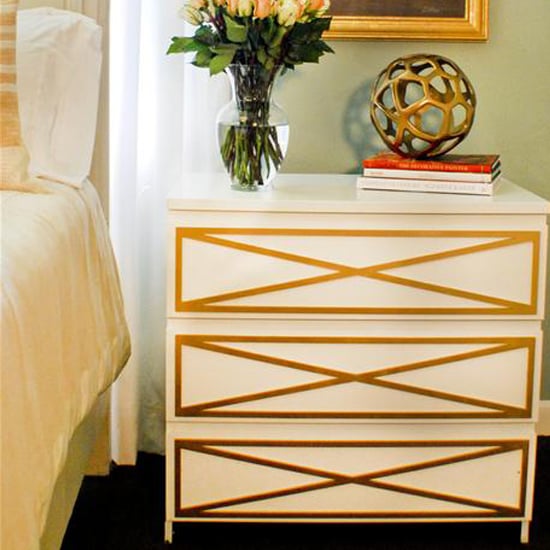 One of the best ways to make an Ikea dresser look expensive is to add O'verlays [17]. These decorative fretwork panels come in a variety of sizes, are paintable, and easily adhere to furniture. Browse designs categorized by the Ikea piece you have, or contact O'verlays for custom options!
Source: O'verlays [18]
Recycle a Mirror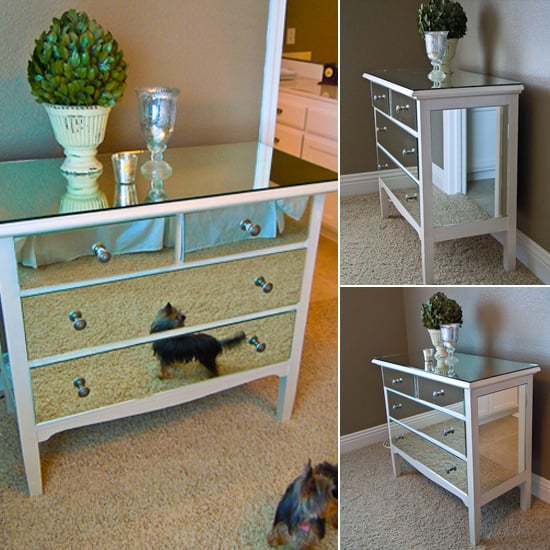 If you have an old mirror you don't want, consider having it cut into pieces. Teresa at Andersen Seven [19] had her bathroom mirror cut for just $20 and adhered it to a wooden dresser that she repainted.
Source: Andersen Seven [20]
Add a Darker Shade
Using Minwax's Dark Walnut stain, Twenty-Six to Life turned an orange-hued dresser into something I'd expect to see at Room and Board. See the full transformation here [21].
Source: Twenty-Six to Life [22]
Incorporate Fabric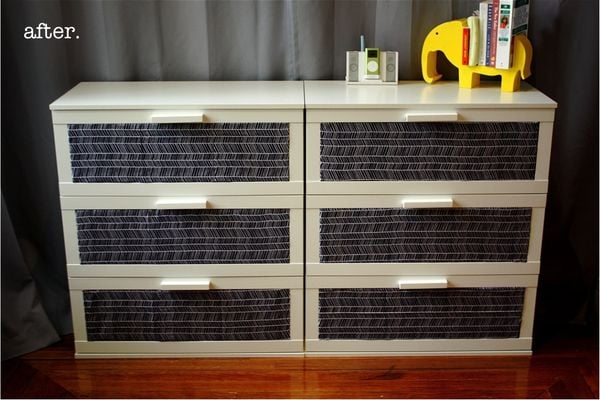 With some cardboard and fabric, a cheap Ikea dresser was updated into something modern and chic for a baby's room. Learn the steps on Gravy Train [23].
Source: Gravy Train [24]